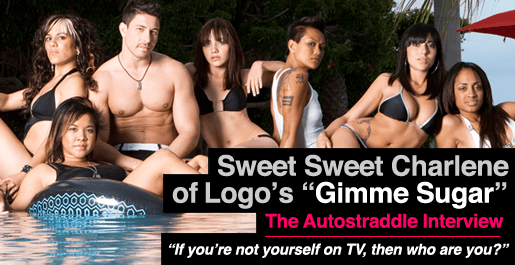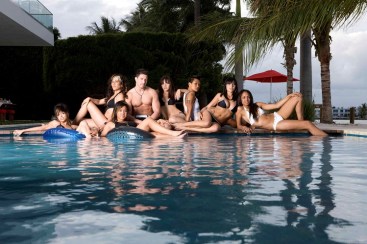 There are many things to be said for Logo's "guilty pleasure" lesbian reality docusoap Gimme Sugar: Miami, returning "just in time for bikini season" on June 22nd and dishing out new episodes all summer long (Episode Four premieres this Monday July 13th). Firstly; the show is relatively racially diverse (and effortlessly so). Secondly: There are hot girls in it. Thirdly: These girls often take off their clothing or are wearing very little to begin with. Fourthly: Charlene — who we interviewed this week — is super-sweet and she told us that she reads & responds to every fan e-mail she receives and, as we discovered in conversation with her, probably deserves a coffee table book of Charlenisms ("If you're not yourself on TV, then who are you?" "I was like, I love everyone, you know what I mean? I love EVERYONE," "I love Miami, but I think if there's weather Miami will be the first one to go under the ocean.") and is one of the most genuine people you'll ever find on reality teevee.
Fifthly, it's on Logo, which is our favorite channel second only to The Food Network.
Sexuality isn't an issue in this story, it's just a sidenote, and it is refreshing to see an actual group of lesbian friends on television. With lesbian stories typically relegated to relationship-related three-episode arcs, here's girls who exist both within and outside of a relationship storyline.
And, last but not least, its very existence is a very good sign for Lesbians. Because for all its conventional reality-docu-soap staged dramatics, this show does nothing to hurt lesbian & bisexual visibility, as reality shows so often do by reinforcing damaging stereotypes — e.g., the stupid & sexually careless bisexual Tila Tequila (A Shot at Love with Tila Tequila) and the angry & abrasive black lesbian (Ebony, America's Next Top Model). Perhaps it means we have arrived.
See; last we checked, no-one is stereotyping lesbians as hyper-attractive stylish girls who devote most of their time to going out, fighting, hooking up and surely damaging their hair via excessive flat-ironing, reckless product abuse and ubiquitous upkeep of streaky highlights.
In fact, Gimme Sugar emulates American pop culture's most fanatically revered value set with bottle-breaking precision.  Sexuality isn't an issue in this story, it's just a sidenote, and it is refreshing to see an actual group of lesbian friends on television — revolutionary, even. With lesbian stories typically relegated to relationship-related three-episode arcs, here's girls who exist both within and outside of the relationship storyline.
As AfterEllen editor Sarah Warn said in "She Made Me Watch This" regarding Season One: if you like this kind of thing ["attractive twentysomethings creating unnecessary drama while using grammatically incorrect sentences") when straight people do it (e.g., The Hills and its spawn (which we've admittedly never seen)], then you'll probably really like it when cute lesbians are doing it! A little guilty pleasure with plenty of bare skin and kissing. Kazaam!
[Also in She Made Me Watch This, Lori notes that she'd like to see a show about, "lesbians who are entrepreneurs coming up with their first start-up and all they do is sit in front of their computer." Logo CALL US!]
For Gimme Sugar's second season, the set-up convo is between Charlene and her party-promoter bosses in West Hollywood. Charlene has slacked on her nightlife-queen duties due to a foiled summer romance, and they challenge Charlene to bring a special version of sexy West Hollywood ladies' night Truck Stop to Miami … where she shacks up with a whole new cast of lesbians who wear strange headgear like this: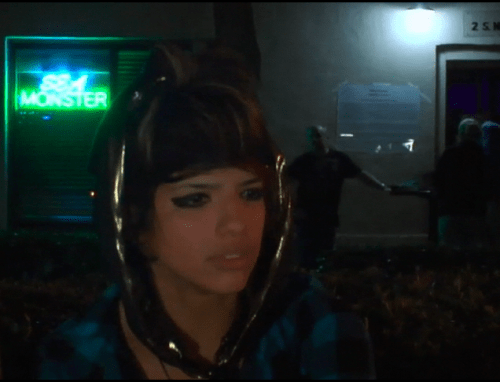 Can she do it? Will the poor destitute villagers of the Fort Lauderdale area be saved from swine flu SARS the black plague another Blockbuster night? Will peace in Gotham City ever be restored?

Alex and Riese chatted with Charlene via telephone about the show, lesbian drama, her career aspirations, her family, relationships and coming out, and the importance of queer visibility. She was totally awesome & sweet and had a lot to say about the importance of media visibility for lesbians, which we love. Plus there's a really cute fan coming-out story (I think we're gonna have to make that a standard question, 'cause Kim's story was so cute too!)
So here's what she said … (also a sneak preview of Episode 204, "Rock Bottom" is at the end of the post)


I. Let's Get Down to Business
Riese: What do you think are the special challenges that women face when trying to start a business together, especially when they're all friends … and lesbians?
Charlene: I think when things get hectic and it's time to meet deadlines, friends & women & lesbians will take things a little bit more at a personal level and not on a business level, which tends to cause tension. Little things come out … and then drama comes into play.
Alex: Yeah, girls have a lot of feelings, right?
Charlene: Women are emotional, you know what I mean? There's girls that are quiet, girls that don't take people's shit, and it's just like — if you direct a comment to someone they take it so personally, they bring up past issues or say, "this person is being a bitch, I can't believe it," and they keep telling more friends instead of being between just you two, and it's not on a business level, it's on a friendship level, and that's when things get a little crazy. Girls just can't separate.

II. Girlfight!
Riese: So when you're not filming the show do you really fight that often? It seems like you fight an awful lot.
Charlene: We fight all the time.
Riese: You fight all the time?
Charlene: No no, it's not that we fight all the time, but there's always drama. When we watch ourselves on the show we see things that we didn't even notice like, within ourselves, like "Oh my God, I'm so dramatic!" You know how some people are like, "Oh, I'm a little crazy," and everyone else is like "yeah, we know!" I think we get a little less dramatic as time goes by.
Riese: So this season will be dramatic than last season, 'cause you've like, grown?
Charlene: It's lesbians. There's no such thing as less drama! I mean, it starts out at the very beginning. You saw that.
Riese: So like, when those girls were yelling at you outside the club, didn't you ever want to be like, 'you guys are acting crazy, this is way too dramatic?' When all you'd done was talk for two minutes to a girl that turned out to be your friend's friend's ex-girlfriend?
Charlene: Well when I was pulled outside the first thing I thought in my head was like, "Well, what's going on?" I thought that Miami was gonna be a little different. Not that I didn't think it wasn't going to be dramatic, but I honestly … I just really didn't expect it on the first day.
Riese: So did that get any better?
Charlene: It was just like, what am I in for if this is what it's like on the first day? What the hell am I in for now?
+
Next: "We were at a lesbian club and there was one particular girl and I was like, "why do I think she's cute, why do I have this interest in her?" —>
Pages: 1 2 3See entire article on one page