Hey dudes! So I know I've been the strong, silent type on AutoStraddle lately, but I thought maybe that'd add to my Jordan Catalano-esque mystique…?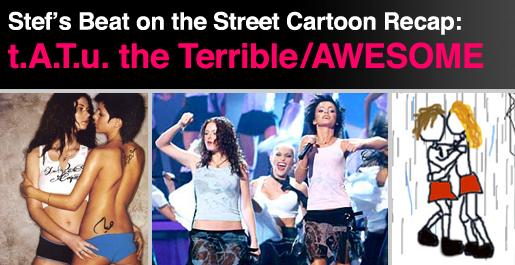 Um, actually, I was prepping for what I thought was gonna be my greatest post ever – an interview with a major international pop star! BLIND ITEM! However, as it turns out, said pop star's managers weren't totally comfortable with the idea of their client talking to uh, a site like this one, so I've been sort of stuck on what to write about.
Instead of talking about a singer who's not comfortable being thought of as IN ANY WAY GAY, we're gonna talk about singers who totally wish you believed they were gay. Long before Katy Perry pissed off her religious parents by pretending to kiss a girl and like it, we had my girls Yulia Volkova and Lena Katina, known internationally as t.A.T.u.
From 1998-2009, t.A.T.u. charmed international audiences with their skimpy outfits, provocative lyrics and obnoxious interviews. In America, they were sort of a punchline, but internationally they were huge – one of the biggest bands of the last decade, especially in countries where it's usually not possible to be gay and mainstream. The girls opened up avenues of discussion in places where such discussions are generally unheard of. Even though t.A.T.u.'s totally contrived act was sort of an insult to the whole idea of being gay and mainstream, it's still pretty impressive that they were able to get away with what they did.
Oh, girls, what can I say that hasn't already been said? For seven years, I loved you with the fervor that can only be afforded to something both terrible and awesome at the same time. Your ridiculously addictive, shameless Europop was my bread and butter, and your lyrics spoke to me of forbidden love, imaginary dyke drama and something about monkeys. I own every record – mostly in Russian, because the English versions were always so watered down (For example, "Я Сошла С Ума," which translates to "I Have Lost My Mind" was released in the USA as "All The Things She Said" – I call bullshit). I watched every video, and started learning fledgling Russian purely so I could sing along to "Я Твоя Не Первая" in the car. You guys were freakin' AMAZING.
To document t.A.T.u.'s entire career in great depth would probably blow all your minds as well as my own – instead we will simplify and discuss the best and brightest moments of their time in the sun, in chronological order.
Top Ten Most Amazing Moments EVER in t.A.T.u'S Musical History:
10. THE FORMATION: The band was formed in 1998 by a total perv named Ivan Shapovalov and a revolving door of business partners. They tracked down a pair of prepubescent showbiz vets named Yulia and Lena. The band was named Тату, a shortened version of a Russian phrase which means "This girl loves that girl." Shapovalov and company wasted no time turning their young charges into a pair of Sapphic Lolitas. They were signed to a strict contract which required them (particularly Yulia) to be short with the press and to refuse to answer questions about their sexual activities and personal lives. Furthermore they were forbidden to sign autographs for anyone other than people related to the group.
Dude makes Malcolm McLaren (the guy who put Bow Wow Wow together) look like Walt Disney.
9. ALL THE THINGS SHE SAID VIDEO: In 2002, t.A.T.u. finally appeared on American shores, having first conquered Russia, England and Germany with their fiercely calculated schtick. The video for "All the Things She Said" was formatted from the original "Я Сошла С Ума" video, featuring the two school uniform-clad girls (then 14 and 15) kissing in the rain while concerned people (their parents?) looked on from behind a fence. The song describes one girl's excitement and anguish at having fallen hopelessly in love with another girl.  Pervy, absurd, and above all: AWESOME.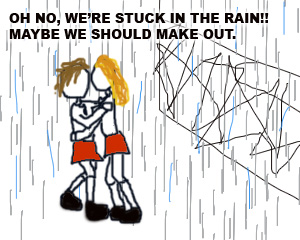 8. JIMMY KIMMEL – The girls attracted a significant amount of buzz almost immediately, though the attention had little to do with their music.  Their appearance on The Tonight Show with Jay Leno was the stuff of legends – the girls wore white t-shirts that said "Хуй войне!" ("Fuck War!") and when they performed a spirited rendition of "All The Things She Said," the cameras panned away during their obligatory make-out session.  Outraged by the network's behavior, the girls appeared on Jimmy Kimmel Live the next day, wearing white t-shirts that said "CENSORED!" One would think that Jimmy Kimmel's dreamed every night since he was a little boy of having a pair of underage Russian lesbians on his show – but Kimmel had NO FUCKING IDEA WHAT TO DO with the band. It was massively uncomfortable; Lena gave deadpan, one-word answers to all of his questions, while Yulia whispered and giggled to her in Russian, then wrote "Хуй войне" on Jimmy's hand.  While ABC didn't censor the girls' (wildly unconvincing) kiss this time, the highlight of the entire appearance came during this glorious post-performance exchange: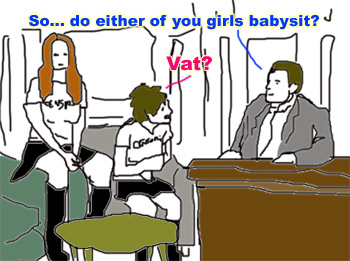 The whole appearance can be watched here.  Without a doubt one of the best things they've ever done.
7. PARODY– Rude, sullen interviews became a staple of t.A.T.u.'s public image, and because they barely spoke English their (dubious) message was difficult to understand.  They were ripe for parody – none so amazing as that of SNL, who dutifully cast Lindsay Lohan (BONUS!) and Rachel Dratch as Russian teen pop sensation D.A.D.I. on their Europop skit Club Traxx.  They performed a song called "We're On The Run," whose lyrics included: "We're going to make out soon, it's almost makeout time, you won't believe your eyes when two girls make out!" Believe me when I say I have scoured the internet EVERYWHERE looking for video of this skit – the best I could find was this transcript.
Oh well.  Lindsay Lohan went on to make out with girls, spray graffiti against the walls and scream at babies, probs because of t.A.T.u.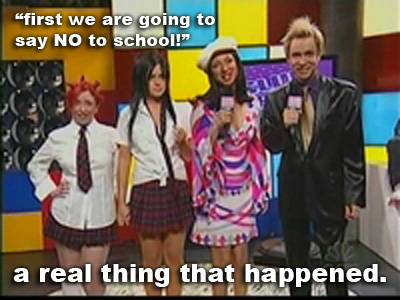 6. BREAK FREE – So then in 2004, Yulia's boyfriend knocked her up.  WAIT!  So you mean this whole underage lesbian thing WASN'T TRUE?! Absolutely nobody was shocked.  The girls insisted they did love each other, had never misled their fans, blah blah blah, whatever.  They broke their contract with Shapovalov, stating that he was more interested in creating scandal than art.  Fair enough.  Time for them to make a new album and claim that this one was really more "the real me," like Christina Aguilera does every freakin' time she puts out a record.
5. ALL ABOUT US – I'd say by this point it's fair to say everybody in my life knew I was totally stupid in love with every ridiculous stunt Yulia and Lena could ever think to pull.  Imagine the joy that swelled in my heart when one of my former bosses IMed me one day to ask: "Have you seen that new t.A.T.u. video where one of them is a hooker and she kills a guy?!"  Um, WHAT?!  This song is a good example of why I don't really like to listen to them in English, but all the same… OMG.
4. DISABLED PEOPLE – So t.A.T.u. were back with a new single and a new album – the darker, brilliantly titled ЛЮДИ ИНВАЛИДЫ (Lyudi Invalidy), or Disabled People.  Seriously, the Russian title translated to Disabled People, or maybe Invalid People.. Included in the jacket was this charming message:
"Lyudi Invalidy are born the ways they'll die. They do not know what it is to be a human, they are a fake, a doll made out of a human-like billet. They have legs, hands, other parts of the body, physically you can not tell them apart from a human, but Lyudi Invalidy do not live, they function. Their functions are drawn by mechanic laws and four other clues: cruelty, fatuity, greed, turpitude. ЖГЖП. Everything they do is effective, predictable, dim and destructive. All the bad, very bad and awful happenings are the result of Lyudi Invalidy's activities. We live among them and rarely notice this big human fake."
Um, so obvs that went over really well.  Glad they got rid of that manager who was only into causing scandal!  The girls insisted they meant emotionally crippled people as opposed to you know, physically crippled people, but all the same – lots of press.  In typical t.A.T.u. fashion, they released the album Stateside with a different name – Dangerous and Moving.
Oh well. Lindsay Lohan went on to make out with girls, spray graffiti against the walls and scream at babies, probs because of t.A.T.u.
3. MOSCOW PRIDE – I suppose it would be pertinent to mention one actually noble thing that t.A.T.u. accomplished during their illustrious career.  I don't know if you guys have read about what's been going on at gay pride in Moscow the last couple of years, but it's really distressing, more of a battle than a celebration.  The mayor of Moscow has called the proceedings "satanic" and swore he wouldn't allow the 2007 parade to take place, and the resulting rally was incredibly violent. Protesters were beaten, including Richard Fairbrass of Right Said Fred, and although t.A.T.u. were protected practically military-style, they still had an egg thrown at their vehicle and a bucket of water unceremoniously dumped over Yulia's head.  Still, I think in a situation like this, everybody gets points for showing up, and t.A.T.u. made it clear that their #1 priority was supporting their LGBT followers. Later, in a surprisingly candid interview, Yulia said: "We are not a political party, but we stand for justice."
2. BELIY PLASCHIK – The ЛЮДИ ИНВАЛИДЫ years were dark and confusing, and while t.A.T.u. went on to do many charming things (like um, giving Lena's dog's puppies away to fans who read their MySpace blog?), they never quite matched the success they'd had in America with "All The Things She Said."  After a year or two of dormancy, they re-appeared in Russia with a record called Веселые Улыбки (Vesyolye Ulybki, or Happy Smiles) and a single called "Белый плащик," whose video… um… well.  While t.A.T.u. videos traditionally showed the girls overcoming the odds together, their overwhelming love for each other triumphing over whatever situation stood in their way, this one showed a stern-faced Lena…
…executing a pregnant Yulia.  One would expect that the "uncensored" version would include a darker plot line about Lena actually sleeping with Yulia the night before the execution (which seems implied), but instead it's just.. boobs.   By this point, nobody is surprised.
1. YOU AND I – The gifts t.A.T.u. have given us are too numerous to count – this list is but a sampling of the ridiculous treasures that Yulia and Lena have shared with us over the years.  Obviously, the only logical next step was to do a totally absurd movie!  The plot centers around two lonely t.A.T.u. fans who meet over the internet and fall in love, and then enter a dangerous world of SEX  AND CORRUPTION! They write a song together and post it on the internet and t.A.T.u. see it and uh, Mischa Barton is there for some reason!  Why?  NOBODY KNOWS!  When the film premiered at Cannes, the only buzz surrounding the movie was a rumor that Mischa Barton refused to promote it.  Basically, You and I looks like Heavenly Creatures set inside the All The Things She Said video – in short, the best/worst movie since Spiceworld.
As of this post, this incredible film has still not seen the light of day – although the band swear they are going to release it as part of their promise to close up "open obligations," no release date has been issued.
A world without t.A.T.u. is a somber world indeed.  Katy Perry, so much to answer for …