The Britney Spears Circus has just finished touring Australia, leaving scandalous headlines in its wake. In case you missed it – a big bru ha ha happened when the Australian media finally cottoned on to what the rest of the world has known for years: Britney Spears lip syncs.
Shocking, isn't it? So the tabloids have been fired up, splashing"derr"-inducing "BRITNEY FAKES IT" headlines on the front pages faster than you can say REALLY PAPI? 'Cause depending on whose version of events you read, hundreds of fans (or ten fans) may have (or may not have) stormed out of Britney's first Australian concert and demanded a refund. Jumping in on this obvious media beat up were the joy-killers legislators, proposing that all touring artists must print warnings on concert advertising and tickets if pre-recorded material is used in live performances. [Oh hai Basement Jaxx, you're fucked!]

Here's the thing: As a tour manager I learned that a LOT of artists use pre-recorded tracks and vocal effects and Autotune when performing. It's not just popstars or one-hit wonders, either. Entire bands – famous bands – have mimed, palm-strummed and air-drummed their way through "live" performances, either entirely or using pre-rec tracks as safety nets. But I know I'm not telling you anything new here, it's the worst kept secret.
What I'm saying here is you've all been had, and though I'm not congratulating Britney, I think it's commendable that she's not actually trying to fool anyone. To me, Britney Spears is not a singing sensation, she's a personal musical milestone and a dynamic performer – very much like the Spice Girls, or Green Day.


Act One: A Portrait of the Artist as a Just a Girl,
Not Yet a Young Woman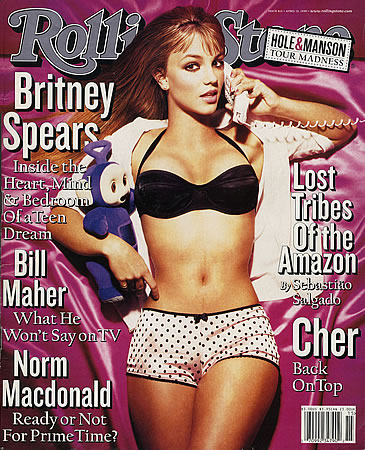 In 1999, when I was 15 and very much trying to figure out the person I was going to be, I bought my first ever issue of Rolling Stone. It had a LaChappelle shot of Britney Spears on the cover, reading "Inside the Heart, Mind & Bedroom of a Teen Dream."
A girl never forgets her first Rolling Stone: I read that issue so many times that year that I can still recall every minute detail of the cover. Jump to 2001, when my then-bestie David and I spent two weeks hiding out in an over-heated Balinese motel room, watching a Britney TV special on loop on MTV Singapore, cabin fever delirium causing us to unravel in hysterics every time Britney said "You think you know, but you have no idea", which was often. [True story: David and I fell out of touch not long after, but then had a chance meeting while waiting in line to collect Britney tickets maybe 3 or 4 years later. Britney's bond never ends!]

Act Two: Overprotected
Britney Spears was the golden girl who could do no wrong – and then did. We've all heard the stories of how it went wrong. But before that, back when she was the Rolling Stone's Teen Dream, Britney Spears was a hugely successful global entertainment machine and pop sensation. And so I was curious – could the media actually be right? Is it possible that this multimillion dollar pop machine, with all her writers and choreographers and production and hype, really could "fail to wow?"
In the interest of providing you with some hard-hitting music journalism, I made it my duty to find out.


Act Three: Yes, We Want a Piece of You
The Britney Spears Circus review
Sydney Australia, November 2009
A good friend of mine saw Britney at Madison Square Garden earlier this year and her review left me quietly confident that the Britney Spears' Circus was going to so neatly straddle terrible/AWESOME. My lesbro and fellow Circus-goer Kate was less optimistic, but to be fair, she was peer-pressured into attending.
The Britney Spears experience began with an hour-long ticket queue that ate into the drinking time we were counting on to soften any potential blows of disappointment that were to come. So we spent our hour stone-cold sober, crowd-watching and showing our age by tsk-ing about how tweens these days don't wear enough clothes. And smell like tanning oil.
Kate: "Can you smell that? By the end of the night that smell's gonna be replaced with the smell of broken dreams. All those little tanned smiles turned upside down."
The night took a turn for the best when I spotted and then purchased this t-shirt: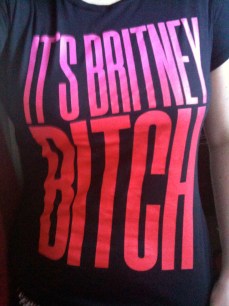 Kate: "Is that right? Should Britney be teaching these kids the word Bitch?"
Me: "Tonight she's gonna teach them about gyrating and pole dancing."
Kate: "Well yeah, that's why I'm here…"
Kate and I would be hard-pressed naming five Britney songs between us and so admittedly our interest in attending this concert was predominately a visual one. However as we hiked up numerous escalators and staircases past the 'Binoculars for Hire' stand and to the highest elevation of the stadium, it became clear we wouldn't see much after all.
Way way way down on the stadium floor, fans who forked out $200 – $1500 got a much better deal. It was a 360 degree stage, a circle platform in the middle of the arena surrounded by a ring of love seats filled with teens and children, including a some flanked by bodyguards that I assume were Britney's own spawn.
The crowd – completely flat after the hour-long queues to get in the venues – were warmed up by a DJ and then the Big Apple Circus, a fairly standard clown-and-acrobatic act except for the midgets and the double-amputee on a trampoline. Given that the last circus I saw was Pink's, it was hard to not draw comparisons.
Kate: "It's like a poor man's Funhouse."

Act Four: It's Britney Bitch
The lights dim, the big screens light up and who introduces us to the Circus? Perez Hilton! Dressed as the Ringmaster! Or Queen Elizabeth? Regardless, how edgy! I actually wonder if the introduction video is a strategic move from Britney's PR people, designed to remind us that while Britney may lip synch, there are other people in this world deserving of a little judgment.
ZOMG SHE'S HERE!
Brit rises up from the floor and starts miming along to a song that I cannot name but know is not "… Baby One More Time". The next track served up is "Piece of Me" and I not-so-secretly dig this song and its wicked, wicked beat. Brit starts pole-dancing in a cage while half-naked men gyrate around her, the faintest hint of smug permeating the air as she sings this one to the Australian media.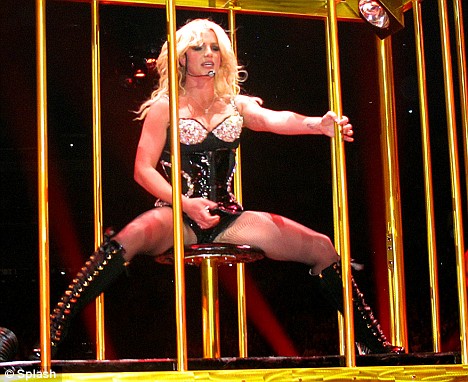 From my seat in Row ZXY, my teeth are rattling from distortion. It's like the sound engineer has taped Britney's backing tracks off the radio and onto cassette, and given the smoke & mirrors I'm not ready to rule this theory out just yet. Maybe this is what altitude sickness feels like.
By the 4th song, I've got Britney's signature dance move figured out and now I'm gonna teach it to you:
1) Stand at the edge of the stage.
2) Call your dancers to gather around you.
3) Strike an awkward pose for a family photo.
4) Put your hand to your heart and thrust your chest to the beat.
In case you were wondering, Brit learned it from Zac Efron.
"It's Britney Bitch" echoes out over the PA and the crowd goes crazy! I let out a little squeal too but mostly because I own that t-shirt now.
"Gimme More" starts playing and I'm fairly certain someone's done a terrible remix because I don't remember the song ever being this bad. The crowd's enthusiasm isn't exactly matched by Britney, who's seems fine but her hips don't lie. To be fair, she's had a rough week. I should note that were at least halfway through the concert and Britney hasn't spoken to us yet, and I'm starting to wonder if her PR people have embraced defeat completely and not bothered to turn her microphone on. Or she's forgotten which city she's in.
Magicians come out on stage and cuts Britney in half, and I'm genuinely impressed because I've never figured out that trick. The rest of the magic act is entertaining enough, but mostly I just want to know when she's gonna sing "… Baby One More Time" because that's the only song I came here to see.
"HEY SYDNEY! HOW Y'ALL DOING?"
ZOMG Britney just spoke! To us! To tell us she's going to sit on a swing and sing a ballad called "Everytime." I actually had no idea that this is a Britney song, I thought it might have been Vanessa Carlton. I lean over to tell Kate that I suspect Britney may be singing this song using her real-life vocal chords and Kate looks at me like I'm an idiot. I still have faith that it was really her, and she did a respectable job.
After exerting herself on the swing, Britney goes off-stage to recuperate while the band plays "Sweet Dreams (Are Made Of This)", which is more Manson than Eurythmics. The guitarist is shredding his axe like his rock stance is about to go out of fashion (jk! it never will) and I can't help wondering if he's really plugged in, 'cause he must feel like the world's biggest douchebag if he isn't.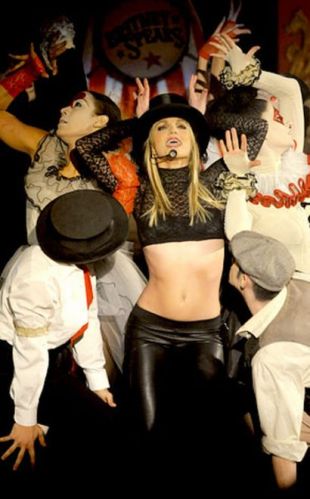 After a few more songs I don't know are performed, the dancers are introduced one-by-one and given time to do a solo, which I think is a nice touch. A few of the boys showcase their abdominal muscles by purposefully pulling up their shirts and showing the crowd, an act that I didn't realise actually happened outside of rap videos and playgrounds. The girls were less impressive, with one miming fellatio which I wouldn't have noticed if Kate didn't do a near-leap out of her seat yelling "REALLY?"  Verdict: Nice gesture, not enough krumping.
The encore is up next and to fill the gap, the big screens show a montage of Britney over the years, from her teenage years to her latest Circus material. It's another nice touch but seeing Britney in her school uniform only serves as a reminder that if she doesn't play "… Baby One More Time" in the encore then I'm srsly gonna die. I mean, she has to… right?
Wrong. Britney strutted out on stage in a police uniform, swinging a baton and launching into "Womanizer" which was fine, it's a great track.
NB: A reader who was probs paying attention (as opposed to furiously scrawling insightful notes like "OMG ABS! FELLATIO!" into a notepad) has mentioned that Britney did in fact sing "Baby One More Time". The jury is still out, we probably weren't at the same concert. Anyway, details. Most of you are probably just here for the Zac Efron jokes.

Act Six: Don't Stand There Watching Her,
Follow Her, Show Her What You Can Do
Final Thoughts: I got to see near-naked hot people gyrating on stage, pole-dancing, showing off their abs and miming fellatio. And friends, you just can't put a price on that experience.
Actually you can, it was $50 Australian dollars (approx USD $7.15) and totally worth it. This concert was no Funhouse, but that's fine because Britney is no Pink. It was still a good pop show, so count me in as one of the Australians who didn't walk out, and won't be demanding a refund.