Welcome to the sapphic table, a series of (hopefully!) unfussy seasonal recipes for your farmers market, your CSA bounty — or your grocery store. Today we're making a four-ingredient asparagus tart for Mother's Day, or for that friend you yell Mother at in your group chat.
---
In my opinion there's no better home for springtime asparagus than nestled between a bed of cheese and butter. That's my selling point. My strongest argument.
But if "cheesewp_posts+ "butterwp_postshasn't quite done it for you yet, I can go deeper. This dead simple asparagus tart is so easy to make for ridiculously impressive results that you can assemble and bake the entire thing with sleep crusted in your eyes and still partially in your early morning zombie form. If you cut a few corners as suggested (I promise you don't have use a rolling pin unless you want to), it will take you longer to decide on a Spotify playlist than to get this into the oven. Buttery, store bought, frozen puff pastry will do all the work for you — making the final result impeccably rich and flaky, almost as if you're a master baker, and will knock the socks off of anyone in attendance. The asparagus roasts as the pastry cooks, becoming deliciously charred at the tips and lush throughout. This is a genius hack recipe, especially if you consider yourself not skilled in the kitchen. The end result is always outstanding, no matter how little experience you have.
I have particular feelings about brunches, especially brunches at home — they should feel like luxury, a self-carved vacation of your own making, but the process of creating said brunch should not leave you exhausted, otherwise you've defeated the whole purpose. If I close my eyes while sipping my mimosa from a mug (that I'm pretending is a glass, but I can't be trusted with stemware that early), I want to feel like I could just as easily be at that one fancy restaurant downtown as I am in my pajamas serving friends from my kitchen.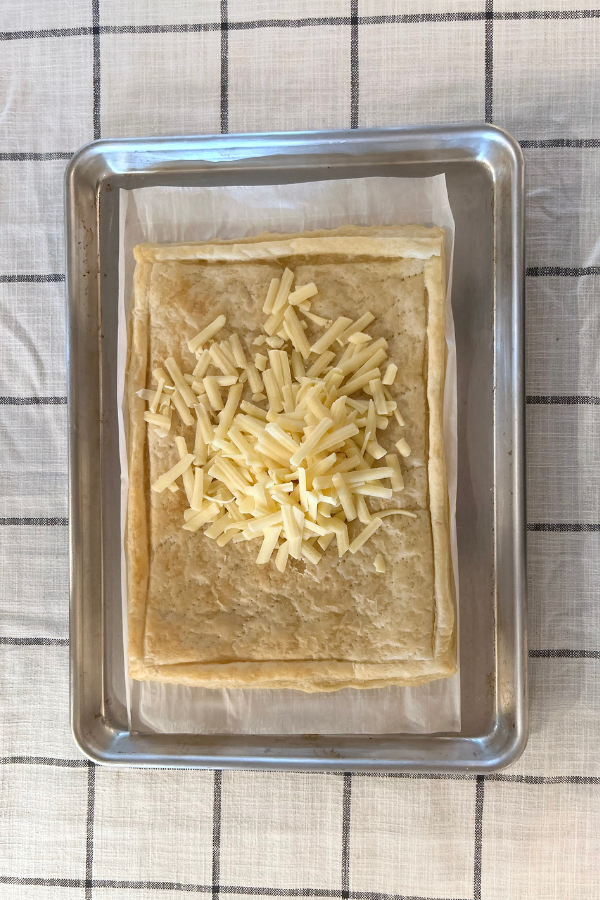 If that also sounds like what you're into, just saying perhaps to impress for mother's day because you forgot to make reservations at the nice place you know she likes, or maybe for your chosen family to survive through the rough edges and sharp corners of the day together, maybe to eat it by yourself while you read that book you keep putting off and save the leftovers for Monday morning… in any of those extremely hypothetical situations, this is for you.
There's a few dozen versions of this asparagus tart online and to be honest I'm not sure what even qualifies as a "tartwp_postsbut I'm keeping it because that's what all the other recipes call it, plus it sounds nice. This version is lightly adjusted from Martha Stewart's, because that's how I first learned how to make it. Over the years I've lowered the cooking times to minimize the chance of the puff pastry burning, along with using slightly less cheese and asparagus. The shatteringly flaky pastry shell is my favorite part and extra cheese/ asparagus weight can create what was once known on the Great British Bake-Off as a "soggy bottomwp_posts— still delicious, but you'll end up having to eat it with a fork and knife. I also offer less expensive alternatives to her original gruyere.
Four-Ingredient Asparagus Tart for Mothers Day (Or the Friend You Yell "Motherwp_postsat in the Chat)
Serves 3-4 as a main course, or 6-8 as a side
Ingredients
1 sheet frozen puff pastry
1 1/2 to 2 cups shredded gruyere cheese (*this can easily be cheddar if it's cheaper or your store doesn't have gruyere. It could also be a mix of cheddar and gruyere if you're feeling it, but that would take us over 4 ingredients!)
3/4 to 1 pound of asparagus
1 tablespoon olive oil
Instructions
Defrost puff pastry according to package instructions (pay attention! It might require setting it out in the fridge overnight).
Preheat oven to 400 degrees. Trim the bottoms of the asparagus spears (cut off the white parts). If your asparagus is medium-to -thicc, instead of thin, use a knife to cut asparagus length-wise — making two skinny asparagus where there was once only one. If your asparagus is already thin, you don't need to do that. Set asparagus pile aside.
Line a baking sheet large enough to hold the puff pastry with parchment paper or lightly oiled aluminum foil, spray, whatever is your favorite "keep things from sticking to a baking sheet" situation. Place pastry on a baking sheet.
Optional: Using a rolling pin or a clean wine bottle, roll the puff pastry into a slightly larger rectangle than its original shape (I usually just roll it once or twice first up-and-down, and then side-to-side, all over. I also sometimes skip this step). Trim any uneven edges.
With a sharp knife, lightly score — this means draw a line into it, slightly pressing down — the pastry dough, 1 inch in from the edges on each side, to mark a smaller rectangle. Inside your scored markings, use a fork to make holes all over the dough. This is to prevent the dough from "puffing" too much while it bakes, so please poke holes liberally.
Put in oven for first round of baking, roughly 12 minutes.
Remove puff pastry shell from oven, and inside your scored lines, sprinkle your shredded cheese. Arrange asparagus in a single layer over cheese. If you wanna get fancy, you can alternate the ends and tips. Asparagus should be packed tightly together — it will shrink while baking! — but not overlapping (a little overlap is OK if you just can't make a single layer work, but ideally we're going for single layer here). Drizzle olive oil over asparagus and season and season with salt and pepper.
Return to oven and bake until spears are tender, another 12 minutes.
Cut into 6-8 pieces, depending on preference. Serve warm.