Hi! Mooo mooo! I'm Natalie and I will be writing about …
about …
about …
(This is sort of how it goes in my head) …
… about politics and LGBT rights and feminism and women's rights and social justice and social norms and categories. I suspect I'll write about things that irk me, things that excite me, things that make me go "what the what?!", things that challenge me, make me uncomfortable in my own skin, things that are pleasurable and exciting.
For example: some things I am thinking about right now:
1. Queering Gender – Why can my boss (a straight, white man) wear a tie and a button down shirt to work (and receive compliments on his outfit) and I, a woman not fond of labels , can not … because … it's apparently "not lady-like, professional, or welcoming.wp_posts What the what?!"
–
2. The United Nations and UN processes – particularly around the financial crisis, the outcome of the G20 meetings, aid flows and how they support (or, usually, undermine) gender and sexual equality.
3. The LGBT legislation on marriage that is on several states' agendas in the US of A right now: Vermont, New Hampshire, Iowa … IOWA!
4. Categories – their purpose, their contours, their ability to push people out, bring people in …
5. My fingers … why do I keep picking them? Jesus Cristo! They are disgusting!
I am super excited to contribute to such an amazing publication with such amazing readers and such an incredibly talented team. For now I'd like to share with you a compelling interview I recently conducted with myself.
---
Interview: Natalie-on-Natalie
Q: So dear Natalie, what are you doing right now?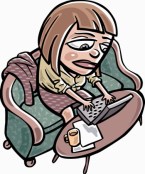 A: Eating my 17th piece of Irish Soda bread (damn you A;ex!) and looking out my window into the alley and appreciating that it is 6:30pm and still light out.
Q: How are you feeling?
A: Personally? Professionally? Hmm … Blergh all around, for sure. I've had a fierce cold for what feels like three years. That's sort of tainting my outlook on life right now. I feel majorly defeated.
Q: What are you reading?
A: At the moment, a piece from the OECD Development Assistance Committee on indicators to measure whether gender equality is being incorporated into development policy. I'm having a very hard time understanding it. I also just began reading a book I borrowed from Riese entitled The Whole Story and Other Stories by Ali Smith which she borrowed from Carlytron. It all comes back around, go team.
Q: What's one thing you couldn't live without?
A: Hands down, my Carmex. Chapstick really. I go insane without chapstick.
Also Office Space.
Q: Office Space? Can you elaborate?
A: I have a really hard time sleeping at night; I have found some relief though from three movies: Office Space, Bridget Jones's Diary and Best in Show.
I have also taken to watching episodes of 30 Rock. In college, where I really began this ritual, I started falling asleep to Kissing Jessica Stein. I love that movie. Hmmmm…I need to start rotating it in. At the moment I am watching 30 Rock.
Q: Do you own a swingline?
A: I do! It's magenta and I love it!
Q: Why are you working on autostraddle?
A: Because I love Riese — and I love what Autostraddle is trying do — and I believe deeply in equality and love, just like Autostraddle does.
Q: What makes you qualified to write about LGBT issues from a feminist perspective?
A: Eeeeks, I have to work on the self-confidence thing; I worry often that I am not qualified—or rather that my voice doesn't (and shouldn't) matter. There are people out there who know this much better than I do and whom are much more eloquent and I struggle to speak when I think of all the others who could speak much, much more intelligently and beautifully on these issues. But, that said….sigh. I have some formal training and some life training and some analytical skills and I think these combined give me legitimacy.
Q: If you could change anything about yourself, what would it be?
A: I would stop procrastinating and I would learn how to create a workplan! Also, I would stop ripping my cuticles off.
Q: Natalie, did u happen to buy a new humidifier yesterday?
A: Yes! It's wonderful. And streamlined.
Q: What is your least favorite daily activity?
A: Bathing/personal hygiene. It's so repetitive and time consuming. I do it but I don't like it!
Q: What would you buy right now if you had some money?
A: Three things: a fantastic printer, a massage and my perfume Hanae Mori (I ran out three weeks ago and have since been stealing Riese's perfume).
---
What I am doing right now:
1) Found this publisher while doing some research for work work; they seem very sassy and are dedicated to the politics of radical social change. Titles include Heat: How to Stop the Planet From Burning, and The Revolution Will Not be Funded.
2) I am reading a lot of jibber jabber on the financial crisis; it's hurting my head. Most of the world has been in a financial and economic crisis for quite some time: why is it only labeled as such when developed countries are significantly impacted. hmmmm?
Anyway: the financial crisis and its impact on women globally, development, aid … there is a commission at the UN– check it … they are examining how to make the global financial and economic system more equitable and accountable — what type of reforms would lead to a more just system? They came up with some sassy recommendations; not perfect by any means, but a significant step in the right direction. Read more here.
3) I was reading "Construction of the Female Body in Gynecology" post today on feministing, about "a tangential topic that [the author] thinks is sometimes overlooked in LGBT studies: lesbians' experience with sexual and reproductive health care services" and it struck me as an excellent topic for an autostraddle post. Theorizing and unpacking the relationship between the medical community, bodies and sexuality makes me so hot! I could talk about this with y'all endlessly …
… but, for this first piece, I will simmer down and focus, grasshoppers: let us look at the relationship lesbian, bisexual, and transgender women have with the gynecologist and with sexual and reproductive care overall. I suspect treatment varies around the country, and consequently so do queer girl's comfort levels with the doc.  Riese & I have talked about it just briefly and we're already energized by how deeply the personal is political.
I know, we just met and I'm asking you about your sexual organs! See, isn't this already fun? Let's get all the tough stuff out of the way.

What have your experiences been around sexual and reproductive health care? Do you feel it's relavent to you? What are your feelings and thoughts and experiences with regard to the big G to the Y to the NO!? Write me in the comments form! You can comment anonymously — it doesn't actually verify your email address so you can make one up. You can also just contact me via the contact form. Do you get regular checkups? If you're gay or bi, do you feel you don't need to go, do you feel marginalized by the gyno or have you found an open-minded saint? Any experiences you want to share would be awesome!
I would love, love, love to hear from you all.  I will incorporate them into my first post (anonymously, of course!)