Queers, it is Fall time. And Fall time means sweater time. It's the most wonderful time of the year. The songs will tell you that's Christmas, but they're lying. It's Fall. And I am not the only one with strong sweater feelings: when I emailed the team to ask about their sweater feelings, my inbox was flooded. What do we like best? Grandpa sweaters. Grandpa Sweaters of all shapes, sizes, patterns and materials.
How do you classify a Grandpa Sweater? If it can be found in the wild on a grandpa, it's a Grandpa Sweater.
And there's about a hundred different ways to wear Grandpa Sweater in a queer fashion. Here's a few of them! So sit back with your pumpkin spice latté, your tams and your fingerless Fall gloves and order yourself some.
+
Rachel's Look: Bold Solid Colors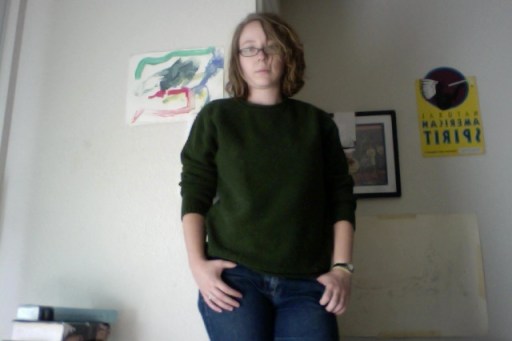 "I got it from Goodwill, it's got a rolled neck and the rest of the body is moss stitch, it's acrylic but still super soft and warm. I originally bought it planning to use it to make a cat bed for my cat but then I fell in love."
+
Bonus Grandpa Points: shoulder patches.
+
+
Kristen's (and Minnie the Cat's) Look: Greyscale
Kristen: "I snagged this grandpa sweater at a major discount when I was thrifting during a spring heatwave. (Always shop off season kiddos!) Given that it was already loved/worn/washed I didn't have to worry about accidentally shrinking it to kitty sized. It is the softest piece of clothing I own and I am all about the snuggles."
Minnie: (Did not express a love of her sweater)
+
Bonus Grandpa Points: shawl collars, elbow patches and toggles.
+
+
Lizz's Look: The Subtle Stripe
"I bought this sweater at Harry Potter World in Orlando because I obviously really needed it. It's theoretically some limited edition sweater like the ones from the movies. Once I got home I realized that few people were ever going to be able to recognize it for its true Harry Potter awesomeness. Fortunately it looks awesome anyways. I love to pair it with a V-neck, skinny jeans and black military boots when I feel gross but have to look moderately put together. Everyone just thinks "Oh look at that cute sweater with that adorable stripe at the bottom." No one realizes I'm actually wearing it because I'm super lazy and it's wicked comfy."
+
Bonus Grandpa Points: some not so subtle stripes.
+
+
Vanessa's Look: Argyle!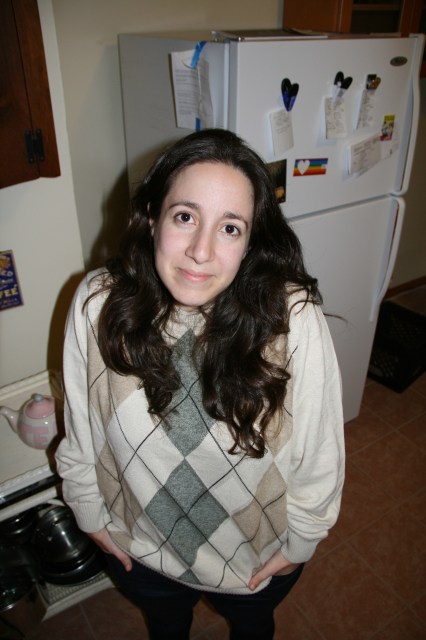 "I love grandpa sweaters because they are cozy and comfy and they mean fall is here and I can drink warm beverages and go apple picking and curl up by my non-existent fire place. I like them because when my girlfriend wears them she looks handsome and dapper, and when I wear them I feel casual and sexy and you can make 'em fancy or dress 'em down and really they feel as though they are perfect for every occasion. This is my newest grandpa sweater and I got it for $5 at a men's sample sale."
+
Bonus Grandpa Points: extra baggy sweaters
+
+
Ali's Look: Cable Knit
"I am not even gonna pretend this is mine. I stole it from my girlfriend who has a whole closet full of grandpa sweaters. But it's my favorite because it's so floppy that the sleeves can cover my hands if I so choose. And of course because it's cable knit. As a knitter, I have a great appreciation for cabling. That shit's hard."
+
Bonus Grandpa Points: cable knit mixed with Fair Isle.
+
+
Carmen's Look: Patterns, Patterns, Patterns!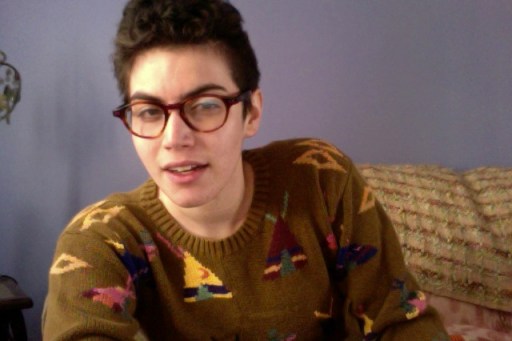 "Charlotte gave me my grandpa sweater because even though it was slightly too small it was warm and she knew I needed a gift. I wore it to Thanksgiving dinner in an attempt to feel covered in my soon-to-come battles at the dinner table; instead I ate a brownie and laughed my ass off. It's super goofy and it fits nice with leggings as pants when I have a hot chocolate in tow. I love it."
+
Bonus Grandpa Points: woodland animals.
+
+
Kate's Look: Accessorizing The Grandpa Sweater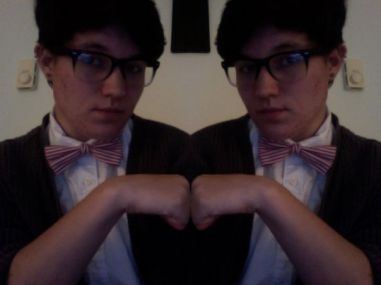 "I acquired sweater #1 from a friend. It has leather triangles sewn into the pattern and it's a little bit too big for me. I wear it with lil black skinny jeans and run around like I am a four year old. Sweater #2 is a vintage 80s Calvin Klein sweater I stole from my uncle. I can wear it over everything but something about a bowtie really completes it."
+
Bonus Grandpa Points: moar bow ties.
+