Back again for MORE TELEVISIONARY COMMENTARY? You've come to the right place! But first… some news!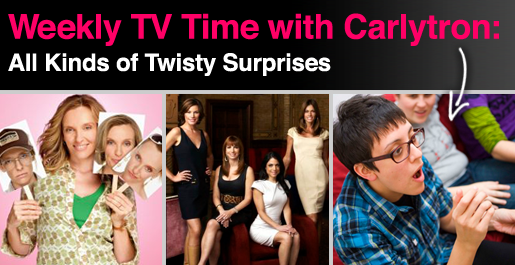 As Riese reported last week, The Farm will NOT be picked up by Showtime. And can I just say… thank God! I think Ilene Chaiken's punishment for the L Word's final season (and significant portions of other seasons) is to never work again. Maybe that's too severe, I don't know. But I'd rather have no lesbians on TV than Ilene-penned lesbians; Lord knows we don't need any more ripped-from-the-headlines-then-made-scientifically-inaccurate nonsense, rapidly dying tennis superstars, or … Papi.
Also, Wanda Sykes is getting her own late night talk show on … Fox? Allrighty. Fox it is, then. I'll watch Fox if I have to because it's Wanda, and I love her.
Umm, in creepier news, one of the choreographers on one of my favorite shows, So You Think You Can Dance, was arrested for multiple counts of sexual assault. Gross, dude!
And finally, the lawsuit that was keeping Project Runway in limbo has finally ended. ProjRun will begin airing its brand new season on Lifetime this summer. In related news, Bravo has announced the cast for its new show, The Fashion Show, which will start on May 7th, most likely [cleverly, since it's primarily a ProjRun knockoff] airing at least a month ahead of ProjRun. Don't worry, Bravo; by the time it's actually on no one will care anyway. And, I mean, come on, it's on Lifetime, so it'll probs be airing between "Mother May I Sleep With Danger" and a Wife Swap re-run, how edgy could it possibly be.
And finally, don't forget to check out the series premiere of Amy Poehler's new show, Parks and Recreation, which starts on Thursday. I'm sure I'll have many feelings about this for next week's column.
And now…
The Carlytron TV Awards for the Week Ending on 4/04/09
The AWESOME Award
Bethenny on Real Housewives of NYC MORE than earned this award this week. She had to put up with one of the most ridiculous reality show moments I've ever had the pleasure of witnessing; Evil Kelly invites Bethenny out for drinks, subsequently shows up thirty minutes late (on purpose) and THEN proceeds to tell Bethenny that they aren't friends anymore. Kelly basically acted like a deluded, bratty lunatic while Bethenny kept her cool in the face of an Actual Crazy Person. Check out the insanity for yourself!
Bethenny, we salute you for so many reasons (her wacky Jill Zarin impression being one) but helping the world see how insane Kelly can be is my personal favorite.
The FINALLY!! Award
The assumed-dead lovechild of Lily and Rufus finally made contact with a main cast member on Gossip Girl this week! I knew that Dan couldn't possibly have a real fan, that's just ridiculous. His "fan" is actually his half-brother and I can't wait for him to show up and wreak havoc on everything (see also: the upcoming return of Georgina Sparks). This week, Serena threw a crazy party for Jenny and ran off to Spain, Nate and Blair got back together, Lily and Rufus decided not to move in together any time soon (thank God), and Chuck and Vanessa finally hooked up (they are also dating in real life). I can't believe this show has somehow made me like Vanessa, I really never saw that coming.
Also, Sylar is finally [pretending to be] dead on Heroes! Twisty! I love the homo-undertones of Sylar and Danko's new partnership, and [SPOILER ALERT] hope that this has something to do with someone dying at the end of the season (don't be mad that I told you, people always die on this show, and usually they come back, though this time I think they won't, but whatever, this show has a nebulous grasp on the space-time continuum, and hey this is quite the run-on sentence now isn't it?). In other news, Claire drank some fratboys under the table in Mexico and then decided to finally like her bio-dad Nathan, and Peter and Angela hide out and get nostalgic in a church. Can't wait to see the stunt casting for Angela's sister!!
The Why Haven't I Been Watching This? Award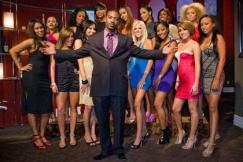 I caught part of an episode of For The Love of Ray J on VH1 at the gym this weekend and I ended up staying on the treadmill way longer than I had planned just to keep watching it. Brandy — Ray's sister, for those not up on their 90s music — was giving the final four girls  polygraph tests to determine who was the best match for her brother. All of the girls admitted to being at least a little bit gay and no one made a big deal out of it, which was cool. But that could have something to do with the fact that everyone was in a tizzy because one of the girls admitted that she fantasized about killing the other three girls. So, yeah… there was that.
The ZZZZZZZ Award
Grey's Anatomy wasn't on, probs fearing the ER series finale juggernaut (another ZZZZZ right there), but they still get this award. Just because.
The SHUTUPSHUTUPSHUTUP Award
The Real Housewives of NYC's Kelly Bensimon, see above, no additional explanation required.
The Sad Award
United States of Tara ended this week, which makes me sad. I thought the season finale was really nice. Had the show not already gotten picked for a second season, it could have served as a good series finale, having tied up some plotlines but leaving others open-ended for season two. And how much do you love Marshall? Read our BFF Annie Barrett's finale review over at EW. With that out of the way, I can now focus my attention on Weeds, whenever that comes back.
The Hot Girl of the Week Award
Linda on Better Off Ted! Obvs Andrea Anders is living in Portia's hot blonde shadow, but she was really awesome this week. First she came on to Ted by telling him she's bendy from doing yoga and really good at sex, then she and Ted "made out" wearing hazmat suits. Also, she was on The Class, which has been watched by me and maybe four other people before it was cancelled.
Portia was also hilarious this week, co-opting Ted's daughter to teach her about the harsh world of corporate America and then making Ted's daughter handle the firing of employees. I am really loving this show, I hope ABC keeps it around for a long time.
The Funniest Thing I Saw All Week
Actually the times I laughed the most this week were whilst watching Chelsea Lately. Goddamn, she's hilarious. I can't even remember one thing that stood out… it was all hi-fucking-larious this week.
The Dollhouse Award for Dollhouse
Another awesome episode of Dollhouse! Joss is still The Man, in case anyone was asking. This week we were treated to a hot scene between Ballard and Echo that quickly turned into a srsly creepy dream, and then some great twists that gave us some more insight into the Dolls' pasts. I was wondering why NO ONE IN CHARGE was noticing what was going on, given the tight surveillance and security in the Dollhouse, but it made perfect sense in the end — they were doing it on purpose to give the dolls closure. Eliza kicked serious ass in several awesome fight scenes, and I like how they're fleshing out everyone's characters more and more as we progress. Echo's phone call to Ballard at the end was SNEAKY, Joss. SNEAKYYYY!
Though I must add …  is anyone else starting to get creeped out by all the rapey stuff around Sierra's character? io9 has a great recap of this episode that focuses a lot on this aspect of the show.
The Sitcom Roundup
None of them were on this week, save for How I Met Your Mother. This episode was really funny because it started and ended with LAZER TAG and anyone who knows me knows that I love LAZER TAG (just another reason why Barney Stinson and I would get along very well, were he not fictional). Also, Barney and Robin go to a rave and Marshall coaches Lily's kids in basketball. I love how they're hiding Alyson Hannigan and Cobie Smulders' pregnancies, it's really hilarious.
SNL (not a sitcom, but it's "funny") came back this week but it was sorta … eh. Then I realized that there were a few funny sketches near the end, that I missed because I went to sleep too early! Silly show. First of all, there was a sketch about the Muppets (did NBC recently buy the Henson universe? What's up with all the Muppety stuff lately?), which was kind of amazing.
Then there was an Easter album from Clancy T. Bachleratt and Jackie Snad, who can now be called "recurring characters" (I'd post a link to their first album but the internet isn't being very user-friendly right now). The Fast and the Bi-Curious was funny too, if you want to see Andy Samberg and Seth Rogen act really gay together (sadly it's not Jordana Brewster and Michelle Rodriguez, so don't get your hopes up).
Tron out!