A "hot topic" here at Autostraddle HQ is "how to identify other gay people" (e.g., that hot girl on the train!) No one likes being rejected, and not every short-fingernailed wrist-cuffed alternative lifestyle haircutted lady is necessarily "in the lifestyle." Therefore we're really upset about the twitter trending topic #uknowhowiknowuregay currently tearing up the interwebs started by the Grammy-nominated rapper, Fabolous, because we believe it is spreading dangerous misinformation and we're here to correct some of these vicious lies.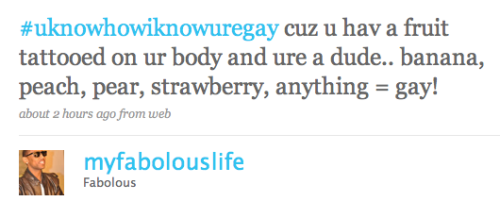 We've compiled some of the most misleading tweets from #uknowhowiknowuregay that we believe are actually miscategorized. See, despite what Fabolous would have you think, not everyone who has a fruit tattoo is gay, silly rabbit! I know he's just trying to help by spreading useful stereotypes and encouraging bigotry and closed-minded ASSumptions, but Autostraddle can help a little bit better.
But first let us tell you how it all got started! Aforementioned famous Rapper "Fabolous," who tweets as @myFabolouslife, was inspired by a scene in The 40-Year-Old Virgin, which honestly Team Autostraddle is torn about — homophobic, or mocking homophobia in a funny way? What do you think?
This scene is from Knocked Up and I guess is along the same lines (obviously I actually have no idea, as I never see these kinds of movies.):

We'll tell you the tweet and then we'll tell you what the tweet is ACTUALLY identifying, so you don't get confused and misidentify the gays.
@myFabolouslife says:
1. #uknowhowiknowuregay cuz u hav a fruit tattooed on ur body and ure a dude.. banana, peach, pear, strawberry, anything = gay!
Actually, that's how you know how you know you are really bad at picking tattoos! You have a fruit tattooed on your body … banana, peach, pear, strawberry … really anything! EVEN WATERMELONS! ANYTHING = BAD AT TATTOOS!
2. #uknowhowiknowuregay U dressed like J.Alexander from America's Next Top Model
No, actually that's how you know that you are J. Alexander from America's Next Top Model! However, he is gay. But if you know who he is, then you already know him, and already know that he's gay, so this is just repetitive.
Now onto @myFabolouslife's minions …
3. @krissilent55 #uknowhowiknowuregay You said the word "penis" one too many times.
Ach! Actually, that's how u know you're the last person playing "the penis game," which is played by one person yelling PENIS and someone else yelling PENIS even louder. Wouldn't that be funny though? If gay people just sat around saying "penis penis penis" all day? Or, rather, just said penis "one too many times"?
Five times =straight.
Six times=HOMOSEXUAL OR PERSON PLAYING THE PENIS GAME.
Thin line, people.
4. @DRock_Hicks #uknowhowiknowuregay you've never tried crack. pussy ass niggas
You know how I know you don't want to end up like "@DRock_Hicks" or the woman on my corner right now talking to the babydoll in her stroller like it's a real baby? 'Cause you've never tried crack! I can't comment on the rest of this tweet because I don't like the p-word.
5. @erikatweeets Not to offend my homosexuals, but #uknowhowiknowuregay if you dance in tights in ballet/jazz… and you're a male.
You know how I know you are a ballet/jazz dancer? Because you're sporting the recommended/required attire for ballet/jazz dancing.
6. @ohhmads #uknowhowiknowuregay because you always pick Waluigi on mario party
Yeah this one is probably true.  SO LISTEN UP! Next time you're playing "Mario Party" with a hot lady or dude (Honestly at first I thought he was spelling "Kart" wrong and then realized that Mario Party is indeed an actual game? Kids these days) and she/he "picks Waluigi," you should PREPARE FOR SCISSORING.
Check this dude Walugigi out:
THIS MAN IS CLEARLY A HOMOSEXUAL PREPARING TO SCISSOR
7. @vivalablackgirl #uknowhowiknowuregay because you have baby hair.
DANGER WILL ROBINSON !!! No, actually, that means you're A BABY. Gays, don't touch the babies!!
8. @Chyna_Bleu727 #uknowhowiknowurgay u wake up with your hands, lips or ass cheeks wrapped around another dudes d!ck
No … that's rape, actually.
9. @Vegas_Jerk ahhhhhhh a gay dude really got mad about people talkin about #uknowhowiknowuregay topic! wit be'n gay there is consequences!
I hope for the goodness of all mankind that there are also consequences in store for people who don't learn how to read, but still dare to write. Just ask Jordan Catalano.
10. @markapatton #uknowhowiknowuregay you sit in the middle of 2 bus seats hoping the bus hits a bump
You know how I know you're one of those fucking assholes who thinks you deserve two seats while some of us have to STAND?
11. @shanbonita #uknowhowiknowuregay CUZ YOU AIN'T UP HERE AT DIS DTP BLOCK PARTY
Gays love block parties, this is bullshit. Maybe we weren't invited. Ever think about that?
12. @ToneyCapo check ths #uknowhowiknowuregay if a grl with size F tits asks you to go tanning with her and u say NO because your not into tanning LMFAO
Gays love tanning and have never exactly shied away from girls with a little extra. Also is tanning a social activity now? [ETA: In a recent episode of MTV's "16 and Pregnant," the pregnant cheerleader took her gay BFF to the tanning salon to sit with her while she tanned. Suck on that, ToneyCapo.]
13. @AshleyNJones89 #uknowhowiknowuregay you have a mohawk, skinny jeans, and a tight ass t-shirt.
No! That's a HIPSTER. HIPSTERS AND GAYS ARE OFTEN MISTAKEN FOR ONE ANOTHER. Srsly this mix-up happens all the time.
14. @chewthis_bash #uknowhowiknowuregay because yu say "uhh uhh biitch" at least 4xs in every convo yu have
Chew this bash. Chewthisbash. Chew this bash? I don't get it. Anyhow, this is actually how to know if someone thinks there are two "i"s in the word "bitch." Just bad spelling. Chronic condition this year. That's all it is. Nothing to see here, move along.
15. @binkyx3 #uknowhowiknowurgay cus your gay ass ended our relationship .. Oh well NEXT NIGGA! Lol


Tinkerbell says: Hello Binky this is Tinkerbell. I think perhaps you were just a bad girlfriend, maybe you did not offer enough beauty or kindness, like I do for Littlefoot when I make him gumdrops in the oven and lick his ears. I hope your next boyfriend makes you feel loved Binky. Lol.

16. @oOoDeBrAoOo People getting offended by #uknowhowiknowuregay are under cover homo. The proud gay people are reading these and saying hell yeah.
Actually, oOoDeBrAoOo (surely that wasn't the last name left on twitter?), those aren't proud gay people who are saying "hell yeah." That's just you. Wait a second …
17. @kevcola #uknowhowiknowuregay cuz ur headline on MySpace is "Who Gon Check Me, Boo!?"
#uknowhowiknowure 15 years old
18. @caitlynbez #uknowhowiknowuregay, you say "fierce".
#uknowhowiknowure Tyra Banks
19. @YAZZIELOVE #Uknowhowiknowurgay u keep staring @ my ass when I walk in my thong


Tinkerbell says: Hello Yazzie Love this is Tinkerbell. That man is not gay, he is straight, and perhaps he is the rapper Sisko. There is a confusion about gay people here that I Tinkerbell would like to comment on. Gay people don't like asses more than straight people. Your boyfriend wants to do you there too. I hope that makes sense YazzieLove. Thank you.
20. @AlbertLaGoy #uknowhowiknowuregay when your bumper sticker says there room in the trunk for all your packing needs lol
There is no such bumper sticker, gays!!! You could look for this sucker all day and never get laid lol! A better bumper sticker to look for is the HRC symbol. It's tricky, 'cause it's not obvious, but it looks like this: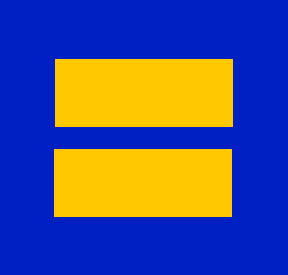 That's all! I hope we cleared everything up for you! Thanks and goodnight! Oh wait! ONE MORE THING! #yaygay has become a trending topic, and Carly has an LOL Cat for it!