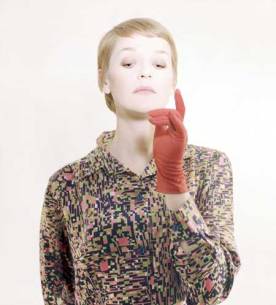 I was curious about El Perro Del Mar's new record, Love Is Not Pop, because until last week I'd only heard of El Perro through the "have you heard this totally rad artist?" grapevine and had never actually investigated further due to a natural aversion to acts whose names get whispered throughout the hipster circles. But now that I've spent the a week listening to this record on repeat, I'll admit that the hipsters were right! I was a fool to resist the calling of El Perro Del Mar!
El Perro Del Mar – whose name translates to "The Dog From The Sea" in Spanish – is Swedish lo-fi pop artist Sarah Assbring (I know, right? Assbrig?), and Love Is Not Pop is her fourth studio album, a mini record co-produced by Rasmus Hägg [Studio].
Taking a minimalist 'less is more' approach, Love Is Not Pop is a well-crafted and at times understated collection of songs about how heartbreaking love is. I worried I'd regret doing this review when I realized it was a breakup album, but I didn't. The lyrics are sad, but Sarah delivers them on bed of uplifting arrangements that, combined with her smooth, reassuringly repetitive vocal lines, seem to make everything okay.
In the record's single "Change of Heart," El Perro Del Mar sings with an air of defeat "searching for a witness or a means to carry on / we will never start" over a psychedelic bass line and rich pianos that offer more sentiment and sophistication than some of Sarah's broken-hearted peers. The "Change of Heart" music video is worth a mention, a mesmerizing clip of two scantily clad male gymnasts doing astounding acrobatics perfectly in sync with the music.
Who doesn't love two men in Speedos and gold body paint? B*tches, that's who. Get ready to love the hell out of this clip:
ALBUM GIVEAWAY!
Thanks to the good people over at Sneak Attack Media, we have two copies of Love Is Not War to give away. All you have to do is email your name to music at autostraddle dot com by 11:59pm (EST) on Wednesday, December 23rd! Winners will be notified via email not long after!