NYC-based guitar virtuoso Kaki King does things you're just not supposed to do to a guitar and the results of these initiatives are consistently AWESOME.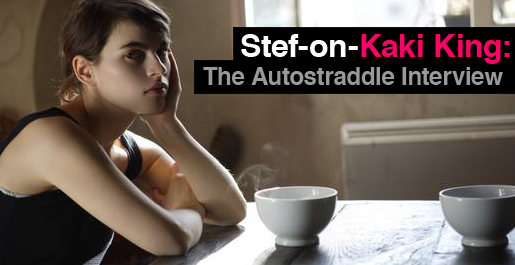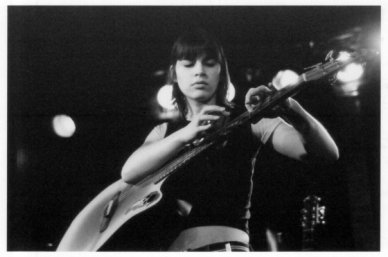 But, for the new arts & crafts project she's been masterminding with a team of artist fans all over the country, she's not just changing the way people look at  playing the guitar,she's changing the way people think about guitars, period.
Twelve fans — twelve guitars — one mission: turn the guitar into a visual representation of her songs.
We talked about this process and many other exciting things on the telephone recently. Just as I'd anticipated, Kaki King is totally humble and adorable. And this was the day I learned an important life lesson: if you want to talk to a pretty girl, just email her publicist.
Stef: Hey, what's going on?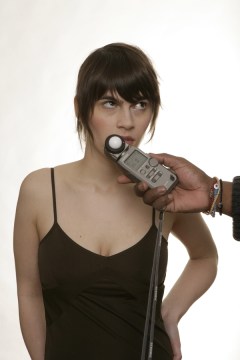 Kaki: Not much!
Stef: Um, I really hate phone interviews cos they're super awkward.
Kaki: Mmhmm.
Stef: Um, how are you?
Kaki: I'm good!
Stef: Are you in New York right now?
Kaki: Yeah, I am! I'm in Brooklyn!
Stef: I didn't get to go to that Morrissey birthday thing.  How was it?
Kaki: It was really… It was a great, fun singalong.
Stef: Were you just performing Morrissey and Smiths stuff?
Kaki: Yeah.
Stef: Oh MAN, I'm so mad I missed it.  Um, so I guess I wanted to talk to you today about the guitar art project!  how did that happen, whose idea was that?
Kaki: Well, a friend of mine saw me playing at some point and said, "You know, it'd be interesting if you took paint and put it on your fingers and and left a mark of where your fingers traveled on the guitar."  I kind of took this idea for a minute and thought well, OK.. That was the first seed planted, and then I thought: There are a lot of people who are really creative out there, and what if I were able to get guitars in their hands and have them interpret a song of mine on the guitar? I bounced this idea a while, and luckily enough I was able to get about 12 guitars for free!  I thought, well great, if I can do this, then I can get these guitars to people. I sent out a message and a lot of people wrote back, and now we're almost to the point where we have all the guitars in the hands of the artists!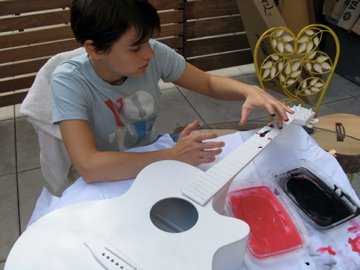 Stef: That's amazing.  How did you decide which people got the guitars?
Kaki: I mean, it was very hard, and I think there were a few people who got let down unfortunately, but it was based on their emails and their explanations of what they wanted to do.  The people that had the more completed ideas that they could send me… I kind of tried to give more of those people guitars.
Stef: Yeah, I saw some of the projects – it looks incredible.
Kaki: Yeah, I mean, it's so early, and not many people have really REALLY started, but the people that have are doing really cool stuff.
Stef: Was there a deadline?
Kaki: Well, we told everyone August 1.
Stef: So what happens to them when you get them back?
Kaki: We are going to have a show actually, a gallery show!  I don't think it'll stay in a gallery, but just like, for one night, it'll be these people, we'll display all the guitars, and I'm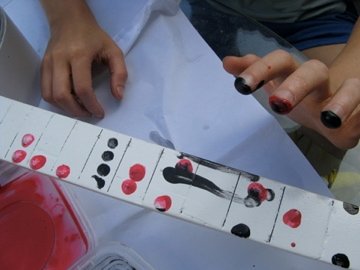 gonna top off the show with a performance where I actually will be playing a song and painting the guitar at the same time – with paint on my hands!  And then we'll auction off a guitar for charity, we're not quite sure which one yet, then basically if there's fans around the world who are like, oh my God, that guitar is amazing, then you know, we can sell it to them!
Stef: Were there any ideas that were just too weird – ones that you wouldn't go for when people were sending in ideas?
Kaki: Um, a lot of people.. some people wanted to kind of do more of an installation thing.  I mean, I was really excited to do that, kind of an exploding guitar, but the unfortunate thing is that I've been shipping things back and forth, and it just needs to be able to travel well, which is unfortunate but..
Stef: There's always next time.
Kaki: I guess so!
Stef: Yeah, I didn't plan on asking you questions much further than this.
Kaki: That's really all it is, you know, it's still sitting here in embryo.  We don't have a specific date yet.  it's definitely very much a work in progress and every day something new happens, so I'm kind of collecting all these little bits and pieces, and really soon it'll be fully realized.
Stef: A lot of people just play shows and put out records, you know?  This is really exciting – a little extra.
Kaki: Well, I don't really want it to be about me, but I just thought it'd be fun, it'd be something to do while I'm not doing anything else… so there you go.
++
Kaki King is ACTUALLY not "not doing anything else" – she's playing a bunch of shows this summer, including Bonnaroo!  Dates are on her MySpace page.  To stay updated about the guitars and the upcoming gallery show, become a fan of the Kaki King Guitar Art Project on Facebook.