Today on Autostraddle: Stef interviews Kaki King!
I feel that today's Daily Fix is somewhat light on substance, but still very sweet at times, like a Little Debbie snack. We cannot be angry and serious and intelligent every day. Hey look at the lesbians!
+ Gays: here's how to prevent pregnancy – How stupid can you anticipate the following press release to be? It was sent by 5WPR, America's most inept organization of any sort. (@gawker)
+ The Muppet Show returns in comic book form! (@nymag)
+ Rich's famous cat Winston interviews Allison Harvard from America's Next Top Model. (@fourfour)
+ Gay penguins rear a chick. Maggie Gallagher is gonna be there in two days with a stun gun and a contract from Purdue Chickens. (@bbc)
+ Haven't seen enough Prop-8 protest videos yet? Good: Viral Videos Hope to Sway Same Sex Marriage Debate: "The Gay & Lesbian centers of Los Angeles and New York are sponsoring a viral video contest hoping to sway public opinion in favor of same sex marriage." (@nbcLA)
+ New book explains what Britney did during her meltdown. The subjects explored in this sneak-preview include doing drugs and drinking too much Patròn! TEQUILA! before the MTV performance. I should've pitched that fucking book, I have a lot of imaginary stories made up about Britney's life during the meltdown. (@ohnotheydidnt)
+ On an entirely related note, watch her babies Sean & Jayden dance to "Toxic"! I love the break-dancing move they keep trying to do.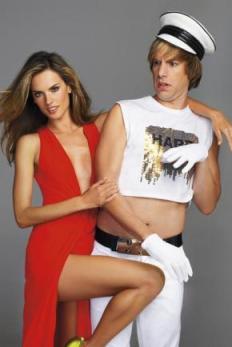 + Jury to Decide Lesbian Coach's Fate: "Kelly Jo Cookson had filed an appeal after the state superior court ruled that she was not fired because of her sexual orientation. …  Cookson is the first person to sue under the Maine Human Rights Act, which bans discrimination based on sexual orientation." (@advocate)
+ Adam Lambert's boyfriend can dance, sing, swim, and talk nonsense! (@queerty)
+ Dawson's Creek show runner trashes the actors who were young and got too famous too fast apparently. I find it hard to believe that a Mighty Duck could ever be a bitch. (@e!)
+ According to a stern editorial in The New York Times, the time to take a vote is now: Vote on Gay Marriage. (@the advocate)
+ Final Fantasy XIII Eyes-On Impressions: Lesbian Motorcycle Coupling [Update]: "When triggered, her gestalt transformation involves Shiva and another Shiva (her "friend"? "college roommate"?) dancing around each other, before gently holding hands, continuing their dance, then…spreading their legs and bolting together at the hips, Voltron-style, to form a supernatural motorcycle. It was pretty awesome." (@kotaku)
+ LiLo and SamRo do the Amazing Race: "LiLo jumped on a high-speed London-bound Eurostar in Paris yesterday in a bid to get their volatile relationship back on track." (@mirror)

How Do You Like Us Now
Last Time: 115
+ New Hampshire Legalizes Same-Sex Marriage: "The New Hampshire legislature approved revisions to a same-sex marriage bill on Wednesday, and Gov. John Lynch promptly signed the legislation, making the state the sixth to let gay couples wed." (@nytimes) +40
+ Anonymous $2.5 million gift to UBC creates largest fund for study of sexuality: "A gift of $1.7 million to the University of British Columbia will be used to establish Canada's largest fund for the study of human sexuality and human relationships. The gift, made in memory of lesbian literary icon Jane Rule, is just the latest of several endowments made to the institution in the last year." (@vancouversun) +5
+ Obama says gays have a friend in the white house. I think he might be talking about Bo but I'm not sure. (I never know how to score this shit)
+ "This whole issue of gay rights organizers hiding their top secret polling information from the enemy has the unwanted effect of withholding that same powerful data from other activists and allies!" All The Things Homophobes Can Learn From California's Secret Poll (@queerty) -10
Total: 150!

Auto-Straddler of the Day: A Swan

from Carly:
If you follow Eliza Dushku on twitter (@elizapatricia) then you would know that yesterday she was at the ultra-nerdy E3 Expo in LA (the 3 Es stand for Electronic Entertainment Expo) to promote a new video game called "WETwp_posts(really dumb name, sorry to say). She does a voice in the game and having a hot girl at a geek conference full of fanboys (and girls!) is pretty par for the course in trying to sell more games and whatnot. But obvs we here at Autostraddle are big fans and certainly appreciate any hot girls who show up at nerdy events. I know very little about video games but the graphics are pretty cool, sorta Grindhouse-y. See the trailer and read a little about it here.

from Crystal:
If you live in Sydney, head on over to the Seymour Centre this Saturday for the screening of Lightswitch – a short Aussie film about a young writer named Danielle, who meets a girl named Shauna and embarks on 'a challenging journey of self-discovery and inevitable angst' on the back of Shauna's motorbike. Both the film and event look awesome, and I regret that I can't cover it because I'm going to see Pink. You can check out the film trailer here.