As the legend goes, on March 9th, 2009, Autostraddle got born. It was a rag-tag affair — just a handful of girls (Riese, Alex, Robin, Carly, Stef, Crystal, Laneia, Natalie, Tess), a dream, a passion for masochism and a vague familiarity with the wordpress platform.
Autostraddle: March 2009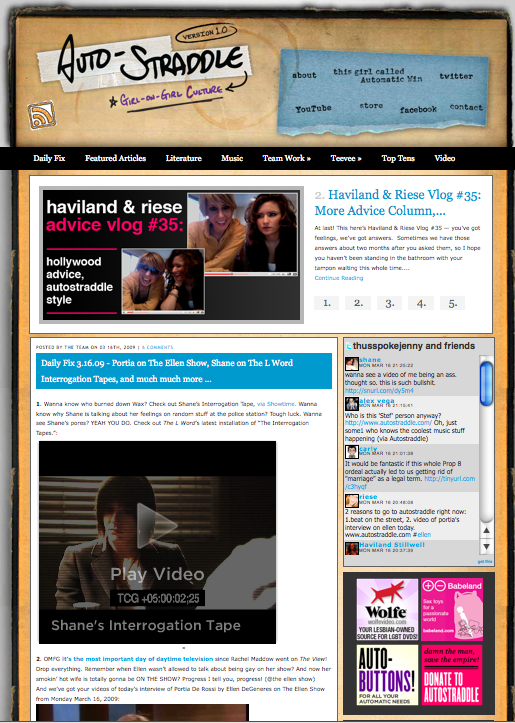 +
Autostraddle: March 2010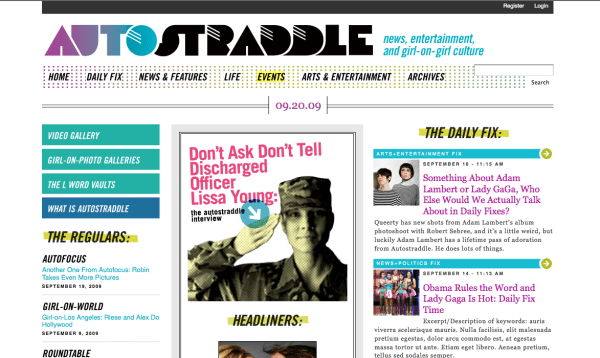 +
Autostraddle, March 2011:
+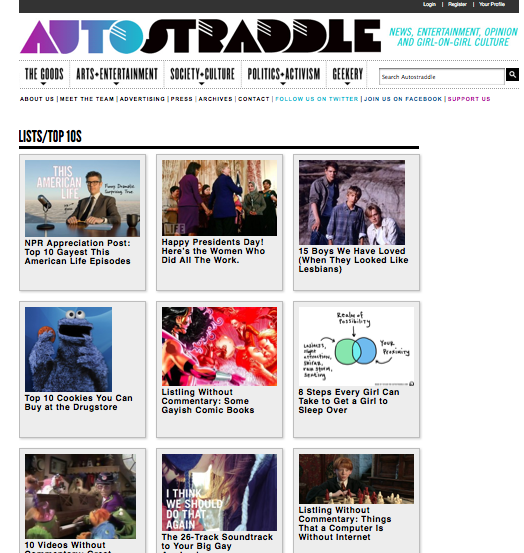 Now it is today and we are two full years old / young.  It seems like JUST YESTERDAY that we were celebrating our 1st birthday! We feel like we've come "a long way." We're excited about the future! We love your shirt! We love you! I mean no really we do.  And we're having a party! Our friends at PYT Productions in LA are throwing us a birthday party TONIGHT so if you can make it, go have a piece of cake and a piece of ass in our honor.
So what happened this year? Well, we churned out 2-6 daily fixes a day, 3-7 features a week, and heaps of recaps, reviews, lists/top 10s, personal essays, open threads, videos and team picks. (These are so easy to find now with the new redesign! Just hover over "THE GOODS" on our header and use the drop-down to go straight to our now super-easy-to-navigate archives)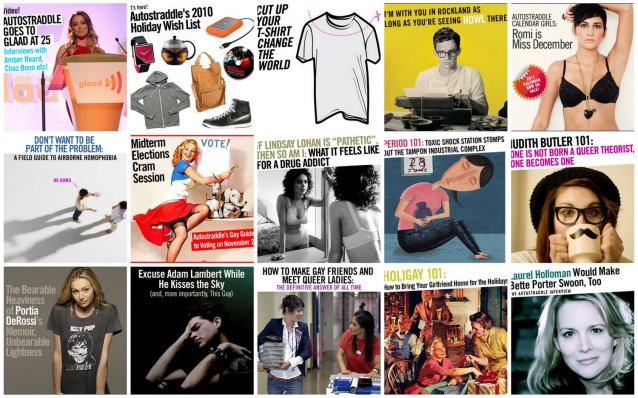 We interviewed Chely Wright, Laurel Holloman, Courtney Trouble, CREEP, Fortune Feimster, Florence + The Machine, various Real L Word cast members, Craig Ramsay, Margaret Cho, Kristin Chenoweth, Ashleigh Sumner, Jennifer Corday, Guinevere Turner, Kaki King, Mrs. Danvers, Kin4Life, Judy Gold, Liz Feldman, Bitch, Dani Campbell & Pam Grier & Rea Carey, Toni Collette, Marisa Meltzer, Mariah Hanson, Amos Mac, Dani Campbell, Adam Bouska, Anita Lo and Jennifer Beals.
We traveled to Lollapalooza, Bonnaroo, Rodeo Disco, The Los Angeles GLAAD Awards, The Evening With Women, BlogHer, FemmeCon, The New York City Glaad Awards, The Autostraddle Calendar Release Party, The L Word Convention, The Michigan Womyn's Music Festival, Dinah Shore 2010, GLAAD's 25th Anniversary Party, the DO SOMETHING Awards, Pax East, the Miami Winter Party Festival, South By Southwest, a half-naked ladies show in Las Vegas, San Francisco and across the entire country.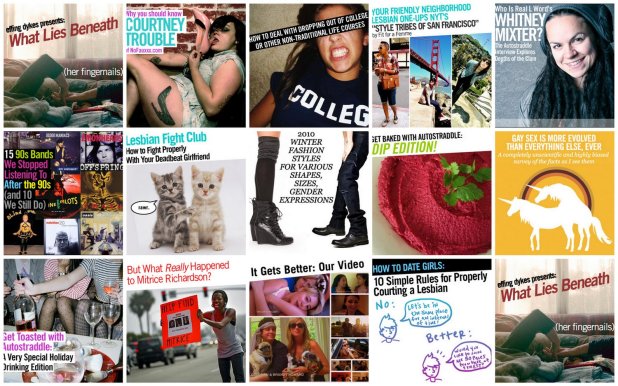 … and we told you how to to smell good, make food with pumpkins, talk to trans people without sounding like an ignorant jackass, be gay when all your friends are straight, come out to your Evangelical Christian Parents, enjoy Channukah as a lesbian with Uncharacteristically Bigoted Parents, make dips, bring your girlfriend home for the holidays, survive Thanksgiving as a Vegan Lesbian, get a good holiday gift for your girlfriend, talk to & meet other gay people, make Thanksgiving food, make your own skinny tie, make holiday drinks, handle airborne homophobia, make bread, buy sweatpants, come out at work, make honest art, fight with your girlfriend, be productive, dress properly for staying at home, practice polyamory, have safe sex, become a better feminist through literature, date girls, cut up your t-shirt, mend your broken heart, buy sexy holiday gifts like strap-ons, get a girl to sleep over, attend a lez-friendly college, pack a good lunch, understand Judith Butler, survive your soul-sucking office job, fly long-distance, make soup, get an alternative lifestyle haircut, handle your period, read comics, make your own suspenders, not give a fuck, be a dude with a girlfriend who is probably gay, dress for the winter, dress for the fall, dress for the summer, dress for the spring, buy a bathing suit, buy shoes, dress for a music festival, not be shy, find a therapist, road trip right, make comfort food, buy a vibrator, pick a good tea, bake things with lemons, buy a cell phone, get a NSFW Valentine's Day gift, buy headphones, cope with unemployment and, of course, autostraddle.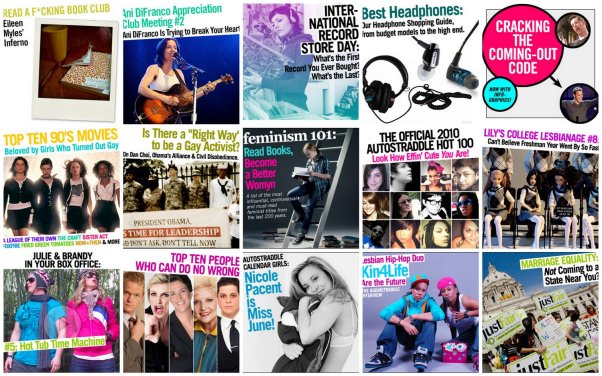 +
Over the last two years, Riese & Rachel have written a lot of articles: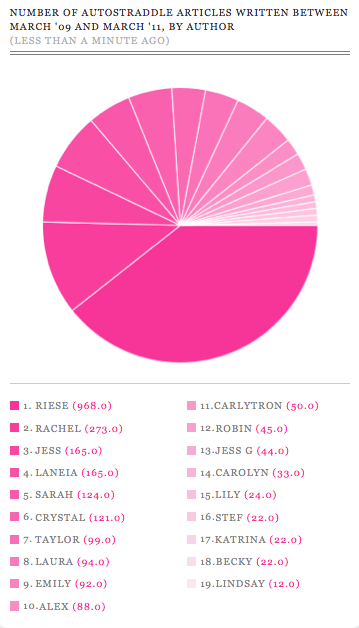 +
And more and more of you have come to the website and consequently read a lot of articles. Look at all these visitors:

I KNOW RIGHT. From 3,170 a day to 55,563 a day is pretty rad. Autostraddle is growing faster than Alice in Wonderland on drugs. We surpassed a million hits for the month of October — a target number we were aiming to hit by this summer, which I think makes us ahead of schedule on something for the first time ever. Also we've been attempting to get good stats without SEO trickery or splitting articles into ten pages which would double our numbers. I hate it when websites do that.
We want you to know that we couldn't do it without you. It's your hearts and minds and sparkly unicorn spirits that keep us going, and also your Paypal donations. Literally we could not. do it. without you. Donations keep us going in a more quantifiable, tangible way — in fact, your your donations are our lifeblood. Donations help us cover our operating costs and ensure Riese & Laneia can eat, bathe, and work 60 hours a week making sure every single post on this website says something new, says something interesting, and makes you laugh and/or cry and/or comment.
With that in mind, a really fabulous birthday present would be for you to subscribe as a monthly donator! It's nice that it's monthly because that way every time it's shark week you can console your quivering, pain-wracked body with the knowledge that you are helping a bunch of gay internet weirdos out. Also, Rachel may send you an extra special thank you situation in the mail if you donate a lot and/or include your address! BIRTHDAY PRESENTS FOR EVERYONE.
+
Or just donate. Anything! Twenty bucks, two hundred bucks, two thousand bucks! If you get a friend/family to donate for you and you need some kind of card in the mail, we can work that out. Email alex [at] autostraddle dot com, she is very reliable.
Click here and donate!
In the end, though, it's not about the dollar bills. It's about you, and us, and how you do you and it's so fucking incredible and that's what lets us do us, so that somehow we have had two continuous years of us doing us despite being the least financially viable idea on earth. We're weirdos and we love you. Thanks for loving us back.