For the second time in Autostraddle history, the editor-in-chief and design director totally left the internet for a period of time exceeding three hours. The first time, it was for The Sweet Cruise. This time it was for buffets & boobs at the capitalist wonderland of Everything Wrong/Fascinating in the World: Las Vegas, Nevada. But why allow this weekend trip to divert from NSFW Sunday creation when we could actually have NSFW Sunday experiences for ourselves, and then just tell you about them?
Sin City is a perfect place for lesbians, because as your grandparents may have told you, lesbians are all sinners. Las Vegas, home of classic NSFW film Showgirls. [related: Hottest Person From Worst Movie poll at nerve.com]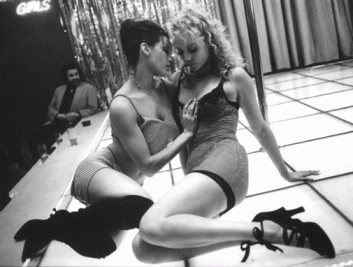 So, next week we're gonna pick up where we left off with the lesbian sexy tumblr appreciation, but today, a dispatch from Naked City, USA, where photos of naked women are everywhere (like under your feet on cards) and actual naked ladies can be in your room in 20 minutes if you call a magical phone number. So me, Alex, and our friend Ryan (straight, but in a very lesbianish way) saw a show of a sexual nature called FANTASY! It would be far better to read a recap of someone's actual sex, but you know, we do what we can in a crunch. Let's crunch some thighs together, finish your last plate of potatoes at the Grand Buffet, and go look at some SEX SHOW. See, Cirque De Whatever costs like $200 bucks.
+
Lesbians Attend REAL LIVE
Sexally-Themed Show For Heteros:
THE RECAP
The audience unsurprisingly included a diverse portion of Two & A Half Men's target market, likely there to drink/sex away the pain of Charlie Sheen going to prehab and putting the show on hiatus. Really the show had us at "50 dollars less than The Lion King" and "choreographed by Cris Judd," because Cris Judd dated the star of Maid in Manhattan, Jennifer Lopez, and therefore must be quite a man.
The girls were unsurprisingly cookie-cutter Hustler models and the evening's highlighted talent, Angela Bridges, hails from two things we're only aware of because of the patriarchy; Baywatch & Playboy. (Actually Playboy does have good articles, though, sometimes for real. But who really watched Baywatch, besides people with a vested interest in watching the bay (or sitting on the dock of it) or people who wanted to be lifeguards).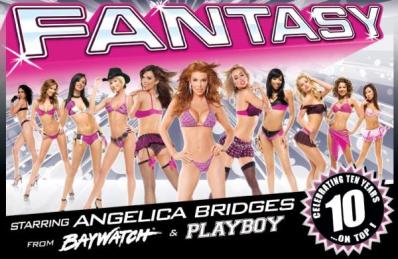 Buying drinks at casinos supports overpriced drinks, so it's far better to BYOB some vodka & vitamin water, as we did to the lady-show and to our lackluster pre-show buffet experience at the Luxor, which is where the Pharaoh is from.
These shows actually have a significant historical back story, which has more or less been smashed by the newer & trashier models. It's not that they're taking off more clothes now or being raunchier on stage (if anything, not so much), it's just a different attitude now. The Best Topless Revue in Vegas closed last year.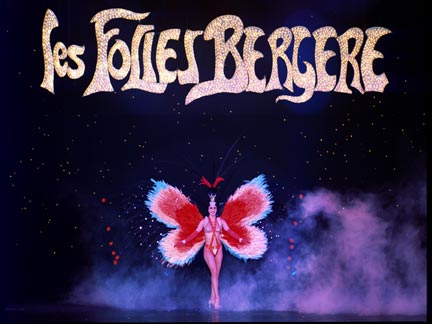 Basically, Las Vegas is the opposite of 'queer,' although they have lots of fun things for lesbians to do. The over-saturated homoerotic girl-on-girl 'sensuality' felt gratuitous, but since we were really just there for the singing and dancing, it was truly a delightful surprise every time! I mean, yes; that stuff isn't for lesbian titillation, but to ensure none of the dudes in the audience felt denied access to the goods.
[Their website's photos feature more clothing than the actual show, probs 'cause myspace is a place for friends, not a place for naked people.]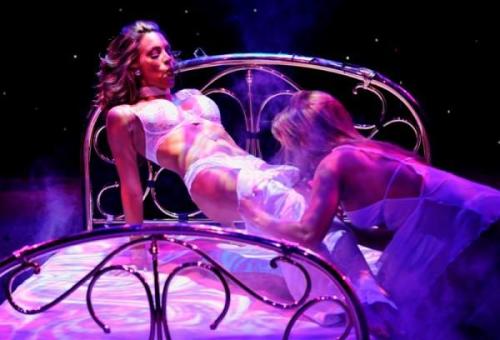 The 'repeating joke' (like the chicken thing on Arrested Development) was that these girls' tops just kept coming off! These boots are made for walking, these boobs are made for walking out of my bikini. La la la. Also, one time a girl emerged from the smoke. Songs included These Boots Were Made For Walkin', and something from the Stealing Beauty soundtrack, and maybe another cowboy song, or a Madonna song or Micheal Jackson? Miley Cyrus? I forget = vodka.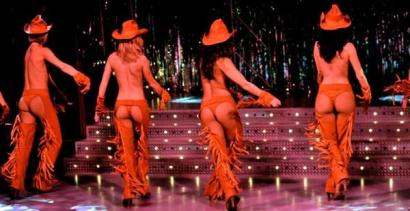 A suggestively dressed, traditionally hot lady told us the more noise we made, the more clothing they'd take off. Liar, that shit was planned in advance, but that didn't stop Alex from expressing her approval, which earned her an expression of camaraderie from a random straight dude. They had one of those special "we both like boobs" moments.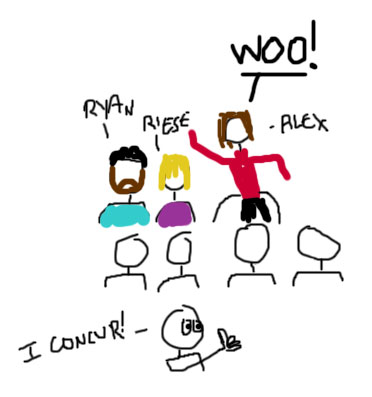 Emotionally, I'd say we did not mentally prepare for what the rest of the audience mentally prepared for. They expected what they'd been sold: either 1) a strip club with less vadge & a shiny presumption of class, 2) Tony & Tina's Wedding, but with boobs, 3) the theatrical equivalent of a sexy movie like Basic Instinct. However, we were more thinking it would be like watching Glee, but with less plot/message/substance and more boobs. And obviously women of a legal age.
Although prepared for skinny tiny-melon-breasted very-white-teethed twenty-somethings with at least one plastic body part, we were surprised that only two of the women were sporting falsies, which means we've come a long way since that episode of MTV True Life where the girl wanted implants for her exotic dancing career. Well I guess this isn't exotic dancing, these were professional dancers with their tops off.
They plucked a dude who I thought looked exactly like Kris Allen (Alex insisted he actually looked NOTHING like Kris Allen AT ALL) out of the audience and brought him on stage. I got super nervous he'd accidentally pop a boner and couldn't watch.
Most importantly, a girl who I thought looked like Anna from The O.C. turned out to have gotten an alternative lifestyle haircut after the group photo shoot, which clearly meant she was gay, therefore we kept a sharp eye on her.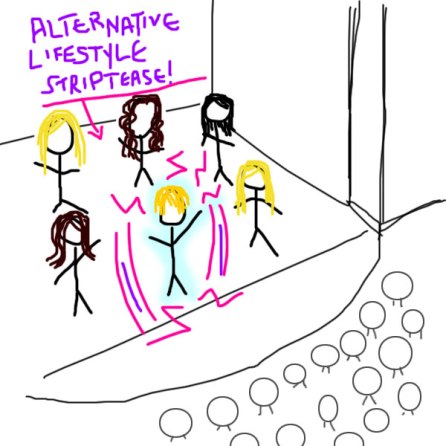 About midway they brought out a black man to make jokes. On a somewhat but not exactly related note, today at breakfast I tried to explain why I thought the show deliberately employed some unsettling & tired race/gender tropes, and my Puerto Rican girlfriend Alex said I think everything is racist, which is true. Everything is racist!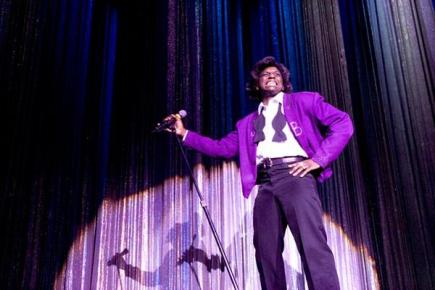 Anyhow this guy was awesome, and he can dance just like Michael Jackson and Tina Turner!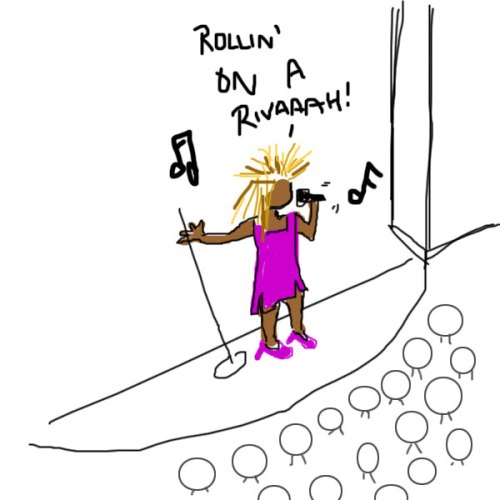 In conclusion, we'd suggest this show to anyone who enjoys pop music and boobs and doesn't want to have any thoughts in their head for over an hour, so probs all of you! It will not turn you on (Alex says it will… and it did,) but the promise of occasional lesbian behavior and an alternative lifestyle haircut made it seem like a show that could never end, like how eating Cheez-Its feels before you start to get full.
Anyhow, speaking of being turned on, check out our links on Page 2 of the fix!
---
+
NEXT:
A bunch of lesbian sexy NFSW links for you!
Porn Bingo what's that let's find out
Pages: 1 2See entire article on one page