"I wanted to get to San Francisco, everyone wants to get to San Francisco and what for? In God's name under the stars what for? For joy, for kicks, for something burning in the night."
-Jack Kerouac, On the Road
It's Aug. 31, and I've yet to concoct a "pay the cable bill" plan, let alone a definite plan to get the hell outta New York for good. But when I do, I'm going to San Francisco. For a while, moving to San Francisco/Berkeley was a "plan" involving approximately 10 people I work with at Autostraddle.com. We have new 'plans' now that still aim to bring us closer together, geographically, but not cohesively. Things are changing so fast. We've started like three new Tumblrs since Berkeleystraddle.
Crystal, our Music Editor from Australia who I met 'on the internet' via my blog in 2007 and hadn't seen since she came to the states in 2008, knows about the West of our Future and the East of Our Past. This past June, she arranged to meet Design/Dance Director Alex and I in San Francisco for a few days before making her way to New York for Pride/Rodeo Disco from Sydney, Australia.
This is the story of that trip.
Day One: Flying & Bieberblock
On the plane from New York, Alex sleeps and I pay for Internet to discover that Autostraddle.com, the website I conduct approximately a billion hours a week, has crashed for unknown reasons. I take my last Xanax. I finish reading Chely Wright's Like Me and almost cry a few times, like when she comes out to her Dad. I hate airplanes. I eat cheese from a tiny expensive box.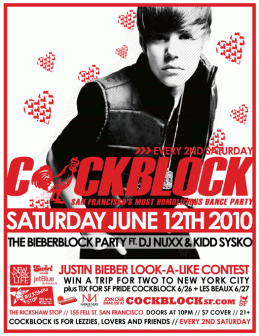 We touch down in a perfect 60-something-degrees San Francisco. Due to flight delays, we're already late to meet up with queer-web-friends — Fit for a Femme, M. & Kate — at the Rickshaw Stop, which is where the weekly lesbian party Cockblock is hosting a Justin Bieber lookalike contest! I KNOW WHAT LUCK.

We shuttle to the hotel on Market & 4th Street, where Crystal is waiting with Tim-Tams, the Tegan & Sara Book, Crocodile Dundee hats and heaps of magazines. Crystal has eyes/ears and therefore already knew how I'd probably feel about the Website Crash of Death and Evil.
We need vodka, we say.
I have vodka, Crystal says.
That's how Crystal is. That stuff you need? To live your life? She's got it. Crystal makes me feel calm and like things are gonna be okay. She always wears all black, which is somehow also comforting. Also: vodka in water bottles. Vodka vodka vodka!
First we stop at the wrong bar, but we are already too drunk to know if we're at a dude bar, or if those dudes look like girls who look like a 16-year-old dude. At last, we arrive at our actual destination: Cockblock on 155 Fell Street.
The bar is big and box-shaped and dark, as bars are, with people smoking upstairs. We're excited to meet/see each other and catch the tail end of The Contest. The room is all hot energy and carefully constructed deconstructed hairdos. FFAF explains that although my future tomboyfriend …
… really does look like Justin Bieber, the other finalist had really "worked it." The prize is a trip to New York City, but we JUST CAME FROM THERE.
Then that night I get home and — I believe due to an unsavory cheeseburger — spend the next 24 hours in wretched feverish pain the likes of which I cannot possibly begin to describe.

Day Two: The Yellow Wallpaper
Day One bleeds into Day Two, just like my intestines and, eventually, Autostraddle. It's a coincidence!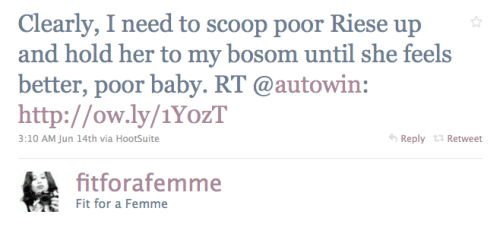 I stay in the dark room. Details: imagine how I felt when Autostraddle broke; now imagine that my primary organs & digestive system are our web server, and I've got a bad case of hostgatoritis. If Autostraddle is down, then I at least should be enjoying the respite.
Crystal & Alex tend to me, like the perfect people they are, and then eventually head out to see Fisherman's Wharf. I lie in bed, thinking about when my Mom took me to Fisherman's Wharf when I was eight, and we got shrimp cocktail, and I didn't know shrimp cocktail was cold and it tasted slippery. We'd just been to Alcatraz and I'd had lots of ideas about things I could escape from, already. It was just me and my Mom, and it was really perfect and fun. Maybe people have kids so they can have perfect vacations like that.
I crawl up to the laptop, thinking "I'm a sad animal in a room by myself, crawling towards the bright machine."
I bury my eyes in a pillow while my hands type. I think, "I'm a fast typer, even under diress."
Sunshine hits the corner of my eye through the blinds. I drink some coffee and moan like a performance artist in a cage. Then I fall asleep.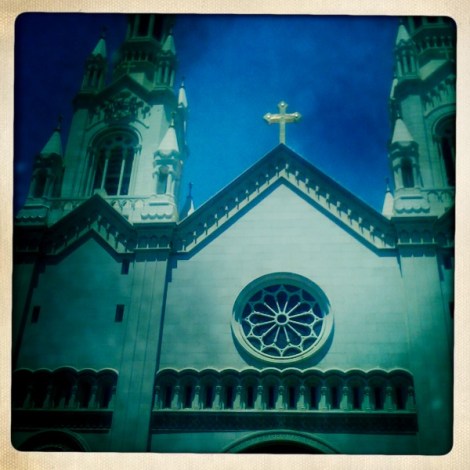 Alex ate this, I think it's a crab cake: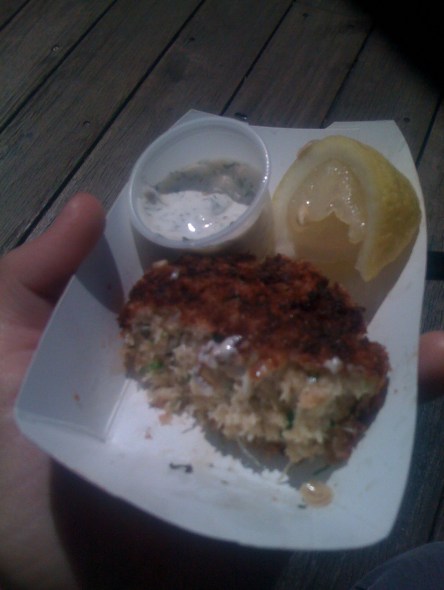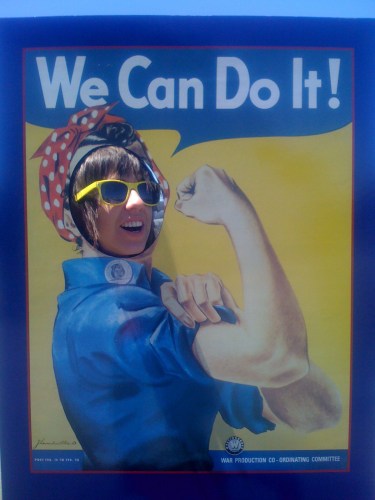 Crystal and Alex return, and I wake up thinking of all the hours I've spent in hotel rooms alone while friends are out seeking fun. I wonder if people still expect me for things? I've stopped letting myself WANT to have fun 'cause THERE'S NO TIME but enough! Let's pick it up! It's time to go see Julie Goldman, star of stage, screen, and our webseries Julie & Brandy in Your Box Office, at Mary's Futon Shop, which, relative to the distance between Australia and San Francisco, is sort of close to our hotel.
Where the hell is San Rafael? Crystal thinks Ohio is in Michigan.
The cheapest way to get there is by rental car. It's $30 or so. We pass the Golden Gate Bridge and I remember eating donuts on a rock with my boyfriend and his three-year-old half-sister over Thanksgiving break of 1998. It was breezy, and we were happy. Crystal, Alex and I talk about how ridiculous the BMI scale is until we realize we are LOST.
I am nauseous, I am starving, I AM WOMAN. We arrive only ~30 to 40 minutes late, which isn't bad, 'cause we still get to see Julie.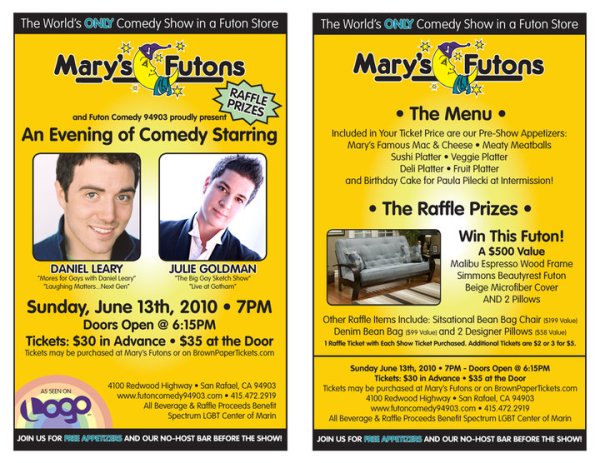 Turns out Julie is probs my spirit animal, because just like me, she spent the whole night prior being sick. But both of us asked ourselves What Would Tyra Do and the answer is ROCK THE FUTON SHOP! There's also cake, but I'm afraid of everything that isn't a saltine.
We sit in the back because we're hardcore and then Julie's up and she makes us laugh so hard we pee our pants and change our pants ten times before it's over.
Afterwards Julie is famous and signs autographs, but I get to keep the Burger King crown.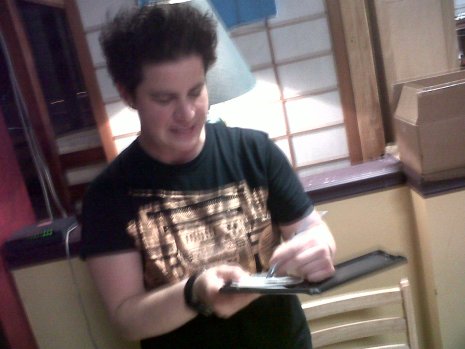 I feel I have been cured by the power of lesbian folk-rock music, surrounded by the kind women of the Bay Area and their tropically-printed t-shirts.
I AM HEALED I AM READY FOR YOU CALIFORNIA

Pages: 1 2See entire article on one page