LINDSAY LOHAN IS BACK:
Remember how Lindsay went to rehab and we showed you a 90 photos of Lindsay for the 90 days because that's how long she was gonna be gone, and we put a moritorium on Lindsay Lohan posts until she returned? Well she's back and she's gonna be on the cover of Vanity Fair, lookin' good!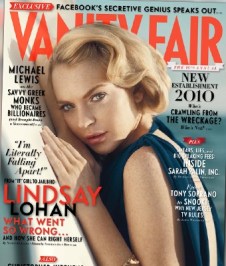 They interviewed her before she went to jail though, so still no word on any possible entanglements with the hot chick from Telephone.
There's a "sneak-peek" of her interview on TFS:
"If I were the alcoholic everyone says I am, then putting a [SCRAM] bracelet on would have ended me up in detox, in the emergency room, because I would have had to come down from all the things that people say I'm taking and my father says I'm taking—so that says something, because I was fine,wp_postsLindsay Lohan tells Vanity Fair contributing editor Nancy Jo Sales. "I think everyone has their own addictions and hopefully learns how to get past them,wp_postsshe says, in an interview conducted one week before her jail time began. "I think my biggest focus for myself is learning how to continue to get through the trauma that my father has caused in my life."
Lohan was visibly upset when she spoke with Sales about Ali's presence in the courtroom, calling it "heartbreakingwp_poststo see her sister cry. However, Lohan feels conflicted about her father's unexpected appearance at the hearing, telling Sales, "The worst part of it is you turn around and you see your dad crying and normally you'd be, like, happy that your father's there. But then he has to go and do an interview right after."
Sales reports that Lohan thinks her career is far from over. "I don't care what anyone says. I know that I'm a damn good actress. … And I know that in my past I was young and irresponsible—but that's what growing up is. You learn from your mistakes,wp_postsshe tells Sales.
Lohan adamantly denies rumors of drug abuse, telling Sales: "I've never abused prescription drugs. I never have—never in my life. I have no desire to. That's not who I am. I've admitted to the things that I've done—to, you know, dabbling in certain things and trying things 'cause I was young and curious and thought it was like, O.K., 'cause other people were doing it and other people put it in front of me. And I see what happened in my life because of it."
Lohan blames her troubles, in part, on hanging out with the wrong crowd, Sales reports. "So many people around me would say they cared for the wrong reasons. A lot of people were pulling from me, taking from me and not giving. I had a lot of people that were there for me for, you know, the party.wp_postsAnd when she first moved to L.A., Lohan says, "it was very go-go-go and I had a lot of responsibility; and I think just the second I didn't have [structure] anymore—I was 18, 19—with a ton of money and no one really here to tell me that I couldn't do certain things … And I see where that's gotten me now, and I don't like it.wp_postsShe says tabloids were her main source of news, and calls that "really scary and sad… I would look up to those girls… the Britneys and whatever. And I would be like, I want to be like that."
Sales interviews several paparazzi, and reports that Lohan often cooperates with them for a fee, though Lohan denies this. "If I called her up right now and said I'll give you $10,000, she'd come right down,wp_postsa photographer tells Sales. "Once you're famous, there's always a way to make money,wp_postsanother photographer says. "She might not be doing what she'd like to be doing, but she'll always be Lindsay Lohan."
The October issue of Vanity Fair will be available on newsstands in New York and L.A. on Thursday, September 2, and nationally and on the iPad on Tuesday, September 7.

THE LYNCH CAN DO NO WRONG:
In case you missed Jane Lynch's big Emmy win, check out her lovely and gracious speech in which she thanks her wife Lara and step-daughter. Awww.
.


REAL L WORD's TRACY & STAMIE:

Are we all aware that  Tracy & Stamie continue to keep fans in the loop with videos from their post-Real life on ourfifteenminutes.com? This time it's pretty f*in amazing (well, for us) as it features T&S reading OUR RECAP of Fashion Week.  What do we learn? Stamie totally missed Mikey's proposal to Raquel's bra strap flyin' in the wind because she was in the bathroom. Good times.
.


RUPAUL'S DRAG U:

In RuPaul's spin-off series, RuPaul's Drag U, contestants participate in the same sort of challenges as on RuPaul's Drag Race with one key difference: their gender. But what does it mean when a woman dresses in drag? (@boston)
HOWL:
Are you as obsessed with HOWL as we are? That's too bad. The film opens the Portland Gay & Lesbian Film Festival on October 1, solidifying its status as the queerest thing to happen in movie theaters since you went down on that girl in the back row in the eleventh grade. The film festival will also feature "The Secret Diaries of Miss Ann Lister," as well as other documentaries and features from around the world. (@oregonlive)
RUBY ROSE:
QTown interviewed Ruby Rose, our favorite lesbian Australian VJ:
Q: Your Kristen Stewart tweet certainly got people talking…is it the way she looks disgusted when she looks at guys that makes you think she's a lesbian? Or was it more like an overall gaydar alarm?
RR: I cannot believe that me joking around saying 'clearly she was a lesbian' made world wide news… I feared for my life from Twilight stars all around the world. I was one step away from wearing garlic around my neck. Truth is, she just has an enormous gay vibe, her eyes, mannerisms, voice and the fact she looks far more comfortable in 'The Runaways' as a lesbian than she ever did kissing Mr. Pattinson. Whatever her sexuality, that's her business…but let's just hope for our sake she's a lesbian because she would make a great one.
MARVEL:
In contrast to the recent controversy over Avatar: The Last Airbender, Marvel has confirmed that for the movie version of Runaways they will make sure to cast an Asian-American actress for the part of Nico Minoru. "To address your concern over casting for the role of Nico, as we do with all of our films, we intend to stay true to the legacy and story of the comic when casting these parts. Thus, our goal is to cast an Asian American actress as depicted in the comic series and the casting notice will be adjusted accordingly." The amended casting announcement now reads: "Uniquely beautiful, nurturing but guarded Female, Asian-American, must play 16-18. Must be at least 16 by January 2011.wp_posts(@racebending) (@ontd)
LILO:
According to an early Machete review, Lindsay Lohan is "nude almost the entire time." Someone please see this and confirm/deny. (@jezebel)