THIS IS OUR LAST LINDSAY LOHAN POST (FOR NOW):
Lindsay Lohan arrived at Lynwood Correctional Facility to begin serving her 90-day jail sentence today, but according to the sheriff's department, she'll be out in 13 or 14 days. Department spokesman Steve Whitmore says, "Her projected release date is Aug. 1 or Aug. 2."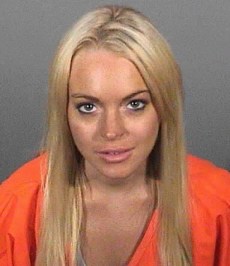 Due to overcrowding, non-violent inmates only serve 25% of their sentence. With good behavior, her sentence will be reduced to 51 days, and a quarter of that is about 13 days. Whitmore says the jail was "on lockdown" as Lindsay was processed this morning, and she's been "extremely cooperative." She'll be staying in a 2-by-8 cell in a facility which has also housed Paris Hilton, Nicole Richie, Khloe Kardashian and Michelle Rodriguez and currently also apparently houses some girl from a Reality TV show.
Following her jail term, she'll have 24 hours of freedom before beginning a 90-day stay in inpatient rehabilitation.
So, although we've explained in depth why we do talk about Lindsay Lohan despite a general aversion to celebrity gossip (she's queer, it's important to provide an antidote to the rapey, misogynistic, speculative, homophobic and inhumane discourse we see shilled elsewhere on the 'net), we're going to put a moratorium on Lohan-related discourse 'til she's out & able to speak for herself, unless it's related to her actual work as an actress (like the upcoming film Machete). In the meantime you can think back on her body of work with our 90 days of Lindsay Lohan gallery.
Apparently Larry King had Dr. Drew (who's never treated Lindsay) and Michael Lohan (her father, who's a publicity-hungry lying bastard asshole probs responsible for many of the issues that drive Lindsay to The Drink to begin with) on his show yesterday to talk about Lindsay's future, and if that's the direction this conversation is going in, count us out.
(Unless, of course, Samantha visits.)
(Also, continue to quote Mean Girls at your leisure)
KATE MOENNIG:
Shane is back on Showtime with a guest spot Dexter. As of now, she's slated for just one episode where she will play a tattoo artist. We're not sure how she's gonna get into the serial killer's world, but maybe Dexter killed Jenny? (@tvguide)
GAYS PLAYING STRAIGHT/STRAIGHTS PLAYING GAY:
Openly gay director Don Roos admitted he gets "distracted" by openly gay actors playing straight at a panel discussion at the Outfest Film Festival last week. Roos has worked with Gwyneth Paltrow, Ben Affleck, Christina Ricci, Maggie Gyllenhaal, and Lisa Kudrow and has directed films including The Opposite of Sex and Happy Endings.
Don Roos on actors' roles different from their own orientation:
"I think the relationship between an audience and an actor is a very complicated thing, especially in a romantic lead,wp_postsRoos said during the panel discussion. "When you're in a movie theater, what's on the screen isn't necessarily appealing to your best instincts. Most of the audience is going to be homophobic, they're mostly violent in their hearts and that's what they're responding to on the screen and you can't wait to have a career until the audience is not homophobic. That's never going to happen. … In a romantic role, it can be very distracting for the audience to not be able to give themselves to a particular character. Like when I was watching Philadelphia — I knew [Tom Hanks] was straight."
"I kept feeling distracted knowing that he wasn't really gay,wp_postsRoos told me. "I was admiring him and thinking, 'Oh my God, how well he's playing that.' The more I know about any actor about anything, the more distracting it is."
"It would be hard for me to cast Natalie Portman as a woman rancher because she's this crazy vegan. I want to not have conversations about is he gay or is he not gay; I want to know as little as possible." (@greginhollywood)
We have already said a lot of things about this topic in our rebuttal to Ramin Setoodeh's article in Newsweek, and Kristin Chenoweth has had some thoughts, too. Also, honestly, the more you know about any actor, the more flimsy the illusion becomes. That part isn't limited to sexuality.
COURTNEY LOVE:
OMG, Courtney Love has started contributing to a blog that posts what she wears each day. Cue half naked bra and panty shots from her iPhone (@whatcourtneyworetoday)
KATHY GRIFFIN / THE VIEW:
Elizabeth Hasselbeck calls Kathy Griffin "scum" and compares her to a mass murderer. Ya see, Hasselbeck went after Griffin because she joked on last week's episode of My Life on the D-List that Massachusetts Republican Sen. Scott Brown's two daughters are prostitutes.
.Kathy, of course, loves this kinda shit, so she hits back in this statement:he bottom line is, lighten up! Suck it! As the great Bette Midler said, 'Fuck 'em if they can't take a joke.'" (@eonline)
LA ROUX:
British pop goddess La Roux performs "Bulletproof" on The View. She's got alternative lifestyle hair, and if you aren't familiar with her stuff, go buy her self titled album immediately. It's Gaga meets Prince meets David Bowie.

WEEDS:
All good things must come to an end, and when the light dims on The Real L Word's glowing vaj, Weeds will be there on Aug. 16 to pick up the pieces. Linda Hamilton plays a lez, so keep an eye out for Mary Louise Parker offering to go down on her in the promo. Still upset about Elizabeth Perkins (Celia) going MIA for season 6. Cry!