Gawker made this list/breakdown of Gay-Friendly Universities list based on Newsweek's list of gay-friendly schools but we think they are mostly schools for rich bros who can somehow get into ivy league universities, so maybe some schools that actual people could get into and also that are good for lesbians and bisexuals and other queerios would be nice. But also we discovered that college costs a billion dollars for everybody, apparently, espesh the queer-friendly schools. It's hard/expensive to be gay.
So children, share your objections, additions and assertions about your own eductional experiences in the comments!
So here's some of ours with some of theirs — when applicable, the Newsweek ranking is included in parentheses. (For more resources check out Campus Pride.)
1. American University – Washington DC (#6)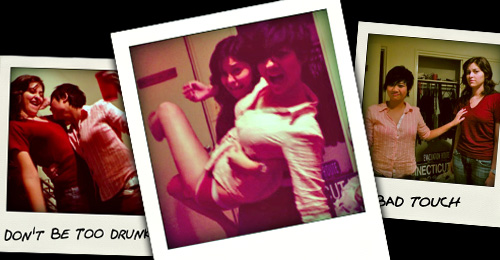 Will You Get In? 50-50 chance.
Can You Afford It? Don't count on it.
Pros: Autostraddle's Interniccaine Katrina matriculated at American University and learned enough there to tell you how to pick up chicks, conduct a dialogue on queer polyamory for lesbians and define lesbian hipsters. Furthermore Katrina never has pants on. Judging by the riotous clan of homos she brought to every Autostraddle gathering we think it is safe to say that American is homo-central.
"Cons": Washington DC is where all the Republicans live and it rains a lot there.
+
2. University of Oregon – Eugene

Will You Get In? It is decidedly so.
Can You Afford It? Most likely.
Pros: Bargain-basement prices especially for in-staters, Oregon is pretty because of the mountains, Autostraddle Intern Vashanti got a girlfriend there, and as far as we know they are still together. Health insurance covers gender transitions and the place is chock full of neat things like LGBT support services, Lavendar Graduations, biGala, and a Queer studies minor via the Department of Women's and Gender Studies. Also, 80% acceptance rate.
Cons: How much weed can you smoke and still be a positive contributor to society? This is a good place to find out. Also 80% acceptance rate.
+
3. University of California – Berkeley (#2)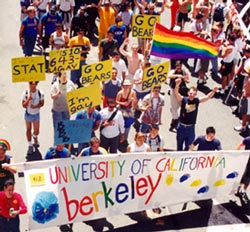 Will You Get In? Cannot predict now.
Can You Afford It? Signs point to yes.
Pros: Drugs! Hippies! Temperate climate! Fun proximity to 2011 Autostraddle HQ! Only a hop-skip-and-a-jump away from Alcatraz! Berkeley is the first school to offer a Queer Studies Program and hey who doesn't wanna kick back and "relax" at the Gender Equity Resource Center, you know what I mean?
Cons: Like most large state schools you may ask yourself "how did I get here?" when participating in a gigantic lecture session or subsequent "discussion" with variantly qualified graduate student instructors. It's so big, too. IT'S SO BIG.
+
4. Smith College – Northampton, MA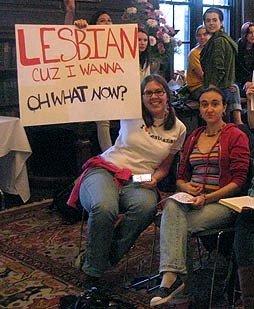 eta: this photo is actually of Mount Holyoke, not Smith, damn you google image search. Also obvi Holyoke and Bryn Mawr are also gay havens.
Will You Get In? Hard to say.
Can You Afford It? Maybe not – but that's why 60% qualify for financial aid.
Pros: DYKE DYKE DYKEVILLE! RACHEL FUCKING MADDOW! Also remember that show Transgeneration? There was someone on it from Smith. Idk, it just seems like the most lesbian school ever, even though it was likely named after a straight white guy. ETA: IT WAS NAMED AFTER A LADY NM.
Cons: With a campus that small and girls that gay, there's bound to be some serious drama. And perhaps you may begin to miss the sound of a tender male voice expressing his opinions on the Crimean War, I know I would.
+
5. Hampshire College – Amherst, MA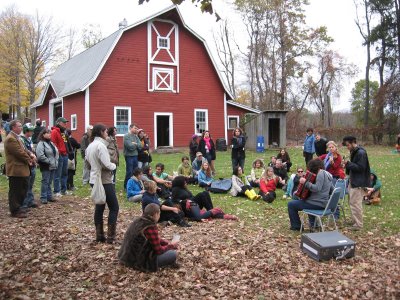 Will You Get In? Quite possibly!
Can You Afford It? Nope.
Pros: WELCOME TO HIPPIELAND YOU SEXY FEMINIST QUEER POLITICAL ECOLOGICALLY AWARE BEAUTYBAR! "Everyone makes out with everyone" and has evolved ideas about sexuality. At Hampshire you pave your own educational journey, enjoy narrative evaluations instead of grades, knock back peyote cocktails at the Queer Sexuality and Gender Conference and enjoy the lovely town of Amherst, the country's very best college town and bike-trail paradise!
Cons: "Everyone is a little pretentious and in love with themselves and activists," might feel like a joke if you're not into it and might feel like a stretch if you don't want to engage int he ganja.
+
6. Sarah Lawrence – Bronxville, NY
Will You Get In? You've got a 58% chance and that ain't bad.
Can You Afford It? Just get that 45K you've been stashing under your bed and pony up!
Pros: Heaps of lesbians, small classes with lots of personal attention, proximity to New York City, healthy vegan food at the caf, alums include J.J. Abrams, Meredith Monk and Alice Walker.
Cons: Sometimes the tiny inclusive suffocating campus chock-full of yoga-lovin' gym-skippin' stoned intellectual elitists who didn't get into Brown can be TOTALLY MADDENING unless you are into that kind of thing, which chances are you probably are. The tiny group of male students is equally divided between Enlightened Perfectboys and douchebags who came specifically to take advantage of the 75-25 ratio.
+
7. Brown University – Providence, Rhode Island (#14)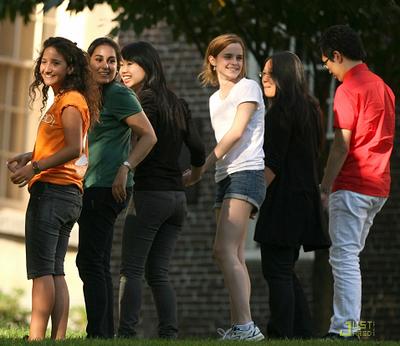 Will You Get In? Absolutely fucking not there is not a chance, but Emma Watson did
Can You Afford It? $40,820
Pros: If you get in you will be successful and happy for life and probably find a cute upwardly-mobile girlfriend there who went to Andover and reads a lot. Her parents may or may not like you.
Cons: Dude seriously you're not gonna get in to Brown but if you do HOLLER.
+
8. The New School/Eugene Lang College The New School for Liberal Arts – New York, NY
Will You Get In? 64% do.
Can You Afford It? Well, you're living in Manhattan's Gay Greenwich Village. So.
Pros: ANI DIFRANCO is an ALUM and you know what that means… or do you? If you want a good weirdo liberal education in New York City but can't afford or get into NYU or Columbia, The New School is for you! Emily Gould takes a writing workshop there and a cute lesbian punches her arm playfully in her book And the Heart Says Whatever.
Cons: As described by Gawker in its ranking of the most annoying liberal arts colleges: "Let's take a distinguished and progressive graduate faculty for continentally-influenced social research, and then haplessly attach a poorly run airy-fairy liberal arts college where the undergrad cool-hair kids can major in hipster fuckery and get a head-start on their farther flung liberal arts pals in New England and the Midwest by already living in Williamsburg!!!"
+
9. Wellesley College – Wellesley, MA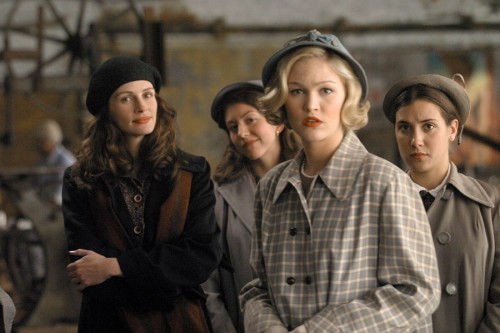 Who Will Get In? 35%.
Can You Afford It? It's nearly 40K but 60% of y'all will get a "need-based grant" which means you have to prove that you really need to get cozy with all those ladies which should not be hard.
Pros: All-girls! Rated by Grace Chu's readers as the best lesbian school of all time, given subsequent blurb: "We tried to give other schools a shot, but the following comment cemented the top prize for Wellesley. A Columbia grad admitted to taking a bus all the way from NYC to the Wellesley Dyke Ball. New York City is arguably the most dyke-friendly city on the east coast, so if there exists a reason to pull a lesbian away from the Five Boroughs, it must be epic. Color us impressed."
Cons: It's really hard. Like, really, really, really, really, really really hard. You are going to work so hard that your head will explode. But when it re-creates, you will probs look like the girls from Mona Lisa Smile.
+
10. University of Southern California – Los Angeles (#23)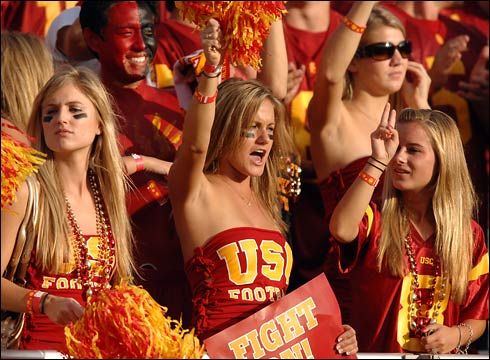 Will You Get In? Don't Count on it.
Can You Afford It? Unlikely.

Pros: JACK HALBERSTAM teaches there you guys, big Gender Studies department, big deal and also you know like, Lavendar Graduation, International Gay and Lesbian Archives, ONE Institute of Homophile Studies, Program for the Study of Sexual Orientation Issues in the News, and pretty much a club for every affiliation under the sun. Also proximity to Shane.
Cons: Los Angeles might eat your soul while the school itself devours your pocketbook. But who can put a price on Jack Halberstam, not me.
Bonus Round!
Did we just list four schools in Massachusetts? Is there a New England/East Coast bias here? Let's try to fix that real quick….
Midwest – Oberlin College (Oberlin, OH) & University of Michigan (Ann Arbor, MI) & Grinnell College (Grinnel, IA).
South – Emory University (Atlanta, GA) & Agnes Scott (Decatur, GA) & Hollins University (Roanoke, VA).
West – University of Washington – Seattle (Seattle, WA) &  Mills College (Oakland, CA)
Southwest – University of Texas – Austin (Austin, TX) & Rice University (Houston, TX)
Good Deals – San Diego State University (San Diego, CA) – (it's got the country's first Women's Studies Department!), University of Maryland – College Park (College Park, MD)
Community College – Glendale Community College (Glendale, AZ)
Super Special School for Total Weirdos – Warren Wilson (Asheville, North Carolina)
CANADIAN PICK – Concordia University, Montreal, CA
Will You Get In? We have no idea but it seems quite likely.
Can You Afford It? Canadians can, and International Students have a pretty reasonable price tag to look at.
Pros: Simone de Beauvoir Institute! Breeding ground for future Autostraddle interns and  commenters! They just added a new minor in sexuality studies.
Cons: We could use a Canadian con or something. I mean are there cons to Canada. What are the cons to Canada. We don't know of any.