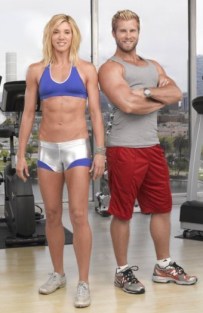 Jackie Warner's Thintervention Canadian co-trainer Craig Ramsay is a very special being and definitely a keeper– he's a gay man who fiercely advocates for women's rights and would rather hang out with his lesbian friends than cruise the West Hollywood boy bars.  He moved to Los Angeles to pursue fitness training full-time after several years in the New York theater world where he appeared on and off Broadway including roles in Chitty Chitty Bang Bang and the Broadway revival of Fiddler on the Roof with Rosie O'Donnell, Lea Michele, Haviland Stillwell and Harvey Fierstein.
Craig got into health and fitness ten years ago when his Mom was diagnosed with fibromyalgia. On Thintervention Craig is quickly winning over heart, mind and bodies with a compassionate, intuitive, friendly, genuine and realistic attitude rarely seen on reality TV. I mean, his cast blog is filled with notes like, "What [Jeana] lacks in workout intensity she makes up for in love for others. I hope she can put that same energy for others towards herself. She deserves this!  [When I saw Jackie's "boat ambush"] I wanted to reach through that t.v. screen and just hug that wonderful woman. I called Jeana immediately and reminded her how much she is loved."
See and then we want to reach through the internet and hug Craig.
Also! If you live in West Hollywood or have traveled there recently, you might recognize Craig from this gigantic billboard overlooking Santa Monica Boulevard, which we are including here because we think it is HILARIOUS:
I chatted with Craig about his transition from Broadway star to personal trainer, the gay and lesbian divide, and Jackie Warner's underwear of choice.
Jess: You have lesbian friends and care about women's rights. Would you agree this is a rarity in the gay male community?
Craig: I believe women have such amazing capabilities that stereotypically men do not possess. Women are multi-taskers, emotionally driven, and beautifully powerful human beings that can typically keep ego aside. Most know how to stay calm during stressful situations.  I wish more men, gay and straight, could respect and realize this.
Jess: Why do you think there is so much separatism between gay men and lesbians?
Craig: I think the separatism between gay men and lesbians is dissipating at a very progressive rate.  And I'm thrilled about it.  I think the American LGBT community since  prop 8 in California have come to realize that we are ALL discriminated against, and we need to stand together, love one another, and be a community united in this battle for equality.
Jess: Do you think misogyny plays a role?
Craig: I think the many gay men are stunted emotionally from adolescence because of traumatic coming out experiences with family, friends and community. Most escape into a self absorbed, party lifestyle that lacks self respect and emotional care for themselves which leaves no room to focus on women's rights.  The MAJORITY of my close friends are lesbians. I would really hope misogyny wouldn't play into gay men's disconnect from lesbians.  I don't tolerate anyone who doesn't respect women.
Jess: What would surprise us to learn about Jackie Warner?
Craig: I think people would be surprised that she is a very sensitive person, in a good way.  That, and she always goes commando. We hung out as much as possible in the weeks before shooting and we do everything a new couple in love do: we have romantic dinners, movie night, and sometimes just sit on the couch and cuddle.
Jess: You worked on Broadway in Fiddler on the Roof during Rosie O'Donnell's tenure there. Any fun anecdotes you'd like to share?
Craig: I actually left Fiddler on the Roof two weeks before Rosie entered the show. I was still very much apart of the Fiddler Family, and was always hanging out backstage. Rosie treated me like gold and always included me in freebie fridays. I loved that – I'm Canadian, so I love my free stuff.
Jess: Many Broadway stars are now crossing over into television, (ie: Cheyenne Jackson on Glee) etc. Have you thought about returning to the musical theatre world?
Craig: I have been training now for over 10 years.  I have performed in many Broadway shows in the evening, while training during the day. I'm sure I will show up somewhere singing and dancing!
Jess: Aside from Fiddler, what other shows were you in and who did you work with?
Craig: I did the pre-Broadway tour of Mamma Mia and was able to work with Benny and Bjorn. I also did Bounce in Chicago and Washington D.C with Stephen Sondheim and Hal Prince. Chitty Chitty Bang Bang on Broadway,  Fiddler with Alfred Molina, Harvey Fierstein and Andrea Martin. Hair and On the 20th Century and I played Alexander the Great in A Kiss From Alexander.
Jess: Why did you make the transition from Broadway actor/singer to personal trainer?
Craig: I moved to Los Angeles with my eye on the fitness industry.  If I was going to focus on helping others, I needed to be focused myself.  I've focused on women in my training because it is a perfect match. I have the sensitivity and knowledge concerning the issues women face during training, and bring to the table a non threatening relationship as their gay trainer. I love women. I love their strength. I love their emotional sensitivities, and their compassionate warrior instincts.  I personally would like to see more women in leading political positions in this country.  Except Sarah Palin of course!
Jess: There are countless TV shows, books, workout DVDs showing people how to lose weight; what sets Thintervention apart from the pack?
Craig: Thintervention is set apart from other weight loss shows because our show has a weight loss program that fits into our clients lives.  Other shows often take these people out of their environment, isolate and confine them to live in a style that just isn't realistic.  Thintervention also deals with working out from the inside out.  Therapy, lifestyles, past, present, and everything including personal goals are covered in our program.
Jess: The title of the show puts emphasis on "thin" over "healthy." Why is "thin" is so overvalued in this country, regardless of actual health?
Craig: Well, regardless of the title, I think our show does promote being "healthy" rather than "thin."  Every individual body is built differently and [on the show] people tend to be a certain size because somewhere along the way they stopped taking care of themselves and their health.  So being healthy is the focus.  It's about dropping unhealthy fat, the end result is a thinner body.
Jess: If you could impart just one piece of fitness and nutrition advice, what would it be?
Craig: Too many people, especially women, try and control their weight (size) by under eating.  This NEVER works. You may have a skinny body, but it will be an unhealthy one that is not capable of sustaining vital activity or longevity.  Eat your breakfast, divide your lunch into two portions, and separate them by 2-3 hours. Eat your dinner, and have 2 snacks in the day.  This totals 6 times during the day you should be consuming food.  It works. Keep the portions down, but eat them often.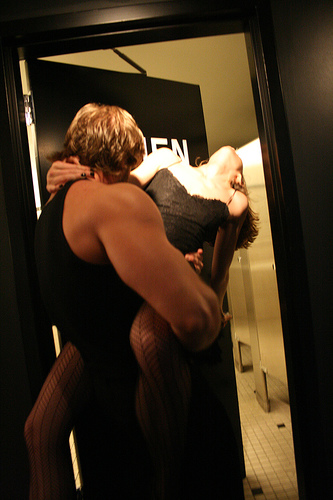 ---
Catch Thintervention on Bravo and visit craigramsayfitness.com to get a hot bod.