For some, being femme can feel synonymous with being alone or unseen; exploited by the wrong people and under-appreciated by your own.  Femme is roaming the streets with eyes and gait and lace and garters suggesting "I'm one of you" to everyone when only a precious few see her for who she truly is. Femme manages to stay beautifully, resiliently afloat in a world where she is told, as Kate Bornstein eloquently said in her keynote address last Saturday at the Femme2010: No Restrictions conference in Oakland, "sexy is evil and cute is dumb."
Earlier this year – in February, to be exact – I answered a call from FemmeCon for new members to help organize the 2010 event. The call said they needed more femmes of color, more moms, and more folks with experience running events. I am very much all of those things. "I have an obligation here," I thought, and the next thing I knew I was a full-fledged programming committee member and, just as suddenly, had agreed to run a workshop on femme blogging and social media with the delightful Bevin Branlandingham of FemmeCast and Queer Fat Femme.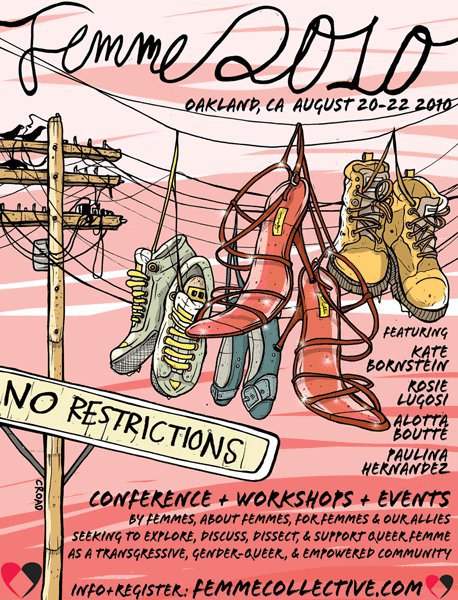 I really had no idea what I was getting into. I'd heard of the conference before but had never attended; joining the programming committee was a perfect primer as I got to sift through the initial batch of workshop proposals that would eventually be selected for the program. We had six months to make shit happen whilst balancing work and family and sex and education and our 84,000 other homo-centric obligations and activist causes.
Those six months whirred by until it was very late on Thursday night of last week — less than twelve hours before my presentation was scheduled — and I was in the back of a town car, zigzagging across San Francisco with greasy pizza in a box dinner and freshly-printed copies of my materials on the backseat next to me, trying not to vomit as I'd just realized that the room I was presenting in seats, like, 84,000 queers. HOLY SHIT.
The next day, heavily-caffeinated, I talked myself off the ledge of nervousness and found myself in a hall to direct my workshop with around two dozen incredible femmes and femme allies. Among them was keynote speaker Kate Bornstein – whose heart as is as big as her tongue is sharp, quick, brutally honest, and laced with words arranged more beautifully than your own heart can bear – and folks from far-flung locations such as as Philadelphia, Madison, Portland, and Maine.
I quickly made the decision to clamber off the big stage down to the folks in the audience, because it was just ridiculous not to (partly due to it being more conducive to actual dialogue and partly because I don't like being up on big stages all by my lonesome). It was a great group – smart, and candid – so we focused on the pressing issues around privacy, anonymity, and how to be most effective across myriad social media avenues without feeling overwhelmed. We covered the DIY aspects of blogging as well as the more abstract ideas of what it means to create and participate in the blogosphere as femme.
When it ended, I felt relieved and triumphant and very happy to get immediate, positive feedback from those who had attended. It was definitely a luxury to tuck my workshop away so bright and early, so that I could relax and spend the rest of the weekend completely focused on the remainder of the conference.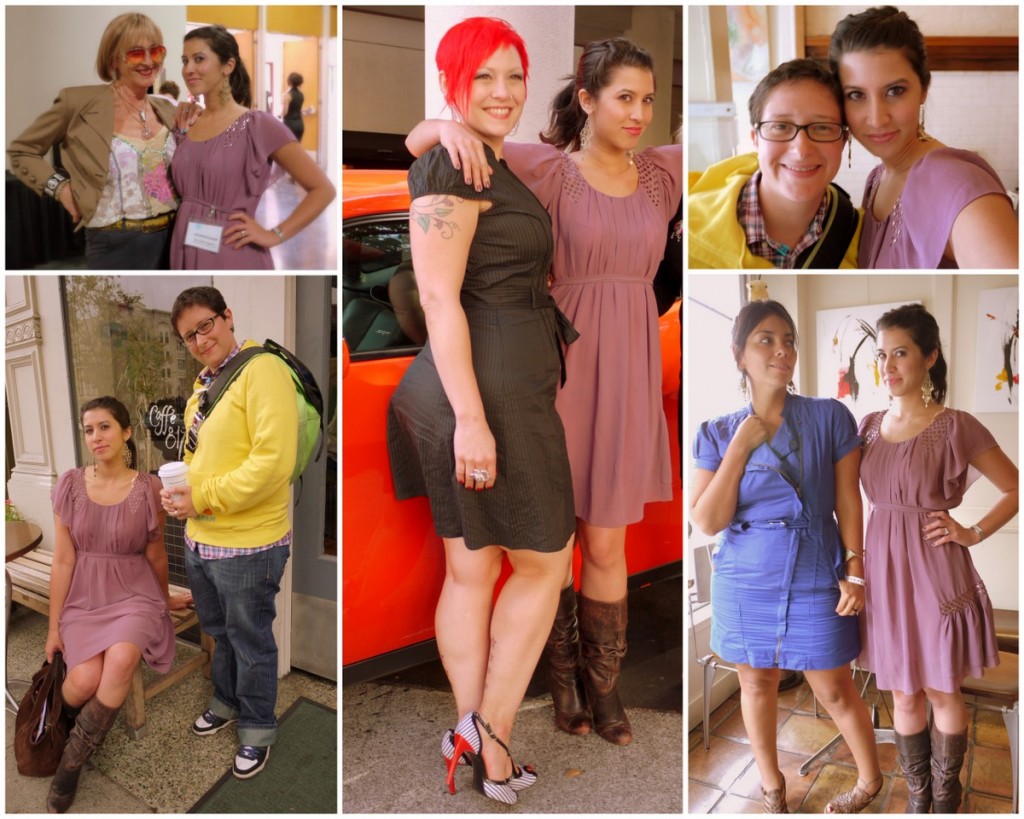 +
Here's a list of the fantastic workshops I attended, in case you're curious:
Country-Western Two-Step Workshop
Chiara Manodori and Haley Ausserer
Quit Fucking Taking Us For Granted: How to Survive the Movement as a Femme
Savanna Kilner
Queer Femme Porn Panel
Dylan Ryan, Courtney Trouble, Judy Minx
Femme Mamas
Celestina Pearl/Dana Rosenberg
Femme2010 Short Film Festival
Strap-On Satisfaction: A Femme's Guide to Giving & Receiving Pleasure
Greta Carey
Tips for a World Class Marriage/Relationship
Molly McKay, Davina Kotulski
I'm not going to get into the meat and bones of each workshop; I'm not going to lie or sugarcoat my own personal experience at #femme2010 (the conference had an official hashtag on Twitter, and reading the tweet history is kind of an awesome experience all on its own). It was extremely well-done and  left me exhausted at the end of each day (or night, as it were), longing to be tucked in at home with my wife and my kid and my pups, wrapped up in the soothing comfort of the familiar, even though all I had to cross to get to them was a silly little bridge – not states or discrimination or perhaps worst of all, a closet.
Here's the thing.
At FemmeCon, for one utopian weekend, femme is everywhere you look and it's undeniable and good and presumed. You look around and the air is literally thick with finely-milled, shimmering glitter. Strangers say "cute shoes" and it's not just another inane misinterpretation – it's community, and what's more, that stranger is about to blow your mind on a panel at the next workshop or during an impromptu conversation over brunch or between sessions.
You have no idea that in the next 24 hours you'll become fast friends with a girl you've really enjoyed watching in hot indie lesbian porn for years.  You have no idea that you'll meet a professor who uses your blog to teach her class on LGBT studies, or that you'll be climbing into Lynn Breedlove's little femme-mobile to get to and fro when your shoes and/or alcohol consumption won't cut it.
You'll find yourself in a random hotel room amidst piles of pretty shoes and an overflowing cabinet of much-needed snacks and booze.
You'll find yourself two-stepping with lots and lots of different girls, all smiling shyly and murmuring "slow-slow, quick-quick" and giggling at the "sweetheart position." You will lead or follow, but you will have to pick one or the other.
You'll spend way too much money on irresistible wares handcrafted by other femmes, and then you'll want to spend more.
You'll find yourself nursing last night's hangover over toast and marmalade and the life stories of people you've only just met – and you'll find yourself telling your own for the first time in a good, long while.
You'll find yourself screaming "FINGERBANG!" at a poetry reading, of all things. And then, a few heartbeats later, you'll find yourself crying. A little. (Typical. Ha. Blame Missy Fuego.)
You'll be handed brand spanking new, high-quality dildos and harnesses scot-free and you'll have sexy lesbian porn stars autograph the newly-purchased porn in which they star.
You will steal away from all of this for a quiet moment of reflection and be thankful for the incredible art that permits you to do so gracefully.
You're just not prepared for that kind of awesome until you see for yourself how much momentum can be built on the strong and lovely backs of femmes of all stripes for days and weeks and months and it's finally happening right before your eyes, and the very first thing you do on a Sunday morning is watch a hot femme fuck a hot dyke on a hot bike going 50mph on a foggy San Francisco highway in a short femme film.
And you thank the powers that be that this. is. your. life.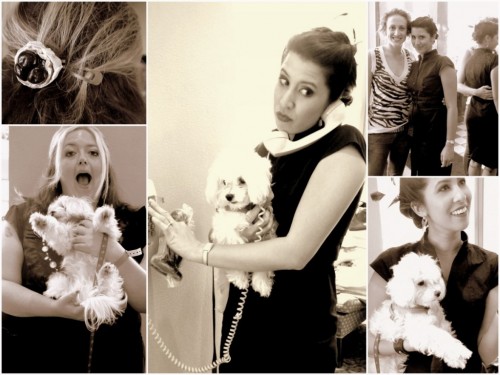 Fit for a Femme and Queer Fat Femme and Puppy
Sure, FemmeCon is flawed. At the closing remarks on Sunday, the steering committee took responsibility for the conference's lack of diversity and pledged to recruit more transgendered femmes, elderly femmes, more femmes of color and of varying classes for the 2012 conference. There were a few technical and scheduling glitches on the organizing side, and questionable haircuts on the attendee side. Alas, I was learning and evolving constantly, humbly. It was sobering, but in a way that flooded me with lasting wonder and inspiration.
I have always prided myself on being an open-minded person. This past weekend I learned that being open-minded only gets you as far as what you know or what you may think you know, but being sincerely open-hearted? Well, my dearest darlings, I hate to sound trite, but that will give you the world.