Boston-born Mrs. Danvers is an all-female four-piece band with a tricky-to-describe sound. It's a mix of old '60s rock with a bit of '80s styling thrown in, like The Beatles got high with Blondie and then picked up a trumpet.
Have a listen. Their debut EP, What Did I Do?, features four solid tracks of fresh new sounds featuring a signature noveau New Wave melody layered with Anne's unique vocals.
How the band formed is your classic "girl meets girl in the college library and decides to form a band because they both know how to play the guitar" story. Their present & future is as follows: Ann (vocals/guitar), Dhy (bass/synth/vocals), Randi (trumpet/synth) and Steph (drums). They've played almost every Boston venue on the popular radar, even sharing bills with Autostraddle favourites and recent interviewees, The Cliks and Hunter Valentine.
I met one quarter of Mrs. Danvers, Dhy, at The Abbey in Los Angeles. The rest of the band were in Boston filming a music video with AutoNatic's Nat Garcia, but after a few technical glitches we were able to get the whole crew on the phone!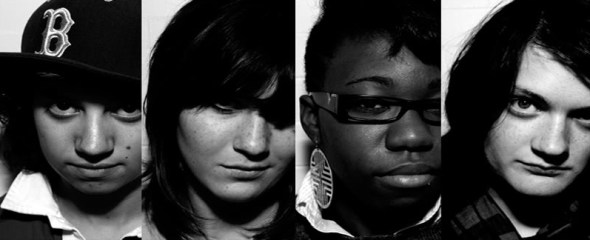 COREY: So tell us a little bit about how Mrs. Danvers formed.

ANN: We formed in 2009 at Berklee College of Music, where we were all students. I'd always dreamed of forming an all female band. I saw this Hitchcock movie, Rebecca, at a film festival, and in it there is an evil lesbian named Mrs. Danvers, and I thought it would be a great band name. So that's where we came from.
COREY: Individually, how did you get started in music?

ANN: I started playing music when I was seven. I was inspired by Nirvana and The Beatles.
RANDI: I played concert and jazz band while in high school. I was inspired by Louis Armstrong.
STEPH: When I was young I asked my Mom for a drum set for Christmas. I was in concert band in high school and was really into jazz and big band, Buddy Rich was a major inspiration. And now I am playing pop for Mrs. Danvers.
DHY: My influence is seventies funk/soul. Flea from The Red Hot Chili Peppers was one of the main reasons I picked up a bass. At Berklee I focused on playing more soul. I like to play The Sounds and Hendrix. A lot of styles molded into one and it definitely helped a lot with Mrs. Danvers.
COREY: How would you describe your music to someone who hasn't heard it before?
ANN: I think our genre is indie dance-rock. It's uptempo. Think along the lines of Metric and Tegan & Sara and Passion Pit, the way they incorporate synth elements into their music. It's indie dance-rock with heart.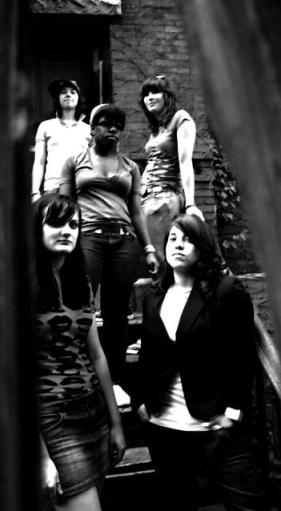 DHY: I agree.
ANN: And we have a strong funk influence with Dhy.
DHY: We are trying to incorporate more electronic synthesizers into our live shows, trying to draw more into the music.
COREY: Who are everyone's biggest influences?
ANN: The Beatles, because they are the greatest band ever.
STEPH: I don't have one influence in particular. I really like Buddy Rich, but I try to take everything I know about drums and make it my own.
RANDI: In my formative years it was the Scissor Sisters. Their rock and disco-y feel is how I think about Mrs Danvers.
DHY: My influence would be Me'Shell NdegeOcello, who got me into Neo-Soul. She's very versatile and can mix the two genres, which is what I like to do as well.
COREY: So how do these four rather unique influences come together in the songwriting process?
DHY: Ann will present songs to us as a band, and then we'll each go off and see how it works with us. It's not that we do it on our own, it is more of a collective effort.
ANN: We're a band, and we listen to each other. We're all concerned with how the sound goes, and there is a discipline, and it's about complementing the music. We're in our own world. It takes confidence and maturity, and it is why I'm proud of this band.
COREY: I'm really loving the title track of your EP, "What Did I Do?" — what is the thought or theme behind it?
ANN: It's a dark disco pop song about feeling rejected. It's about anyone who has been dumped and is looking for reasons and reflecting on what they might have done wrong. The entire EP is about presenting our sound, and that particular song embodies our music — it has rock like The Beatles but with dark, yearning lyrics. That sound reflects most of who we are as a band.
COREY: Many bands sound different live than on their records. How does Mrs. Danvers approach a live performance versus recording in a studio?
"Identifying as a queer band, you do alienate some people. But if you listen to the music it is universal, we just use female pronouns."
RANDI: We try to keep our sound the same, mostly true to our live show and what we create in the studio. The studio gives us a chance to show our musicianship, it gives us opportunities to spend time creating a full sound that we would not be able to do in a live setting. We want the album to sound cohesive and want to be able to capture ourselves as a band.
DHY: There will be elements that we can't capture live, as opposed to in the controlled environment of the studio. As Randi said, we try to keep it the same, keep them both on the same plane so it sounds great all around.
COREY: Do you think identifying as a queer band is a hindrance or a good thing?
RANDI: I feel like it's both. People don't expect us to be a particularly good band. But then we go out there and we show them what we can do, and we end up pleasantly surprising our audience. I do wish the negative connotation weren't there.
DHY: I think it's both as well. Identifying as a queer band, you do alienate some people. But if you listen to the music it is universal, we just use female pronouns. It is easy for the queer community to relate to, definitely. But once people listen to us they see it's not about who we are, it's about the music.
COREY: So when can we see you live? Are there any plans for a tour?
ANN: We are definitely going to tour this summer. We're all excited to get on the road.
COREY: Okay now some quick questions for everyone. What music festivals would you like to play in the future?
DHY: Lilith Fair. And right now we're about to apply for some Pride festivals on the east coast.
STEPH: I want to play San Francisco Pride. And Dinah Shore, I really want to play that.
RANDI: I want to play Dinah Shore, too.
ANN: I want to play Lollapalooza.
DHY: We want to play the world.
STEPH: Anywhere the world will let us play.
COREY: Which artist/s would you most like to collaborate with?
RANDI: The Scissor Sisters, I would die if I got to collaborate with them. Or with Lady Gaga.
ANN: I would really like to collaborate with Kevin Barnes from Of Montreal. I think it would be a complete blast to work with someone who has such a great pop sensibility.
STEPH: I really like Beyoncé. I like her all-girl backup band.
DHY: It may sound odd but I would love to collaborate with songwriters from Death Cab For Cutie, The Postal Service and Stars. That would be pretty amazing.
COREY: What was the first album you bought?
ANN: The Beetlejuice soundtrack. I was five and obsessed.
STEPH: Animaniacs soundtrack. It had this song about cheese.
RANDI: My first was a greatest hits album of Earth, Wind and Fire.
DHY: Titanic soundtrack. I listened to it so much that it broke.
ANN: I didn't know this much about my bandmates.
COREY: What was the last song or record you bought?
STEPH: Mine was the new Paramore album. It is great.
RANDI: Mime was Eminem's Relapse. I actually love it, it's my ringtone now.
ANN: The last thing I bought was John Lennon/Plastic Ono Band
DHY: I don't remember. Probably Titanic was the last thing I bought.
COREY: What are the expectations for Mrs. Danvers in 2010?
ANN: I think 2010 will be a make or break year — but I think it will be a make year. We'll record a great album this year and then tour in support of it this summer. We want to play a lot of really great shows and some great queer places. The idea is to charm people with our live show, really work on getting people involved and expanding our fanbase. That's how we exist, because of fans. I think if you have fans, songs, and a great live show then there is no reason you won't have a record deal.
+
---
+
Mrs. Danvers' debut EP, What Did I Do, is available on iTunes and Amazon now. Make sure you keep an eye out for the girls in the upcoming episode of Nat Garcia's AutoNatic.