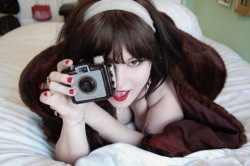 You should know Courtney Trouble the way the rest of the country knows Hugh Hefner and Larry Flint. Those guys are the prolific pornographers notorious for challenging sexual mores and championing their Constitutional right to film sex and show it to you, and Courtney Trouble is like that, kinda, only queer.
I didn't know Courtney or NoFauxxx.com until a few weeks ago but now she's a permanent part of my internet history (and for those who've been on the up-and-up about all of this all this time, feel free to smack me with a dildo).
I found Courtney Trouble while trolling for some good old-fashioned hetero porn one day. All those "naughty blonde teens" and "prison gang bangs" weren't doing it for me and I was questioning my choice of pornography. But typical "lesbian porn" is laughable at best and I often find it bizarrely uncomfortable to watch. Maybe it's the Lee press-on nails or the tramp stamps? Gay male porn used to be my fallback but then my little brother came out and I can't even look at it anymore. (Thanks, bro.) And now heterosexual porn was making me feel bad.
Guilt kicked in like a cock-blocking jealous girlfriend. The girls in porn seemed young enough to be my little teen cousins and I was definitely not into that. I started feeling uncomfortable seeing girls that young pushed into aggressive sexual situations… maybe I'm just getting older but I was definitely creeped out. And truthfully, how many times can you watch "drunk college sluts" getting it on before you roll your eyes, feel slimed and shut the laptop closed?
I looked up "queer porn" online because I was one step away from giving up porn all together. Thankfully, I am not a quitter!
Courtney Trouble popped up in my search like a fairy porn godmother and NoFauxxx.com exploded with queer alternative love juice all over my screen. I couldn't believe what I was looking at.
Trans men using strap-ons to pleasure bbws?
Women of color engaging in various sex acts with each other?
Where the hell had I been and why was this my first time here?!
You know it's good when you call the wifey over and both of you peruse the website. What struck us straight away was NoFauxxx's mission statement. Here is an excerpt:
"This site is run by a woman…we believe feminists can make pornography, perform in pornography, view pornography and enjoy pornography…"
She had me at "run by a woman." She directs and stars in her own films. Her fundamental work ethic is 100% sex positive and emphasizes safety, respect and inclusivity.
I signed up for a week's subscription and dove right in. I was intrigued by the openness and radical attitude of queer porn but at first I was more shocked than aroused — I'd never seen women that were round, brown or butch in photography. I'd never seen transmen in porn and never had I ever seen them all together and doing it with each other. I felt like I was studying and learning about an aspect of queer life that'd been hidden from me… or maybe I'd been unknowingly hiding from it.
It was fucking cool.
I needed to know more about Courtney Trouble, and she took me up on the offer to play five questions.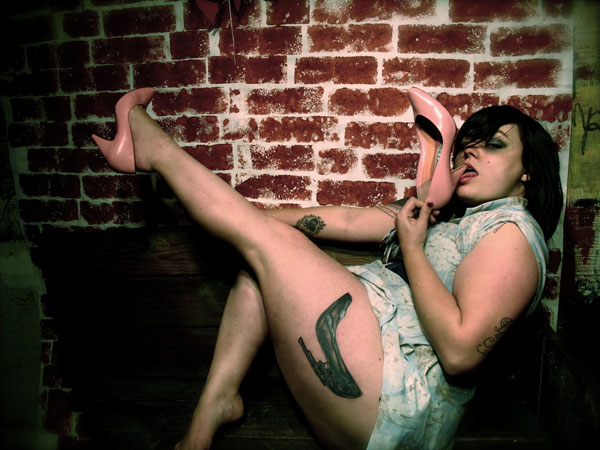 AS: Define "queer porn" and what it means to you, if you can.
CT: Queer Porn is a little bit undefinable, because the "point" of queer porn is to show the vast diversity of queer desire, and performers "queering" sex more as a verb than an adjective. Queer Porn is a collaborative, open-communication-centric, intimate art that is as much the performer's concept as well as the director or producer. Queer Porn removes the various niches, stereotypes, and misconceptions that the dominant adult industry places on people based on how they look or how they fuck, and allows the performers and producers to make authentic, meaningful, sex-positive imagery that reflects our true sexual natures.
AS: In what ways do you envision "queer porn," changing the world?
CT: People are getting bored of the cookie-cutter, formulaic pornography you can find for free on the internet – it's practically all the same, and what it lacks, queer porn has in abundance. More and more porn consumers are looking for chemistry-driven, creative, explicit, and authentic content, and the more queer porn is released into the world, the more popular it will become. With that popularity and attention, people will see queers in a positive light and perhaps society will learn through watching our porn that we are not freaks, deviants, or second class citizens, in and out of the bedroom. Queer Porn has the power to challenge the audience to find new ways to be sexy, and that feeling will rub off (we're in it for the puns, folks!) on your daily life if you watch enough of it.
AS:  Name five famous people, living or dead, with whom you would want to film a 'gangbang.'
CT: Kim Gordon, Allison Wolfe, Patti Smith, Beth Ditto, and Me!
AS: How is your new project Queerporn.TV (which has a super badass manifesto), different from the way porn is distributed online now? And how is it different from Nofauxxx.com?
CT: Thanks for asking! QueerPorn.TV is a collaboration with my dear friend, queer porn star Tina Horn. We're doing this purely-internet-based project to create a community where anybody can access queer porn or be a queer porn star. It is super "reality" (like reality tv) and our scenes are shot with minimal equipment in extremely loose, open-ended environments. We are encouraging our "stars" to think outside the box and do new things, push the envelope, and create new equations of couplings, actions, and kink within queer porn. We are also planning Sex Ed scenes, as well as live streaming sex scenes, demonstrations, and "TV Shows." It's different from No Fauxxx in the sense that it's way more community-based – No Fauxxx is truly just an extention of my art and my world and my eyes, whereas QueerPorn.TV is set up to inlcude everybody's voices.
QueerPorn TV scenes will be offered up as streaming direct downloads as well as membership-based viewing, and will also have a few surprises that none of our indie-porn counterparts have considered, that we can't really talk about yet – but you'll see very soon!
AS: Any thoughts or advice for people that are "queer porn" virgins?
CT: Oh Yeah! If you're a queer porn virgin and you want to MAKE it, then make it yourself first and foremost! define the genre for yourself by grabbing a cheap flipcam, your smart phone, whatever, and make a few scenes to enjoy for yourself or share with friends.
If you're looking to WATCH queer porn for the first time, for sure join NoFauxxx, or check out other cool websites like Crash Pad Series or Cocksexual. Go to GoodVibes.Com or stop in a store and check out their Queer Porn porn section, they have the BEST selection as they own Reel Queer Porn, the first large-scale queer porn production company. I've made 10 films with them, all queer – that's a great place to start!