Party of Five is a quick little ditty where we ask someone (anyone we want) five questions (any five questions we want) and they answer them. This doesn't have to be necessarily 'queer' — it doesn't have to be anything at all, except five questions and five answers. Today we've got Jacqueline, A-Camper and owner of Crazy Cat Lady Clothing.
---
I was Facebook messaging with my A-Camp September 2013 cabin, the Wildcats. We were all just chatting, talking about what we did for our jobs and then wham, this website comes across my screen: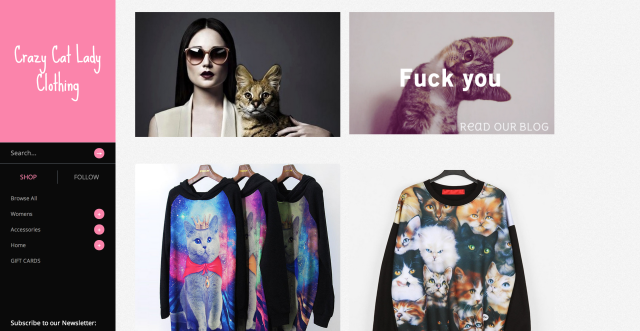 And I thought, I must have everything on this site. Turns out, this beautiful online store was linked and owned by A-Camper Jacqueline Mackenzie, and she has a few things to tell us about owning a store that sells galaxy-cat-sweaters. And by a few things, I mean five things.
So you have two businesses – tell us a little bit about them!
I run Lucky 7 Shop, which is an indie clothing boutique hosted by the Storenvy marketplace, and I also created a site called Crazy Cat Lady Clothing, which consists exclusively of (you guessed it) cat themed clothing and accessories, as well as home décor.
How did you decide to go into Crazy Cat Lady Clothing? 
The first time I spoke with a young fashion blogger who called herself a "crazy cat lady," I found it somewhat odd and amusing. That was until I started noticing that there was a huge population of young women who were also very proud to identify as such. Honestly, when I first purchased the domain name I was afraid the fad would pass before I even got a chance to set up the site! Suddenly everyone was selling cat merchandise! Grumpy Cat was booking interviews on major talk shows left and right, and daily cat meme sites were a dime a dozen. Fortunately I did some research before abandoning the idea altogether, and was pleasantly surprised to discover that searches for the term "crazy cat lady" on google have actually been on the rise at a very consistent rate for nearly a decade.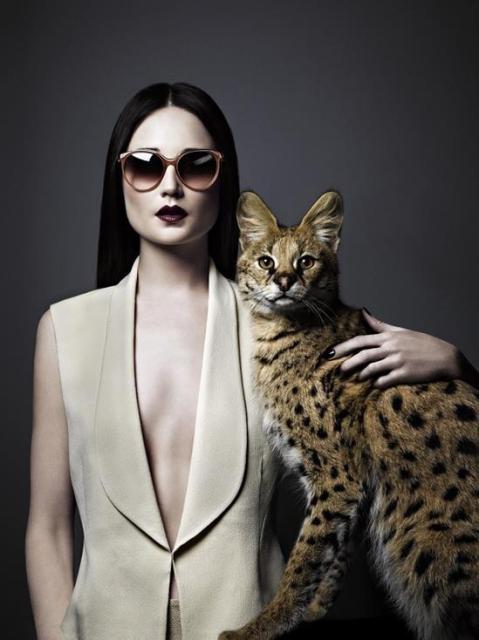 In fact people of all ages have been obsessed with cats since the beginning of time, as far back as ancient Egypt, which was brought to my attention by this meme. So this obsession with cats is nothing new. It has been going on for literally millennia.
With reassured confidence, I was able to use the skills I had acquired by running Lucky 7 Shop to put together Crazy Cat Lady Clothing. It's a funny, lighthearted concept and one that people can understand very quickly, since the name says it all.  I also created an accompanying blog features mainly adorable and humorous cat photos and artwork, and tries to present it in a quirky and visually appealing way. Thus far it's been very successful at driving traffic to the store.
What's the most popular item on the Crazy Cat Lady site?
Our top seller is the gold cat watch.
What's your favorite item on the Crazy Cat Lady site?
Do you have any advice for Straddlers wanting to start their own online retail business? 
Everyone's experience is unique, but what worked for me was making sure the goal I set was achievable. I decided my sole aspiration was to be self-employed by selling things online, but set no other limitations and I had no time frame. Since the goal was very broad, it never felt impossible. Crazy Cat Lady Clothing has ended up being the perfect fit for me because, although I've never owned a cat, I find that many elements of it align with my personal sensibility. Some aspects of the subculture have a dark sense of humor about them, it's quirky and campy, and very nerdy, but at the same time cat ladies can also be extremely sexy if you look back at the history of fashion photography.  I've discovered that many, many lesbians love cats. I find that every person knows at least one crazy cat lady and my hope is that they will refer her to this site.
Please head on over to Crazy Cat Lady Clothing if you should feel so inclined!