This week, my girlfriend left for the summer because of "family" and "work" and she "stopped loving me." (Well, not that last one, but this is my pity party and we play by my rules here.) To add insult to broken hearted injury,  my current boss cut my hours and job opportunities aren't exactly coming out of the woodwork.
Fortunately, rather than just curling into the fetal position for two months straight, I'll be periodically un-curling to treat my emotional wounds with this arsenal of geek time-suck coping mechanisms. They're great for all around escapism, and also for hearts shattered into thousands of tiny pieces, like I may have mentioned.
1. Buffy the Vampire Slayer Seasons 1-7
If you're reading this, I think you understand. My girlfriend's gone and it's time to bring out the big guns.

2. Star Trek: Birth of the Federation
Play as the Klingon Empire, United Federation, Ferengi Alliance or Romulan Star Empire and CONQUER EVERYTHING. Build an army, discover new technology, make friends/enemies with minor races, colonize planets, all time-consuming activities made even more time consuming by the fact that it's turn-based. Time consuming is key here! You don't want to go to the dark place, do you?
3. Final Fantasy VIII
Four discs long, people. FOUR. Probs you'll all want me dead for picking this one and not FFVII, but this one is chock-full of full of despair and angst, and each randomly-encounter battle victory infuses me with the false sense of achievement I need to carry on in a life devoid of spooning. Also: pretty, overwrought cutscenes! And, Quistis is clearly a babe.
4. The Legend of Zelda: Wind Waker
Playing Wind Waker means spending about half of a game just travelling across a beautiful, hypnotic expanse of ocean. Which is, y'know, annoying, unless you have hours upon hours to kill. And I do.  Maybe you do too?
5. FFFFOUND
FFFFOUND is an image bookmarking site, so it's kind of like Tumblr, except you won't end up publishing terrible poetry in your darkest hour.  In fact, there are no AB rhyme schemes in sight; it's all pictures! FFFFOUND's got an unlimited amount of pages to browse through, of everything from rare gig posters to to neat typography to artwork of birds with jetpacks to…well, just go look. And don't just look at hot girls. Stay on track!
6. Portal
Mac gaming client, Steam was giving Portal away for free a little while ago, so I scooped it up and I'm so happy I did. This game is the ultimate mindf*ck, so at least your brain will get some.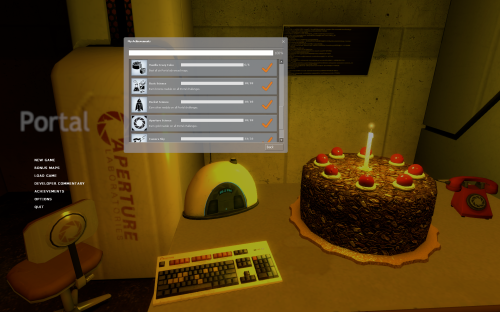 7. Quake III Arena
As one of the first games designed expressly for multiplayer play online, Q3A was a Big Deal back in 1999.  And it's still a Big Deal to me.  Quake III Arena is crazy addictive, offering hours of playability with all the difficulty levels (ranging from "I Can Win" to "Nightmare"). It's good for releasing some aggression, some frustration and some sad feelings. Violence can make you less depressed, remember?
8. Planet Earth
When I start feeling like a jerk for blunting my emotions and building that (admittedly elaborate) shrine to Joss Whedon, it's time to check out Planet Earth. Watch the Discovery one (not the BBC) because it's narrated by Sigourney Weaver. And she's got a pretty husky voice, if you know what I mean. Sharks, caves, jungles, baby ducks– it's all here. Just don't get too caught up in all that spelunking imagery. That's backtracking.