GAMING: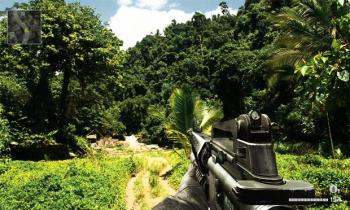 Researchers at a branch of Texas A&M University recently published findings suggesting that video games reduce stress, something which is completely intuitive to anyone who's ever played one, and probably anyone who's ever played a board game too. Unfortunately, detractors of the gaming industry will probably continue obsess over what gaming is doing to corrupt the youth of today, as video games are most certainly single-handedly responsible for the corruption of young brains everywhere and possess no redeeming qualities to speak of. They certainly aren't capable of sharpening our senses, honing leadership skills or simulating strategic scenarios. And gaming most-definitely has no foreseeable therapeutic application, as this study seems to strongly indicate:
The results of this study may help provide others with ways to come up with a mood-management activity that provides individuals with ways to tolerate or reduce stress.
"It probably won't come to a surprise to gamers that playing games may reduce stress,wp_postsFerguson said, "although others have been skeptical of this idea. This is the first study that explores this idea, however. It does seem that playing violent games may help reduce stress and make people less depressed and hostile."
Ferguson cautioned that these results were correlational, however, and more research is needed. However, he suggested that video games could increasingly be used in therapy with young adults and teens. Violent games may help people work through their frustrations with real life and calm down without increasing aggressive behaviors in real life.
Dr. Ferguson certainly isn't off-base in stating that the results "won't come as a surprise" to gaming enthusiasts. In fact, I'd go so far as to say people play games for this very purpose. You know, relaxing and having fun. Just like most enjoyable things (sex, shopping and booze, to name a few) games are probably best enjoyed in moderation. And if part of your stupid moderated non-gaming life pisses you off, like real life is wont to do, sublimating your rage through a first-person shooter probably isn't a bad idea.
(@gamepolitics via @gameinformer)
GOOGLE:
In other news, Google launched an experimental app-creation platform today that may bring non-developers with cool ideas a few steps closer to realizing their dreams. Or morons with shitty ideas one step closer to polluting the Android app market– You decide!
(@mashable)
SYNESTHESIA:
In other cool news, it might be possible to develop synesthesia through conditioning, which is great news if you think synesthesia is one of the coolest things in the entire world ever, like I do. If you aren't familiar with the term, it's a neurological condition which causes a range of (really interesting) involuntary sensory experiences:
In one of the most common forms of synesthesia, grapheme → color synesthesia, individual letters of the alphabet and numbers (collectively referred to as graphemes), are "shaded" or "tinged" with a color. While different individuals usually do not report the same colors for all letters and numbers, studies with large numbers of synesthetes find some commonalities across letters (e.g., A is likely to be red). (@wikipedia)
While the end result might be the same, it's difficult to say if trained synesthetic phenomena would be akin to the subjective experience of naturally occurring synesthesia. So basically don't get too excited because it might be way cooler if you're actually a synesthete. And hey, isn't that possibility kind of like this classic philosophy question (a.k.a. one of my favorite things to think about ever)? Okay, that might have been a little much for a Monday.