YOU GUYS, HOMOPHOBES HAVE FEELINGS TOO:
Are you tired of reading about DADT yet? Not really, no, because that shit is completely OOC, and you should probably call up Lt. Dan Choi and tell him all your feelings about how upsetting it is that the military is being allowed to sabotage the DADT repeal as best they know how. But when you're done with that, come back here and read this crazytown email from the Family Research Council about the recent DOMA ruling in Massachusetts, because it's pretty great.
To recap: Martha Coakley, the state Attorney General of Massachusetts andpersonwhoshouldhavebeenelectedinsteadofScottBrownjustsaying, sued the federal government over the Defense of Marriage Act, because she said that since it doesn't recognize gay marriages performed in Massachusetts, it's infringing on the state's rights by forcing it to discriminate against its own citizens by denying them federally provided benefits. That was a really long sentence. Are you still with me?
Anyways, the eventual ruling on this case by a Massachusetts state court was that the federal government is in fact infringing on the state's rights, and that therefore while DOMA still makes gay marriage illegal in the federal government's eyes, they can be forced to provide benefits to couples that are legally married by a state that recognize their marriage. This made a lot of people get all hot and bothered because traditonally state's rights arguments are reserved for Conservative Republicans, but we went ahead and reappropriated that shit! Many people are unhappy about this, including the FRC.
Here we have obtained, courtesy of Joe My God, an official communication from the FRC to their constituents, whom I assume are at home in basements with the doors locked, holding a sawed-off shotgun in one hand while feverishly refreshing the page with the other. You can read at least five paragraphs of it here (and really you don't want to read more than that), with some emphasis and footnotes helpfully provided by us:
"Four hundred twenty-seven. That's how many members of Congress voted to pass the Defense of Marriage Act in 1996. One. The number of activist judges it took to strike the law down. Yesterday, a U.S. District Court did its best to preserve Massachusetts's reputation as the most liberal state in America on marriage. In Boston, a federal judge used his gavel to shatter the one law preventing a complete capitulation to same-sex "marriage" at the federal level: DOMA. Claiming that "it is only irrational prejudice that motivates" the law (p. 38), he sided with the ultra-Left on two separate cases. Although the couples who sued are considered "married" in the eyes of their state, they complained that DOMA kept them from getting federal perks like Social Security survivor payments or joint tax filings*. So what did Judge Joseph Tauro do? He ruled that the government doesn't have the right to set its own benefit policies–suggesting that he knows better than a supermajority of Congress what's best for American taxpayers.
Tauro's rationale for toppling DOMA was so absurd that even liberal Yale** law professors like Jack Balkin said, "No chance they'll be held up on appeal." The two opinions are so convoluted that they even contract themselves. As Balkin said, the judge's rulings are "at war with each other." Judge Tauro also claimed that there's no precedent for a federal definition of marriage. The people of Utah might disagree–seeing as it wouldn't be a state today if the Supreme Court hadn't ruled that it must outlaw polygamy first.*** In 1878, the Supreme Court declared that polygamy wasn't protected by the Constitution**** (Reynolds v. United States). In fact, that ruling was even stronger than DOMA, because it was a blanket rejection of polygamy. Unlike DOMA, it didn't leave the question up to states.
Regardless of Tauro's skewed views, the blame for this decision lies directly at the feet of Elena Kagan and her boss, President Obama*****. The President has called for overturning DOMA, but as Solicitor General, Ms. Kagan is responsible for defending existing federal laws in court. But instead of trying to win the case, she intentionally sabotaged it, dropping the strongest arguments in favor of DOMA. At the time, legal experts were shocked that she didn't include procreation as the main reason for protecting man-woman marriage******."
* Yes, perks, like having a microwave in the break room and the no-splash sticks now available at participating Starbucks! "Perks" are exactly what we're talking about here!
** Everyone who goes to Yale is liberal. For instance, George W. Bush.
Also, UPDATE: I just went and read something actually written by this guy Jack Balkin, and I'd like to share with you a few choice quotes from him.
"I believe that federal and state laws that discriminate against same-sex couples violate equal protection of the laws."
"I shouldn't have said, as I did at the very end of my previous post, that Judge Tauro's equal protection holding should be overturned, as if this was a statement about the kind of law I want to live under as a citizen. Rather, what I should have said is that he is deciding this issue at the wrong time and in the wrong way, and a court following existing law will almost certainly overturn it, with bad consequences to follow."
"…what I said about the equal protection argument in my previous post is that Judge Tauro was too far ahead of the country, that his logic implicates all state marriage statutes, not just DOMA, and that as a result he will get reversed, if not by the First Circuit, then almost certainly by the Supreme Court if the issue comes before them in the next two or three years."
So, if you're not going to go read the whole blog post (although if you're genuinely interested in how the law impacts us, you will probably want to) the point is: Balkin doesn't even oppose this ruling, he just thinks that the basis it was made on is ahead of the currently v. homophobic climate of the US judicial system, and that for that reason it may get overturned. It's kind of like how certain online magazines with smart, funny writing and great design aren't as successful as other, shitty magazines that just happen to align themselves with the boring and heteronormative views of the mainstream culture. Anyways, Balkin seems like a good guy, I would have a beer with him.
*** You know, if the people of Utah are so opposed to the federal government making laws about marriage, they could have just gone ahead and not donated millions of dollars to Prop 8. I'm just going to put that out there.
**** OKAY THIS IS JUST DUMB I'M JUST GOING TO SAY THAT. Do you know what DOMA does? Do you, Family Research Council? It OUTLAWS same-sex marriage. Like, the words it uses says that this is not allowed. This is not the same thing as saying it is "not protected by the constitution." My right to scald the milk in lattes ordered by rude customers is not protected by the Constitution, but does that mean I don't do it? In related news, are you aware of how many polygamous marriages actually exist in Utah right now? Maybe you want to do some f*cking Family Research on that and get back to me.
***** This was a cheap shot! This case is in fact being defended by the federal government, as morally reprehensible as that is, and procreation is a shitty argument for DOMA, as we all learned in this month's Prop 8 closing arguments. There are so many people involved in a case like this that choosing Elena Kagan is virtually arbitrary; the only thing that differentiates her from any other legal official is her haircut. You know who else has short hair? The barista at the place I like down the street, but it's still not her fault that DOMA's being threatened.
****** OHMIGOD BABIES BABIES BABIES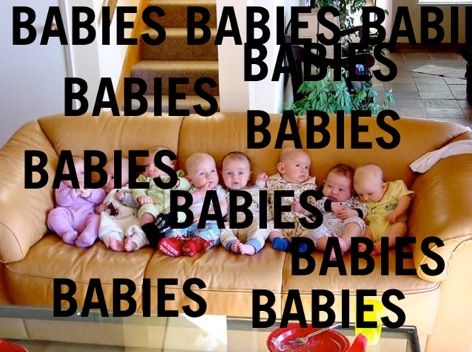 So there you have it, ladies and alternatively identified folks! If you were wondering what the enemy was up to, cloistered away in their dens of misinformation and Two and a Half Men reruns, this is it: getting basic facts wrong and blaming all their imaginary problems on (alleged) lesbians and black men. So now you can check that off your list for the day and go check out a tumblr with some naked ladies on it! You're welcome!