Imagine a beautiful place where the sun shines, people gather excitedly, and music can be heard from all around.
Well that place exists and its called a music festival–if you're wondering what clothes you should wear to optimize your time spent as a free spirit, I've got plenty of ideas! SXSW starts REALLY SOON gals, like on March 17th, so you should start packing. Then you can just keep your suitcase packed for all the subsequent festivals.
My first idea? Layer your tank tops! I don't really like tight fitting clothing on my body. Thus when it comes to tank tops I've usually abstained from the whole ordeal. Wearing an oversized tank top sounds like fun but doesn't really work by itself  because of coconuts and social norms or whatever. But I've found a solution that looks even cooler than straight/gay up wearing a tank top! It's called layering! Wear something fitted underneath and loose on top. This crazy one from Viktor Viktoria was apparently worn by Natasha Beningfield.
Cut off shorts! Today it was 62 degrees outside and for the first time this year I wore shorts, and not just any shorts, my newly cut corduroy cut-offs and it made me so very happy that I'm writing about it now. If you have yet to turn something into a cut off short, or are going to a music festival soon, you should probably grab a pair of scissors and give it a try. My advice to you is, cut off a little at a time. It's better to have too much to work with than too little. Also longer shorts are in now heyyyy!
Moving on up, let's talk about headbands/ head scarves/ other things you tie around your head. Somewhere along the line–I'm going to guess somewhere between our impression of native americans and hippies–we began to equate fabric across ones forehead as a stamp of a free spirit. And I loves it.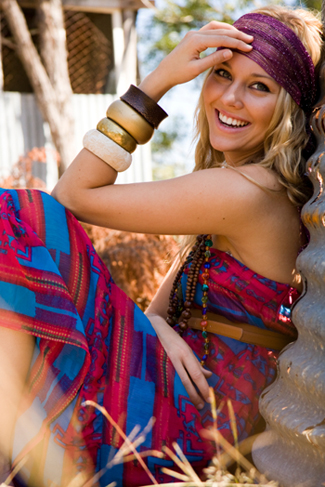 You can get fancy ones at Urban Outfitters or feel free to make your own!
Sundresses! Just looking at these sundresses make me so excited for the warm weather my heart is squealing.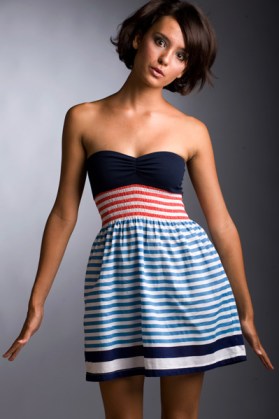 Rain boots. Music festivals aren't immune to rain. Yes, things can get muddy, and if you're not in the mood to take off your clothes and go mud sliding/wrestling (though I recommend you try it) Wellies are great to wear in dealing with the hot tranny unpredictable mess that is nature AND they go with basically absolutely everything.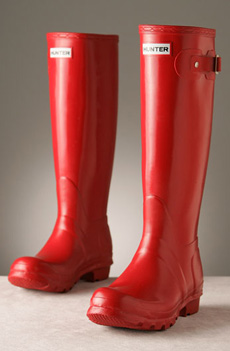 See? Here I am wearing a ridiculous outfit on a rainy day, note how because of my rubber boots, the weather is not impeding my music playing abilities.
Face paint! I'm not sure how "style" related this is, but I really think everyone should play with face paint.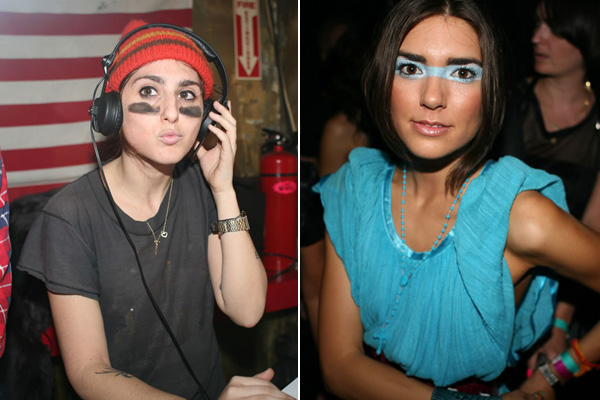 Sure, I went through a phase where I painted my face with dots like this. But that's hardly influencing my judgment it recommending it. It's the cheapest accessory, it's fun, bold, freeing and it promotes eye contact.
Next up we have yummy worn flats. So, you're going to be on your feet all day and enjoying this thing called grass. As in that thing you step on sometimes. What this translates to in the grand scheme of things is an environment in which you're probably not going to want to pull out your best heels. Never fear! That's why life evolved flats!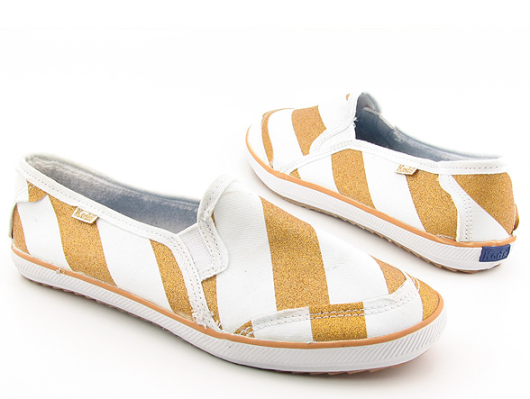 Flats can manifest in a variety of different forms. Keds, Vans, and other non-tie sneakers are classic and versatile. You could also opt to wear sandals, so if you're feeling especially stylish, feel free to check out these sweet vintage leather sandals over at Etsy.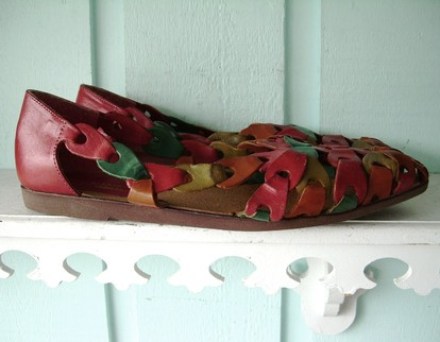 Finish off your look with a cool umbrella and aviators and you'll be ready for anything!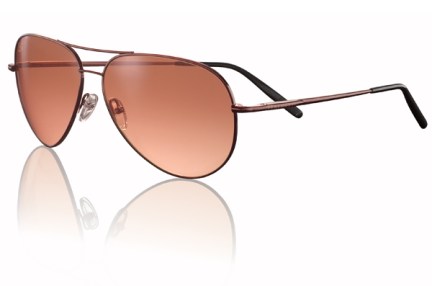 Now go enjoy some music and fresh air!!!