Hello shiny happy people! Today's style post is about my favorite article of clothing in the entire world: shoes. Are you excited about shoes? Because you should be! You have no idea how excited I am. Seriously, you have NO IDEA. For me, shoes aren't just protective wear for your feet, they are for staring at after having a terrible day and for trying on during a "life-is-stressful-and-I-can't-breathe" moment. You wear your favorite shoes while dancing to Madonna alone in your room. You buy new ones after your girlfriend breaks up with you, and they make you feel REALLY GOOD even though the economy sucks and you have no money.
Shoes do for me what Prozac does for like…most of the United States. You probably don't share the same intense and slightly romantic feelings towards shoes as I do, but hopefully this post will inspire to put on your favorite pair tonight and dance like crazy to Madonna's "Immaculate Collection."
Note: I am a short person, but I really enjoy feeling tall which means that there are a lot of heels in this post. Tyra Banks and I both understand that many people cannot walk in heels. As long as you're not in the running to become America's Next Top Model, we're totally cool with that. I prefer a girl in sneakers anyways. I just don't want anyone to feel as though Autostraddle is forcing you to wear heels. We are not. We love you forever no matter what you have on your feet.
---
+
THE SUMMER SHOE:
Sandals
+
It's still summertime, which means that our feet can still breathe, yay!
These strappy sandals from nastygal.com may not be great for the beach due to their four inch heel, but they are perfect for a summer barbecue or an outdoor wedding/commitment ceremony/babyshower/Bar Mitsva.
For cute, cheap, simple, and low to the ground, Target is always a good place to go.
If you're planning on channeling your inner Greek goddess this summer, then these MIA sandals are the perfect shoe to match your toga.
---
+
FOR COLDER SEASONS:
Boots
+
Fall is going to be here before you know it, so if you're in the market for new boots, you might just want to buy them on sale now before the prices go way up in anticipation of chilly weather.
Knee-high boots are not only super cute, but they are also crazy warm, which makes waking up to go to class/work/the grocery store WAY easier. I found these Dollhouse boots on amazon.com for only $33! That would be so cheap if my only job was something other than babysitting twice a week!
Other fantastic Dollhouse/Amazon finds include these relatively inexpensive combat boots and these scary but awesome buckle strapped wedge boots.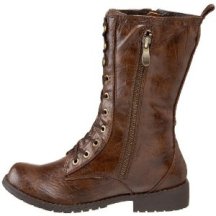 The buckle wedges above look a lot like the pair that this girl is wearing on her crazy animal legs but are way cheaper than the Jeffrey Campbell original!
If you want a shorter boot that you can walk in (i.e. something a bit closer to the ground), MIA has some great options, including these super cheap western style boots.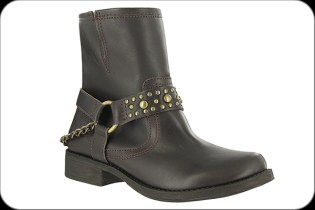 ---
+
SHOES THAT ARE
Terrible/AWESOME
+
Boat shoes can either make you look like my pompous high school English teacher or they can make you look really cool. Chances are you are not a 50-year-old man, so they are probably going to make you look awesome. I'm a big fan of these navy boat shoes from the men's department of J. Crew.
These MIA lace-up wedges sort of look hideous, but they also sort of look awesome. I'm a big fan of straddling the line between horrible and awesome, which is why I really want these shoes. It is also why I am currently watching That's So Raven.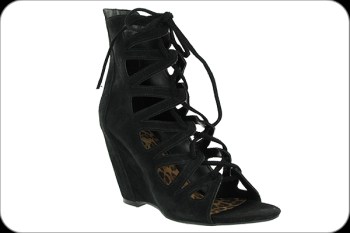 These Jeffrey Campbell wedges will most likely break your ankle and your wallet, but they would look great in the Beyonce music video that is my life. I live a really fantastic life.
---
+
BECAUSE YOU'RE A GOOD PERSON:
Vegan Shoes
+
Looking for vegan friendly shoes because you are totally awesome and into saving the WORLD?!?! Look no further than modcloth.com. Just type "vegan" into their search box and all of your dreams will come true. They have a wide selection of vegan friendly shoes including these fantastic cowboy boots, these cute little wedges, and these badass high-heeled booties.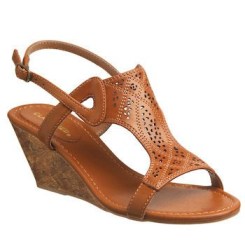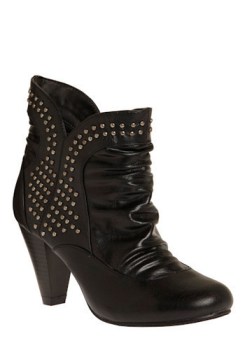 ---
+
THE UNIVERSAL SHOE:
+
Everyone loves Keds. My grandma loves Keds, my five year-old neighbor loves Keds, my dog loves Keds. Keds are the universal shoe. What makes them even cooler is that their website features a tool that allows you to custom make your very own little sneaker by adding color, images, and text! Because it seems as though I cannot write anything for Autostraddle without mentioning the Spice Girls, here are my custom-made "Girl Power" Keds.