TEGAN & SARA:
Sara Quin takes the spotlight in the new video for one of my fave tracks from Sainthood, "On Directing." The video is pretty low-fi with tight closeups, camera filters and colorful lights. Kinda looks like it was shot out of the 1980's MTV cannon, but with more lesbian eye contact. Tegan shows up for backing vocals a throughout the clip but there's no story whatsoever, much like the Feel It In My Bones vid. This song always reminds me of high school so I had hoped there would be some (any) connection to the lyrics. What movie plays in your head when listening to  "On Directing?"
.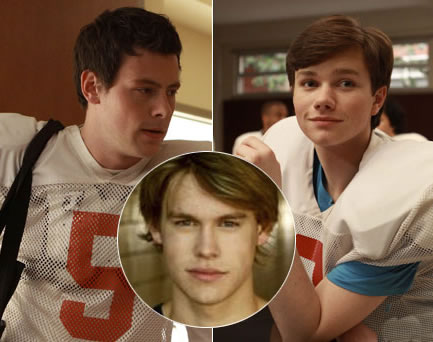 GLEE:

Despite numerous press assumptions that Chord Overstreet has been cast as Kurt's football playing/singer boyfriend, a new interview with the Glee cast kinda puts the kibosh on that. Chris Colfer says, "Actually, I've heard that they might be leaning towards another provocative storyline more which would delay [Kurt getting a boyfriend]." NOOOOOO. Come on, how cute would Kurt & this boy be holding hands in the rehearsal room? So, for now it looks like Overstreet's recurring role of Sam will just be a McKinley high school athlete who starts off as Finn's protégé but becomes his competition.

Out actor Cheyenne Jackson (from 30 Rock) will be doing a multi-ep role and Brittany and Santana might actually make out this year. (@ew)
.


PRETTY LITTLE LIARS:

Shay Mitchell likes that the show hasn't put Emily in a box just yet and is letting her sexuality linger in the TBD area:

"I think the way that they've done it with her character is completely different from other shows and other characters. On other shows, they have a lesbian character, or they have a gay character. But with this show, you can't really label her. And I think there's so many teens, they watch these shows and they are like "Oh yeah, that girl is a lesbian, or this guy's gay,wp_postsbut with Emily, they're like "I might be able to identify with this character more because she doesn't know.wp_postsThey might not know at that time what they're going through. It's different from other shows that I've seen in the way that they're doing it."

(@thetvchick)
ANYONE BUT ME:
Our favorite webseries, Anyone But Me, is holding a web-a-thon from July 27-29, to raise money for its third season! A portion of the proceeds will be donated to The Ali Forney Center, the largest agency dedicated to providing housing and support to homeless LGBT youth in NYC.
Wanna bid for a walk-on role? YEAH YOU DO.
+
THE (REAL) L WORD:

Oh God, is this a threat?
Also, Carmen is looking for Shane on Twitter!