I had a truly tough go of it in junior high, especially in the world of friendship.
It was probably the most hellish time of my adolescence and the only moment where I can recall desperately wanting to have a life filled with tons of people. It wasn't actual friendships I was seeking, it was the acceptance that I was after. I was so confused and couldn't figure out why I'd been singled out by my peers to be basically tortured. I often tried to change so much of myself with the wish that the pain would stop and the friends would come, but it just made things worse and almost solidified in me that maybe I was meant to go through life without a crew.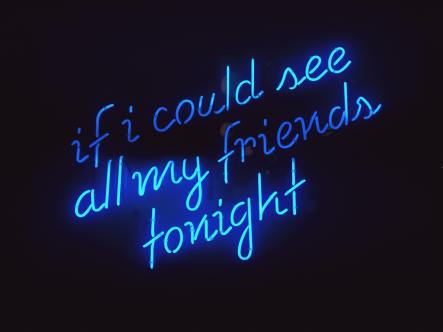 As time passed and I stopped yearning for acceptance, I realized that what I actually wanted was just a few people I could honestly connect with. A circle of folks who would keep my secrets, hold space for me when I needed and who would fill my heart with laughter and love. I know that sounds like it should be framed and sold in an overpriced big box store, but it holds so much truth. Had I gotten the false acceptance I wanted in junior high, my friendships today would be unstable shams.
My group (or pham, as we call ourselves) is small and I've said before that it's Sasha Obama levels of tight. I don't have the need to surround myself with tons of people, I have too much peace to protect and very little energy to give for a lifestyle like that. I also keep it small because I don't want it to be a one-way thing; I want to pour into, support and love those who so willingly do that for me.
I write about caring for your homies often, but that's because true friendship lights me up and raises my vibrations. When I connect with this weirdly perfect group of miscreants the universe has aligned me with, I'm thankful. Thankful for the joy they bring me, for the waves of sweetness and sass that I experience with them, and thankful that I finally found my crew.
Happy Sunday sweeties.
---
---
I really loved this beautiful piece on grief over on Amaliah, we all experience the emotion differently and sometimes I'm grateful for the feeling of it.
I didn't watch even a snip of yall's little inauguration, but what I did see on the Twitter was Michelle Obama's hair and I cared about it A LOT. The hairstylist behind it was Yene Damtew and hello I'd love to book an appointment.
Ayo Edebiri makes me laugh on a constant basis, we all know how I feel about Libras but for real all I want to do is watch Love Island with her and look at her Letterboxd on commerical breaks.
I will never stop talking about Regina King and guess what? This interview all about her at 28 makes me love her even more.
Flo Milli makes me feel like a cool step-sister and her she's talking manifestations and looking stunning in this piece over at Refinery29.
Arabella Sweets wants us to unpack our whorephobia, truly support sex workers, and finally to quit acting like sex work is some get rich quick vibe like some actresses would like us to think it is.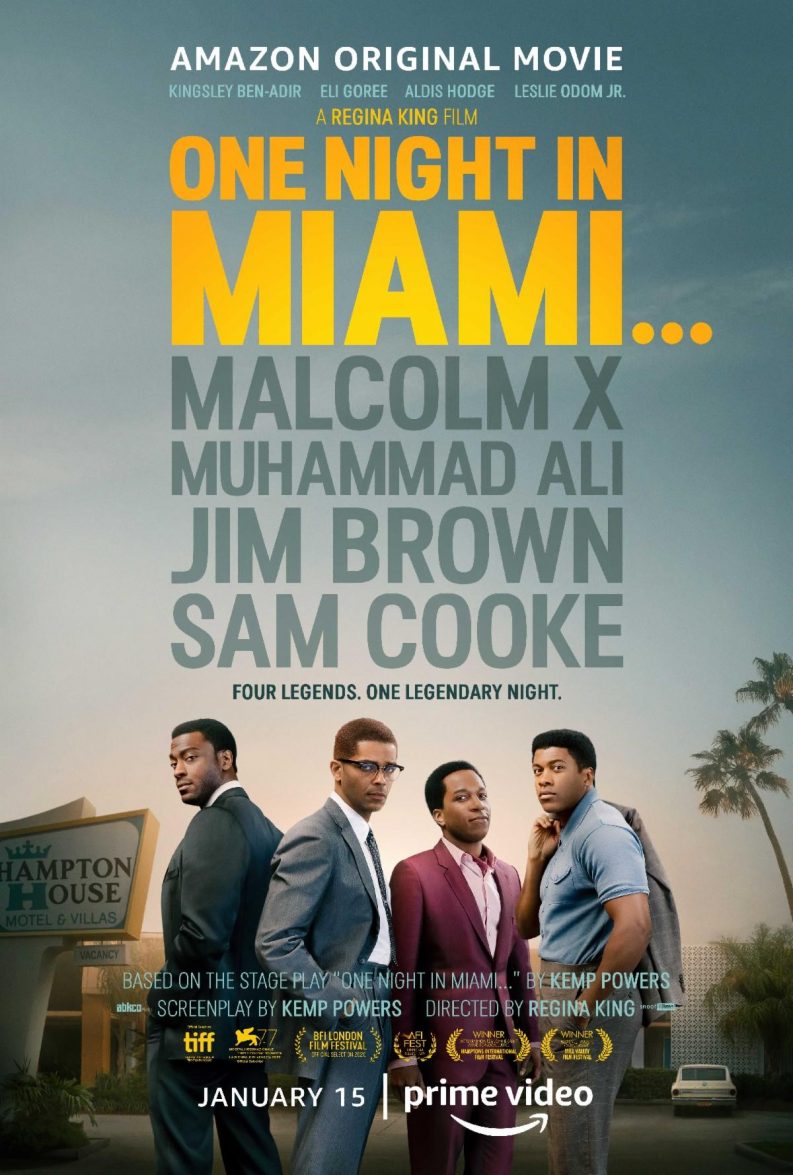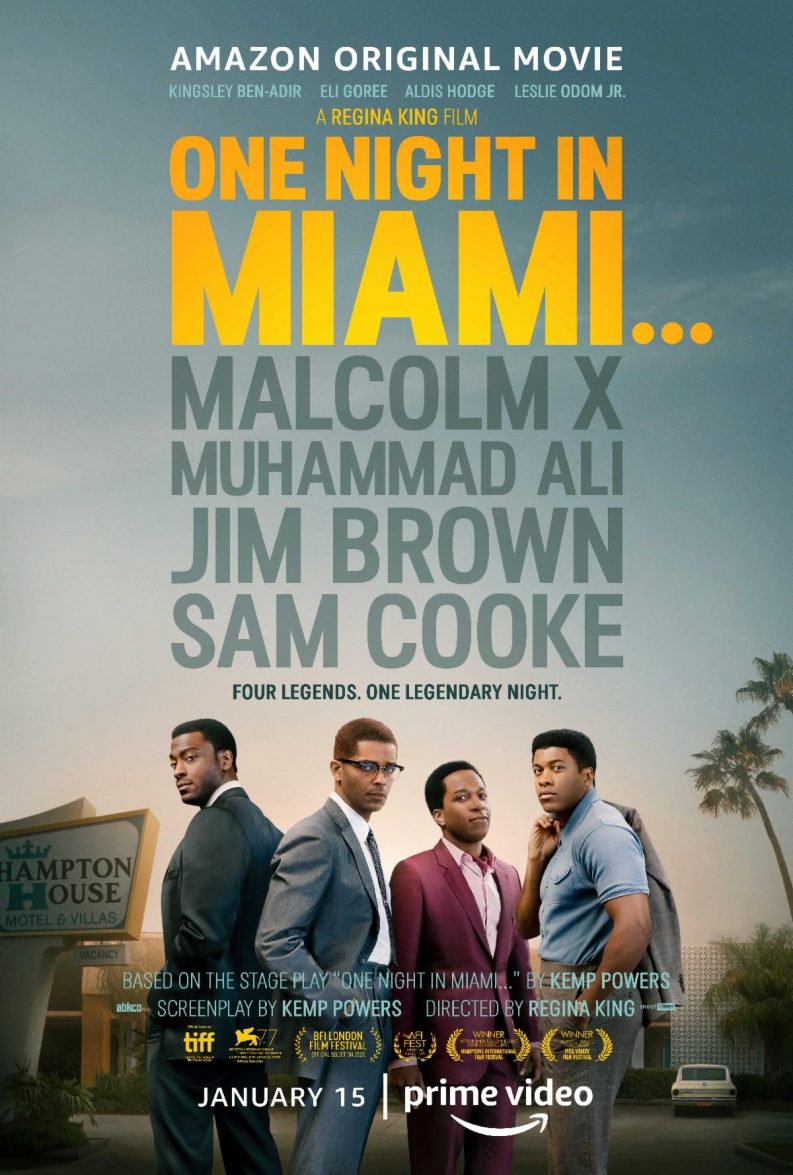 One Night in Miami
"Four Legends. One Legendary Night"
The two main things that drew me to One Night in Miami were Sam Cooke (portrayed by Leslie Odom Jr.) and the fact that it is the directoral debut of Regina King.
My mother's favorite singer is Sam Cooke. She has all his albums (originals mind you) and we would spend many a morning singing, dancing, and twisting the day away. So when I heard about this film, I was mad excited.
It takes hella artistic license on the evening of February 25, 1964 — where earlier that day Muhammad Ali (still known as Cassius Clay) became the heavyweight boxing champion of the world. He then went to kick it with Sam Cooke, Jim Brown and Malcolm X, who was his spiritual mentor in the nation of Islam. Honestly, yikes to all these men but the movie is good.
This night actually did happen and while we don't know the true details, the film is dope in the way it imagines it.
---
On the bulletin board this week The Estuary Collective wants you to submit your hottest poems for their first-ever zine! Also, The Black Queer Rent Relief fund has been sending out funds to people to try to help folks keep a roof over their head, if you have it to spare, donate funds so they can continue to help others. Lastly, Arm The Girls is raising funds to send 15 QTBIPOC Femmes to self-defense classes, the attendees will be PAID and they are THISCLOSE to their goal — help them meet it today!!!
If you have anything happening that you think would be a good fit for the community love virtual billboard, send it my way via Instagram. Please remember that anything you send must have a focus on people of color.
---
Stay in tune to the folks in your life that light you up, and say goodbye to the ones that don't serve you.
Featured Image is by Brianna Santellan from Unsplash.