Editor's note: Some of our readers and writers loved Disobedience. Some of our readers and writers did not. We are not a monolith, and thank goodness for that.
---
Welcome back to Watching Lesbian Classics, a public log of lesbian movies that've managed to evade me because I've willingly chosen not to watch them and their subsequent reviews! It's been quite the two-year journey, from the depths of Everything Relative hell to the soaring views atop I Can't Think Straight. What an incredible wealth of queer history.
Last time we covered Liz in September, a movie that was a dollop of melancholy, a splash of vacation, and a sprinkle of cancer. Up next is Disobedience, a movie for which I left my home and paid money to watch alongside every queer woman in Los Angeles, California one fateful night almost a year ago. That means this very special episode of Watching Lesbian Classics will be from memory, as I want queer cinema to thrive at the box office, and engaging in torrenting gay culture effectively ruins the chances of that happening.
Also because I never want to see this movie again.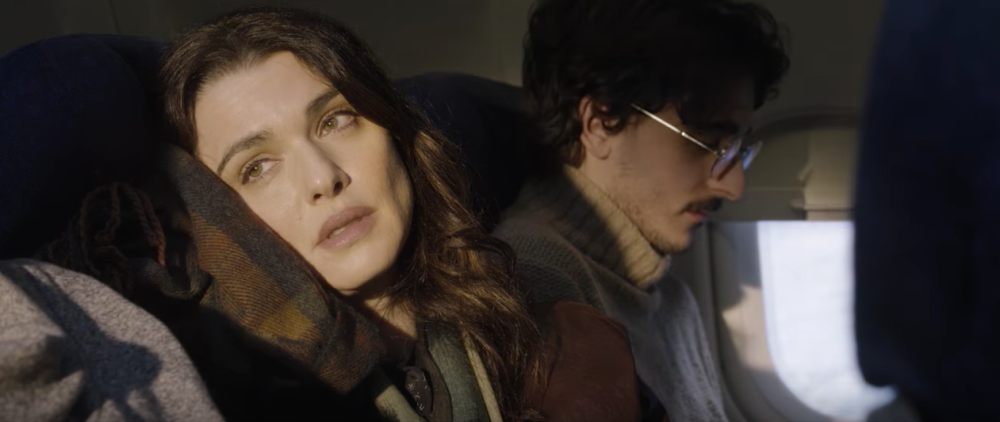 Let's get some things out of the way about Disobedience, a movie that's been advertised on this very website. Yes, it's a mainstream movie with two women inches from each other's face on the movie's poster, adding it to the vast cannon of lesbian movie posters with two women just inches from each other's face. Yes, there is a sex scene wherein Rachel Weisz unsnaps Rachel McAdams bodysuit in a way that made me rear my neck back as if to say, "Is that so, Miss Weisz?" and a from-the-behind situation that was inspiring. This was great for the gay community and me personally.
But here's the thing about that sex scene, which could be representative of the entire movie: it was scored by music that sounded like the end of Willy Wonka and the Chocolate Factory, where a victorious Charlie overlooks the city in fantastical wonder. Two hot people having sex, and then there in the metaphorical corner stands a man in a purple top hat who's smiling like he's just dying to tell you a secret.
And so went every other scene — the potential for greatness ruined by a terrible tangential choice. What was even more upsetting is that the better choice was often self-contained, the mismatched answer tucked into another scene. Like, for example, the audio from a scene where a group of Jewish men chant a prayer, which would have been the perfect score for the aforementioned sex scene. Having hot, forbidden sex to the very soundtrack that's supposed to forbid it would have blown everybody's bangs back, and yet we went with Generic Bank Or Insurance Or Like… Dog Food Commercial Background.
But enough about bangs and the various ways in which they could have been tossed, let's get to what actually happened:
Ronit (Rachel Weisz) is living as a photographer in NYC – AKA "The Big Apple" and star of You've Got Mail – when she gets news that her father, a revered rabbi in her hometown, has died. She goes home for the funeral and divvying of the estate, and here we meet Esti (Rachel McAdams), Ronit's secret former flame, and Dovid, Ronit's cousin. Esti and Dovid are married, which is a bit of a banana peel situation for Ronit.
Somewhere in the home auditing walkthrough – wherein Ronit and Esti speak approximately twelve words to each other while Ronit occasionally touches things that she sees on shelves – we learn that, save for each other, neither Ronit nor Esti have been with another woman. Yes, despite being someone who's rejected her religious upbringing and who's a part of New York City's art scene, this film was telling me that Ronit's bisexual ass had never been with another woman after Esti. The disrespect jumped out!
Dovid takes over Ronit's father's role in their orthodox community as rabbi, and I'm telling you, the man loves God. He can't get enough of Him! This means: he and Esti have dinner in silence, light prayer candles in silence, and in general just co-exist in silence. The guest room, prepared silently, gets set for Ronit under Dovid's watchful eye.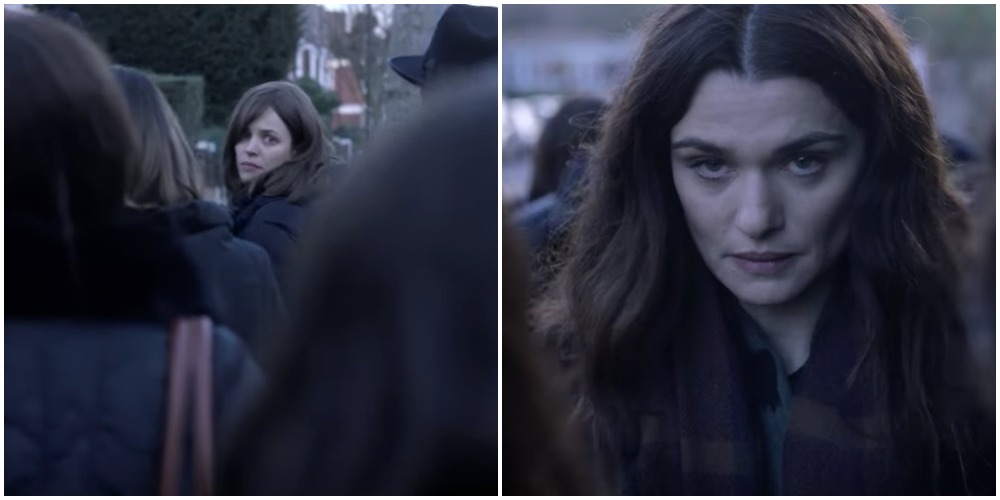 Over the next couple of days, Ronit and Esti follow each other around town. Lotta just walking around if I'm being honest. There's even a scene where the viewer is treated to a full minute of a large group of people walking down a narrow sidewalk with zero dialogue and a frantic back-and-forth POV between Esti and Ronit looking at each other like they've both just seen sharks in their respective areas of water and are trying to communicate that telepathically to each other.
Eventually, Ronit and Esti get a hotel room and surrender to what we were all there for: sex in a world of pure imagination. The fabled mouth spit delivers! Esti returns home and Dovid knows what's happened, and to this situation he sends his literal thoughts and prayers. Then Esti reveals that she's pregnant and tells Dovid she wants her freedom. Ronit's like, still gonna be a no from me in terms of you being my cousin's wife. Neutralizing this situation, Dovid, fresh off a fire eulogy about free will, tells Esti she is free.
And there, the movie – full of Rachels and taboo and possibility – ended as it lived, not with a bang but with a cough from the back of a room. I don't know how else to summarize my overall feel towards the movie other than to tell you that as the last scene lingered, the camera slowly settling into a wide shot of Ronit, Esti, and Dovid hitting that group Christian-side-hug, I was informed by my viewing companion that I started to do the "wrap it up" hand motion before the credits even began to roll.
I'm willing to concede to the fact that not every movie is going to be for me. I watch Hamlet 2 on repeat as if it will eventually unlock the secrets to the universe, and so I know this isn't even a sound baseline of quantification. That said, I do wonder who this movie was for. Progressive religious people? Religious gays? Timid gays? It's a question that accompanied a long line of questions throughout the entire film.
Also in line was: who am I supposed to be rooting for, exactly, in a narrative dedicated in equal parts to three people? Just behind that was how much should we as an audience be expected to really invest in what's at stake when it's never been clearly established? Peaking behind those questions was what is this movie even trying to say — about religion, about desire, about ownership, about duty, about life? Screaming from the back was what the fuck is even going on? All of my questions in a row, Brady Bunching down an escalator, distracting me from anything on screen.
But none of these questions would compare to the one that got born in the theater's darkness. Standing there, in front of all of these women, as someone who was rooting for you, for everyone that was rooting for you, knowing that I'd never yelled at girl movie like this, the question most on my mind was: how dare you?