Welcome back to Watching Lesbian Classics, a series where I wade through sapphic cinematic waters with rocks in my pockets. Last time we covered The Incredibly True Adventures of Two Girls in Love, where together we learned "Incredibly True" was code for "Life's Mediums in Real Time," and I exclusively learned that having this film suggested to me by a friend meant I had some wrongs to right.
The movie we're about to cover wasn't suggested to me by a friend with whom I'd unknowingly had an unresolved issue, or anyone. I sought this film out on my own, with nothing but an image of two women bathed in sepia tones just inches from each other's faces burned into my memory as my guide.
I knew I'd find what I was looking for on Netflix because this film had been suggested to me hundreds, if not thousands, of times due to what I assumed was an extremely confused algorithm. Awaiting me in my search was Liz in September, a film whose premise I would come to learn included a summary with the phrase "terminally-ill lesbian." A devastating blow to an already shaky resolve.
Having watched it, I now know that it wasn't a confused algorithm that was behind this film's constant manifestations, but an admission of guilt. As soon as this movie found out about this series it was like "Ah, goddamnit," and became one of those people want to confess as soon as possible and get their punishment over with rather than deal with their conscience. Because it knew. It knew.
---
Our protagonist (?), Liz, first appears to us as a person floating in water with a very important announcement. Good for her! For some background, she explains that she was born gay and became even gayer once she started sleeping with women. Who can relate. She continues on and on about how much she loves women, donning this sinister face while doing so. Then she encourages someone named Dolores to "remember her like this" when she's gone. Floating. Her angel, perhaps, floating in space.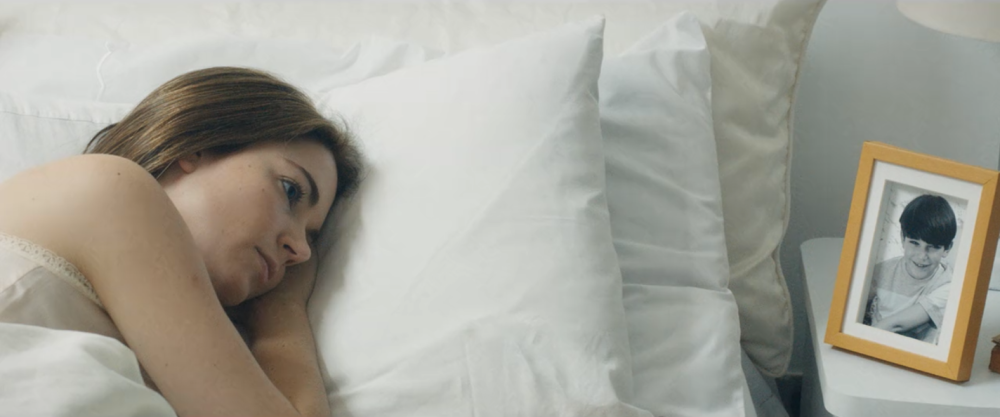 We fade into a forlorn Eva, who sleeps next to a picture of boy that looks like it came with the frame, but I'll trust that she knows him. Probably nothing sad is tied to this relationship also. She hears a text alert and checks what we learn is her husband's phone. He's being called into the hospital again, but he doesn't get a chance to say goodbye because Eva pretends to be asleep. A classic.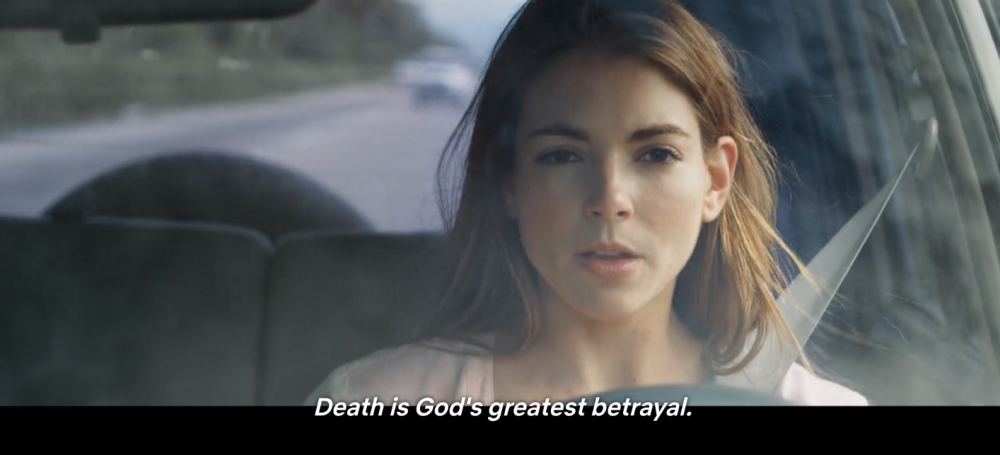 We transition from a somber beach montage to a somber driving montage overlaid with calming mantras like "No one is innocent" and "Death is God's greatest betrayal." I like to listen to music on a drive, but this is also an option. Eva then hits a pothole, and when she pulls over in the nearest town, it's inexplicably attributed to her "blown engine."
Satisfied with this answer, Eva hands her keys to a man, who prior to this exchange looked like he was simply walking down the street. He suggests a resort down the road while he "fixes her car" and definitely not while he "sells it for parts." Taking this at face value, Eva takes off on foot down an abandoned street. She reaches the resort and meets Margot, the benevolent owner who is drinking a full glass of wine at noon. Eva explains she's stranded. Give me just one night…
Eva settles into her room by putting up the picture of her bowled-cut – and probably very alive – son next to her computer. Then she watches out her window and is intrigued by the sight of Liz, Liz's friend Any, and – I'm very happy to announce – a golden retriever named Lola running down the beach.
Suddenly, after a quick cut to a smirking Eva, the dog has disappeared.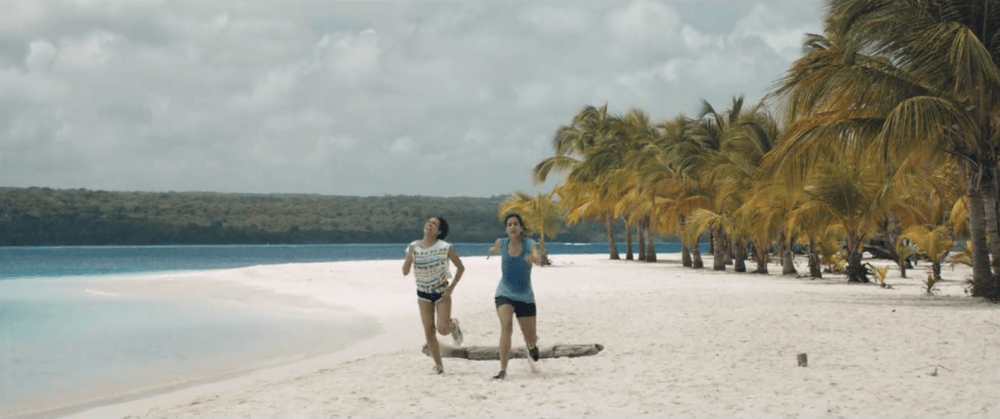 In this way I believe the filmmaker is alluding to Eva's abandonment of heterosexuality after just one glance at two gay women running down the beach with a dog, the golden retriever perfectly embodying the essence of a straight man. Post-jog, Liz takes a walk and wonders in a series of voiceovers how many days she has left.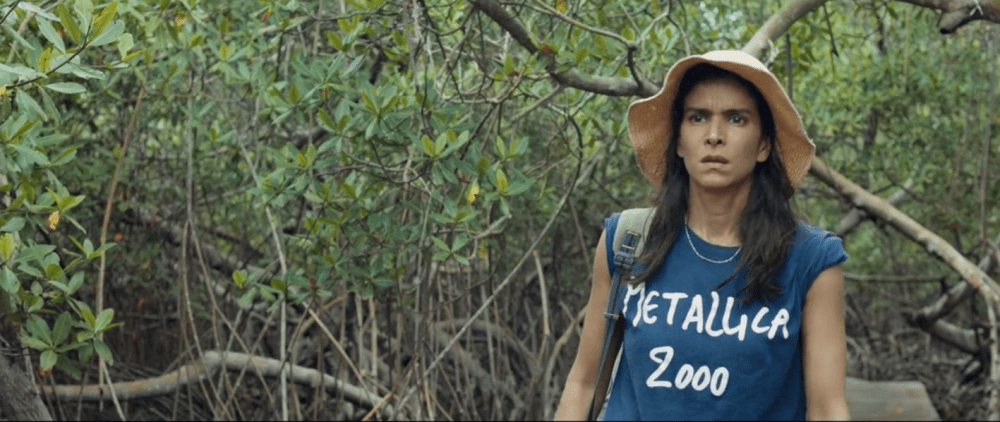 Look, the shirt of a woman who loves to party in a film that matches its tone! Liz has come down to the dock to fish and unwind. Or rewind, more like it!!! A non-shout out to all my catch-and-releasers one time. Eva, now in tune with an alternative lifestyle, gets wind that a woman in jorts has just set out into nature.
Answering the call, she follows Liz's path, and when presented with this isolated walkway, she looks back (to her old life) one last time before continuing on her quest. In this way I believe the filmmaker is comparing homosexuality to a dry forest of sticks.
The first thing Eva does upon encountering Liz on the dock is throw the fish Liz has just caught back into the water. There in that moment they unlock the Incredulous Meet-Cute Achievement. Of course, Liz softens to Eva as Eva is incredibly attractive. Within their conversation, Eva hits her with that "my husband" and so Liz hits her with that…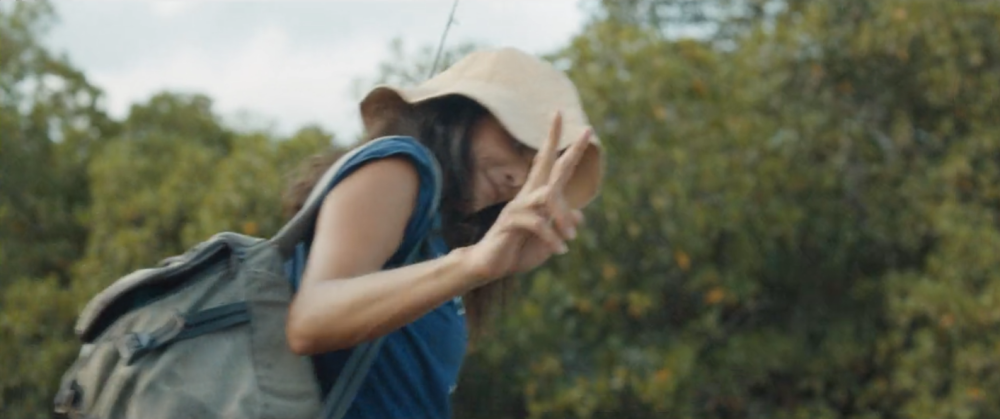 This is right before Liz hands Eva a replica of the hat she's wearing, (meaning she has two of the same hat on her at all times?), informing Eva that "heatstroke kills." I hope this is an hour and a half PSA for heatstroke.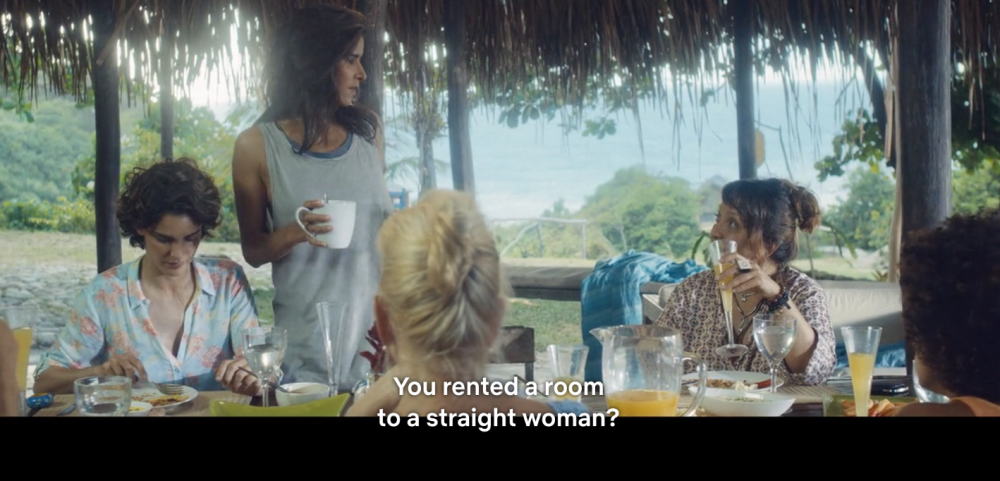 At lunch, Liz explains that she's invited Eva to their literal and metaphorical dinner at the all-lesbian resort. Any, who was racing Liz on the beach, is saying Liz can't "turn" Eva, Liz is saying "I'll have her in my bed in three days," and I'm saying yikes. Everyone is uneasy about Liz's decision since this is their safe space, especially Dolores, who is a famous but closeted writer.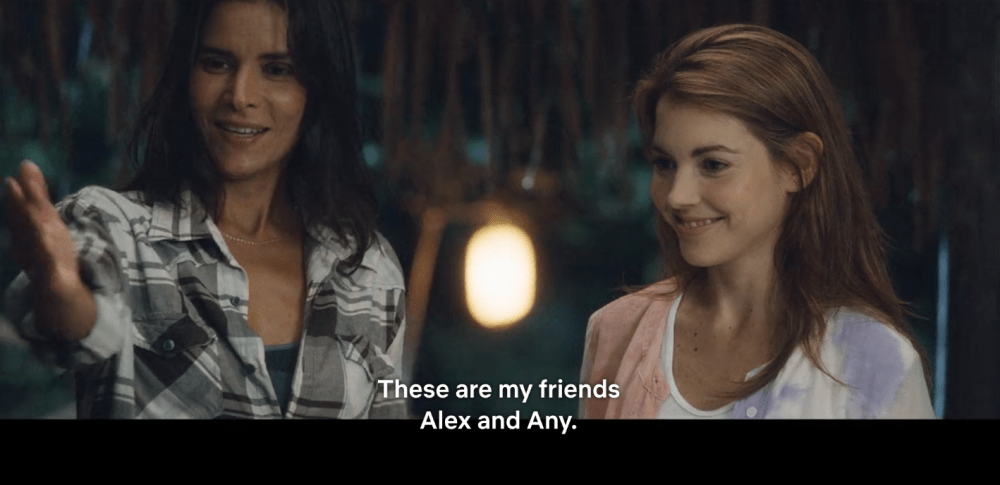 If this feels very Marina and Jenny from The L Word, it's because the woman playing Liz is Jenny's "Marina" in Lez Girls. Right away, Eva is alerted to the fact that Liz and Dolores are exes. Later, Eva and Liz squirrel away to have a romantic moment on the beach and discuss Eva's dead son.
The next morning everyone is hanging at the beach, and it seems this film is starting to lighten! Please lighten! Eva returns to the docks under the pretense of "returning a hat" as Liz is coming back from a boat ride. Eva tries to hand Liz her hat back but Liz tells her to keep it, I'm assuming because Liz has multiple of the same hat available to her at all times.
Liz then invites Eva on a boat ride right before some "diving" innuendos, and Eva asks an important question regarding going on a boat with someone alone:
She's seen Forensic Files, ma'am! Still, Liz insists they go for a private-dive. Not worried about her life or abandoned car or husband or job (?), Eva risks it all and suits up.
When they reemerge, it's raining and the boat has stalled. Neither can get the engine to turn over, and so Liz begins to cry. They hear thunder and take refuge on a nearby island. No words are being spoken by the way.
Now Liz has a (secret cancer) headache and Eva has offered to massage her temples. They spend the night on the island in silence. They are rescued by friends the next morning. The magic of the screen.
On their return, Liz offers Eva a motorcycle ride into town to retrieve her car. Liz In What Seems Like July tells Eva to "hold on, like a horse," and grabs the thick of Eva's thigh for further reference. That's not how you ride a horse, but okay!
Shockingly, Liz moving one mechanical cap from Eva's still broken down car to another area of Eva's still broken down car doesn't fix Eva's car. It breaks down again while Eva attempts to drive home. Fate, you little rascal.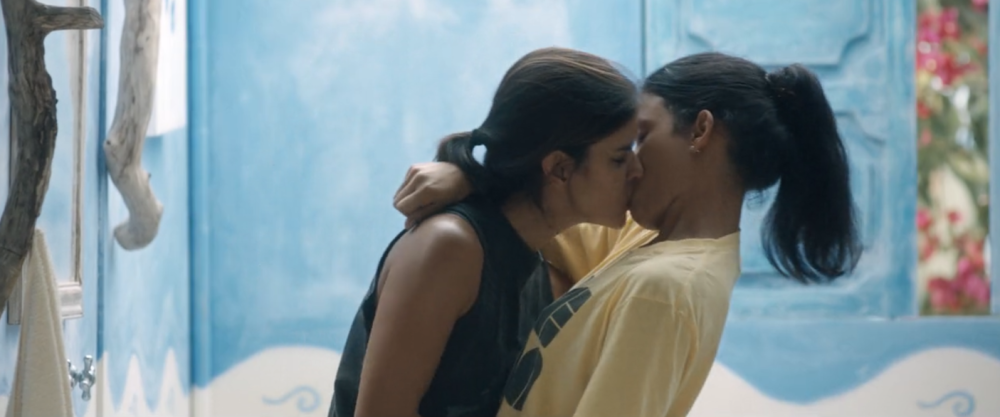 Eva calls Liz about needing a ride in the middle of Liz making out with Dolores' girlfriend, Coqui. Huh? Dolores has been nothing but supportive in Liz's time of need and Liz's response to Coqui asking if she feels guilty is "Life's short." I was going to say at least this film has a solid group of friends, but kudos to this extra layer of hell.
Oh, I'll mention this gross three-day bet is still happening, but then I'll mention it no more! We only have time for the important topics at hand, like the return of Liz's cancer. Well, only Liz's friends have time for that, because Eva has purposefully been left in the dark. Instead, what Eva becomes privy to is Liz's past as a heartbreaker. A model. A sister. A daughter. A lamp. Liz used to love 'em and leave 'em, but not anymore. Eva is taking in all of this information with the zeal of someone who's just overdone it on a vape pen.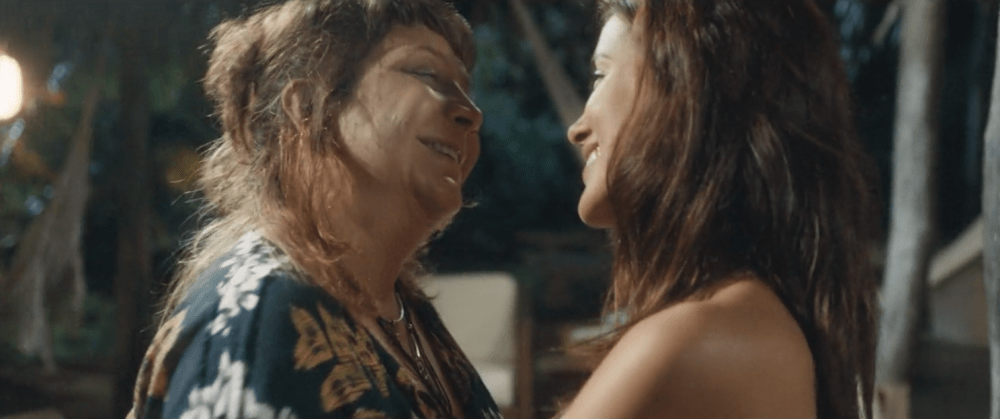 Later, Margot gets wasted at the front desk (that's actually just a chair outside) and has a dream that she's dancing with Yolanda, AKA the one who got away. Side note: Do they make Margot work even though it's their vacation? Seems harsh. Dolores isn't doing much better over in her room where she cries about Liz being sick. Wait'll she hears about Liz being A TRAITOR.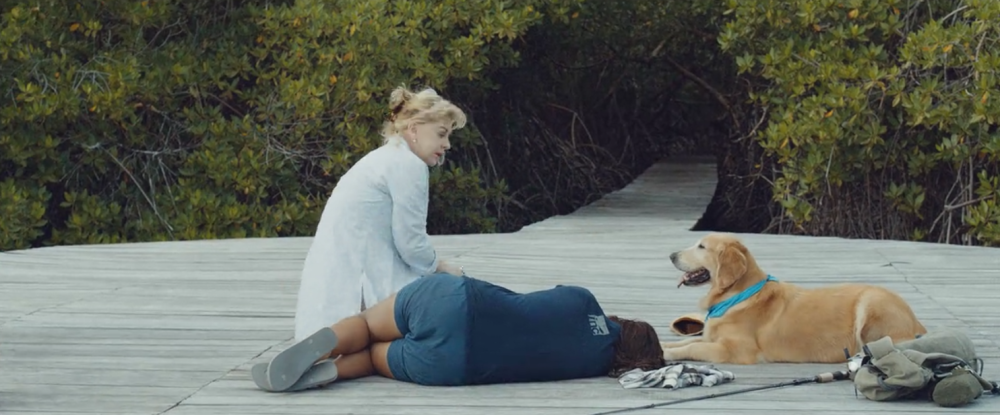 Liz is again found laid out somewhere that is not a bed. Dolores has Liz's chemotherapy drugs on her (sure) and administers them to Liz right there on the dock. Then, through tears, Liz asks Dolores to be the one to euthanize her when her day comes. Jesus take the wheel!
Oh no, Eva's husband makes a surprise appearance at the market! He takes Eva back to the resort to pack up her things and helps by handing Eva the framed picture of their dead son before taking a work call. They speak zero words to each other before…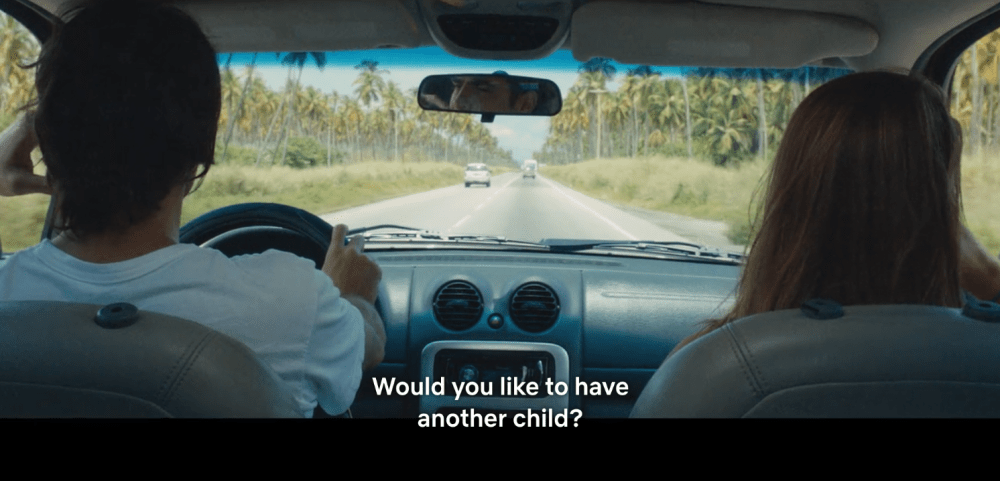 Which is how I imagine most straight relationship's going. Filling the empty space with bolder and bolder propositions until they have both outdone themselves and are too busy to talk. They pull over to look at the ocean and talk about their dead son. This, naturally, leads to them having sex in the car, with one of the greatest losses a human can experience fresh in their minds.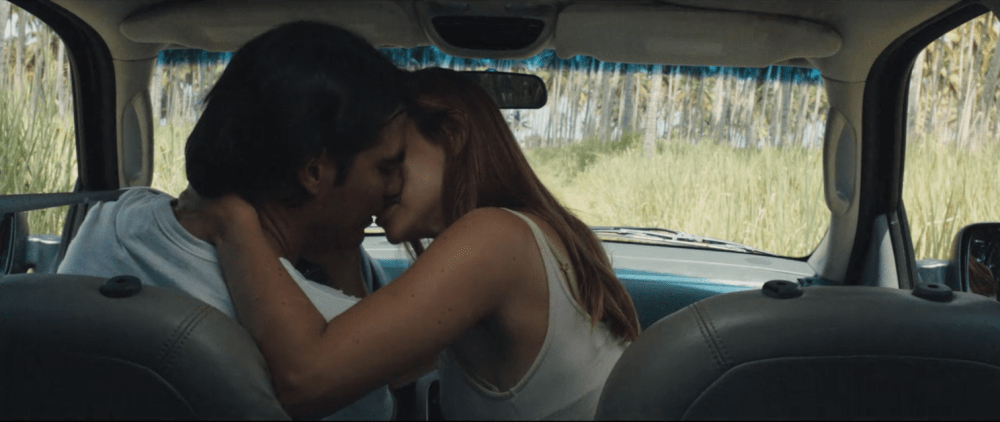 Who among us. What a wasted opportunity. This could have really been something with someone else. Me, as one example.
Liz finds a book Eva left for her with the inscription: "We'll always have numbers," whatever that means. Counting, maybe? I'm really racking my brain here. Liz counts under water a lot? To 100? Ah, a brief encounter with a special someone, time to leave a note simply stating: "Math."
Without explanation – and I'm talking literally zero mention of her husband, how she got back, what's motivating her, what she plans to do – Eva returns to the resort looking for Liz. No one seems to know where she is, but Lola, god bless and keep her, leads Eva to Liz's room. If there was any doubt in Lola – and if there was, how dare you – it's confirmed Eva's in the right room when she finds Liz's jorts on the bed.
In snooping, Eva finds two very important things: Liz's cancer drugs and a picture of Liz's face in her own medicine cabinet. Which is more worrying, Eva doesn't know.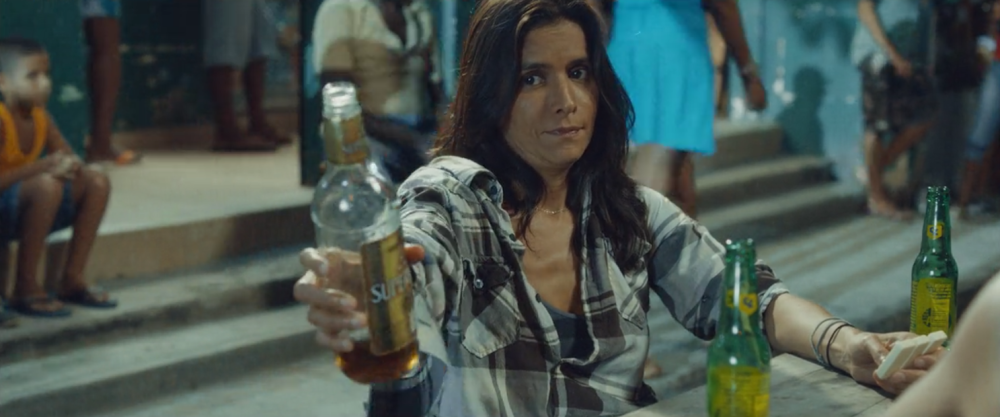 You know where Liz has been this whole time? Getting drunk at the street festival by herself. The gang arrive to take her home, and somehow in this process they go a full two minutes without bringing up Liz's cancer. Remarkable.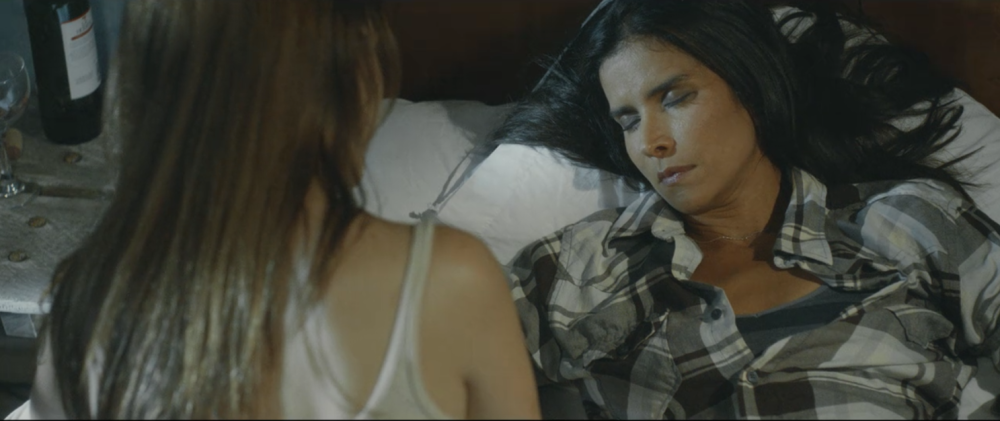 Back at the resort, Eva decides to stay in Liz's room for the night. Liz looks at Eva in a brief moment of consciousness and then it looks like she dies. She doesn't, and wakes up to Eva in her bed. Up to this point there hasn't been any discussion of mutual attraction or feelings or desires, so this is probably a bit of a shock for Liz.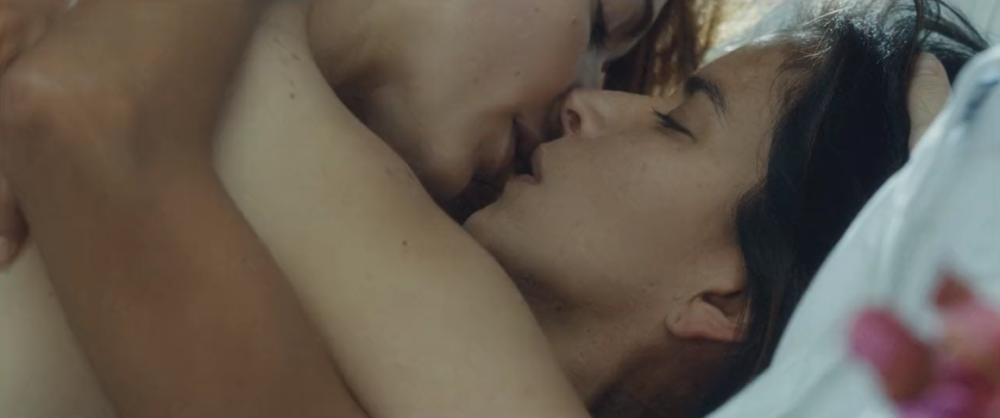 Even more of a shock has to be when Eva wakes up, pops her shirt off, and kisses Liz, who by the way drank a bunch of liquor and then passed out without brushing her teeth and is probably sweating pure alcohol. What follows is less sex-having and more just lying on top of each other, probably because they didn't get turned on by first talking about Eva's dead son.
It's Liz's birthday party where her friends gift her a painting and an iPod with sex songs. Here's hoping for an Eva/Liz do-over! Cushioned within toasts for Liz are everyone's resolutions. Any says hers is to beat Liz at something, anything. Liz immediately challenges Any to a swimming race, and it's sort of like, calm down. The race doesn't go great for Liz, even though she wins, as it results in a trip to the hospital.
Okay, but WHY are we really doing this. This film has so much potential to be, if not fun, at least not an unending pit of despair. Now we're in an underwater world of existential reeling. We swim through water as Liz asks,"Will you remember me? What will I have left behind?"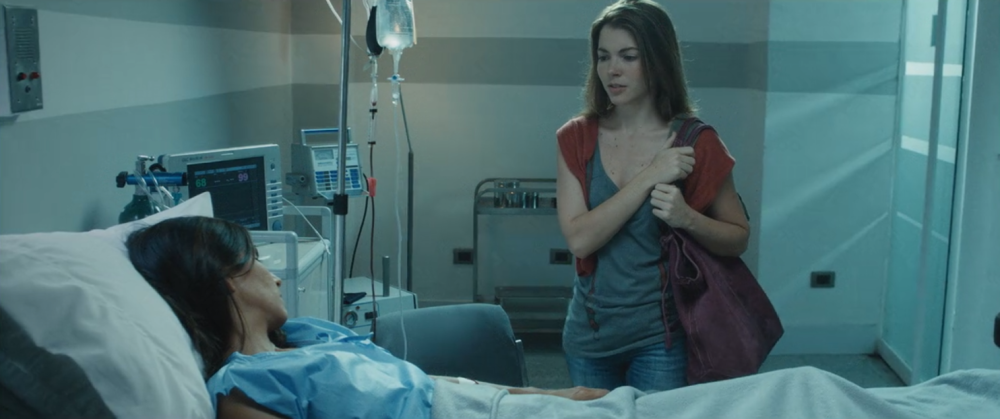 Hospital talk. New chemo treatments. Surgery. Liz has two months to live. Liz wants Dolores to kill her, Dolores says she can't, and then Eva says SHE'LL DO IT. I am begging y'all right now, PLEASE tell me this is still just a PSA for heatstroke and not a full-length feature that includes an all-lesbian resort with hot women but focuses instead on cancer and euthanasia.
Eva takes Liz to the beach to tell her something special, and then places Liz's hand on her stomach. Eva promises if it's a girl to name her after Liz, a woman she just met a week ago and for whom she left her husband – who's car-baby it is, by the way – even though that same woman is days away from dying of cancer. Liz one-ups Eva in the competition to bum everyone out by asking what she should ask Eva's DEAD SON when she gets to heaven.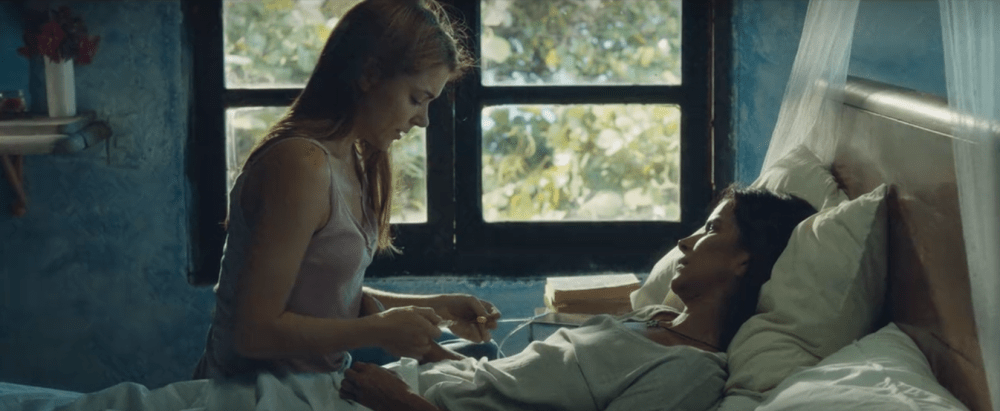 Then, don't you dare, Eva gets out a syringe. No. Tell me we are not about to watch Eva euthanize Liz right now. Oh my god. OH MY GOD. Much like the time we watched Better Than Chocolate and were met with an equally-traumatic ending, we just came here for a romantic comedy!!!
Then, obviously, there is a beach/stick/water montage. I can hear a child laughing in the distance, and I bet I know who's (dead) child it is. Oh, nope, it's…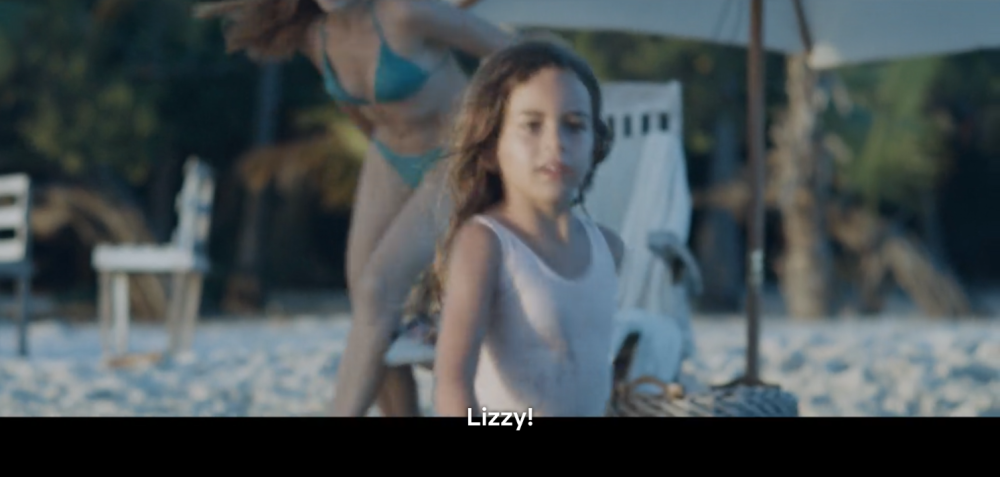 Rest in peace to Eva's son, Liz, happiness, light, hope, trees, the sun, probably Lola in a sequel to this movie, and most importantly, me.