Patricia Velásquez has had a glamourous and successful career in the fashion world, from walking the runway for Chanel, Gucci, Versace, Dolce & Gabbana to modeling for fashion editorials in magazines like Vogue, Harper's Bazaar and Marie Claire. In her new memoir, Straight Walk, Patricia Velásquez writes about her exciting career as a supermodel in the 90s, how she got there from living in poverty and her struggle to live openly as a gay woman. Straight Walk is an addictive read because Velásquez's experiences are so interesting and unique — but maybe I just wanted to devour the words of a famous Latina lesbian because, well, there aren't that many out there!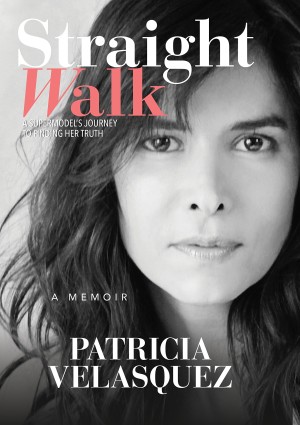 Velásquez's book really resonated with me in so many different ways and probably will for you too. She gets real really fast with a prologue dedicated to an excavation of the gut-wrenching, soul-eroding isolation she'd endured in order to lie so often to the people she loved. She doesn't say what it is she was lying about right away, but we know what she's talking about 'cause she speaks to an experience that so many queer women can identify with and have felt in our bones at one point in our life — I know I have. Even though I'd like to forget those horrible feelings of being in the closet, reading Velasquez's first words were comforting in a weird way. It was validating to have this gay Latina articulate how I felt not too long ago. Narratives similar to my own aren't easy to come by so many times throughout Velasquez's memoir I felt a sense of relief to see a clearer reflection of myself in the media, like looking at myself in a just Windex-ed mirror.
Velásquez's journey begins in Venezuela, where she grew up with five other siblings in an apartment with no running water with a mom who struggled to feed her children and a dad who often traveled for work. But the takeaway isn't the struggle, it's that Velasquez has an incredible bond with and love for her family and that she appreciates her strong, hard-working indigenous Wayúu mother. Velásquez is proud of where she comes from, and that's one of the reasons why she continues to advocate for her people through her work at the Wayúu Taya Foundation, a nonprofit dedicated to "educating the public and funding ways to improve conditions of Latin American indigenous groups, respecting their culture and belief."
Like many women, especially in Latino communities, Velásquez recalls how she was heavily weighed down by shame, not only because of her sexuality, but through so many choices she feared her family would disapprove of. I shared that fear myself: dishonoring my family is the ultimate sin, it's my worst fear, and it's what kept me in the closet for so long. Then I realized that my sexuality wouldn't dishonor my family. Why do we feel so shameful about being gay? Why are we so afraid to tell our family about ourselves? What can we do to change the tide? I think narratives like Velásquez's will help with at least starting a conversation in more mainstream audiences.
Velásquez's modeling career took off after befriending a gay hairstylist who encouraged her to enter the 1989 Miss Venezuela pageant, where she placed second. The pageant put her on the map (and enabled her to meet her first girl crush), but she had to struggle financially and physically to get there.
Straight Walk gives you a tiny taste of the '90s supermodel era, which was fascinating. She was flying here, flying there, meeting famous photographers, shooting at exotic locations, meeting with clients, going to parties. The only reason I remotely had any idea what Velasquez's life was like was because I watched like 8 cycles of America's Next Top Model. Thanks, Tyra! Of course, Velasquez's career wasn't all fun and couture outfits, but strife and hard work. She battled language and cultural barriers while working in Europe, barely making enough for new winter boots. Worst of all, she was lonely.
I didn't know how much of a trailblazer Velasquez was for Latinas in modeling and fashion. She's considered the "first Latina supermodel" and she was one of the first Latinas to be the face of CoverGirl in the US. She talks extensively how different she looked from the other models in Europe; she was brown, curvy and had her indigenous ancestor's eyes compared to her white, thin, big-eyed counterparts. You'll also appreciate Velásquez's feminist take on different aspects of the industry, even from the perspective of her younger, inexperienced self. Surprisingly, I learned about the many women who helped other women in the modeling world, and Velásquez takes the time to give them a shout out and describe how instrumental these women were in her career.
About midway into the book we finally get to the moment we've all been waiting for: she meets Sandra Bernhard at a Paris fashion show, Sandra invites Velasquez to her hotel room, and eventually they make out. That's when it all clicks for her, and she starts recognizing all the times she liked girls in the past but didn't know how to articulate those feelings — but her first love is Sandra. Because of her relationship with Sandra, Velasquez learns English (and how to use credit cards!), moves to New York and transitions to the American modeling world. I'll stop there — you should read the book if you want to hear about her subsequent relationships with women and her daughter, Maya!
I got to speak briefly with the Venezuelan supermodel, actress and activist last week. She was super nice and she even complimented me when I pronounced her name correctly. Here's what she had to say about her new memoir, coming out now vs. then, inspiring gay Latinas, the kinds of pastries she brought Sandra Bernhard years ago and working on set of The L Word.
---
As a Latina, I really connected to all your feelings surrounding the shame you felt in not pleasing your family or feeling like a failure in the eyes of your family, especially with you being gay. Is that something you still struggle with?
I don't feel shame anymore. I think the book was definitely the last bit of release, in a way, that I had to do in order to feel really proud of who I am. I think the transformation started way before. I don't feel shame about anything in my life now.
I can tell you I feel that I'm not good enough in many things in my life. I think that's a constant thing for a lot of artists. You try to work your hardest and try to achieve the best in what you do, and it's a constant thing that I'm not good enough. Instead of me going and feeling sorry for myself, I try to be very proactive about it so instead of saying poor me, poor me, poor me, which is the worst type of ego — the victim ego. There's the ego that says I'm so great and the ego that says poor me, poor me, poor me — that's the worst of them, so I try not to let that ego affect me. I just try to be very proactive and when I don't think I'm good at something I try to get better at it.
You talk about in your book how hard it was for gay people to be out in the 90s, even for someone as famous as Sandra Bernhard and her friends. Is that why you never confirmed you were gay or made it known publicly?
I knew it was hard to come out. I think my life was just set that way because I lived in the fashion world and I was very much on my own and when I had my relationship with Sandra, communication wasn't like it is nowadays — so it was almost like my family and country were there and my other life was here and they just didn't cross. It became hard once I really was sure I was gay and I wanted to live my life openly and as the years went by, well I had to be honest to my family and to the people around me and I did — I was — for many years.
The thing is it wasn't up until now, Yvonne, and in the last few years that I realized how important it was for me, you know. I'm an Aquarius and we fight for causes, that's what we do. That's why I have the [Wayúu Taya] Foundation, that's why I help AIDS, and that's why I live my life, through a lot of the causes I fight for. But I never really felt that I had to stand up per say as a gay woman from the Latin world or a minority because I felt I was fighting so many other causes — saving children in the poor areas of Latin America, making schools and women's centers and empowering women — so instead of taking a stand for myself, I was taking a stand for all the poor people that are indigenous like I grew up. It's almost like that has been my cause for years and it has taken everything: time, money, effort, work … just so much.
It wasn't till just a few years ago that I realized now I have a daughter and it's true to be gay in the Latin world, not in the US, a little bit in the US, but to be gay or be part of a minority in any part of the world, it's very difficult. I'm just so lucky that I can live in a place like the US where I can be my self. I feel like I need to really take a stand in places where people can't be themselves because society tells them they can't be themselves. The biggest example I want to give to my daughter when she grows up is to be strong, to come out of adversity, to be proud of who she is and to never deny who she is, which I didn't by the way, I just never had the necessity to talk about it until just a few years ago and that's when I started writing the book.
Looking back now, would you have said something back then? Or was this just the right time for you?
You know, I think everyone has their time on things and I feel this was my time. I was trying to fight for other causes and I was also going through a process myself. I didn't really feel the need because I don't hide myself; I live my life very openly in L.A. and New York. My daughter goes to school where there's all kinds of diverse families around in L.A. so it's not like it's affecting my life and the way I live my life. Yeah, maybe there's more paparazzi waiting but it's never really been an issue for me how I live my life openly. It's more in relationship to, first, send a message to my daughter and, second, to stand up for other gay women in the Latin world and people in other countries. If you go on Twitter right now, and you search my name, there's thousands of tweets in Spanish coming from so many countries talking about this. The real way we can create change is by being truthful to ourselves. I hope to inspire others, not only my daughter, to live their truths and that really is the main message of the book is to inspire you to live your truths — whatever that truth is, just to be honest with yourself.
I'm really happy that you're able to continue that conversation in Latino communities, not only in the U.S. but around the world as well. I see what you're saying. That was one of my other questions, but I guess you already answered it. You talk about how you want your book to start a conversation about being Latina and gay. Is that the biggest thing you wanted to accomplish with starting that conversation, is for other people to live their truths?
Yes, I definitely hope to inspire other people to live their truths. That is the main message of the book. As I mentioned before, we're lucky enough to live in a country where we can live but there's a lot to do. There's a long road we still have to go in the U.S. But other countries? It doesn't have to do with your sexuality, gay or not gay, I think in general. Women can't work in many places, they can't dress freely, they don't have the same rights as we do. Whatever minority group you belong, I just hope to inspire you to take a risk, because if you don't, you're going to become a vegetable.
I want to go back to talk about your relationship with Sandra really quick. What kind of pastries did you bring Sandra when you met her in her hotel?
Boy, I don't remember. I like what they call mille-fueille and the ones that have the cream inside, I don't know what they're called but they're long. I'm sure it was those because they're my favorite.
Sandra was an extremely important person in my life. I have nothing but beautiful memories and I owe her so much. As you've read in the book, you can read that all over, on how much I respect her. I just hope that none of this touches her or her family in any way because they're amazing people. She has a family, I have my family. This is something that should be nothing but positive in relationship to gay women and having a family and parenting. She has her daughter, I have my daughter and we just want to make sure that we create a path that is very positive for them. I have nothing but admiration and thankfulness toward Sandra.
You didn't talk about this in your book but what was it like being on the set of The L Word, a show that undoubtedly impacted lesbians on a cultural level? What were your feelings being on that set at that point in time in your life?
One of the reasons why I don't talk about The L Word and all that stuff in my book is because that transformation had already happened. I was in a relationship and I already had a daughter. For me, I have a lot of respect for Ilene Chaiken who created that show and she was a friend for many years before. When she asked me to come on the show, I said to Ilene, look, it needs to be something that is meaningful to me. We had thought of developing a story of a woman and something to do with immigration but when I went on to the set to then develop my character the show didn't get picked up. It was the last season, so my role never actually got to get developed because they had to give closure to all the other roles. It wasn't expected.
Now, in terms of my experience being on the set and everything, it was wonderful. Ilene and all the girls from The L Word and the crew, they had already worked for such a long time that it was a very tight group, very professional, very open, very sweet and nice. It was shot in Vancouver which is an amazing city so for me it was like a holiday when I went there. I had such a good time. They treated me very well, it was a job and I was excited to develop this role and do something different. Then it just didn't get developed so that's how it stayed. I took it as something good that happened for a little while.
---
Pick up Straight Walk on Amazon right now!