Bicycles on TV mean independence, coming of age, letting go, transformation! Motorcycles on TV mean bad bois! So it's no surprise that lesbian and bisexual TV characters are on bikes all the time. I was recently watching Kiersey Clemons and Sasha Lane's glorious coming-of-age indie comedy, Hearts Beat Loud, tears raining down my face during their bicycle scene, and a whole reel of other dykes on bikes on TV and in movies started playing in my mind. And now I have made that imaginary slideshow into a list, just for you.
As always, this list was compiled by me and Riese Bernard and Carmen Phillips and Valerie Anne and Natalie and Kayla Kumari Upadhyaya.
---
Paige got up to all kinds of shenanigans on her bicycle, most notably riding it to Emily's house in the middle of the night in the middle of a thunderstorm to apologize for taking out her internalized homophobia on Emily and also unexpectedly kissing her — and then she got back on it and pedaled off into the lightning, soaked in rain and shame and a little hope too, my precious chaotic baby gay lamb. Also notable: Paige lost a bike race to Emily on purpose near the end of the show, a sweeping gesture to show she wanted to stay and make things work with her first love. (They did not work.)
Naomi Campbell and Emily Fitch, Skins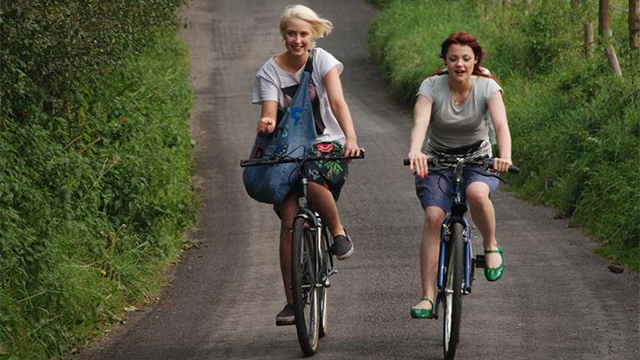 Skins works really hard to make sure you don't miss the symbolism of Naomi and Emily taking off on bikes together; for example, the song that's playing when they're on their way to the lake to skinny dip and scissor is called "Jump In." They also ride a bike in the follow-up season, an upgraded moped, because their relationship is upgraded. There are zero bikes in Skins Fire, which is frankly just further proof that bollocky wankshite doesn't exist.
Therese Belivet, Carol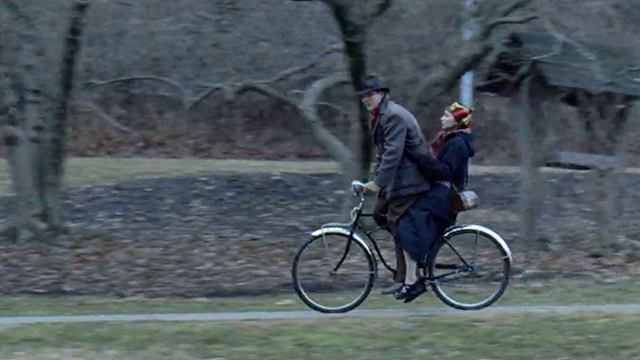 Therese on or near a bicycle is a perfect thing because it's when her misandry is at its all-time highest. In the first few minutes of Carol, she lets Richard pedal her to work while refusing to discuss his damn boat tickets, and then later when he's pushing his bike beside her she just flat out asks him if he's gay because she's gay.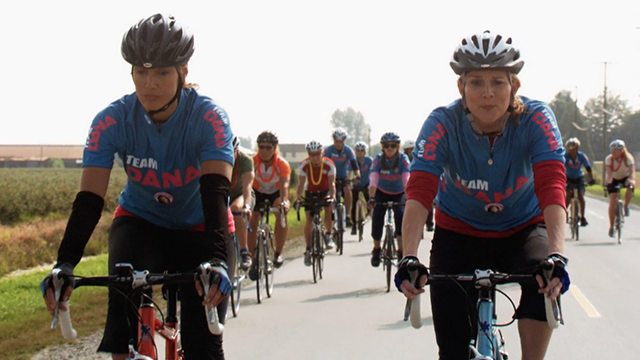 "Lifecycle" is one of the best episodes of the fifth season of The L Word, which is the second best season of The L Word, and the only one besides season one that is not physically painful. (Most of the time.) In this episode, everyone wears Team Dana jerseys and rides a thousand miles for breast cancer and all their secrets and lies and cheating come out around the campfire. Also Bette tells Tina she likes her butt in her cycling shorts.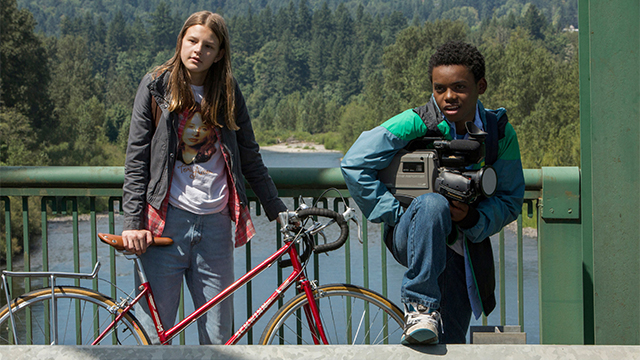 Nothing says "lil' '90s lesbian" like a ten-speed Schwinn, so it makes perfect sense this was Kate's choice of transportation for scooting around Boring, Oregon in her flannel shirts and Tori Amos tees.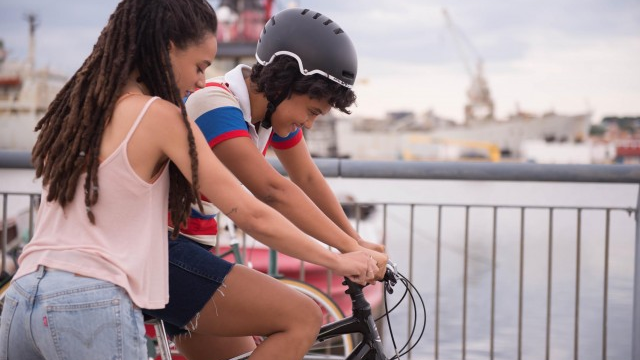 Kiersey Clemons is on this list not once, not twice, but three times. Most recently she was finding her way on a bike as Sam in Hearts Beat Loud. I don't want to spoil this scene for you — it's climactic! — but let's just say she reclaims her trauma with the help of her girlfriend doing an activity usually written as father/daughter bonding in a very father/daughter movie. It queers the trope!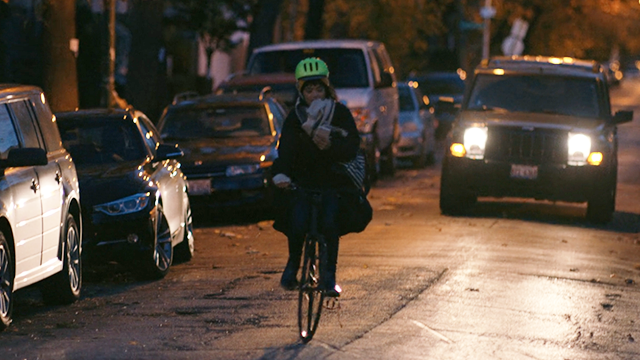 Oh hey again, Kiersey! In a season one episode of Netflix's drama, Easy — titled "Vegan Cinderella" — Chase falls for a girl and gives herself a crash course in lesbian things like cycling in Chicago and not eating meat. The results are mixed. She doesn't get killed by a car, which is lucky because she doesn't know how to wear a helmet and swerves all over the place while texting in the dark. But she also can't keep up the charade. My favorite part of the episode is when she scuffs up her new bike helmet on purpose, right outside the bike shop where she bought it, to make it looks like she's owned a bike for more than 30 seconds.
Diggy, Dope
As Diggy in Dope, Kiersey pedals around Inglewood with her best friends Jib and Malcom between band practice and trying to get girls to like them back. They spend so much time on their BMXs in this movie, always moving, trying to figure out who they are and how far they can go.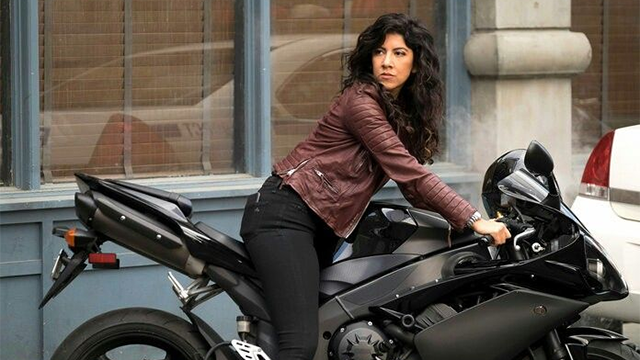 Rosa loves her motorcycle more than most things, and it sure does love her back. Look at them together! She's a hardass, but that doesn't stop her from using her bike rush to the aid of her friends, including zipping Terry to the hospital when his wife is in labor. (Steph Beatriz really does ride a motorcycle; she started taking lessons in 2014.)
Quinn Fabray, Glee
And then she had sex with Santana Lopez. Twice.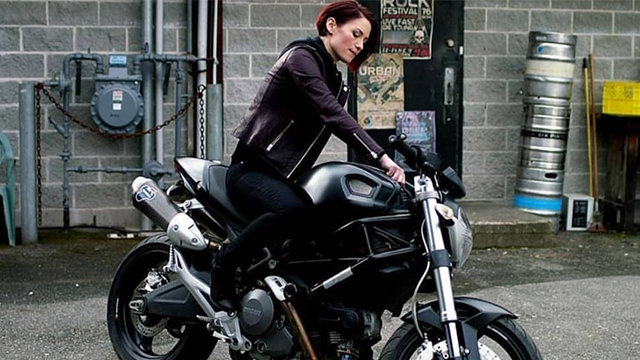 When your sister can fly, you've gotta have an almost-as-cool way to get around!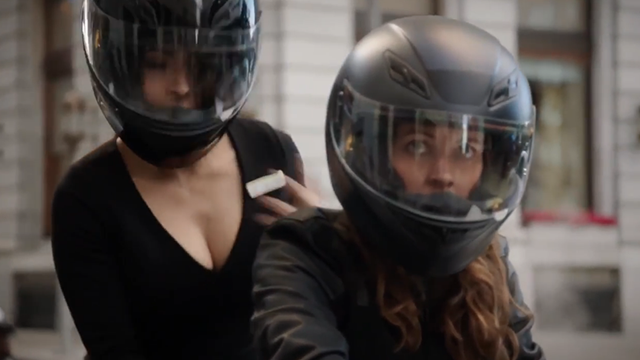 Sometimes you and your girlfriend are tracking the same bad guy and she shows up on her motorcycle outside the place you were having a shoot-out and just happens to have an extra helmet waiting for you so you can hop on the back of her bike and ride to safety. Sometimes.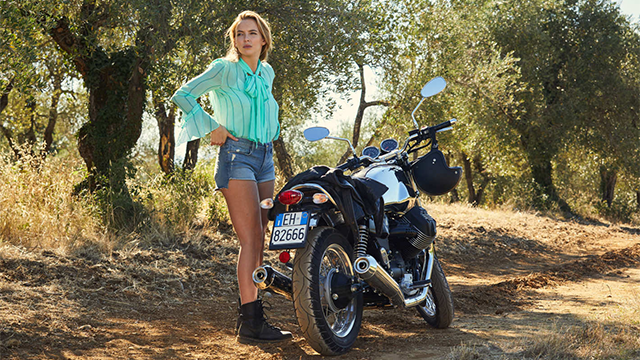 I cannot watch Killing Eve due to my aversion to blood and, um, killing. However, Killing Eve expert Kayla Kumari Upadhyaya tells me this is when Villanelle first shows up in Tuscany to kill Eve and she leans against her bike and eats an apple with a paring knife while a song called "When a Woman Is Around" by a band called Unloved plays in the background — and I guess that's when everyone knew she was gay for Sandra Oh! (Villanelle, I mean. Everyone already knew Kayla was gay for Sandra Oh.)
Alice Pieszecki and Shane McCutcheon, The L Word
When Alice can't join Dana on her corporate float at Pride in season two, she and Shane hop on the back of Harley-Davidsons with some legit Dykes on Bikes instead. Alice tells the corporate float gatekeeper to write that on her clipboard and then takes her rainbow romper to the front of the parade.
Laura and Aubrey, Casual
In the second season of Casual, Laura and Aubrey finally come to grips with their feelings for each other after — what else! — a bike ride. They kiss on right on the mouths after looking out over the city and contemplating the ephemeral nature of love and the fact that they stole those bicycles.
Tasha Williams, The L Word
Tasha rode her bike in the opening credits of The L Word and she also rode it around the military base before she quit the army to protest DADT. Alice didn't deserve Tasha or her bike, but they sure do look good together on it.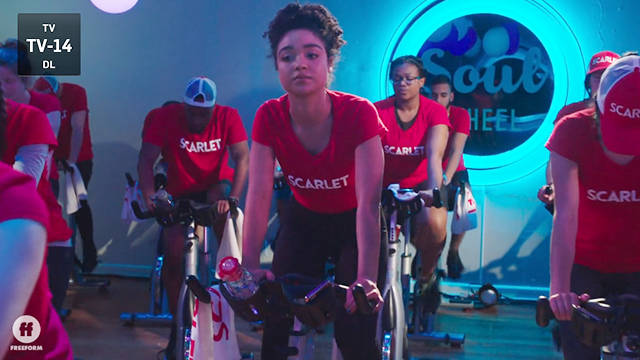 Kat realizes she's a grown-up queer person who wants to actually try to be in a grown-up queer relationship when she's in a SoulCycle class and the instructor is yelling about upping the torque and downing the torque and mostly just letting go and not being afraid to chase what you want most in this cruel, hard world. Kat gets off her bike and runs (literally runs!) straight to Adena's apartment to kiss her in the streetlight/moonlight and promise she wants to try.
Nomi and Amanita, Sense8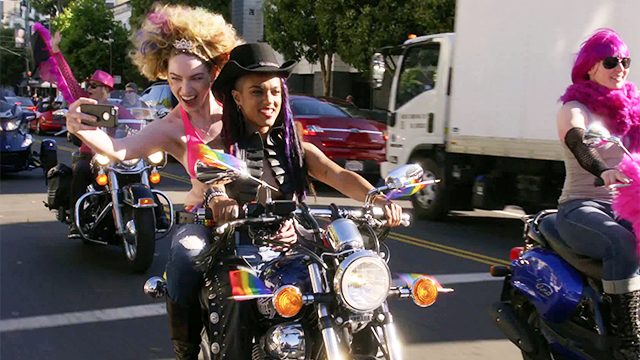 Amanita's motorcycle gets a lot of play in Sense8. She rides it in the Pride parade with Nomi, but she also uses it to chase down an agent who resurfaces and goes after her girlfriend. It's sexy and functional.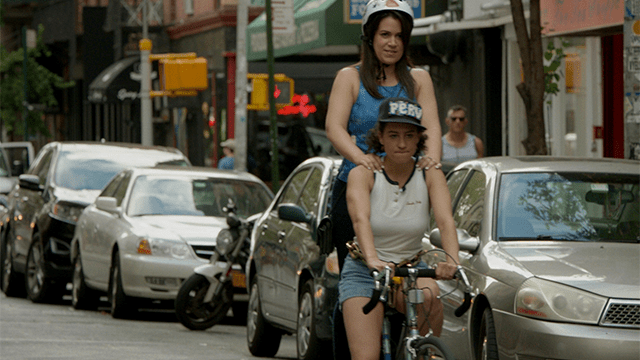 Ilana has a lot of mishaps with her bike, but it has produced two fan favorite moments on the Broad City. 1) Her song "I Bike" and its follow-up hit "I Tweet." 2) The image of her true love Abbi standing on the back of it as they ride through Manhattan after a day of madcap adventure that almost has Ilana ditching her boy pal on an important day (because she only wants to hang out with her true love Abbi).
Emily Fields, Pretty Little Liars
I think of Paige as Pretty Little Liars' main cyclist, but Emily Fields was always using bicycles to seduce women! She also very often pushed her bike beside her on the sidewalk in downtown Rosewood, especially when Spencer was around, which I assume was a power move to try to seem gayer than her best friend. (It didn't work.)
---
Did we miss anyone? Hit is up with your favorite dykes on bikes in the comments!