Easy, a new Netflix series from filmmaker Joe Swanberg, presents eight standalone stories about relationships. All filmed in Swanberg's signature improv-based style and all taking place in Chicago, there is technically some consistency to the show, especially in tone and aesthetics. But Easy varies significantly from episode to episode in its depth and naturalness. With a few exceptions, much of Easy amounts to people talking about life and love instead of just living. One of those exceptions, however, is "Vegan Cinderella," the second episode of the batch and the only one centered on a relationship between two women. The only explicitly queer story in the bunch, "Vegan Cinderella" refreshingly doesn't seem like some empty stab at inclusivity, like the token episode to ensure that Easy isn't too narrow in its depiction of modern love. It's the best episode of the eight, the most lived in and full. In its tale of Chase (Kiersey Clemons), who tries to become a vegan and a bike rider in order to impress Jo (Jacqueline Toboni), the passionate activist she starts dating, "Vegan Cinderella" most effectively accomplishes Easy's clear desire to paint honest and visceral depictions of love.
Now, I must admit that I'm biased in my preference. "Vegan Cinderella" centers on two queer women living in what appears to be the very neighborhood where I lived in Chicago before moving to Brooklyn a few months ago. In other words, I feel very close to the story. And in fact, my connection to Jo and Chase runs a little deeper: Toboni, who plays Jo, and I had an informal conversation as she was preparing to take on the role, because she knew I was a queer woman deeply embedded in the queer dating culture of Chicago. I talked to her about some of my own experiences, and she asked me some questions. It was all very casual and Swanberg wasn't involved at all, so I'm not trying to tell you that the character Jo is based on me or anything like that (I have never been a vegan, for one). But I did provide some insight.
So, yes, I do have a very tangible connection to this episode and its characters, but I was still struck by how relatable I found "Vegan Cinderella." First, it made me miss Chicago for the first time since I moved to New York. Swanberg often sets his projects in Chicago, and he shoots on location, giving his work distinctly Chicago visuals. The Chicagoness of Easy is more subtle and meaningful than street signs or shots of Lake Michigan or the L. "Vegan Cinderella" has the thick wood doorframes, the ugly, fortified vestibules leading into walk-ups, the pale orange-colored streets distorted by a steady, heavy snowfall at night—sights I didn't even realize would conjure up my memories of Chicago until they were there on my computer screen, backdrops to Swanberg's snapshot of young queer love.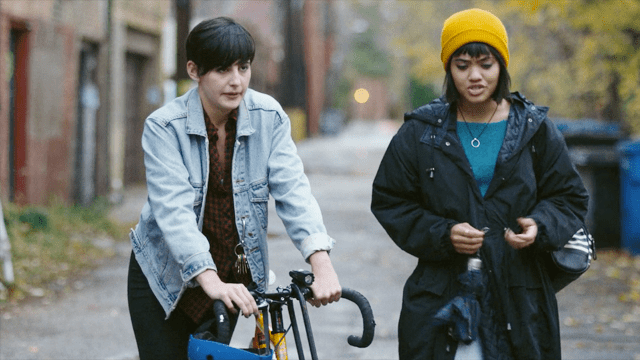 And the familiarity doesn't stop there. Ultimately, it isn't Swanberg's snapshot of young queer love so much as Clemons' and Toboni's. Swanberg brought his same loose approach to Easy that he has brought to his films. He doesn't write scripts. Instead, he brought rough outlines to his cast, who were then responsible for filling in some of the blanks. Most of the dialogue in Easy is improvised. That can be a blessing and a curse. Not every actor in Easy successfully fills out their character with natural performances. And that approach makes it clear why some episodes feel like rhetoric on love instead of a more dynamic and nuanced examination of relationships, sex, and love. But though the story of "Vegan Cinderella" is very simple, Clemons and Toboni give such round and grounded performances that it brings the story to life.
Clemons and Toboni have an effortless chemistry with each other, giving the episode its intense but warm energy. Jo and Chase's love story starts — as many real-life love stories between queer women do — with nervous glances that turn into confident, unsubtle eye contact at a concert. They tumble home and hook up. Sweaty, urgent, nonlinear, a little awkward because of the newness of these lips, these bodies that they're exploring after a concert meet-cute, but still exuding a strong sureness in their desire for each other, Jo and Chase fuck. It's one of the best queer sex scenes I've seen on television in a very long time, and its easy naturalness sets the tone for the rest of the episode. The episode captures that strange mixture of excitement and insecurity that comes with a new relationship, that push and pull between certainty and doubt that comes from the rush of falling for someone you've just met. There's a nervous energy to the episode, but it never feels fraught either.
With its remarkable sense of time, place, and character, "Vegan Cinderella" is both specific and universal in its tale of two women falling quickly but convincingly for each other. We know them as instantly as one comes to know a new lover, and as paradoxically, too. We might not have all the finer details of their lives leading up to this moment, but we know what drives them. Chase throws herself into the relationship with her earnest curiosity and ambition. Though she's technically doing it to impress a girl she has just met, her failed foray into veganism isn't shallow so much as a little too impulsive. In fact, impulsive behavior runs deep in Chase, who has gone through a brief religious phase, lasered off her leg hair when she thought that was the cool thing to do and now regrets not rocking a more natural look, and seems to generally take on qualities of others, especially of those she's dating. Jo's passions are strong and sincere, but she is not the militant conversionist or arrogant hippie liberal vegans are often made out to be on television. When she sends along videos about veganism to Chase, it comes off more like a slightly unconventional G-chat flirtation strategy than proselytizing.
And we get to see both characters outside of each other, making it feel like more than just a love story. Jo brings the same swaggering confidence to her petition work as she does to her interactions with Chase. And the episode also deftly depicts female friendship through Chase and her best friend Amber (Jaz Sinclair, who is as charming and engaging as her co-stars), which makes for a very small but essential part of the narrative, contributing to the lived-in feel of "Vegan Cinderella"'s universe.
Though Jo and Chase both embody certain qualities associated with millennials, Easy thankfully isn't punitive about their youth. There's certainly a lot of humor to the episode. Chase, at one point, rubs her helmet in the grass to make it appear more used—all part of her plan to make Jo think she has always been a bike rider. But it never feels like Easy is making fun of these characters so much as honestly exploring the very real, very unchill things people sometimes do in the early stages of relationships.
And it all works especially well because of its unexpected ending. "Vegan Cinderella" ends on a bright note, entering the small canon of TV love stories between queer women that get a happy ending. Jo watches Chase get out of an uber and strap a helmet on from the window in her apartment and playfully calls her out for pretending to ride her bike, and Chase promptly pukes, revealing yet another deception. She ate a whole pepperoni pizza. Jo smiles without missing a beat and reminds Chase she never asked her to be vegan. She never expected it from her and she would never want her to change just for her benefit. What Chase thought were uncertainties about the relationship were really just uncertainties about veganism.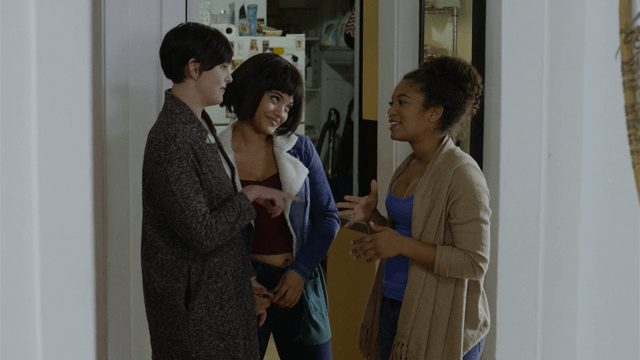 The snapshot of Jo and Chase that we get is warm and optimistic without ever becoming cloying, and that's rare to find on television these days. "Vegan Cinderella" is about how people try to change themselves for the sake of relationships and how we sometimes absorb parts of our partners, even when that's not in our best interests. But it tells that story by showing it, by focusing on the very specific and naturalistic arc of Jo and Chase. (And better yet, it does so without falling back on any tired jokes about the "urge to merge.") It's sweet and fun, but it isn't empty. And I felt like some of my experiences as a queer woman in Chicago were being genuinely reflected back to me, which again, is not something I find on television that often. Easy gets it right.