This post is part of Heartland, a two-month theme issue about the general concept of the "heartland" and also about the proverbial "heartland" of America — the midwest.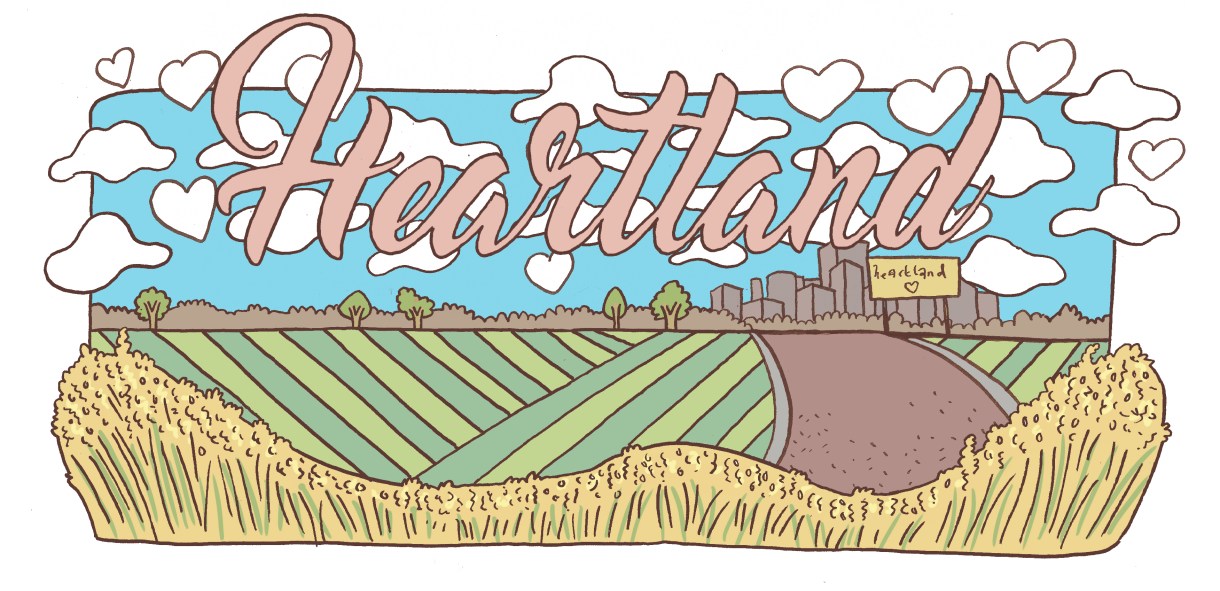 ---
The East North Central Midwest (Michigan, Wisconsin, Ohio, Illinois and Indiana) is America's most underrated destination. In addition to having heaps of interesting shit to do and lots of Swing State Drama, there's tons of parking! Just tons!
There are things this area is known for — e.g., Cleveland's Rock & Roll Hall of Fame, Chicago's Museum of Science & Industry, Michigan's Henry Ford Museum, Detroit's Motown Museum, The Detroit Institute of Arts, The Children's Museum of Indianapolis,  The Art Institute of Chicago, The Columbus Museum of Science and Industry, Chicago's Field Museum.
Then there are things that are a little more off-the-beaten path and niche-y. Things we aren't known for… but should be this post is about those things.
We're hosting our very first midwest A-Camp at the end of the month, and we imagine lots of you will be tacking on a few days to your trip to visit the area. Let this be a jumping-off point for you, explorers! (If you wanna sign up for A-Camp 7.5: Midwest, there's still time! Register here, now.)
For more queer-specific and wider-ranging things to do in the A-Camp area, check out our city guides to nearby Madison (1.5 hours from A-Camp) and Milwaukee (30 mins from A-Camp), Columbus (7 hrs), Cleveland (7 hours), Cincinnati (6 hours), Minneapolis (5 hours), Columbia (7 hours), St.Louis (5.5 hours), Ann Arbor (5 hours) and, of course, Chicago (1.5 hours).
---
18 Weird and/or Corny Midwest Tourist Spots in Wisconsin, Michigan, Ohio, Indiana and Illinois
1 hour from A-Camp
This is a giant cheese store that looks like a castle. The bar inside offers free cheese curds, according to alleged vegan Autostraddle Managing Editor Rachel Kincaid. "They also have a terrifying cheese mouse sculpture," she added.
---
2 hours from A-Camp
If you think that you contain multitudes, you are wrong: The House on the Rock contains multitudes. If you look up "multitudes" in the encyclopedia, you will find a 12-page insert featuring photographs from THOTR's collection of bizarre collections, including that 200′ sea creature you keep dreaming about. There's also a hotel, a "spooky after-hours experience," and, apparently, a resort. Also Spring Green has a very nice summer Shakespeare festival, incidentally.
---
Treat yourself to a Chicago shopping spree far from the allgedly Magnificent Mile by visiting these hot spots for shit you've either been looking for all your life or never knew quite how desperately you needed.
---
Do you need a little Christmas, right this very minute? Good news: Frankenmuth has the world's largest Christmas store and it's open year-round. Nestled in "Michigan's Little Bavaria," a hot-spot for fans of Wiener Schnitzel, beer, outlet malls, riverboats and quaint German architecture.
---
You've seen all the smaller collections of vintage birth control pills and IUDs, and now it's time to immerse yourself in the motherlode (get it??) at the Percy Skuy Collection on the History of Contraception at the already-eccentric Case Western University Dittrick Museum of Medical History.
---
2 hours from A-Camp
Who doesn't love 20,000+ square feet of sheer nightmares? Scaredy-cats, that's who. 60 rooms of pure terror! 100 ghastly clad actors! I've driven past this a few times and thought "absolutely not." But many others have disagreed strongly with that assessment.
---
2 hours from A-Camp
The Wisconsin Dells are a huge vacation spot for local families seeking nonstop recreation, screaming children in bathing suits, ambitiously-themed hotel rooms, culturally appropriative theme parks and (this is the serious part) gorgeous lakes and killer camping spots. In other words, it contains everything I hold dear, and also waterparks, which I consider to be the innermost ring of the inferno. Like if you took all the sex out of Las Vegas and replaced the casinos with water parks, it might be kinda like the Wisconsin Dells. You know what they say: "if the Mayans were still alive today, they'd be thrilled to learn their civilization had inspired an 80,000 square-foot multi-level Mayan Ruins-themed waterpark." Plus lots of geeky science museums, interactive games, wineries, zip-line shit, etc.  Even the fancy folks at Travel & Leisure recommend a boat tour of the sandstone rock formations or The Lost Canyon Tours, which take you on a horse-drawn carriage through "magnificent cliff-walled gorges."
Depending on your personality and overall feelings about children, The Wisconsin Dells is your worst nightmare or your personal paradise.
---
6 hours from A-Camp
I'm gonna be serious for a sec because this situation is weird, but also really incredible and special. So! 25 years ago, local artist Tyree Guyton began transforming several decaying blocks and their structures in Detroit to a living art project, incorporating unexpected materials into a dynamic and evolving feast for the eyeballs. The project is "recognized around the world as a demonstration of the power of creativity in creating hope and a bright vision for the future." This might be your last chance to see it in its current incarnation — Guy will be dismantling the project piece by piece over the next few years, turning the Dotty Wotty House into its own museum, and shipping off the rest to museums like the Smithsonian in DC.
---
1.5 hours from A-Camp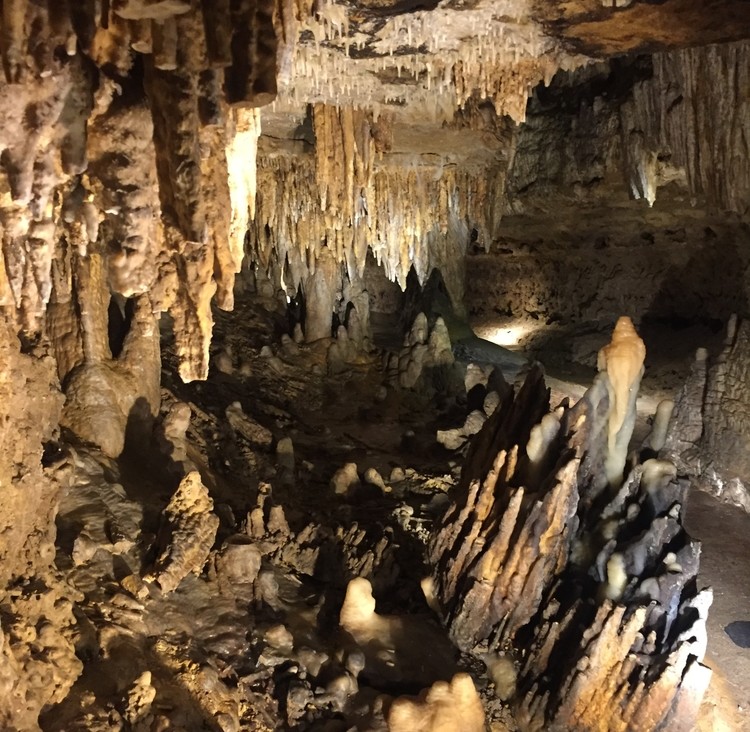 Is this a giant vagina or Wisconsin's premier cave attraction? The only way to find out is to take a deep breath and enter the tunnel.
---
1.5 hours from A-Camp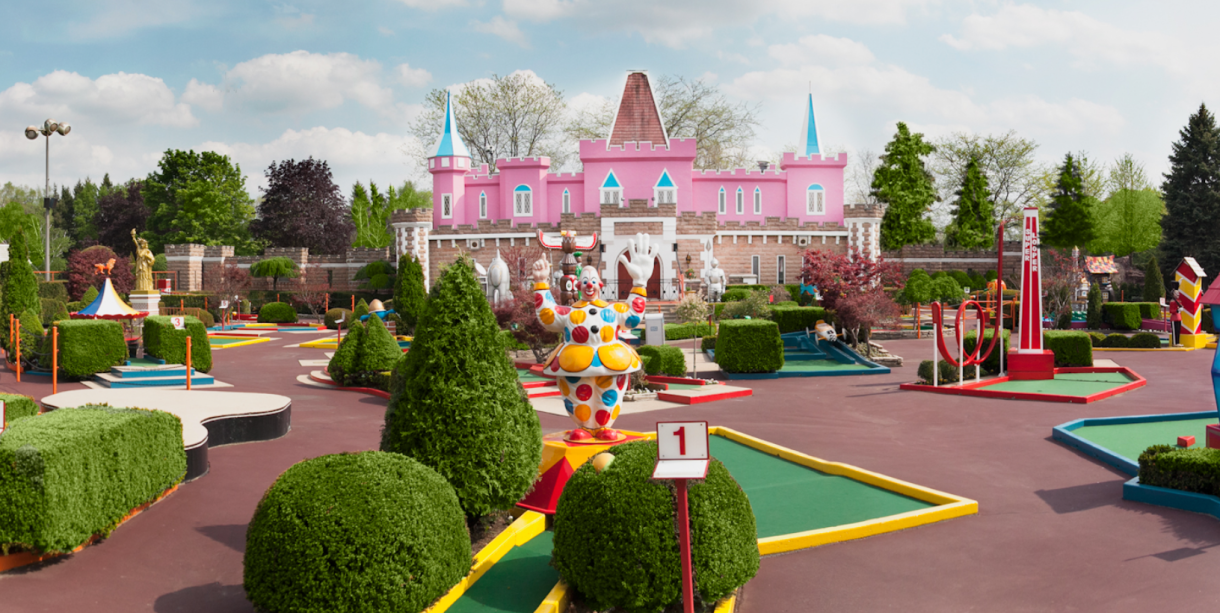 "It's nice to have the Sears tower out here, 'cause we're in Chicago, and it kinda relates us to our city," says a teenage boy in a baseball cap while trying not to seem too uncool in a Travel Channel segment about this legendary mini-golf course. Known as "the world's most unusual golf course," the two 18-hole experiences are sure to delight every man, woman, child, and non-binary person who ventures onto its colorful shores.
---
If you're a blind albino amphibian or otherwise aquatic creature, the best place to spend your precious time on this earth would be to live in The Bluespring Caverns, the country's longest navigable underground river.
---
3.5 hours from A-Camp
A passionate fan of superheroes and the comic books devoted to them created this museum, which, according to its website, is so awesome and so popular and so thorough that they've outgrown the very specifically designed building that currently houses it. They're gonna move to a new home! You should see the old home before they do, I think.
---
Much like Heather's A-Camp Bitches Brew Workshop, this museum offers opportunities for education and day drinking.
---
Jeremy Rochman was a Dungeons & Dragons fanatic who tragically died in a car accident at the age of 19. So his father bought some land and built upon it a fantasy park that Jeremy would've loved and you still can. Tolkien-inspired art abounds, as do hidden doors, tunnels, a castle, gargoyles, and sculptures modeled on Jeremy's D&D Miniatures. Seriously, cannot imagine a sweeter thing a Dad could do.
---
According to BananaBoat2016 on TripAdvisor, "this museum is the bee's knees." This rambling collection of early Americana includes re-creations of a 1920s doctors office (replete with a terrifying 1920s doctor mannequin in an ill-fitting uniform), Union Train Depot, speakeasy, movie palace, toy store, ice cream shop and many other delights.
---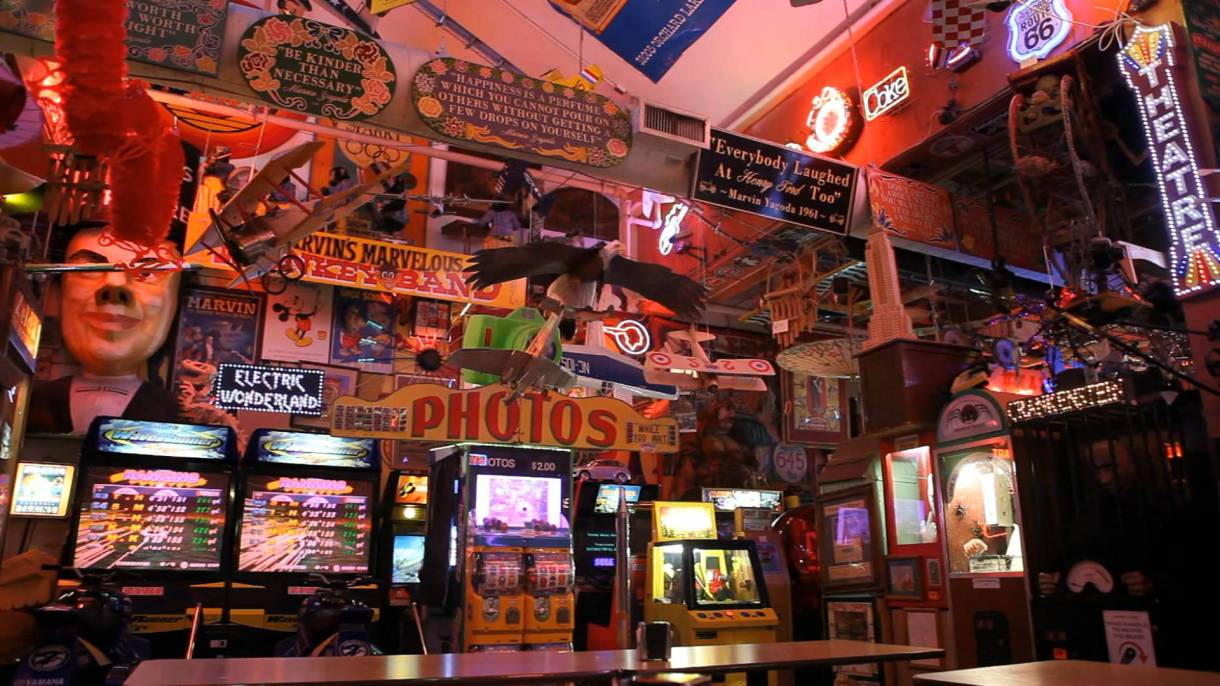 Listen; if bizarre automatronic situations, vintage arcade games, a plethora of Photo Booth opportunities, the world's largest collection of pinball machines, the ominously entitled "Dr. Ralph Bingenpurge County Food Inspector" and all matter of weird pics and airplanes and decor hanging from a ceiling in a building across the street from a K-Mart does not wet your whistle then I don't know what to say to you. There is a really large shopping mall nearby, though, if you're craving CPK.
---
Kinsey, who created your favorite Scale of all time, did his research on human sexuality in a "discreet corner" of Indiana University in Bloomington. That research continues to this day, but the building now also contains a museum featuring art, artifacts, documents and objects relating to human sexuality going back as far as 2,000 years. LOTS OF QUEER SHIT, Y'ALL.
---
18. JYSK: Other Weird Or Nichey Museums
Michigan:
The Air Zoo – Kalamazoo, MI
Taxidermy & Spirit of the Woods Museum – Willamsburg, MI
Great Lakes Shipwreck Museum – Paradise, MI

Dawson & Stevens '50s Diner & Bottle Cap Museum – Grayling, MI
Knowlton's Ice Museum of North America – Port Huron, MI
The Corner Bar and Hot Dog Wall of Fame – Rockford, MI
American Museum of Magic – Marquette, Michigan
Midwest Miniatures Museum – Hickory Corners, MI
Wisconsin:
The National Mustard Museum – Middleton, WI
International Clown Hall of Fame & Research Center – Baraboo, WI
The Deke Slayton Memorial Space & Bicycle Museum – Sparta, WI
Paul Bunyun Logging Camp Museum – Eau Claire, WI
Circus World Museum – Baraboo, WI
Harley Davidson Museum – Milwaukee, WI

The Torture Museum – The Wisconsin Dells
Indiana:
The RV/Motor Home Hall of Fame and Museum – Elkhart, IN
Kurt Vonnegut Memorial Library & Museum – Indianapolis, IN
Dr. Ted's Musical Marvels – Dale, IN
Dan Quayle Vice Presidential Museum – Huntington, IN
Santa Claus Museum – Santa Claus, IN
Henager Memories and Nostalgia Museum – Buckskin, IN
John Dillinger Museum – Crown Pointe, IN
Insane Asylum Museum – Logansport, IN
Ohio:
The Paul A. Johnson Pencil Sharpener Museum – Logan, Ohio
The National Barber Museum & Hall of Fame – Canal Winchester, Ohio
Lucky Cat Museum – Cincinnati, Ohio
Toy & Plastic Brick Museum: The Unofficial Lego Museum of the Ohio Valley – Bellaire, OH
Sturgis House Mortuary Museum – East Liverpool, OH
BibleWalk Wax Museum – Mansfield, OH: "This recycled wax museum may be the only one that features John Travolta in a Bible Scene" – Atlas Obscura
Illinois:
Leather Archives & Museum – Chicago, IL
The Super Museum – Metropolis, IL
Funk Gem and Mineral Museum – Shirley, IL
Historic Museum of Torture Devices – Alton, IL
Wood Library & Museum of Anesthesiology – Park Ridge, IL
Ernest Hemmingway Birthplace & Museum – Oak Park, IL
DeMoulin Museum of Fraternal Initiation Devices – Greenville, IL
National Museum of Ship Models and Sea History – Sadorus, IL
McDonald's First Store Museum – Des Plaines, IL