By Katie and Sugar
For most people, Columbia is a pit stop on the I-70 trek from St. Louis to Kansas City. For those lucky enough to live here, there's so much more to love.
Katie: I moved here 3 years ago to start graduate school at Mizzou, and it didn't take long for me to feel like warm and fuzzy about Columbia – that's the Midwestern hospitality. After a little longer, I'd found so many other reasons to love it here. Because of the university, Columbia has is a liberal bubble in a surrounding sea of red. There are plenty of amazing cultural events happening, and a lot of unique and wonderful people. Queer people and places aren't hard to find, and the other residents of Columbia largely embrace the LGBTQ community.
Sugar: I have officially lived in Columbia, MO for 5 months now, and it has blown me away. I was born and raised in Arkansas and was proud to live there. I began a long distance relationship with my current partner and future wife, and began making trips to Columbia whenever I could. There's something about Columbia that made an impact on me and that I think would impress any member of the LGBTQ community. You might expect small-town Missouri to be a place of judgment and, at best, "tolerance." However, Columbia became magnetic for me in its representation, acceptance, and diversity of the local culture. For a queer girl from the south, Columbia has been a true breath of fresh air, and gives me hope for similar towns in the country. I hope this guide will give you the opportunity to know CoMo as I have and enjoy any time you may spend here.
Going OUT in CoMo
The SoCo Club 

128 E. Nifong Blvd
The only official gay club in the city. It's located on the south side of town, there's ample parking, and cover is usually $5 (for 21+). Thursdays and Saturdays are drag show nights, but other weekly or monthly events include karaoke, trivia, line dancing, cabaret, and "industrial night." If you're not into dancing or drag shows, there is a nice lounge area, which features comfortable couches and a full bar. Apparently, there is a new "ladies' night" on the third Saturday of each month, but we have to reserve judgment until we see it for ourselves. Generally, this bar has more gay boys than ladies, and we're never surprised to see a straight bachelorette party there. In fact, there's often more straight people than queers at the drag shows, but they tend not to venture over to the lounge side. If you're looking for a place to go out, catch a show, and dance, SoCo is a good place to feel like you can be yourself.
Arch & Column Pub
1301 Business Loop 70 East
The other official gay establishment in Columbia, this pub caters more to the middle-aged male crowd. If you want a low-key bar to hang out with your ladyfriend(s), this is the place to go. You can actually hear each other talk, and the drinks are cheap. Last week, I got a round of 3 gin-and-tonics for a mere $8. There's a nice patio in the back, and karaoke a few times a week. The A&C is a very active sponsor of LGBT community groups and events.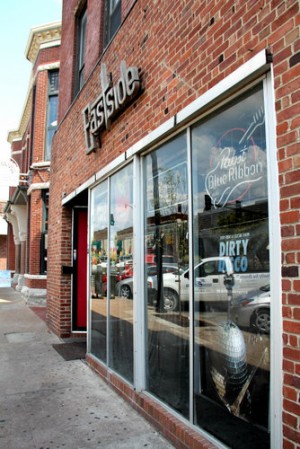 Eastside Tavern
1016 E. Broadway
While this bar is not an official gay bar, it's pretty damn queer. It is attractive to the gay community because of its very accepting/welcoming atmosphere and the prime downtown location. They have everything: geek nights, comedy, trivia nights, karaoke (huge selection of songs), and dancing – and are really popular for "Dirty Disco" Saturdays, the best dance party downtown. It's known for great drink specials and adorkable, geeky décor. After passing other bars filled with preppy, heteronormative college students, walking into Eastside is a breath of fresh, queer air.
Insert "Eating Out" Joke Here
Columbia has a bevy of great places to eat. We've described a few here, on a spectrum from very informal to fancy-pants. Even if not explicitly stated, we feel comfortable being queer at any of the places listed here.
Super-casual: For the best burger in town, head to Booches (110 S. 9th Street). You can get 2 sliders and a drink for around $5, shoot some pool, and watch a game. A Columbia tradition. Another quintessential Columbia gathering place is Shakespeare's Pizza (225 S. 9th Street). You won't be surprised to run into an old classmate or professor here, and their pizzas are fantastic. They have a plethora of toppings, from artichoke hearts to broccoli. The cheap slices at lunch attract the local business crowd, but the full pizzas for dinner can be a little pricey. Once the families leave, it's a great place to drink $4 triple-wells with friends. Good Morning America even named it the "best college hangout" in the nation last year, so there's that.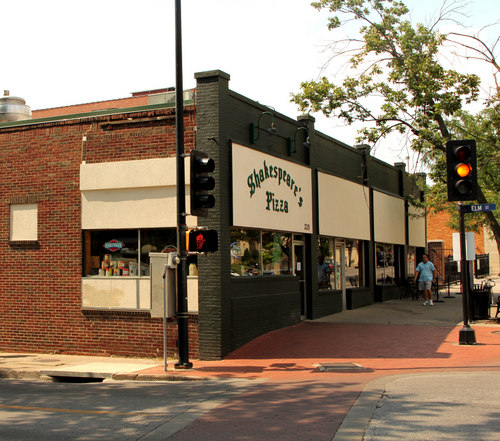 Coffee Fix: Most of the coffee shops in Columbia offer amenities such as free Wi-Fi, a low key atmosphere, and of course, a great cup of coffee. If you need to get your final essay turned in tomorrow and want the most caffeine for your dollar, head to Coffee Zone (11 N. 9th Street) for a bottomless cup of their Rocket Fuel (so you can drink until your eyes pop out for $3.75). You can also grab some of their fantastic Mediterranean fare to help soak up all that caffeine. If you want a more social environment, check out Kaldi's (29 S. 9th Street) in the middle of downtown. Their full food menu is perfect for your lunch meetings. Make sure to try the scratch-made crepes; they are sure to impress. Lakota (24 S. 9th Street) is another staple coffee shop in CoMo. Their brick walls, hard wood floors, bar stools, rockers, and hand crafted chairs all combine to create a rustic western atmosphere. This is a prime location to study, or meet up with friends while breathing in the soothing aroma of fresh organic coffee. If their coffee does not make you a regular then you should be know that they feature the fastest Wi-Fi out of all the coffee shops downtown.
"Hey, I just met you…" – Low pressure lunch date: Downtown Columbia has a few interesting restaurants tucked away where you can count on eclectic menus, laid back atmospheres, and prime people-watching. Main Squeeze (28 S. 9th Street) specializes in vegan/vegetarian dishes, offers Lakota coffee, and in the summer you can always drop in for one of their fabulous juices (Don't worry if you can't choose from their plethora of options. A good rule is to always fall back on the Curious George). At Uprise Bakery (10 Hitt Street) you can find a large dining space, friendly people, and a well stocked bar. Their food covers the gamut of baked goods, from sandwiches to turnovers, all featuring their homemade bread. Uprise tends to be crowded, but you won't mind spending time on the front patio, a terrific people-watching spot. Café Berlin (220 N. Park Street) features a local, organic menu. Their lunch is excellent, and their breakfast is the talk of the town. To top that off, they serve their wonderful pancakes and hearty omelettes all day. If you are feeling a bit down, head over on a Wednesday night where they are sure to be holding a live music event that is sure to add pep to your week. Finally, if you're looking for the best Indian food in town, Curries (2518 Business Loop 70 East) beats all others. You'll want to plan a picnic or dinner at home for this one, though, because Curries is strictly take-out.
"We should do this again sometime!" – Second date dinner options:  Located downtown, Broadway Brewery (816 E. Broadway) is one of Columbia's newest and favorite eateries. Their in-house specialty brews and unique, local menu options change with the seasons. This dimly lit romantic restaurant sets the mood without being too serious. You and your date can share a peasant platter (a delicious array of cheeses, fruits, and veggies) while sipping quality wine or beer. Flat Branch Pub and Brewing (115 S. 5th Street) has been a hot spot for several years and the long wait on Friday nights reflects its continuing popularity. Buzzing with activity, this much-loved watering hole offers a fairly traditional, but extensive pub menu. Don't hesitate to indulge in their green chili beer, which tastes just like green bell peppers in a glass. If the evening is cool, sit out on the largest patio in town.  Tellers Gallery and Bar (820 E. Broadway) has a really nice atmosphere for a date, and is a lesbian-owned establishment. Great food, awesome bar, and reasonable prices. Kampai Sushi (907 Alley A) is known for having the best sushi in town. Its unique location in an alley helps give Kampai has an amazing atmosphere for a date night. It's always a plus to know the "best Thai place" in any given town. Well, here in Columbia that place is Chim's Thai Kitchen (3 local locations). Their menu is traditional Thai, and their chef uses family recipes that have yet to be surpassed by any competitor in Columbia.
"This is getting serious": Anniversary? Birthday? If you need a fancy restaurant for those special occasions, Columbia has a few white-tablecloth joints worth mentioning. The Blufftop Bistro at Les Bourgeois Winery is a 15-minute drive west of town, but the view overlooking the Missouri River is gorgeous. You're at a winery, so obviously they have wine covered. If you can get a reservation at sunset, you're sure to score some brownie points with your ladyfriend. In downtown Columbia, Sycamore (800 E. Broadway) is a surefire winner. It's been around for years, and offers an exceptional menu that (like many of our other favorite restaurants) uses local food sources. If you can't afford the price tag for dinner, Sycamore has an affordable happy hour, so you can still get a taste of their amazing food. (Sugar here, chiming in as the token big butch lesbian of this city guide): Listen, I know some girls are into vegan, healthy food that comes from organic farms where each vegetable and chicken has a name and story to go along with it. Personally, my girl won me over by knowing where to get the best cut of beef in town. And that my friends, is CC's City Broiler (1401 Forum Blvd), hands down. The candlelit tables provide just the right amount of light to see your fancy salad, loaded baked potato, and giant slab of meat, which can win over the heart over your carnivorous ladyfriend.
Still Hungry?
If there is such a thing as a gay ice cream shop, it's Sparky's (21 S. 9th Street). Walking inside is a uniquely Columbian experience. It has amazing, in-house made ice cream in tons of very unique flavors (lavender-honey, green tea, and last summer, even cicada ice cream). Sparky's welcomes people from all walks of life, and its downtown location makes it the perfect place to get an ice cream and end the evening with a stroll around town. For the 21+ crowd, they offer "adult shakes," which combine their delicious ice cream with delicious liquor. I think that's what they call a "win-win."
College Life
Columbia is pretty much dominated by the University of Missouri (better known as "Mizzou"). It's the oldest public university west of the Mississippi River, so there's plenty of tradition to be had. More than 33,000 students attend Mizzou, so they make their presence known in a city of about 100,000. With over 13,000 full-time employees at the university, it seems everyone in Columbia is connected to Mizzou.
Overall, the campus is very LGBTQ-friendly. There are a few students who come from homophobic places and bring some of that homophobia with them, but the overwhelming majority of students, staff, faculty, and administrators are welcoming to queers. The LGBTQ Resource Center is safe space to hang out or find someone to talk with, and they host a ton of events throughout the year. There are nine (nine!) LGBTQ-focused student organizations on campus, including one for graduate students that we started this year.
Stephens College is a small, 4-year women's college on the edge of downtown Columbia. According to a current Stephens student, the campus is pretty queer-friendly. The college's president is very welcoming and quick to squash any homophobic behavior. The open-minded professors contribute to the accepting nature of the whole community. "Unless you're a boy," she joked.
Columbia College is mostly a commuter school, so they lack some of the resources of the other residential schools in town. Word is that they are restarting their gay-straight alliance group and have a college president who is supportive of the queer community on campus.
"The District:" The Downtown Area
The heart of downtown Columbia is known as The District. It's a great area to walk around, do some shopping, grab lunch, or go out with friends. I've always felt safe here, even when holding hands with a ladyfriend. Some areas can get very frat-y, especially when school is in session, but the bars to avoid are fairly obvious (Field House, Harpo's, etc.). There are some apartments and lofts downtown, but as you'd expect, they come with a hefty price tag.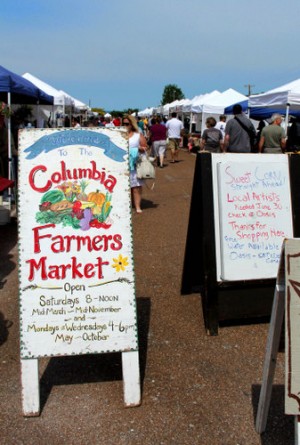 If you're looking for a great, friendly neighborhood that's close to downtown but more affordable, it's the Benton-Stephens area. Located just on the other side of Stephens College, it's full of adorable, older houses, community gardens, and young, hipster families and students. Mizzou is also very walkable from here. It's a popular place to be – a friend of mine just sold their house in this neighborhood after one day on the market!
A bit farther away on the west side of downtown are the Old Southwest and West Ash/Broadway neighborhoods. Slightly cheaper than Benton-Stephens rentals, this area is still great. It's an easy bike ride to downtown or campus, close to the farmers' market, and very queer friendly. Most of the gay ladies I know live in this area (ourselves included).
Another area worth noting is the North Village Arts District. As the name suggests, it is (you guessed it) north of downtown, and (yes) full of art galleries, studios, and artists. There's a weekly Farmers & Artisans market here on Sundays, and quarterly art crawls on Friday evenings. It'd be awesome to live in this area, but the rent is exorbitant by Columbia's standards.
Queering Columbia
As we've mentioned, Columbia is a very progressive city. Residents and students are involved in all kinds of environmental, social justice, and political organizations. We are the only city in mid-Missouri that protects against discrimination in employment and housing based on sexual orientation and gender identity. Though it is not state-recognized, Columbia has a domestic partnership registry, which provides local benefits to registered couples. It may not do much legally, but it certainly helps queers know that they are welcomed here. PROMO is an active statewide organization working for LGBT equality through "legislative action, electoral politics, grassroots organizing, and community education," and has been involved in helping to make Columbia what it is.
The Center Project (300 St. James Street #104) is "Mid-Missouri's first and only lesbian, gay, bisexual, transgender, queer, questioning and ally community space." TCP hosts a number of regular events, including PFLAG meetings, a bisexual support group, youth group, yoga, drop-in hours, and a great transgender support group that draws in people from across the state. They also throw the biggest gay dance party of the year each June, the Atomic Dance Party, where proceeds go toward keeping the doors of TCP open.
The Mid-Missouri PrideFest is held in Columbia each year. Usually in June, this is the first year it will be held in August. It has grown a lot over the past several years, and is now held downtown. We don't know how the move to August will affect the festival attendance, but hopefully it is a positive change. It's always a great time – and you can show off your super gay dog at the Gayest Dog Competition!
Places like TCP and events like PrideFest have shown me that overall, the G, L, B, and T communities here get along well together. The community as a whole is small enough in this city that we can't afford not to. The only divide, if there is one, is a slight disconnect between the student groups and community-wide groups.
LGBTQ and Women's Health Resources
The University of Missouri Medical School is awesome and gay-friendly. They are leading the way by training their students in how to address LGBTQ health needs. For Mizzou students, the University's Student Health Center is amazing. They are great about using inclusive language on documents and promotional materials, and are even educating other university health centers on how to better help LGBTQ students.
With the recent closures of Planned Parenthood offices in Kansas, the still-standing Columbia office is now called "Planned Parenthood of Kansas and mid-Missouri." I still remember seeing Columbia citizens actively "standing with Planned Parenthood" during that campaign last summer, so I know it's not a resource that Columbians take for granted.
The Cultural Bubble of Columbia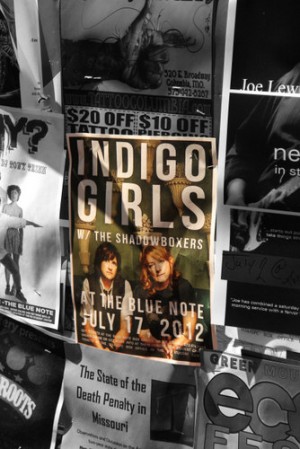 Music Scene – I was pleasantly surprised when I moved here at the number of amazing cultural events Columbia has to offer. It may be a relatively small city, but even acts like the Indigo Girls, Wilco, and Matt Nathanson come to the Blue Note (17 N. 9th Street), the city's main music venue. The biggest music event happens every fall: the Roots 'n Blues 'n BBQ Festival. If folk/blues music is your thing, this is the place to be. Some past headliners include the Carolina Chocolate Drops and Fitz and the Tantrums. This coming fall – it's Al Green and Edward Sharpe & the Magnetic Zeroes.
Visual Arts – Most of Columbia's year-round galleries are in the aforementioned North Village Arts area or the District. There's always art shows at Mizzou as well, and the yearly Art in the Park festival in Stephens Park, which brings in artists from around the region and nation every June.
Theater – A benefit of living in a college town is that between Mizzou, Stephens, and Columbia, there's always a play or musical to see. There are also several local theater companies that contribute to Columbia's theater arts scene, and many touring shows will make a stop at Jesse Auditorium on Mizzou's campus.
Film – By far, the biggest and best art event in Columbia is the annual True/False Film Festival. It truly is internationally renowned. We know you love documentaries, and this is the place to see them. Just this past year, films like Undefeated (which won the Oscar for best documentary), Bully, and The Island President showed here. The filmmakers are almost always available for a Q&A session after the showings. This year, that included Morgan Spurlock (of Supersize Me fame), Daniel Lindsay & T.J. Martin (who brought their shiny new Oscar statue), and the students from Bully. I could really talk all day about how incredible this festival is, but you should probably just come see it for yourself.
I can't think of enough superlatives to properly give Ragtag Cinema its due (10 Hitt Street). This nonprofit, community-supported art house movie theater shares space with the aforementioned Uprise Bakery, and the two play beautifully off each other. You can spend all day studying at Uprise, then grab a drink from the bar and take it into one of the movies showing at Ragtag. The two theaters have cozy couches and an intimate feel. Evenings here are always vibrant – full of patrons enjoying a drink before or after a show. The clientele is eclectic as well; this is the mecca of the Columbia hipster scene, and is super queer friendly. It makes for a fun place to play a game of "hipster or lesbian?".
Feminism Is Fun
The best feminist organization in Columbia is the Women's Center at Mizzou. They sponsor a ton of programs throughout the year, including Love Your Body events, Women's History Month (including a women's poetry night), and the wildly popular Vagina Monologues. The 2012 production had a cast of 118 women, and sold out a 1700 seat auditorium! The Women's Center is also just a welcoming place to hang out, read a book from their extensive library, or browse one of their feminist magazines subscriptions.
The Citizen Jane Film Festival celebrates films created by women. Stephens College and Ragtag Cinema collaborate to bring in female filmmakers, producers, and writers from across the country to show their films at this annual event.
(Sugar here.) Columbia is represented in the roller derby community by the CoMo Derby Dames. This sport embraces the queer community – and women in general – more than any sport I've played or been a part of. What makes derby attractive to our community is pure feminism. The league is owned and operated by women, for women. While some sports attempt to masculinize women and force them to conform to a male-dominated standard of play, roller derby encourages women to embrace their femininity. The Dames practice 3 times a week, one of those practices is dedicated to teaching new players how to skate and play the game. They have bouts about once a month. If the Dames have a bout when you're in town, it's a must see for the action, empowerment, and (of course) the after-party.
Bookstores and Other Cool Places
Columbia's farmers' market (1701 W. Ash Street) is an essential part of my summer Saturday morning routine. The glut of produce options is a nice side effect of being in a city surrounded by farmland. The market is open several afternoons during the workweek, but the Saturday market is the cream of the crop (see what I did there?), with live music and a full host of vendors. If you overindulge on a Friday night, head to the Missouri Legacy Beef stand for a hot-off-the-grill bratwurst: the best hangover cure I've found yet.
The Peace Nook (804 E. Broadway) is an intriguing bookstore located in a basement in downtown CoMo. As far as bookstores for queers goes, it is to-die-for, with sections of LGBTQ fiction, foundational feminist theory, and everything in between. Their children's section has a wide variety of books on topics like diversity and "alternative lifestyle" families. Peace Nook also offers a small section of eclectic and organic goods. Columbia residents love the fact that Peace Nook is a not-for-profit store, and it makes the shopper want to explore for hours.
Get Lost Bookshop (8 S. 9th Street) is just around the corner from the Peace Nook. Get Lost specializes in used books, and leans toward traditional genres such as autobiographies and best sellers. Their feminism, sexuality, and sociology sections are existent, but not necessarily a strong point of the store (you can find them on the bottom shelves in a corner). While I don't feel the need to spend an entire day exploring Get Lost, it is a store I will always drop by when searching for a cheap copy of a good read.
Maude Vintage (818 E. Broadway) is your place for hipster clothing, queer accessories, and roller derby tickets. You can feel good about shopping here, too, since they actively support the local queer community.
Lizzi and Rocco's Natural Pet Market (503 E. Nifong) is a sponsor of the annual Gayest Dog Competition at Pride, and they carry pride gear for pets year-round.
For your alternative lifestyle haircut, I highly recommend the stylists at Art of Hair (518 E. Broadway). The location (next to a tattoo parlor), the music (always upbeat and loud), and the stylists (who know what they're doing) make it a place I love coming back to. The under-$35 price tag for a haircut doesn't hurt, either.
You only need to know two names if you're itching for some new body art in Columbia. If you are even considering getting pierced, you must go to Art of Hair's neighbor, Living Canvas (520 E. Broadway). Their piercers are experienced and professional, and will thoroughly discuss options and techniques with you. There's no better piercing experience in Columbia. If you are thinking about getting ink, head up the street to Iron Tiger Tattoo (11 N. 10th Street). Each artist specializes in custom tattoos and will work with you to find exactly the art you desire. I have yet to hear of unpleasant experiences from either of these businesses. Both of these shops are very open and welcoming to the queer community, which is a relief when you're making a modification to your body.
The Great Outdoors
One of the perks of being surrounded by, well, nothing is that there are a ton of awesome places nearby for those of us that enjoy a walk in the woods. Rock Bridge State Park is only a ten-minute drive from the downtown area, but can make you feel many miles away from civilization. The MKT trail connects Columbia to the much longer Katy Trail, the country's longest rails-to-trails path that follows the Missouri River across most of the state. Popular rides include day trips to nearby Rocheport (home of Les Bourgeois Winery) or Cooper's Landing, a local hangout that offers camping, fishing, music, bbq, and a Chim's Thai Kitchen location. Everyone I know who frequents Cooper's Landing says the same thing: you will see "all walks of life" there every weekend. It is refreshing to show up to a small, midwestern local hangout and see families and groups that represent the diverse world we live in.