Welcome to the first recap of the first episode of the third season of The Real L Word, an hour-long drama about a pioneer woman with gigantic sleeves and weird hats who journeys to Colorado Springs to become a doctor at a time when women were not doctors (because of the patriarchy).
WeHo town, it's a quiet village, every lay like the one before, WeHo town, full of stylish people, waking up to say … Bonjour! Good day!  How is your gay family? Bonjour! Good day! How is your wife? I need! More sperm! That's too expensive! I want much more than this Sho-vincial life…  just watch I'm going to make Sara my wife!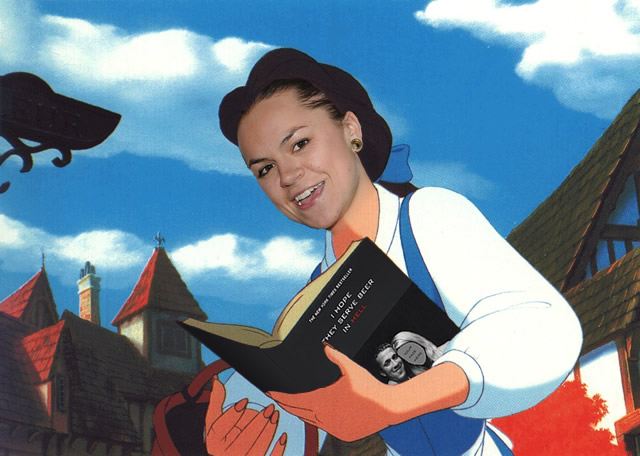 There goes the hipster with her hair like always, the same old fashion shows to sell. Every morning just the same, since the morning that we came to this poor reality show –
GOOD MORNING, HELL!
Sheesh. I'm exhausted. Wow. So, The Real L Word! On a scale of one to ten, I found this episode slightly more interesting than the Home Shopping Network.
Just one diversion before we lick our lips and dive in to this moist cave of despair — embarking upon the third season of The Real L Word makes me think back to the third season of Ilene Chaiken's other moderately-successful hit Showtime series, The L Word. You remember, don't you? That glorious march of doom? The season in which the ladykiller finally made a commitment and moved in with her sexy girlfriend and then proposed to her? The season in which we fell to collective pieces in the wake of a tragic and untimely death? The season in which a woman who'd been in a lesbian relationship for the past 8.5 years got in touch with her lingering desire for men? Yes, that season. I hated that season.
Anyhow, let's get this shitshow on the road!


We open in sunny Los Angeles, California, where glamorous supergoddess Romi Flinger is cruising past Tuna-Town while talking about herself: she's been sober for a year, lost a lot of friends, is "madly in love" and is wearing 76 individual pieces of jewelry at the same time including sapphire studs on her interior vaginal walls.
Did I mention that Romi Flinger is in love? Well, she is:
Meanwhile, elsewhere on Los Angeles' labyrinth highway system, Whit-me is driving her car, talking about herself. 
The Pride of West Hollywood has "fallen in love," which is so "crazy" that she "can't even wrap her head around it." Plus, that stupid hat's in the way.
Thus we zoom gayly forward accompanied by not only Whit-me and Romi Flinger's Life Updates, but also by the vexatious vibration of the insufferable BETTY-esque vocals intoning "You got to show me how you move, move, move / if you wanna see my hotel room." Ain't that the truth.
Whit-me and Romi Flinger, seemingly spilling over with desire for their aforementioned lovers, return home — Whit-me, of course, returns to Sahara…
…and Romi, of course, returns to … men?
Yup.
Romi: "For the past six months, I've kind of been living this secret life. I don't know, it's time to just, stop."
Indeed, Romi's been inspired by the nearby camera crews to reveal her present activity partner, Jay, an admission which shocked my socks off only 'cause I thought Romi's boyfriend this season would be this Dusty character from their special tumblr, and I'd been hoping and praying that Dusty would be a super-awesome smart feminist or something and this storyline would be really enlightening and complicated. HAHAHAHA!
Anyhow, guess what else is ready for its reveal?
Romi's boobs! And um, Romi and Jay fucking!
Now, bisexual women are glorious humans near and dear to my heart and vagina and former self-identification and personal history and reading list, but MEN, on the other hand? I hate men. Reader, let me be honest with you: this show's single redeeming factor was its consistent lack-of-men. It rarely subjected me to the thoughts or feelings of modern man, let alone their sexual desires, let alone actual heterosexual sex, which I maxed out on personally between the years of 1998 and 2005 and in any event I could watch heterosexual sex on every other show ever made about anything, ever. Can't we get one corner of the sky?
[Fun Fact: only 61% of The Real L Word's audience is female.]
Meanwhile, The Pride of West Hollywood got so steamy on her way over that she requires an immediate shower and fingerfuck (to wipe off the stench of pussy juice and creamed corn and replace it with the stench of pussy juice and Bath & Body Works).
BANG!
Thus the season kicks off with a sex montage of Whit-me/Sahara and Romi Flinger/Jay. Yay! Sexathon forever! Sigh.

Let's travel to New York City, my home and native land (not really, Michigan is my home/native land, but New York City, where I lived for six years, is the only girl I've ever really loved) (besides my girlfriend) (who just said "I feel like a Real L Word widow"), where Hunter Valentine has trekked all the way from the Yukon Yak-and-Harp-Seal-laden lands of Canadia to "make it" as ROCK GODS.
Let's meet the band! First up is Kiyomi, Hunter Valentine's lead singer:
Kiyomi founded this band with Laura eight years ago. Laura's on drums:
Vero, no relation to Vemo, is on bass. She's been in the band for about a year:
Last but not least, Hunter Valentine has just added a new keyboardist:
Wait, sorry, wrong picture. New keyboardist:
Yup, Somer is another lesbian with a cool haircut giving me perfect-jaw-envy (I've got a "weak chin" and thus am obsessed with humans who've got amazing jawlines, e.g., Tegan & Sara, Clea Duvall, SOMER BINGHAM). Howevs, as the above streetscape suggests, Somer's not at practice which's unfortunate 'cause they've got a "tour" to prepare for — HV's got a gig coming up at South by Southwest, the Austin, Texas-based music festival I've got fond fond memories of.
Rather than employ cellular telephone technology to locate and/or reprimand Somer, Hunter Valentine rehearses sans-keyboard and by "rehearses sans-keyboard" I mean "bitches about having to rehearse sans-keyboard."
Kiyomi: "This is pointless because we don't need to practice these songs."
Laura: "It's actually Somer who needs to practice these songs."
Kiyomi: "— or we need to practice these songs–"
Both: "With Somer."
Kiyomi interviews that Somer's been her friend for ages and is a great musician but has band "commitment problems." Also:
Anyhow, where the hell is Somer? Perhaps Waldo knows…
Smear over to the cold mid-afternoon streets of Brooklyn or Queens, where Somer's dog-walking with Donna, her girlfriend of four years to whom she wedded in holy matrimony just this past summer.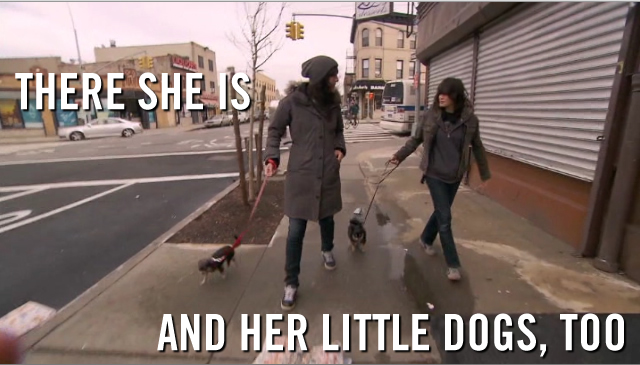 I bet when Donna signed up for "in sickness and in health" she wasn't aware she'd be subjected to constant expository conversations, like the enchanting exchange about Somer's work and practice schedule the passionate duo engage in while dog-walking.
Somer interviews to set up her story arc/"conflict" for this season:
Somer: "The tour is supposed to be a trial period for me to see if we click on stage, if I have a good time playing the music, if we get along, for the band to make sure that I'm the person that they want, that they can get along with me, also in terms of my relationship with Donna, to see if our marriage can take me being away for weeks and months at a time."
There's some kind of transition to Somer finally showing up for practice which I've since forgotten and then here she is, surrounded by women with large instruments who are seething with passive-aggressive resentment towards Somer and her cute haircut and perfect jaw and latey-late-lateness.
Apparently Somer's acquired minimal knowledge of the set-list but nevertheless exudes a maximum capacity for fun-fun-fun as well a maximum capacity for pushing Kiyomi's buttons. Kiyomi declares, "we need to practice this song like ten times."
Vero is super-jazzed about that suggestion:
More importantly, you may notice that Kiyomi is gradually applying more layers from interview to interview throughout this scene, suggesting an issue with climate change:


Psychotic Barbie music transitions us back to the doctor's for The Return of Cori & Kacy, who you may recognize as the only cast members you still liked by the end of Season Two:
Cori & Kacy are hanging out at their favorite snack shack, The Gynecologist's Office! On the menu today: an ultrasound of Cori's four-month-old fetus situation! Yup — Cori and Kacy finally got pregnant.
Lemme take a sidenote time out and issue a SPOILER ALERT for anybody who doesn't already know what I'm about to say, but I'm pretty sure anybody who cares about this show already knows this — Cori and Kacy are going to lose this baby, and we know this because we wrote about it when it happened and you probably read it. I can't even watch these scenes without thinking how hard it must be for Cori & Kacy to watch these scenes.
It's just so tragic and so sad, because these two are so sweet and so rad, and so earnestly pumped about their potential offspring but all that joviality is impossible to enjoy, let alone mock (as recappers must), when one knows what's coming. I can't even bring myself to ask Intern Grace to photoshop a tiny hat onto this ultrasound.
Cori: "After a few rounds of unsuccessful inseminations, everything that we've been doing this past year has finally worked."
Kacy [to Cori]: "Little Mamasita!"
[Cori gets teary-eyed]
Cori: "I mean –"
Kacy: [pointing at Cori's teary face] "That's the best part."
Cori: "We're gonna have a baby!"
Kacy: "You see this, do you see the happiness here? That's the best part."
Cori: "It's the hormones."
Kacy tells the story of Cori leaping into bed with the freshly-peed-upon positive pregnancy test stick and they both get teary and also happy but also exhausted and then the doctor tells them they're having a girl, and they're so happy and this is me: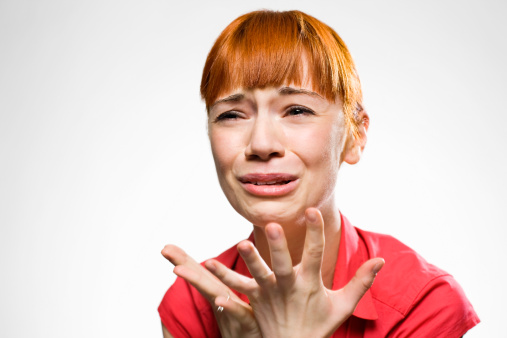 Back to Sarahara's Sugar Shack, where Whit-me and Sarahara stick food in one another's mouthholes while interviewing about how they used to be mega-dysfunctional, which segues into a charming retrospective of some of their best moments:
But now that they've taken a leap of faith bla bla bla they can love each other forever in the same apartment, like baby birds:
Whitney: "I think we've come so far because we've allowed ourselves to fall in love."
Luckily, says Sarahara, they realized the only thing keeping them apart besides Whit-me's contractual obligation to be The Player was their "walls" and now they've taken their walls down, let the cameras way way way in, and thus embraced the mystical "connection" we've heard so much about.
Also:
Whitney: "Since Sara and I got really solid, Romi and I are not friends. Just because I think Sara felt betrayed."
It's okay, I get it — Romi inspired the Who's At The Door Montage, and therefore Sara got left out of that whole private meme. It's okay, Sarahara, I had Grace make you one:
Sarahara points out half-heartedly that "it's hard to love somebody with your whole heart," which isn't true. Have you ever tried winning a round of Chopped with a whole (cow) heart in your basket? That's hard.


Smear over to the "Lyon Fine Jewelry Launch," which we're segued into with "Chic Los Angeles nightlife music." It's time to meet Lauren Bedford Russel, this sort of glamazonian blonde/pink-haired lesbian with shiny teeth and confident sex-appeal.
So Lauren moved here from New York ten months ago and her jewelry is super-special and super-expensive and super shiny and AMAZING. In other words, Hija Por Vida, IT IS ON.
Her launch is attended by familiar faces including Whit-me and Whit-me's Wholehearted Love, Sarahara. Whit-me knows everybody, because she's dipped her salami in everybody's asiago cheese ball, so obviously she knows Lauren, but she doesn't "KNOW" Lauren, if you know what I mean, but guess who does KNOW Lauren (LIKE THAT)? Kelsey!
Yup. It seems Kelsey, Romi's ex-girlfriend, rode another pink-haired beautiful tall jewelry designer's pony recently.
Lauren: "I hardly know Romi at all and yet there's some crazy rivalry, I don't understand it, maybe she's uncomfortable because Kelsey and I sort of liked each other for a minute?"
Fuck that shit, Lauren's got her eyes on the future:
So Amanda's being shipped to Los Angeles for the program, obviously, and whatever story they made up to explain it escapes me now but regardless the point is that Amanda and Lauren are "friends with benefits" and "of course we're gonna end up hooking up." So, you know. WATCH THIS SPACE.

Just to recap this recap thus far: this season's allegedly about lesbian life in Los Angeles and New York City, but the NYC cast consists of a four-man band from Toronto who record in Toronto and are about to leave for Texas and a girl from New York City who's moving to Los Angeles. If this is supposed to be New York City vs. Los Angeles, I think Los Angeles is winning? Womp WOMP.


But they don't make them like this in Los Angeles:
Anyhow, let's meet Amanda!
We don't really "meet Amanda" this episode as I'm still not clear if she's a stylist, promoter, makeup artist or jewelry designer or maybe even something totally different we've never seen on this show before. Maybe she's Catwoman?
Amanda and her lesbian hipster friends have gathered at a watering hole to bid adieu to their friend who, if the ensuing three minute monologue is any indication, hasn't told anybody anything about her life or future until this very moment.
Amanda's gonna get all city girl on you:
Amanda: "Lauren and I have always talked about living together, like, growing our lives together, and it was just really important I think, for us, to do it while we're young and we can afford it, and we can just explore and see what we want."
Much like Whit-me and Sarahara circa Season Two (jesus shoot me I can't believe I even know this), Amanda and Lauren have always had sexual tension but have never lived in the same city while single before.
Amanda: "There's always been a sexual tension between Lauren and I since like, the minute we met, which is why it makes everybody that loves us and dates us so uncomfortable."
Therefore, Amanda's upcoming move to Los Angeles will be The Ultimate Challenge!
"It's getting a little crowded, let's go to the bar," says Amanda. Ahhh the bar. Always a great place to stretch one's limbs on a Friday night.

We zoom to another part of the city where Kiyomi's returning to New York City from an Album Recording Adventure in The Wilds of Toronto to stay with her not-girlfriend, Ali.
Not-Girlfriend (noun) – Female with whom you sleep most nights and talk every day but do not consider yourself formally or monogamously involved with. Traditionally, not-girlfriends might always have dinner together, but are not one another's go-to dates for weddings and office parties.
Ali's been slaving all day over a hot oven to create a musical-note shaped cake for Kiyomi, which is so fucking ridiculously cute that Kiyomi will be punished in the afterlife for not immediately undressing Ali and eating frosting off her nipples.
Kiyomi and Ali interview regarding their variant perspectives on their relationship, which began maybe four or six or a billion months ago, I forget.
Kiyomi: "We're not in a committed relationship, we're supposed to just be casual, but we talk to each other every day and I just — I dunno where this is going."
In other words, Ali thinks they're basically girlfriends and Kiyomi is doing that thing where you say you're not girlfriends but go completely batshit if your not-girlfriend talks to, kisses, or expresses physical attraction towards any other human being, ever.
Ali interviews that she and Kiyomi met through a mutual friend at a bar and then immediately hooked up in the bathroom, a story that she stole from me and my ex, Alex, and probably at least eighteen people reading this right now. Except for the next part where Ali woke up to find Kiyomi in her bed, like when Baby Bear came home and found Goldilocks in her bed.
Kiyomi: "Kissing you is so much different than all the other girls I've been kissing."
Play on, player, play on.

Pages: 1 2 3See entire article on one page