Elsewhere in Sunny Sapphic Los Angeles, Romi and her beaux are preparing for their first gay outing as a not-gay couple. They're hitting up the LGBT Center's Halloween Party!
Romi interviews that she's nervous about debuting this slab of man to The Community:
Romi: "In the gay community, lesbians can be really harsh towads women who sleep with men again. Like, what is she doing, is she a real lesbian, is she not a real lesbian? What's a REAL LESBIAN? What, all the years that I was eating pussy and like being with my girlfriends and madly in love and wanting to get married to them I wasn't a lesbian? Okay."
AHEM: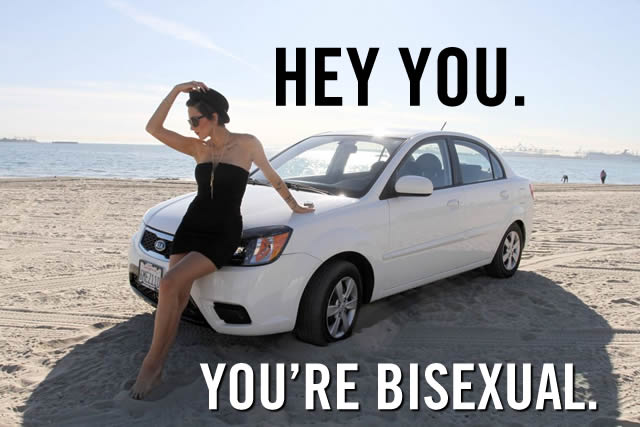 Romi explains that she acquired her mystifying nickname, "Tender," from Jay — Romi actually met Jay through her friend and Jay's then-girlfriend Carla, who you may recognize from her work kissing Romi on Romi's t-shirts or from looking exactly like Romi…
…see, Carla is mean, or something, so Jay would call Romi the "tender" one. And look at Romi & Jay now, getting all tender over each other's loins.
Romi gushes about Jay's supreme sense of humor and Jay makes stupid jokes and Romi erupts into fits of hysterical laughter.
Romi: "I don't know, he's a boy. He's simple. There's just so much between two women and sometimes it's nice to have someone just fun and simple to enjoy your life with."
Let's all go eat ice cream cones together and dive into the ocean and swim and become dolphins in a new land where Riese doesn't have to write this stupid recap.
Jay: "If you know Romi, she's kinda schizo, so she runs around and the fact that she's been with women doesn't bother me, like, should it bother her that I've been with other women in the past? It just so happens that she's dated other women. Yay for me! [laughs a lot] So what are you gonna say, you know? I'm a guy and that's how we think."
Oh, this is fucking fantastic. Negative four for you.
Romi Flinger: "Why do you look so ridiculous?"
Jay Hudson: "'Cause it's Halloween."
Romi: "Why do I wanna fuck you?"
Jay: "Because you always do."
Romi: "I got a problem, we gotta work on it."
Jay: "You got a sex problem, thats why I like you, I told you the day I met you."
If this was a fictional show about characters, I'd have quite a few complaints to register regarding their portrayal of bisexual women. Remember when Tila Tequila had a show? That was so weird. Remember when Romi dated Dani Campbell for a minute? Also interesting. You know what else would be interesting? If the entire cast had to dress up like Zoobilee Zoo all the time.
Oh right and:
Jay: "We're going to the OBGYN."
Romi: "No, we're not going to the OBGYN , we're going to the LGB —"
Unfortunately Romi's unable to complete her sentence, having found Jay's belittling of the community this show allegedly represents absolutely HILARIOUS.


Back to New York City, where Hunter Valentine featuring Kiyomi Drama McCloskey are entertaining a romper room of alternatively-coiffed ladies who wanna bang Kiyomi Drama McCloskey with their socks on.
Vero asks for more guitar on her monitor and Somer announces that she'd like her wife to get her a scotch. Somer is a girl after my own heart.
Somer: "The thing that makes me feel the sexiest is being on stage. I mean being on stage fulfills so many things."
If you've never seen Hunter Valentine live, good news: they put like the entire fucking concert in this episode! One of the songs is a song that Kiyomi Drama McCloskey wrote about Ali:
Kiyomi Drama McCloskey: "Basically it's about two people that are so stubborn that they can't figure out a way to be together and get along."
Ali: "We're both Tauruses, so we're stubborn assholes. But it works!"
Watching Kiyomi Drama McCloskey perform makes Ali wanna rip her clothes off. Coincidentally, the rest of the women in the room feel exactly the same way! WHO WILL WIN?

Back to the OBGYN I MEAN LGBTQ Center costume party, where Jay the Banana is concerned about Romi Flinger's nipples, which are visible underneath her flesh-covered leotard.
Romi's cool with it: "It's fine, it is, they're gonna like it!" Jay counters: "What if I was walking around with my weiner hanging out, would you like that?"  I think it's rhetorical though, so don't wear out your brain thinking it over.
Romi interviews about how she's nervous to tell people about Jay, even though she already did, but whatever show oh my sweet figs of Jesus I cannot believe this is only the first episode. Don't worry, I'll turn this frown upside down starting next week and be really fun about it, I promise. I just need to like, get back in the game.
Romi: "I never came out, I was raised by two Moms, so it was like, the gayest home so when I was like hey I'm gay, they were like okay YAWN. I like a guy, and now I get what it's like for people to feel kinda like, nervous to tell people, because all my friends are lesbians, all my work are lesbians, I'm on The L Word. I feel like i'm coming out and just praying that people get it and are supportive. and if they don't get it, just that they're kind with their words."
The two hit up the red carpet for assorted unseemly antics:
Photographer: "You've got to eat the banana, Romi!"
Romi: "I DO eat the banana!"
The camera loves her:

Back to the Hunter Valentine Spectacular Show in New York City, home of people who can make it anywhere.
Kiyomi emerges from the building post-show with ladies she describes to Somer as "big supporters of Hunter Valentine," which btw, for anybody here who's never been the owner of a passion-project-turned-business whose success is determined by fan support, is code for "I'm about to introduce you to two people I want you to treat like royalty, please. They have supreme taste and are therefore supreme beings."
But Somer's concerned about her wife's whereabouts, mostly, and Ali's standing off to the side with her Trapper Keeper, seemingly unaware that Kiyomi talking to fans after the show is massively important. Random drama ensues:
Ali: "I'm definitely put on the backburner sometimes and that's really hard. I get emotional and I get needy, and sad, and when I'm drunk, I you know, really wanna push her buttons."
Gripping drama ensues!
Ali: "You couldn't even like, acknowledge my presence."
Kiyomi: "When I came out and I saw you and you were over here –"
Ali: "You didn't even say hi!"
Kiyomi: "–and I was talking –"
Ali: "You didn't even say hi!"
Kiyomi: "I was talking to my friends, Ali. I was talking to my friends–"
Ali: "I respect that but you couldn't even like, acknowledge my presence."
Kiyomi: "I did acknowledge your presence."
Ali: "No you didn't, you didn't say hello to me."
I wanna live on the moon! WHO'S WITH ME?!!
Kiyomi Drama McCloskey: "My relationship with Ali is becoming quite toxic, it's gotten into a cycle where we fight, and then we make up, and then we have make up sex and then we fight, and then we make up, and then we have makeup sex, so I'm starting to think that she just likes to fight because of the making up."
So they go back home and somebody suggests they take a shower, because you know, TAKE ALL THE SHOWERS, and then they do the horizontal mambo, but vertically.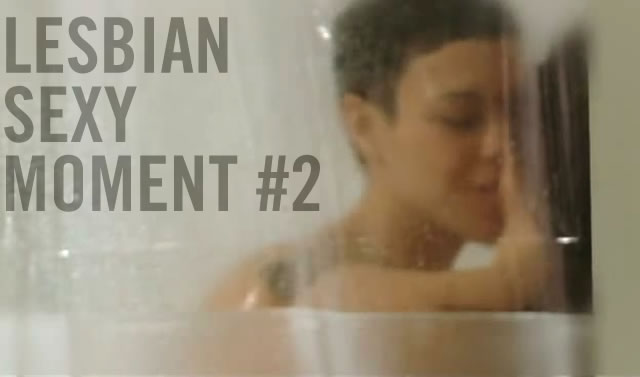 Back in Stormy Sunny Sapphic Shady Los Angeles, we zip-a-dee-do-dah on over to The Wedding Ring Store, 'cause Whitney's buying a ring for Sarahara so that Sarahara can participate in that whole Captin Planet thing where they have magic powers from rings:
Whitney: "I'll never look back and think, I wish I'd hooked up more, or I wish that I'd played the field, or I committed too early, or anything like that, because I did it all and I found the person that I love that I'm supposed to be with."
Well then. That's the episode! Oh wait — one more thing: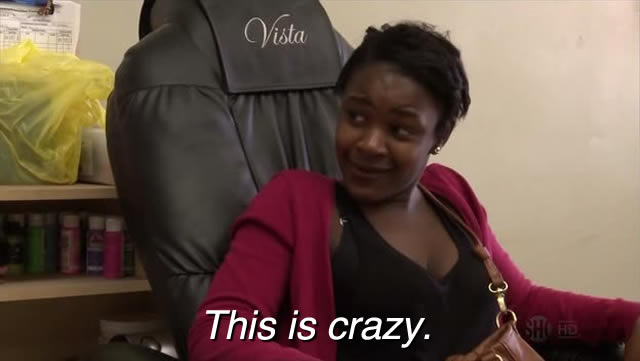 Pages: 1 2 3See entire article on one page