Welcome to the first recap of the first episode of the third season of The Real L Word, an hour-long drama about a pioneer woman with gigantic sleeves and weird hats who journeys to Colorado Springs to become a doctor at a time when women were not doctors (because of the patriarchy).
WeHo town, it's a quiet village, every lay like the one before, WeHo town, full of stylish people, waking up to say … Bonjour! Good day!  How is your gay family? Bonjour! Good day! How is your wife? I need! More sperm! That's too expensive! I want much more than this Sho-vincial life…  just watch I'm going to make Sara my wife!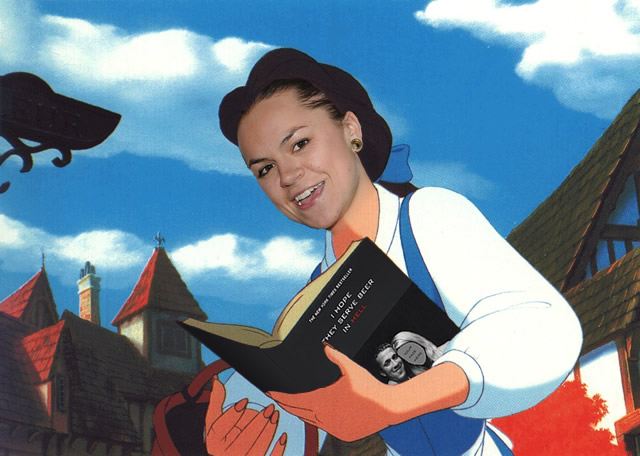 There goes the hipster with her hair like always, the same old fashion shows to sell. Every morning just the same, since the morning that we came to this poor reality show –
GOOD MORNING, HELL!
Sheesh. I'm exhausted. Wow. So, The Real L Word! On a scale of one to ten, I found this episode slightly more interesting than the Home Shopping Network.
Just one diversion before we lick our lips and dive in to this moist cave of despair — embarking upon the third season of The Real L Word makes me think back to the third season of Ilene Chaiken's other moderately-successful hit Showtime series, The L Word. You remember, don't you? That glorious march of doom? The season in which the ladykiller finally made a commitment and moved in with her sexy girlfriend and then proposed to her? The season in which we fell to collective pieces in the wake of a tragic and untimely death? The season in which a woman who'd been in a lesbian relationship for the past 8.5 years got in touch with her lingering desire for men? Yes, that season. I hated that season.
Anyhow, let's get this shitshow on the road!


We open in sunny Los Angeles, California, where glamorous supergoddess Romi Flinger is cruising past Tuna-Town while talking about herself: she's been sober for a year, lost a lot of friends, is "madly in love" and is wearing 76 individual pieces of jewelry at the same time including sapphire studs on her interior vaginal walls.
Did I mention that Romi Flinger is in love? Well, she is:
Meanwhile, elsewhere on Los Angeles' labyrinth highway system, Whit-me is driving her car, talking about herself. 
The Pride of West Hollywood has "fallen in love," which is so "crazy" that she "can't even wrap her head around it." Plus, that stupid hat's in the way.
Thus we zoom gayly forward accompanied by not only Whit-me and Romi Flinger's Life Updates, but also by the vexatious vibration of the insufferable BETTY-esque vocals intoning "You got to show me how you move, move, move / if you wanna see my hotel room." Ain't that the truth.
Whit-me and Romi Flinger, seemingly spilling over with desire for their aforementioned lovers, return home — Whit-me, of course, returns to Sahara…
…and Romi, of course, returns to … men?
Yup.
Romi: "For the past six months, I've kind of been living this secret life. I don't know, it's time to just, stop."
Indeed, Romi's been inspired by the nearby camera crews to reveal her present activity partner, Jay, an admission which shocked my socks off only 'cause I thought Romi's boyfriend this season would be this Dusty character from their special tumblr, and I'd been hoping and praying that Dusty would be a super-awesome smart feminist or something and this storyline would be really enlightening and complicated. HAHAHAHA!
Anyhow, guess what else is ready for its reveal?
Romi's boobs! And um, Romi and Jay fucking!
Now, bisexual women are glorious humans near and dear to my heart and vagina and former self-identification and personal history and reading list, but MEN, on the other hand? I hate men. Reader, let me be honest with you: this show's single redeeming factor was its consistent lack-of-men. It rarely subjected me to the thoughts or feelings of modern man, let alone their sexual desires, let alone actual heterosexual sex, which I maxed out on personally between the years of 1998 and 2005 and in any event I could watch heterosexual sex on every other show ever made about anything, ever. Can't we get one corner of the sky?
[Fun Fact: only 61% of The Real L Word's audience is female.]
Meanwhile, The Pride of West Hollywood got so steamy on her way over that she requires an immediate shower and fingerfuck (to wipe off the stench of pussy juice and creamed corn and replace it with the stench of pussy juice and Bath & Body Works).
BANG!
Thus the season kicks off with a sex montage of Whit-me/Sahara and Romi Flinger/Jay. Yay! Sexathon forever! Sigh.

Let's travel to New York City, my home and native land (not really, Michigan is my home/native land, but New York City, where I lived for six years, is the only girl I've ever really loved) (besides my girlfriend) (who just said "I feel like a Real L Word widow"), where Hunter Valentine has trekked all the way from the Yukon Yak-and-Harp-Seal-laden lands of Canadia to "make it" as ROCK GODS.
Let's meet the band! First up is Kiyomi, Hunter Valentine's lead singer:
Kiyomi founded this band with Laura eight years ago. Laura's on drums:
Vero, no relation to Vemo, is on bass. She's been in the band for about a year:
Last but not least, Hunter Valentine has just added a new keyboardist:
Wait, sorry, wrong picture. New keyboardist:
Yup, Somer is another lesbian with a cool haircut giving me perfect-jaw-envy (I've got a "weak chin" and thus am obsessed with humans who've got amazing jawlines, e.g., Tegan & Sara, Clea Duvall, SOMER BINGHAM). Howevs, as the above streetscape suggests, Somer's not at practice which's unfortunate 'cause they've got a "tour" to prepare for — HV's got a gig coming up at South by Southwest, the Austin, Texas-based music festival I've got fond fond memories of.
Rather than employ cellular telephone technology to locate and/or reprimand Somer, Hunter Valentine rehearses sans-keyboard and by "rehearses sans-keyboard" I mean "bitches about having to rehearse sans-keyboard."
Kiyomi: "This is pointless because we don't need to practice these songs."
Laura: "It's actually Somer who needs to practice these songs."
Kiyomi: "— or we need to practice these songs–"
Both: "With Somer."
Kiyomi interviews that Somer's been her friend for ages and is a great musician but has band "commitment problems." Also:
Anyhow, where the hell is Somer? Perhaps Waldo knows…
Smear over to the cold mid-afternoon streets of Brooklyn or Queens, where Somer's dog-walking with Donna, her girlfriend of four years to whom she wedded in holy matrimony just this past summer.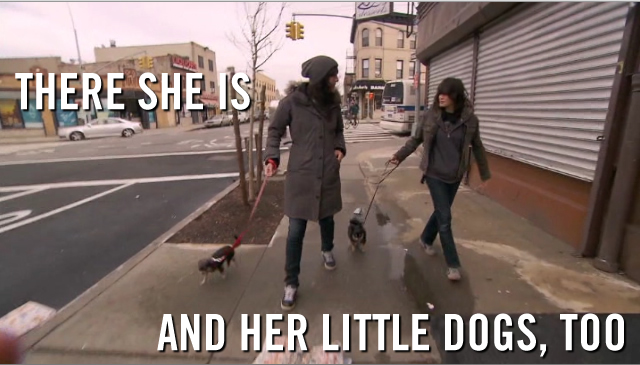 I bet when Donna signed up for "in sickness and in health" she wasn't aware she'd be subjected to constant expository conversations, like the enchanting exchange about Somer's work and practice schedule the passionate duo engage in while dog-walking.
Somer interviews to set up her story arc/"conflict" for this season:
Somer: "The tour is supposed to be a trial period for me to see if we click on stage, if I have a good time playing the music, if we get along, for the band to make sure that I'm the person that they want, that they can get along with me, also in terms of my relationship with Donna, to see if our marriage can take me being away for weeks and months at a time."
There's some kind of transition to Somer finally showing up for practice which I've since forgotten and then here she is, surrounded by women with large instruments who are seething with passive-aggressive resentment towards Somer and her cute haircut and perfect jaw and latey-late-lateness.
Apparently Somer's acquired minimal knowledge of the set-list but nevertheless exudes a maximum capacity for fun-fun-fun as well a maximum capacity for pushing Kiyomi's buttons. Kiyomi declares, "we need to practice this song like ten times."
Vero is super-jazzed about that suggestion:
More importantly, you may notice that Kiyomi is gradually applying more layers from interview to interview throughout this scene, suggesting an issue with climate change:


Psychotic Barbie music transitions us back to the doctor's for The Return of Cori & Kacy, who you may recognize as the only cast members you still liked by the end of Season Two:
Cori & Kacy are hanging out at their favorite snack shack, The Gynecologist's Office! On the menu today: an ultrasound of Cori's four-month-old fetus situation! Yup — Cori and Kacy finally got pregnant.
Lemme take a sidenote time out and issue a SPOILER ALERT for anybody who doesn't already know what I'm about to say, but I'm pretty sure anybody who cares about this show already knows this — Cori and Kacy are going to lose this baby, and we know this because we wrote about it when it happened and you probably read it. I can't even watch these scenes without thinking how hard it must be for Cori & Kacy to watch these scenes.
It's just so tragic and so sad, because these two are so sweet and so rad, and so earnestly pumped about their potential offspring but all that joviality is impossible to enjoy, let alone mock (as recappers must), when one knows what's coming. I can't even bring myself to ask Intern Grace to photoshop a tiny hat onto this ultrasound.
Cori: "After a few rounds of unsuccessful inseminations, everything that we've been doing this past year has finally worked."
Kacy [to Cori]: "Little Mamasita!"
[Cori gets teary-eyed]
Cori: "I mean –"
Kacy: [pointing at Cori's teary face] "That's the best part."
Cori: "We're gonna have a baby!"
Kacy: "You see this, do you see the happiness here? That's the best part."
Cori: "It's the hormones."
Kacy tells the story of Cori leaping into bed with the freshly-peed-upon positive pregnancy test stick and they both get teary and also happy but also exhausted and then the doctor tells them they're having a girl, and they're so happy and this is me: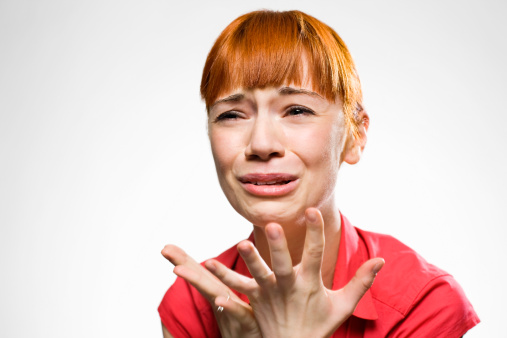 Back to Sarahara's Sugar Shack, where Whit-me and Sarahara stick food in one another's mouthholes while interviewing about how they used to be mega-dysfunctional, which segues into a charming retrospective of some of their best moments:
But now that they've taken a leap of faith bla bla bla they can love each other forever in the same apartment, like baby birds:
Whitney: "I think we've come so far because we've allowed ourselves to fall in love."
Luckily, says Sarahara, they realized the only thing keeping them apart besides Whit-me's contractual obligation to be The Player was their "walls" and now they've taken their walls down, let the cameras way way way in, and thus embraced the mystical "connection" we've heard so much about.
Also:
Whitney: "Since Sara and I got really solid, Romi and I are not friends. Just because I think Sara felt betrayed."
It's okay, I get it — Romi inspired the Who's At The Door Montage, and therefore Sara got left out of that whole private meme. It's okay, Sarahara, I had Grace make you one:
Sarahara points out half-heartedly that "it's hard to love somebody with your whole heart," which isn't true. Have you ever tried winning a round of Chopped with a whole (cow) heart in your basket? That's hard.


Smear over to the "Lyon Fine Jewelry Launch," which we're segued into with "Chic Los Angeles nightlife music." It's time to meet Lauren Bedford Russel, this sort of glamazonian blonde/pink-haired lesbian with shiny teeth and confident sex-appeal.
So Lauren moved here from New York ten months ago and her jewelry is super-special and super-expensive and super shiny and AMAZING. In other words, Hija Por Vida, IT IS ON.
Her launch is attended by familiar faces including Whit-me and Whit-me's Wholehearted Love, Sarahara. Whit-me knows everybody, because she's dipped her salami in everybody's asiago cheese ball, so obviously she knows Lauren, but she doesn't "KNOW" Lauren, if you know what I mean, but guess who does KNOW Lauren (LIKE THAT)? Kelsey!
Yup. It seems Kelsey, Romi's ex-girlfriend, rode another pink-haired beautiful tall jewelry designer's pony recently.
Lauren: "I hardly know Romi at all and yet there's some crazy rivalry, I don't understand it, maybe she's uncomfortable because Kelsey and I sort of liked each other for a minute?"
Fuck that shit, Lauren's got her eyes on the future:
So Amanda's being shipped to Los Angeles for the program, obviously, and whatever story they made up to explain it escapes me now but regardless the point is that Amanda and Lauren are "friends with benefits" and "of course we're gonna end up hooking up." So, you know. WATCH THIS SPACE.

Just to recap this recap thus far: this season's allegedly about lesbian life in Los Angeles and New York City, but the NYC cast consists of a four-man band from Toronto who record in Toronto and are about to leave for Texas and a girl from New York City who's moving to Los Angeles. If this is supposed to be New York City vs. Los Angeles, I think Los Angeles is winning? Womp WOMP.


But they don't make them like this in Los Angeles:
Anyhow, let's meet Amanda!
We don't really "meet Amanda" this episode as I'm still not clear if she's a stylist, promoter, makeup artist or jewelry designer or maybe even something totally different we've never seen on this show before. Maybe she's Catwoman?
Amanda and her lesbian hipster friends have gathered at a watering hole to bid adieu to their friend who, if the ensuing three minute monologue is any indication, hasn't told anybody anything about her life or future until this very moment.
Amanda's gonna get all city girl on you:
Amanda: "Lauren and I have always talked about living together, like, growing our lives together, and it was just really important I think, for us, to do it while we're young and we can afford it, and we can just explore and see what we want."
Much like Whit-me and Sarahara circa Season Two (jesus shoot me I can't believe I even know this), Amanda and Lauren have always had sexual tension but have never lived in the same city while single before.
Amanda: "There's always been a sexual tension between Lauren and I since like, the minute we met, which is why it makes everybody that loves us and dates us so uncomfortable."
Therefore, Amanda's upcoming move to Los Angeles will be The Ultimate Challenge!
"It's getting a little crowded, let's go to the bar," says Amanda. Ahhh the bar. Always a great place to stretch one's limbs on a Friday night.

We zoom to another part of the city where Kiyomi's returning to New York City from an Album Recording Adventure in The Wilds of Toronto to stay with her not-girlfriend, Ali.
Not-Girlfriend (noun) – Female with whom you sleep most nights and talk every day but do not consider yourself formally or monogamously involved with. Traditionally, not-girlfriends might always have dinner together, but are not one another's go-to dates for weddings and office parties.
Ali's been slaving all day over a hot oven to create a musical-note shaped cake for Kiyomi, which is so fucking ridiculously cute that Kiyomi will be punished in the afterlife for not immediately undressing Ali and eating frosting off her nipples.
Kiyomi and Ali interview regarding their variant perspectives on their relationship, which began maybe four or six or a billion months ago, I forget.
Kiyomi: "We're not in a committed relationship, we're supposed to just be casual, but we talk to each other every day and I just — I dunno where this is going."
In other words, Ali thinks they're basically girlfriends and Kiyomi is doing that thing where you say you're not girlfriends but go completely batshit if your not-girlfriend talks to, kisses, or expresses physical attraction towards any other human being, ever.
Ali interviews that she and Kiyomi met through a mutual friend at a bar and then immediately hooked up in the bathroom, a story that she stole from me and my ex, Alex, and probably at least eighteen people reading this right now. Except for the next part where Ali woke up to find Kiyomi in her bed, like when Baby Bear came home and found Goldilocks in her bed.
Kiyomi: "Kissing you is so much different than all the other girls I've been kissing."
Play on, player, play on.

It's a brand new day, week, month or season in sunny Los Angeles, California, and a pink-haired Romi Flinger has gathered her trinkets and hat to hit up The House of Whitney's Exes.
So, Alyssa now lives with Rachel and Jaq and they're all here today to revisit the portico and feign interest in Romi's dirty deets. But first, seeing as we're in the euphoric presence of at least four of Whit-me's previous lovers, they must discuss Whit-me's activities and whereabouts, namely her decision to "make it work" with Sarahara.
Romi laments the dissolution of her friendship with Whit-me:
Romi: "It's Sara! Sara has corrupted her mind that I'm some sort of evil human being, and I'm still not comprehending why Sara thinks I'm so bad."
Alyssa interviews that Sara's uncomfortable with Romi and Whit-me being friends 'cause Whit-me and Romi might fingerbang again, or something? Sounds stupid. Anyhow, it'd seem Whitney's Exes still aren't hot on Sarahara's jock.
Enough screwing around: all eyes on Romi. Her hair is bright pink, so that's the rule.
Alyssa: "So what else has been going on in your life?"
Romi: "I'm dating someone."
Alyssa & Rachel (softly): "wait whaaa–"
(Romi grins, laughs)
Alyssa: "Who are you dating?"
Romi: "I've been dating someone for over like six, seven months now –"
Alyssa: "Wait — who are you dating…?"
Jaq: "You were dating your ex, though?"
Romi: "Mmhm."
Jaq: "You're dating her again?"
(Romi nods "no" and smiles)
Alyssa: "Who are you dating?"
Romi: "I've been dating my ex-boyfriend Jay and I've been keeping it a secret for months and I'm going to stop hiding it."
Alyssa: "I'm judging you right now."
She's JK'ing, of course, and promptly explains that lesbians are quick to excommunicate bisexuals who "switch-hit" but she's "not that guy" because she's Alyssa The Whitney Whisperer, and she does everything right. Fact.
Alyssa: "As long as someone's happy and they're making decisions that are gonna enrich their lives, then I'm happy for them."
Sidenote; if you live in the same city and are under the same contractual obligation to the same television network and make appearances at the same parties as all of your friends and you've managed to keep your boyfriend a secret from them for six entire months, then y'all aren't very good friends!
Romi wants to know if she's still allowed to talk about her sex life, because we can't talk about TomKat forever.
Jaq: "I'm sure we've all sucked on a strap-on before, we all know how it goes."
Romi: "Yeah, we all know how it is."
Alyssa: "Um… NO."
Rachel: "Nooooo!"
Alyssa: "No, never."
Romi: "Well I got tired of that strap-on not working."
Pro Tip: If you wanna keep Team Lezzer close to your wild heart and Team Bisexual close to your wild soul, you can't go knocking girl-on-girl strap-on-related sexual practices as somehow inferior to your boyfriend's penis-related practices! "I got tired of not being able to get legally married." "I got tired of not being able to kiss my girlfriend in public." This is like playing Oppression Olympics by just declaring yourself the winner and leaving the building.

Thus we zoom on over to Chez KaCor, where the radiant couple is discussing — surprise! — babies. They've even adorned their refrigerator with their own baby pictures to enhance the baby-centric babiness of Babyland (not to be confused with Babeland).
Kacy: "I know that a lot of people are like gahh gay parenting, whatever, but there's so many people that are so excited about this, it's just — everything is right."
You wanna know how this makes me feel? Like this, that's how:

KaCor inform the sister that the baby is a girl and they're gonna name it Charlie, probs because of Dianna Agron.
Who's ready for the cutest cuteness this side of the Mississippi St. Cute River of Cuteathority? I AM!
Cori: "The worst part of being pregnant has definitely been the morning sickness, the tiredness, the crazy cycle mood swings —"
(Kacy starts laughing)
(Cori starts laughing)
Kacy: "I have bite marks, literally, on my face, from having it being bit off — it's A LOT."
(Cori makes a face)
Kacy: "Look, see? Six months ago, that would've rolled right off her back. Might have even gotten a laugh. Now, it gets a look."
Cori says Kacy takes great care of her and is particularly adept at applying lotion to her belly.

Elsewhere in Shady Sapphic Los Angeles, Whit-me's at home getting some air for her hair when Alyssa calls her for the "Whit-me finds out that Romi Flinger is dating a dude" scene.
Following a halfhearted intro, Alyssa comes out with it:
Alyssa: "Her news was that she is dating a guy again."
Whitney: "I mean, DUH."
Alyssa: "You knew?"
Whitney: "I mean, no, but I knew — I have had a feeling she's been hooking up with dudes the entire time! She's not exclusive to the ladies, I've known that for sure."
Alyssa: "She I guess got back together with Jay—"
Whitney: "I mean when I met Romi she was with him — she was with him when I met her."
Whit-me's got extra feelings and facial expressions for this golden moment of cinematic excellence, during which at some point Whitney calls Romi "Romi Flinger," which as you've likely noted, I've adopted for the duration of this season.
Alyssa: "She didn't want to say anything because she didn't want all of us to sort of cast her out."
Whitney: "Why would anyone cast her out for that reason? There are so many more to choose from!"
Reader: I laughed. This line made me laugh for a good 45 seconds. It was a perfect joke. Four for you, Whitney Mixter. Four for you.
This is what that might look like, by the way:
Later that night, Whit-me informs Sarahara that Romi Flinger is doing the horizontal mambo with a man named after a bird, and Sara's all like:
Sara: "Romi will do anything that gets her attention. That's what Romi does. Whether or not Romi wants to be with women or be with men — whatever keeps people talking about her, looking at her, that's what she's gonna do."
Sara: "What is there to say?"
Whitney: "Nothing."
Sara: "She's not gay."
 Ilene Chaiken cannot tell stories about bisexual people. It should just be illegal. 

Let's get bicoastal and head back to New York City, where we're toasting to Hunter Valentine's first show all together as a team!
Kiyomi declares "we're rock solid now" and then adopts a terrifying facial expression to ask Somer, "What about YOU?", to which Somer seems to respond with a slight-head-cock best described as a "Really Papi, Really?" facial expression.
"Are you jealous of our rehearsal time?" Kiyomi continues as Somer cocks her head to the other side. "Maybe you should come," Kiyomi snarls.
Outside, Kiyomi and Somer are having a heated confrontation with body language that suggests they wanna fuck each other really bad, except actually they just wanna talk about their feelings really bad. Or, well, Somer does. Kiyomi's busy.
Somer interviews that she's used to being the Biggest Most Important Band Member like she is in her band Clinical Trials and that she and Kiyomi are "both a bit bratty" and "both alphas." They're also "both drunk," I think, so this kinda just goes on…
Somer: "There's a lot of factors that we're dealing wth. We're dealing with a new band, we're dealing with new songs, we're dealing with me giving up something else that I've been working on for a long time, and we're giving up like, Donna and I are newly-married couple, we're like a newly married couple—"
Kiyomi: "I know, we'll figure it out together. And if we can't figure it out together, I understand that you have to move on and do your own thing."
You know how newly-married couples are. Thank you cards to write, joint tax returns to fill out, sex to consider having. They've just got a lot of shit going on. Speaking of shit going on… Ali & Donna are feeling thwarted on the other side of the room, so their ladies mosey back over for more one-on-one time —
Kiyomi: "I want some nookie. Come in the bathroom so I can attack you."
Ali: "I'll just have sex with someone else. Because we're in a non-monogamous relationship so."
Kiyomi: "Don't be like that."
Ali: "That's your rule."
Kiyomi: "Don't be like that."
Ali: "Baby, I wanna have sex with you."
Kiyomi reminds Ali that she can do whatever she wants to do in the voice you use to say that if she does whatever she wants to do then Kiyomi will totally freak out.
Kiyomi: "If you wanna have sex with other people, you can have sex with other people."
Ali: "Well, I will."
Kiyomi: "Gross. I mean, you can do whatever you wanna do –"
Ali: "I know I can, and so can you."
Kiyomi: "Yeah, that doesn't mean that is' not gonna make me sick if you are talking about it–"
Ali: "Yeah but you can too, and it's your rule!"
Kiyomi: "It is my rule."
G-dDAMN could I go for a Kiyomi Whisperer right now…
Laura: "I would like to say that Kiyomi's middle name should've been "Drama." I always think it's funny when Kiyomi says oh my god that girl is just SO dramatic for me, and I'm like uhh — I think it might be you, just a little bitttt, you know?"
PREACH.


Back in Sunny Sapphic Los Angeles, Kelsey's being filmed sitting at her laptop looking at photographs of Romi on facebook.
Kelsey: "I found out that Romi's back with Jay. I'm more hurt at this point because it takes away from anything that she said to me about wanting to marry me, or wanting a life with me, and just so easily to be with a man. It just kinda repulses me."
Regardless of Romi Flinger's present desire to ride Jay's pony, I'm pretty sure that "breaking up" is the moment in which you realize your significant other no longer wants to marry you or have a life with you. But whatever, it's The Real L Word. Kelsey looks nice!

Elsewhere in Sunny Sapphic Los Angeles, Sarahara and "Sara's friend Brandi" are hitting up one of Hollywood's many half-empty restaurants to set up the Sahara/Whit-me marriage storyline.
You may recognize Brandi from The 2012 Autostraddle Calendar — she did hair & makeup and was featured as Miss August 2012! (Previously: Romi is Miss December 2011 & Francine is Miss June 2012) If you didn't, that's okay, I didn't pick it up 'til the second time I saw the episode, so.

La la, blocks and bricks and blue and sunsets and lollipops and hernias and swimming pools and sticks and stones and bones and phones and loans selling seashells at the seashore, bla bla bla:
Brandi: "So what's next? Babies?"
Sarahara: "Whitney's about to turn 30. My career isn't exactly where I want it to be. When it gets there, yes, but—"
Brandi: "Marriage before babies?"
Good question, you never know when you might get drunk and break into a sperm bank with a turkey baster in your back pocket, yannow?
Sarahara: "I'm definitely ready to take a step further with Whitney and would love to marry her, I just think that for Whitney it is something that can make her a little uncomfortable because I don't think that her past experience of marriage has been correlated to a positive experience."
Yes, like so many homo sapiens living/breathing on this earth today, Whitney's parents got divorced. My parents got divorced too and all I got was this stupid t-shirt!

Back to The House of Whitney's Exes for Whit-me's appointment with Alyssa The Whitney Whisperer, in which Whit-me informs Alyssa The Whitney Whisperer she intends to tie the knot with that girl Sarahara who is always doing evil things off-camera.
Whitney: "Let's talk about how much you miss me."
Alyssa: "When are you moving back in?"
Whitney: "Um, you're gonna have to build an extension for the back."
Alyssa: "An extension? For all of Sara's shoes? Or clothes?"
Whitney: "No seriously."
Alyssa: "Or g-strings?"
Whitney: "Those take up a very small amount of room."
Alyssa interviews that she thought Whit-me and Sarahara's decision to shack up was motivated by Whit-me trying to 'prove something' and that it'd last about as long as my interest in this television program, which peaked when Claire told everybody they were fake and crazy and hasn't really picked up since.
Back in the interview room, Whit-me has a question only Whit-me can answer:
Whitney: "Gay marriage is not legal in california. will it prevent me from getting married regardless? No."
Also:
Whitney: "Marriage means a commitment to me, like I wanna have kids, and I know that it's really important to Sara to get married before that happens, and she's who I wanna raise a family with."
Alyssa advises her not to rush into anything and Whit-me promptly disregards that advice.


Elsewhere in Sunny Sapphic Los Angeles, Romi and her beaux are preparing for their first gay outing as a not-gay couple. They're hitting up the LGBT Center's Halloween Party!
Romi interviews that she's nervous about debuting this slab of man to The Community:
Romi: "In the gay community, lesbians can be really harsh towads women who sleep with men again. Like, what is she doing, is she a real lesbian, is she not a real lesbian? What's a REAL LESBIAN? What, all the years that I was eating pussy and like being with my girlfriends and madly in love and wanting to get married to them I wasn't a lesbian? Okay."
AHEM: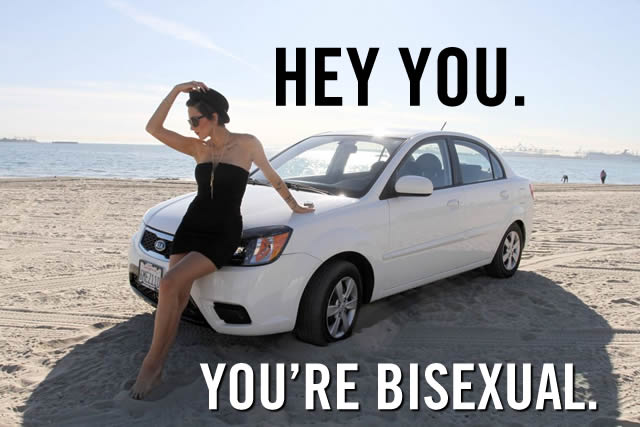 Romi explains that she acquired her mystifying nickname, "Tender," from Jay — Romi actually met Jay through her friend and Jay's then-girlfriend Carla, who you may recognize from her work kissing Romi on Romi's t-shirts or from looking exactly like Romi…
…see, Carla is mean, or something, so Jay would call Romi the "tender" one. And look at Romi & Jay now, getting all tender over each other's loins.
Romi gushes about Jay's supreme sense of humor and Jay makes stupid jokes and Romi erupts into fits of hysterical laughter.
Romi: "I don't know, he's a boy. He's simple. There's just so much between two women and sometimes it's nice to have someone just fun and simple to enjoy your life with."
Let's all go eat ice cream cones together and dive into the ocean and swim and become dolphins in a new land where Riese doesn't have to write this stupid recap.
Jay: "If you know Romi, she's kinda schizo, so she runs around and the fact that she's been with women doesn't bother me, like, should it bother her that I've been with other women in the past? It just so happens that she's dated other women. Yay for me! [laughs a lot] So what are you gonna say, you know? I'm a guy and that's how we think."
Oh, this is fucking fantastic. Negative four for you.
Romi Flinger: "Why do you look so ridiculous?"
Jay Hudson: "'Cause it's Halloween."
Romi: "Why do I wanna fuck you?"
Jay: "Because you always do."
Romi: "I got a problem, we gotta work on it."
Jay: "You got a sex problem, thats why I like you, I told you the day I met you."
If this was a fictional show about characters, I'd have quite a few complaints to register regarding their portrayal of bisexual women. Remember when Tila Tequila had a show? That was so weird. Remember when Romi dated Dani Campbell for a minute? Also interesting. You know what else would be interesting? If the entire cast had to dress up like Zoobilee Zoo all the time.
Oh right and:
Jay: "We're going to the OBGYN."
Romi: "No, we're not going to the OBGYN , we're going to the LGB —"
Unfortunately Romi's unable to complete her sentence, having found Jay's belittling of the community this show allegedly represents absolutely HILARIOUS.


Back to New York City, where Hunter Valentine featuring Kiyomi Drama McCloskey are entertaining a romper room of alternatively-coiffed ladies who wanna bang Kiyomi Drama McCloskey with their socks on.
Vero asks for more guitar on her monitor and Somer announces that she'd like her wife to get her a scotch. Somer is a girl after my own heart.
Somer: "The thing that makes me feel the sexiest is being on stage. I mean being on stage fulfills so many things."
If you've never seen Hunter Valentine live, good news: they put like the entire fucking concert in this episode! One of the songs is a song that Kiyomi Drama McCloskey wrote about Ali:
Kiyomi Drama McCloskey: "Basically it's about two people that are so stubborn that they can't figure out a way to be together and get along."
Ali: "We're both Tauruses, so we're stubborn assholes. But it works!"
Watching Kiyomi Drama McCloskey perform makes Ali wanna rip her clothes off. Coincidentally, the rest of the women in the room feel exactly the same way! WHO WILL WIN?

Back to the OBGYN I MEAN LGBTQ Center costume party, where Jay the Banana is concerned about Romi Flinger's nipples, which are visible underneath her flesh-covered leotard.
Romi's cool with it: "It's fine, it is, they're gonna like it!" Jay counters: "What if I was walking around with my weiner hanging out, would you like that?"  I think it's rhetorical though, so don't wear out your brain thinking it over.
Romi interviews about how she's nervous to tell people about Jay, even though she already did, but whatever show oh my sweet figs of Jesus I cannot believe this is only the first episode. Don't worry, I'll turn this frown upside down starting next week and be really fun about it, I promise. I just need to like, get back in the game.
Romi: "I never came out, I was raised by two Moms, so it was like, the gayest home so when I was like hey I'm gay, they were like okay YAWN. I like a guy, and now I get what it's like for people to feel kinda like, nervous to tell people, because all my friends are lesbians, all my work are lesbians, I'm on The L Word. I feel like i'm coming out and just praying that people get it and are supportive. and if they don't get it, just that they're kind with their words."
The two hit up the red carpet for assorted unseemly antics:
Photographer: "You've got to eat the banana, Romi!"
Romi: "I DO eat the banana!"
The camera loves her:

Back to the Hunter Valentine Spectacular Show in New York City, home of people who can make it anywhere.
Kiyomi emerges from the building post-show with ladies she describes to Somer as "big supporters of Hunter Valentine," which btw, for anybody here who's never been the owner of a passion-project-turned-business whose success is determined by fan support, is code for "I'm about to introduce you to two people I want you to treat like royalty, please. They have supreme taste and are therefore supreme beings."
But Somer's concerned about her wife's whereabouts, mostly, and Ali's standing off to the side with her Trapper Keeper, seemingly unaware that Kiyomi talking to fans after the show is massively important. Random drama ensues:
Ali: "I'm definitely put on the backburner sometimes and that's really hard. I get emotional and I get needy, and sad, and when I'm drunk, I you know, really wanna push her buttons."
Gripping drama ensues!
Ali: "You couldn't even like, acknowledge my presence."
Kiyomi: "When I came out and I saw you and you were over here –"
Ali: "You didn't even say hi!"
Kiyomi: "–and I was talking –"
Ali: "You didn't even say hi!"
Kiyomi: "I was talking to my friends, Ali. I was talking to my friends–"
Ali: "I respect that but you couldn't even like, acknowledge my presence."
Kiyomi: "I did acknowledge your presence."
Ali: "No you didn't, you didn't say hello to me."
I wanna live on the moon! WHO'S WITH ME?!!
Kiyomi Drama McCloskey: "My relationship with Ali is becoming quite toxic, it's gotten into a cycle where we fight, and then we make up, and then we have make up sex and then we fight, and then we make up, and then we have makeup sex, so I'm starting to think that she just likes to fight because of the making up."
So they go back home and somebody suggests they take a shower, because you know, TAKE ALL THE SHOWERS, and then they do the horizontal mambo, but vertically.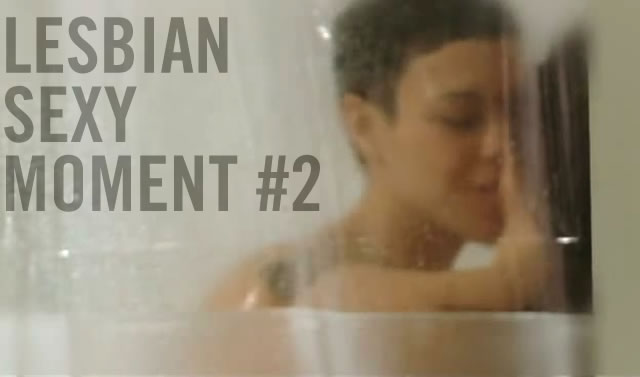 Back in Stormy Sunny Sapphic Shady Los Angeles, we zip-a-dee-do-dah on over to The Wedding Ring Store, 'cause Whitney's buying a ring for Sarahara so that Sarahara can participate in that whole Captin Planet thing where they have magic powers from rings:
Whitney: "I'll never look back and think, I wish I'd hooked up more, or I wish that I'd played the field, or I committed too early, or anything like that, because I did it all and I found the person that I love that I'm supposed to be with."
Well then. That's the episode! Oh wait — one more thing: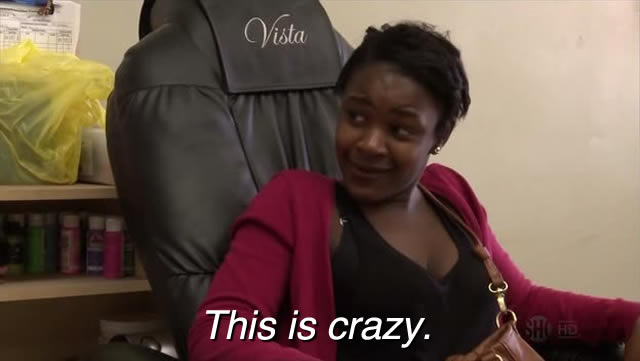 Pages: 1 2 3See entire article on one page