Welcome to NSFW Lesbosexy Sunday!
+ Poet Vita Sackville-West wrote the following love letter to Virginia Woolf in 1927:
"I am reduced to a thing that wants Virginia. I composed a beautiful letter to you in the sleepless nightmare hours of the night, and it has all gone: I just miss you, in a quite simple desperate human way. You, with all your undumb letters, would never write so elementary a phrase as that; perhaps you wouldn't even feel it. And yet I believe you'll be sensible of a little gap. But you'd clothe it in so exquisite a phrase that it should lose a little of its reality. Whereas with me it is quite stark: I miss you even more than I could have believed; and I was prepared to miss you a good deal. So this letter is really just a squeal of pain. It is incredible how essential to me you have become. I suppose you are accustomed to people saying these things. Damn you, spoilt creature; I shan't make you love me any more by giving myself away like this — But oh my dear, I can't be clever and stand-offish with you: I love you too much for that. Too truly. You have no idea how stand-offish I can be with people I don't love. I have brought it to a fine art. But you have broken down my defenses. And I don't really resent it."
+ In an interview with Salon, Eric Berkowitz, author of Sex and Punishment: 4000 Years of Judging Desire, discusses morality, past and present thinking, the reason for sexual laws, Oscar Wilde, and more:
"The regulation of sexual activity is always a work in progress. It's a series of give-and-take measures governed by a lot of moving parts – the morals of the time, the political needs of whomever is in power, the social needs of those being regulated and, more than anything, the tolerance of the population for the level of punishment being handed out. Often the absence of regulation is as interesting as regulation. I looked for where the law doesn't exist as much as for where it does."
+ ESPN's "The Body Issue" is always a delight and this year is no exception — Brittani wrote about it earlier this week in a post entitled "Abby Wambach is Naked In This Video."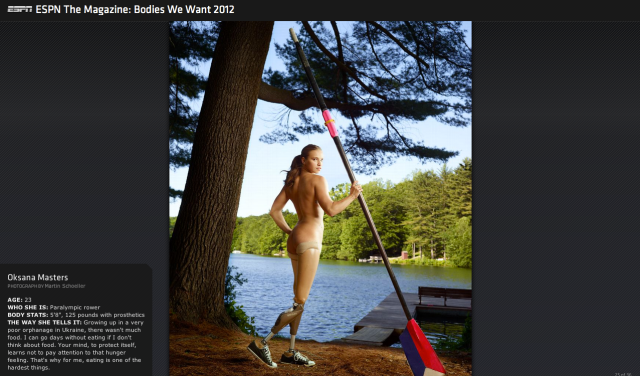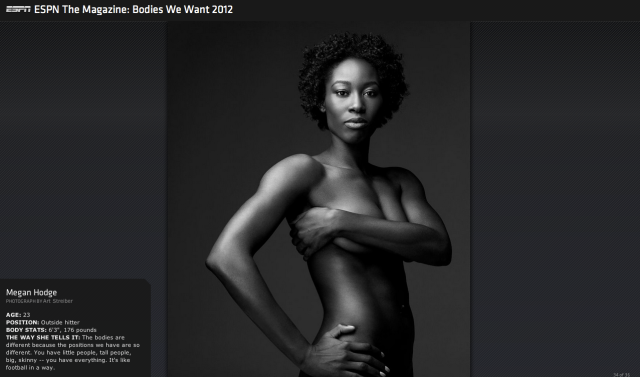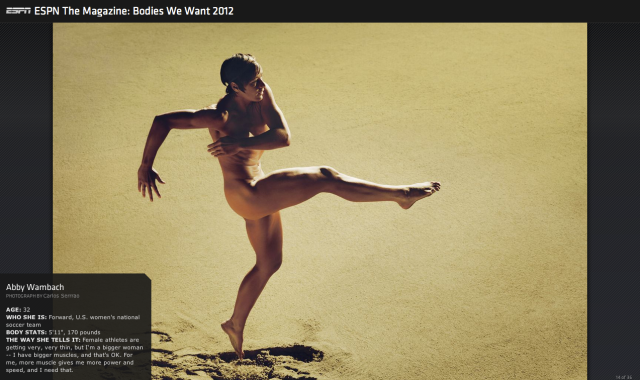 + Brain Pickings' has a post about a pop-up book called "The Naughty Nineties: A Saucy Pop-Up Book for Adults Only." By "nineties" they mean 1890s, by the way, and although it's not gay, it's still weird.
+ Clelia Dues Mosher conducted the world's first sex survey using 45 women she interviewed between 1892 and 1920. Their responses hint at the changing world of sex in the Victorian era, and flip a few stereotypes on their heads:
"The survey is more qualitative than quantitative, featuring open-ended questions probing feelings and experiences. 'She's actually asking these questions not about physiology or mechanics—she's really asking about sexual subjectivity and the meaning of sex to women,' Freedman says. Their responses were often mixed. Some enjoyed sex but worried that they shouldn't. One slept apart from her husband 'to avoid temptation of too frequent intercourse.' Some didn't enjoy sex but faulted their partner. Mosher writes: [She] 'Thinks men have not been properly trained.'
Their responses reflected the cultural shifts of the late 19th century, as marriage became viewed as a romantic union, not just an economic one, and as people began to dissociate sex from procreation, says Freedman."
Also:
"Some historical sources are misleading. As Degler pointed out in his 1974 article, until the Mosher Survey, much information about Victorian sex lives came from health advice books, like those of Dr. William Acton, who wrote in 1865: 'The majority of women (happily for them) are not very much troubled with sexual feelings of any kind. What men are habitually, women are only exceptionally.' But these books, wrote Degler, designed to urge temperance to young women, were prescriptive rather than de-scriptive: 'The so-called Victorian conception of women's sexuality was more that of an ideology seeking to be established than the prevalent view or practice of even middle-class women.'"
+ If your handlebars are lower than your bicycle seat, you might face sexual health problems, according to a recent study of female cyclists:
"The study found that placing the handlebar lower than the seat was associated with increased pressure on the genital region and decreased sensation, which reduced ability to detect vibration.
'Modifying bicycle setup may help prevent genital nerve damage in female cyclists,' said lead study author Dr. Marsha K. Guess, of Yale University School of Medicine. 'Chronic insult to the genital nerves from increased saddle pressures could potentially result in sexual dysfunction.'"
+ New Yorkers have the most sex, according to a recent survey of 1,000 people from 10 major US cities. Other findings include:
+ Americans are having more sex (151 times a year / 2.9 times a week) compared to 2011 (120 times a year / 2.3 times a week), sexual satisfaction is on the decline, with 67 percent of Americans claiming to be satisfied with their sex life in 2012 versus 76 percent in 2011.
+ Top ranking ways in which Americans charge things up include spontaneous sex (48 percent), using lubricant (40 percent), having sex someplace different (36 percent) and dirty talk (32 percent).
+ 32 percent of Americans have had sex outdoors, with one in three having hooked up on the beach or at a friend's place and one in four at their in-laws' house.
+ Bay Area residents prefer quality versus quantity, having the least amount of sex (120 times a year) and shortest sessions (31 minutes), yet have high rates of satisfaction (65 percent) and are least likely to fake an orgasm (31 percent).
+ The "She Raw" project by photographer Lilli Waters "aims to document 41 everyday women within a state of fantasy whilst drawing directly from their real-life experience context. This series of photographic portraits uncovers fascinations of the many engaging mysteries and hidden truths which lie, often undiscovered, beneath a woman's skin.
Disclaimer: All of the photographs on NSFW Sundays are taken from various tumblrs and do not belong to us. All are linked and credited to the best of our abilities in hopes of attracting more traffic to the tumblrs and photographers who have blessed us with this imagery. The inclusion of a photograph here should not be interpreted as an assertion of the model's gender identity or sexual orientation. If there is a photo included here that belongs to you and you want it removed, please email our tech director at cee [at] autostraddle dot com and it will be removed promptly, no questions asked.