Be prepared to delve into the eclectic and exciting city that is Minneapolis. Experience the vast queertopia where I have resided for nearly five years. Try to hide your excitement as you realize all of the queer opportunities this beautiful city provides. From the homeland of Paul Bunyan comes gayborhoods, queer dance parties, and burlesque shows, OH MY! I like things measured, so I decided to rate each section in this guide with 1 to 5 "you betchas!" I dare you to try to find a section that's under 3.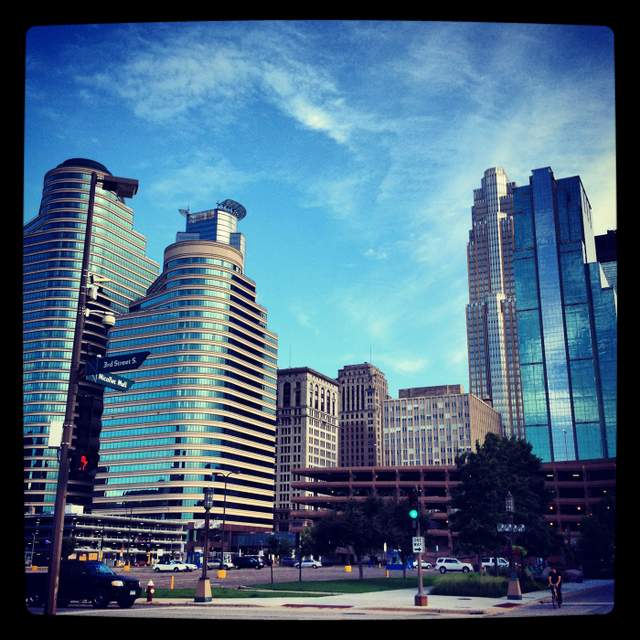 Datin' and Hookin' Up
The Minneapolis queer girl scene is fun and exciting with a wide variety of girls to meet. Alas, like most queer scenes, you can get a case of "it's a small world" real quick. One great think about Minneapolis is that I'm constantly amazed to find new queer "groups" and people that I never knew existed before, even if they somehow still know everyone you know. There are a lot of beautiful northern people up here too, just so you know. Our different events host a variety of different queer girls, so if you're not into one scene you can try a different one out. Just follow the guide below and you'll be well on your way to having a great time in Minneapolis, Minnesota.
Bars
Minneapolis has lots of "gay" bars, but you have to be kind of specific if you want to find the ladies. The list below tends to have the most queer girls hanging out just on regular, non-event nights. Use the google to find some of the other gay bars if you exhaust this list.
The 19 Bar (19 West 15th Street) is probably where I spend most of my time in barlandia. It's nestled in the Loring Park neighborhood (see below for gayborhoods) and is one of the oldest gay bars in town. It's definitely more of a dive, it's dimly lit from the ceiling, but I honestly think most of the light comes from the jukebox (packed full of Madonna and Prince). This is one of those beautiful bars where you can get a bag of popcorn for $1; yes, the microwave kind. They host pool tournaments and have a smoking porch out back, which is fantastic in the summer and offers lots of natural light when day drinking. Open Mon-Sun 12 pm to 2 am.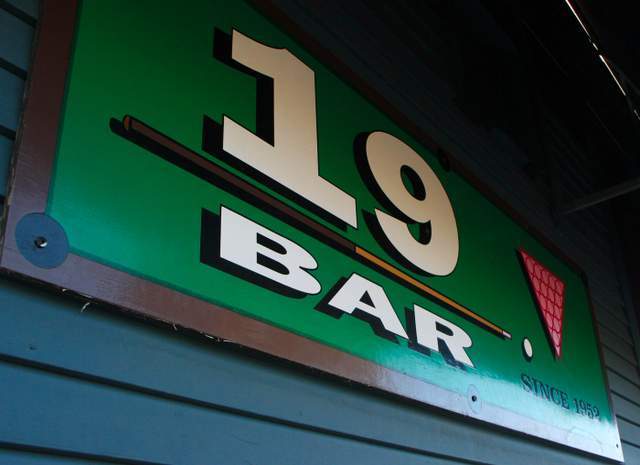 Lush (990 Central Ave NE) is a fairly new bar in NE Minneapolis. They host a weekly lesbian event and have a really cool space. They have a patio where you can do a variety of things…smoke, make out on one of the many seating arrangements, drink, fill in the blank. There is an open fire bar to keep you warm (which is sometimes important in Minnesota), but be very careful for loose clothing, scarves or long hair near the flame. I would assume you understand why. Open Tue-Fri 4 pm to 2 am and Sat-Sun 10 am to 2 am.
The Town House Bar (1415 University Ave W.) is in St. Paul (I know, shhhh), but it's one of the only bars in the Twin Cities that was at one point deemed a "Lesbian Bar". The crowd can be kind of weird sometimes and my typical mode of transportation is bike, so I rarely go here. They host a monthly event called Dragged Out that is featured below and totally worth seeing. Open Mon-Weds 3 pm to 1 am, Thurs-Fri 3 pm to 2 am and Sat-Sun 12 pm to 2 am.
Events
Soul Friday is held on the first Friday of every month at Hell's Kitchen (80 South 9th St.). Hell's Kitchen is another queer friendly great place to hang out. Soul Friday was created for queer women of color and friends. It's a dance party with local DJ's spinning great R & B, old and new hip-hop, house and more. The place is usually packed and it's a great time.
Berlin is held the last Saturday of every month. It was originally held at Club Underground in NE Minneapolis, but is currently moving to Hell's Kitchen. Berlin is an Indie Queer Revolution Dance Party (say that three times fast). The music typically strays from top 40 stuff you'll hear at most other clubs. It showcases alternative types of music, which makes it my favorite event of them all.
Blush is held every Friday at Lush (listed above). This event can sometimes be a bit of an amateur night, but it's a great option if there's not much else going on. Like I said it's a really cool space and there's bound to be lots of girls every Friday.
Dragged Out is held on the third Friday of every month at The Townhouse Bar (listed above). Dragged Out is a diverse cast of LGBT members that give amazing performances to great music. This event packs the Townhouse Bar. Every time I've attended it's hard to even walk around. Bring lots of ones though, you'll want to tip the performers. They've been travelling to perform as of late, but will always call The Townhouse their home.
Booby Trap used to be a monthly event held in the basement of a bear bar. Unfortunately it has now been changed to a quarterly event. During Pride this event is a blow out though. The Booby Trap Girls are always performing. Scantly dressed beauties dancing and swinging from poles. I really wish it was still a monthly event, or a weekly one for that matter.
I give this section 5 "you betchas!"
Gettin' Smart
Minneapolis houses many different colleges. You can choose from a variety of technical schools, art schools and universities. Schools also range in price, from very affordable to stupid expensive. I think you would be hard pressed to find one without a LGBT community or club/group to join though. We even have our very own all women's school, probably can't go wrong there.
I give this section 4 "you betchas!"
Gettin' Yo Game On
Minneapolis has a hidden gem called the Minnesota Machine. It's an all women's tackle football league. It would be a great way to meet new people and play a sport that isn't available in many other places. They're always looking for new players and no experience is necessary.
I feel obligated to mention the roller derby league, because it's such a woman centric sport, BUT if you're looking for a girl to date look in the stands, not on the track. I think there are typically more girls looking for girls in attendance than actually participating in the sport. Either way it's still fun to watch girls in tight clothes hit each other. Minneapolis has two different leagues, the Minnesota Roller Girls and the North Star Roller Girls.
Biking is a very big deal in Minneapolis. The queer girls like it A LOT too and Minneapolis hosts two very unique bike races. Babes in Bikeland is an all women's bike race hosted in the summer and Cirque Du SoGay, which is run by Queer Bike Gang in the fall. Cirque Du SoGay is a bike race for the LGBTQA crowd and is a fantastic time and it has a bitchin name.
I'll mention our WNBA team the Lynx too. In one word… gay.
You can probably also just stand at any softball field around 4 o'clock and find a pack of sporty dykes pumpin iron or "throwin the pig skin around". You know, like they do.
I give this section 5 "you betchas!"
Eatin' And Drinkin' In Style
RESTAURANTS
Bryant Lake Bowl (810 W Lake St) is an awesome queer friendly restaurant/bowling alley. They have amazing brunch and a great list of Bloody Marys to choose from. They also host a cheap date night, you'll look real thoughtful and savvy when you bring your date to this ambient atmosphere, especially if they don't know you're only spending $30 on both the entrees, appetizer, bowling AND a bottle of wine. Open from 8 am to 2 am every day.
Muddy Waters (2933 Lyndale Ave S) You can find Muddy Waters laced in Atmosphere's lyrics, if you're into that mid-western hip-hop that's become so popular. This coffee shop turned restaurant is one of my all time favorites. They have a classy coffee bar running parallel to the real bar. Any time of the day is good at Muddy Waters. It's also a great place to bring a date with amazing dinner entrees and a fantastic beer selection. Open Mon – Fri 7 am to 2 am and Sat-Sun 8am to 2 am.
Seward Café (2129 E. Franklin Ave) is a punk, vegan/vegetarian, sit down and have a discussion about the intricacies of destroying the system or where you got your black boots type of place. The food here is AMAZING and it's one of the oldest collectively run businesses in Minneapolis. Open Mon – Fri 7 am to 3 pm and Sat-Sun 8 am to 4 pm.
CAFES
Spyhouse (2451 Nicollet Ave) is a very well designed coffee shop. They have an adorable patio and standing coffee bar outside and comfortable and squishy things to sit on inside. Their trade-mark black cup makes you look extremely stylish when you drink the concoction of your choice. It's a popular place to study and meet up with people during the day or night. They have delicious baked goods that are baked locally at one of our many co-ops. I would advise you to only go to the Nicollet location though – hence me only posting that address. Open Mon-Fri 6:30 am to 12 am Saturday 7 am to 12 am and Sunday 8 am to 12 am.
Café Southside (3405 Chicago Ave) is a fairly new coffee shop. Nestled next to the Trans Youth Support Network this is an amazing place for LGBTQA people to feel comfortable and accepted. It's a queer owned coffee shop and while the owners said it's not a LGBTQ specific spot they are definitely "really queer." Exactly the type of place I like to spend time. It's situated in the Powderhorn Neighborhood, which is one of our listed gayborhoods. With space for local artists to display their artwork and a garden right outside their doors this is a fantastic place to spend your time and money. Open Mon-Sun 7 am to 7 pm.
Cafettos (708 W 22nd St) isn't really a queer coffee shop, but you can find this queer chick named Meg here all of the time. She'll be in the back booth waiting for you. Open Mon-Sun 6:30 am to 1 am.
May Day Café (3440 Bloomington Ave) is an adorable café in the Powderhorn neighborhood (see gayborhoods). It has a completely welcoming atmosphere and a great selection of food and beverages. This is a very suitable place to bring that vegan girl you just started dating. She'll think you're real hip to her socially conscious diet. Open Mon-Sun 7 am to 6 pm.
Pages: 1 2See entire article on one page