Extra Guidin'
If you want more of Minneapolis, which who wouldn't, head to Lunchboxx and see what's being featured monthly in the city. Lunchboxx is a website run by queer girls, for queer girls. Every month they feature a new person, place and thing in the community. I happen to think very, very highly of this company and even if you aren't in Minneapolis check the website out for super queer merch and an upcoming funny blog on the ins and outs of being a queer girl.
Lavender Magazine is a monthly, free magazine distributed at coffee shops and the like around the Minneapolis area. About 50% of it is advertisements, but it's still an amazing resource to have in the city. Head to one of our listed coffee shops, pick up a Lavender and pull up Lunchboxx on your smart phone and you'll be well on your way to navigating this fine, queer city.
I give this section 5 "you betchas!"
Getting' Healthy
Minneapolis has a very strong trans* support system in place with several different resources to draw from. We have the Trans Youth Connection and Cinca De Shot. The Red Door (525 Portland Ave, 4th Floor) is a LGBTQ friendly public health clinic and HIV/STD testing center. Avenues for Homeless Youth has a LGBT host home program that provides transitional living arrangements for LGBT youth in safe, supportive, volunteer host homes.
I give this section 5 "you betchas!"
Stickin' It To the Man
There are a couple feminist/activist groups in Minneapolis. The Twin Cities Avengers is an all-inclusive queer direct action group committed to dismantling all forms of oppression, so yeah, like them on facebook or something. MAP (Minneapolis Aids Project) is leading Minnesota's fight to stop HIV through prevention, advocacy, awareness and services. Out Front Minnesota  is leading Minnesota toward LGBT equality.
I give this section 5 "you betchas!"
Livin' Family Style
Minneapolis has a local PFLAG chapter. This is a space for parents of LGBT people to go. MN United for All Families is fighting the fight to ensure that LGBT Minnesotans will eventually have the right to marry.
I give this section 5 "you betchas!"
Cruisin' the Gayborhoods
Here in Minneapolis we have two gayborhoods, one being Loring Park. I would say that Loring Park is a pretty good mix of gay men and lesbians. It's situated, as you may guess, on a park. The park is pretty awesome and plays host to the annual Pride Parade festivities. You can stroll down to the pond and throw pieces of your vegan scone to the ducks, but watch out for the geese. They might sneak up to you when you're kissing your lady friend, and they're not as nice as the ducks. And if you were afraid of the geese don't even get me started on the squirrels. I've never seen wild animals quite so… organized. MCTC, a technical college that goes highly recommended by yours truly, is on the north side of the park along with a cute little urban dog park.
The other gayborhood is Powderhorn Park, which is also, as you may have surmised, on a park. The difference between these two hoods in Minneapolis bike lingo is like the difference between people that ride single speeds and those that ride fixed gears. Or maybe Loring Park would be the intense, power dyke who makes you nervous and excited at the same time and Powderhorn Park would be the hot hippy that makes sexy naked busts of females out of all different types of materials. It's all relative in the end. Powderhorn hosts the May Day Parade which can be about as queer as the Pride Parade, but in a totally Powderhorn way. Check them both out and see which you like better.
I give this section 5 "you betchas!"
Places Not To Go
Here's a detailed list of places I try to stay away from in Minneapolis; Hennepin County Jail (Free Cece), Dinkytown (College Bros and Hos Dominate this area), Downtown (just on Friday and Saturday nights it can get real lame, real fast), Breeder Avenue (Hennepin and Lake/Lagoon is probably the worst place you could go on the weekends), and St. Paul.
Lookin' Sexy
There are lots of cool places to go to get your latest trendy tattoo or piercings. I tend to go to St. Sabrina's (2645 Hennepin Ave S) most of the time, because they have an awesome jewelry selection to fill my hipster gauged ears. They can be a little pricy, but the staff is extremely helpful and nice and it's a really cool shop. Open Mon-Thurs 11 am – 10 pm and Fri – Sun 11 am – 12 am.
Leviticus Tattoo (4109 E Lake St) is another great choice. I've had many a girl tell me they love the work being done there. The lime green walls that are filled with artwork beckon you from the street. Be careful too, they take walk-ins, you might be lured just walking by. Open Mon – Sun 1 pm to 9 pm.
Uptown Tattoo (614 W 27th St) is where all of my cool tattoo artist friends go when they want to add to the canvas that is their skin. I think that's a pretty good endorsement, but they're usually booked pretty far out, so make sure you want that star on your ankle reeeeal bad.
Moxie Hair Salon (2649 Lyndale Ave S) is where I go to get my dyke hawk cut. Before every hair cut they take you into this back room (it's not creepy) and wash your hair and give you this amazing head massage while a hot towel rests over your weary eyes. It's just fantastic. They have a couple of locations, but I think the other one is in St. Paul so… Open Mon-Sat 3 pm to 9 pm and Sun 12 pm to 6 pm.
Hair Police (611 West Lake Street) specializes in unique haircuts. This is where grown ups go to get those dreads you mom wouldn't let happen to your hair in high school. Open Mon-Fri 12 pm to 8 pm and Sat 10 am to 6 pm.
I give this section 5 "you betchas!"
Hittin' the Books
Minneapolis doesn't have any LGBT/Feminist specific bookstores anymore. The longest running bookstore, True Colors, closed just a few months ago, which is extremely unfortunate. It was run by a couple of very cool women and it's missed dearly in the community.
I am an avid reader though and have had to find my books elsewhere. If you find yourself in Minneapolis and need a good book, head to Magers & Quinn (3038 Hennepin Ave S). They have this big, old style bookstore in the heart of uptown. Towering bookshelves and over-filled tables with affordable books will surround you like a comforting blanket.
Use the google and find some of our other independently owned bookstores. I believe we have around 10 of them.
I give this section 3 "you betchas!"
Gettin' Artsy
Intermedia Arts (2822 Lyndale Ave S) host the Queer Voices reading series, which is the longest LGBT literary series in the nation. They focus on every aspect of the community. You won't miss them on Lyndale with their ever-changing art running along their wall and "Art Changes Everything" in big black letters on the front.
The 20% Theater Company focuses on the work of female and transgender theater artists in the twin cities area. The Naked I: Wide Open IS an amazing performance and not something to be missed. An extremely unique gem in our city.
Black Hearts Burlesque is a burlesque troop with some real sexy members. They perform at various events around the city throughout the year. You can see them at Club Underground (Minneapolis' very own goth bar) or at Grown and Sexy Pride during Pride weekend. Whenever they are performing it's a fabulous time.
Dykes Do Drag is a performance that runs at Bryant Lake Bowl (ever continuing the queerness) that is hilarious, sexy and completely entertaining. It ranges from skits to burlesque acts. A must see if traveling through Minneapolis.
I give this section 5 "you betchas!"
Sexin' It Up
There wasn't a category for sex stores, but this store can totally hold down a category all of it's own. Smitten Kitten (3010 Lyndale Ave S) is the perfect place to get all of your sex toys and supplies. It's a queer run, progressive operation that pays attention to detail. You won't find any gear here that will leach anything nasty into your system. They also have a fantastic book selection, and you will feel welcomed and comfortable the minute you enter the door. Jennifer Pritchett, the owner, has really made a difference in this industry and made a great space for queer people to boot. This place is like the Rolls Royce of sex stores.
I give this store 5 "you betchas!"
Havin' Pride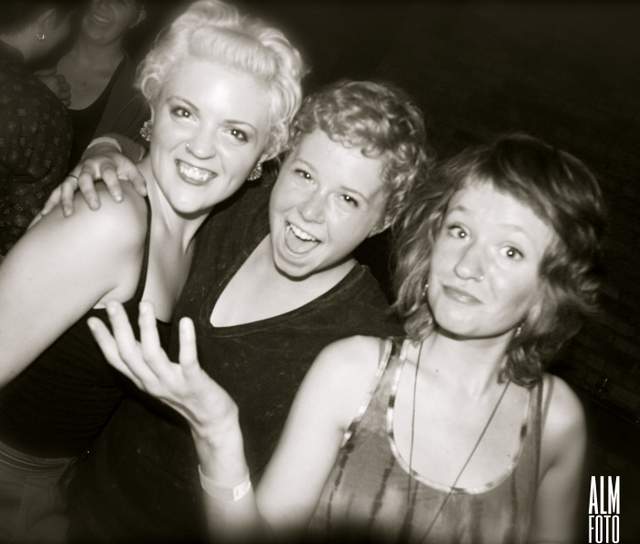 Pride in Minneapolis is a beautiful thing. Glitter, drag queens and kings, free stuff, puppies you can pet for $1 (I know! total bargain), queers every which way you turn your head, half-dressed people, food trucks, beer tent, bikes and babes. It's everything you would want in a pride. Every pride we also have the Dyke March, which is hosted by the Twin Cities Avengers, pretty self-explanatory. There is live music at a couple different stages along with some great performances. Also, one of the best parts is that all of the above listed events that go on have special, blow out, pride events that are packed and even more fun than usual. It's a fantastic weekend that we all look forward to all year long.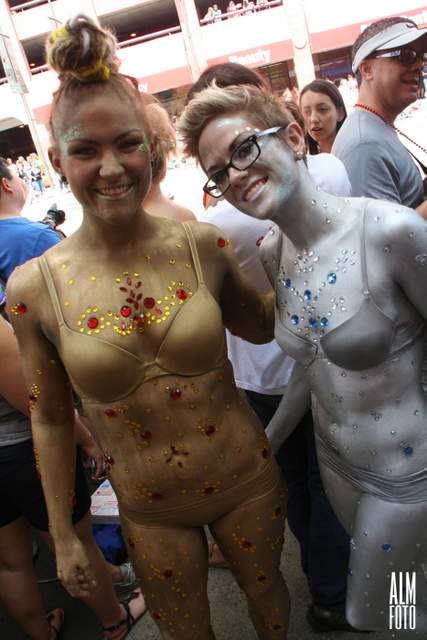 I give this section 5 "you betchas!"
Bonus Facts
There's a Mary Tyler Moore statue downtown, awesome pic op!
Prince has his studio in Minnesota.
We have that Minnesota Nice thang going for us up here, or all mid-western people just internalize their feelings and put a happy face on. Either way it's nice!!
Did you see how many "you betchas!" Minneapolis got? Totally worth coming here.
There's this huge spoon with a cherry on it, pic op!
We have a lot of lakes, come and count them.
Paul Bunyan lives here and a lot of the queer girls dress just like him.
Pages: 1 2 See entire article on one page