For four years now, we've been making a dream called A-Camp come true. High atop a dusty mountain outside of San Bernardino, we've held seven A-Camps: manifestations of this website in three entire dimensions, mixed with a dash of old-fashioned Summer camp goodness and an infusion of conference-style programming. We've brought you 3-5 day sessions of workshops, panels, classes, meet-ups, activities and performances designed to inspire, educate, entertain, build community, and make you laugh. It's been a chance to support Autostraddle, be kids again, and make new friends forever — and it's been wildly successful, with the waitlists to prove it. We've held spectacular A-Camps in September 2012, May 2013, October 2013, May 2014, June 2015 and June 2016.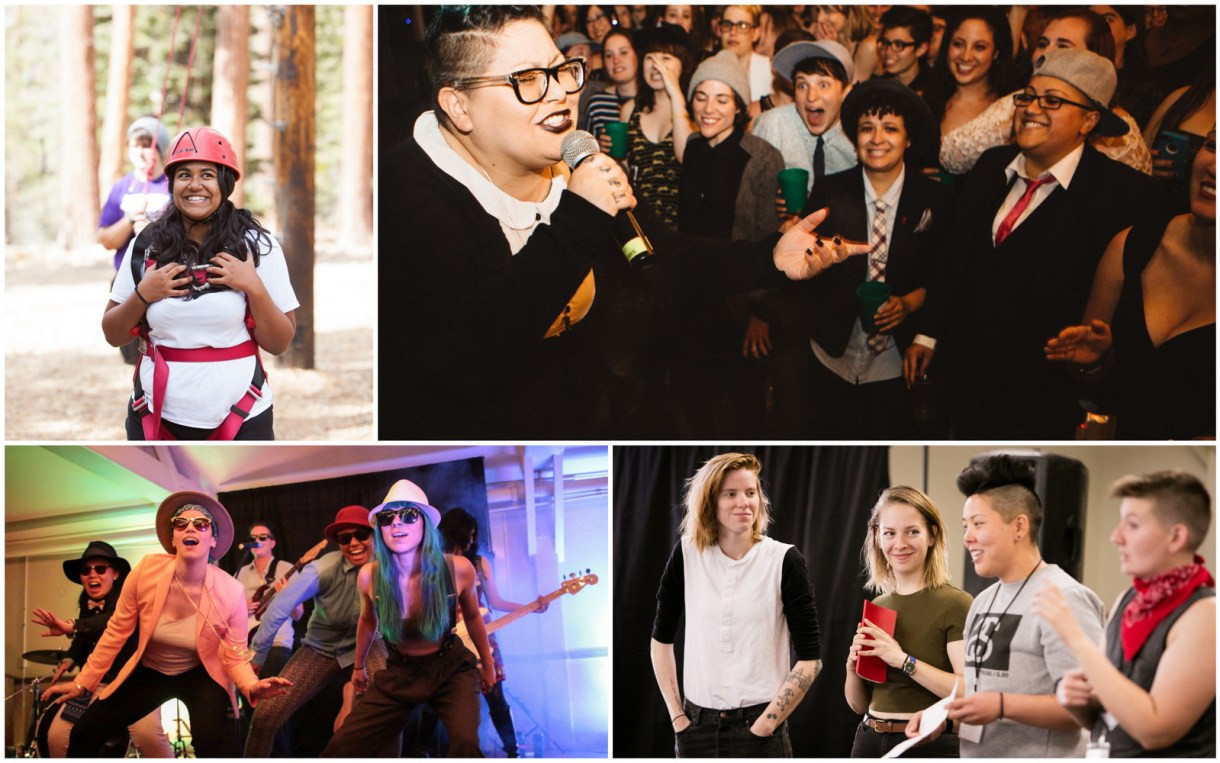 Our very first camp — in April 2012 — was a test run. We weren't even sure if anybody would sign up, we'd never seen the site, and our two A-Camp Co-Directors didn't meet in person until the night before campers showed up. Would the concept work? Would the location work? We announced camp merely two months before it happened, it took place over a long weekend, and we planned it haphazardously. Certain aspects of said camp were verified disasters, but other aspects were quite wonderful and heart-warming. Regardless, the people loved it!
We've evolved and learned so much since then (and learned a TON at our most recent camp, specifically), and our bodies are totally ready to tiptoe into the concept of expanding A-Camp beyond Southern California — but unlike that April 2012 camp, we've toured the site and we're planning the hell out of this unit.
So… are you ready for A-Camp Midwest Edition?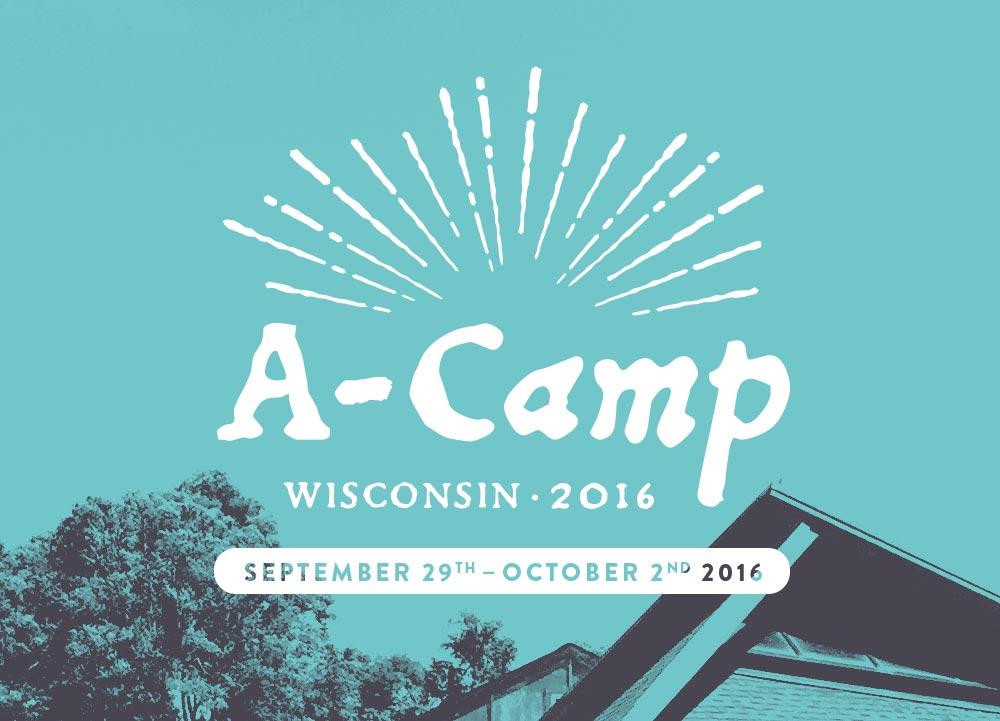 ---
When
5:00 PM September 29th – 11:00 AM October 2nd
On September 29th, we'll be running shuttles from Chicago O'Hare to the campsite from 2pm to 3pm and from the Milwaukee airport to the campsite at 4pm. Camp officially begins at 5:30 PM.
---
Where: New Site, New Rules
We've started to feel like we've exhausted the possibilities offered by Alpine, and are eager to try something new. We've fallen in love with the facilities at and the people who run The Perlman Retreat Center in Mukwonago, Wisconsin. It's 30 minutes from Milwaukee, just over an hour from Madison, 1.5 hours from Chicago, 4 hours from Indianapolis and 5 hours from Ann Arbor, Minneapolis or Des Moines. This site is full of relevant features:
350 wooded acres * Beach * Ropes Course * Indoor & Outdoor Climbing Wall * Canoeing * Kayaking * Campfire Rings * Yurt * Lighted Basketball Courts * Softball Diamond * Indoor & Outdoor Amphitheaters * Archery * Recording Studio * Dance Studio * Arts & Crafts Building * Teaching Kitchen * Ultimate Frisbee Fireld * Organic Farm * Secluded Witchy Bonfire Situation * Sand Volleyball * Tennis Courts * Hiking Trails * AND SO MUCH MORE!
---
Who?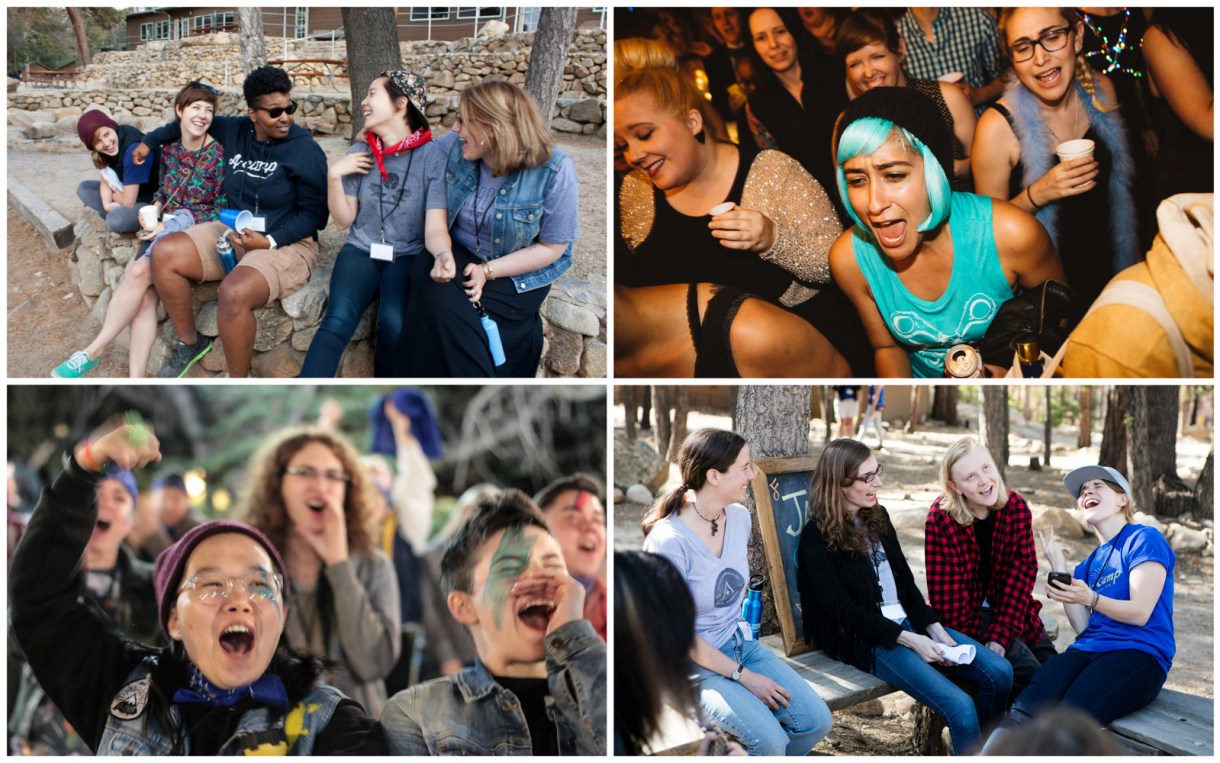 You weirdos over the age of 21! At past A-Camps, half our campers have been over 25 and half under 25, and they've come from all over the world. Usually 60% of our campers are new and 40% are returning, but we anticipate more new campers this session than usual.
Also: Us! We are headed up by A-Camp Director Kristin Russo (with the on-site assistance of Marni Kellison — who, don't worry, is still Co-Directing our spring camp!), and in order to give you the broadest range of programming possible, we've got a staff-to-camper ratio of about 1:5, with staff members drawn from Autostraddle the website.
---
How is This Camp Unlike All Other Camps?
Well, the spirit is the same, but there are a lot of logistical differences.
It's fall in the midwest, which means the camp-style cabins A-Campers are familiar with have been closed for the winter and we're limited to winterized lodging on the retreat side of the camp/retreat site. We've got space for just 154 campers! It's a cool opportunity for us to offer something a little less rustic / communal than previous camps — rather than 12-18 people sharing a bathroom in one cabin, you'll be bunking with merely 3-5 additional humans in dorm-style lodges. Every room has a private bathroom, and every lodge also has a communal space. Think "Retreat."
---
How Much?
Tuition is $495 and is all-inclusive:
8 Healthy Meals That Taste Good (with options for Vegans, Vegetarians, Gluten-Frees, and so forth)
3 Nights Accommodation in dorm-style lodges with 4-6 people per room with a private bathroom and a communal area for the entire lodge
35+ programming options: crafts, panels, workshops & adventures
A dedicated staff with a staff to camper ratio of 1:5
3 Nights of Stellar Entertainment from Stellar Talent, including our inaugural Dead Lesbian & Bisexual TV Characters Haunted Hayride
Kickass swag bag with your A-Camp tee and other cool goodies from indie queer businesses.
If you're not bringing your own sheets/blanket/sleeping bag, there's an option to rent linens from the site for $16/each.
It's costing us way more to do this camp than previous camps — travel expenses are higher for our West Coast staff and talent, the site itself is about twice as much per night as Alpine, our staff:camper ratio is 1:5 rather than the typical 1:7, and Retreat Center lodging is more expensive than the Cabin lodging they'll have available in the spring. If we adjusted the cost proportionately, this weekend would cost $641.25. But we're not doing that, 'cause we want to make this accessible to as many campers as possible while exploring the opportunities available at an awesome site like this. If you're able to pay a little more, then please donate to our campership fund!
Adult Camps have become a big business since about a year after we started ours, but ours remains the most affordable event of its kind — without the professional networks these other camps come from and with a website that relies on Camp to survive.
There will be a handful of more expensive VIP rooms we'll be making available next week after getting some things sorted out. These rooms include a private bathroom, living room, and either a kitchenette or a full kitchen.
Just $75 down reserves your spot.  Want more details? Let's go!
---
Daytime Programming
You'll have full access to a variety of activities, workshops, panels, sports, discussion groups, classes and arts & crafts. For this camp we'll be be doing a bunch of new stuff but will be bringing back a lot of A-Camp classics and favorites too, like Witch/Craft, The Gender Panel, Bitches Brew, High Tea and Chair Dancing 101. There will also be opportunities for closed spaces and bonding for campers who are QTPOC, trans women and/or bisexual/non-monosexual. Activities offered at previous A-Camps include…
Arts & Crafts: Dapper Collar Pins * Coptic Bookbinding * Chingona Chats and Crafts: Sacred Queer Heart Shrines * Look After Yourself: Self-Portraits * Nerdcraft * Make A Thing: Merit Badges * Finger Knittin' Good
Workshops: Learn to Magish * Shibari Rope Bondage * Erotica Writing * We've Got Your Back: Community Care * YO! A-Camp Raps! * Slam Poetry * Queer Astrology 101 * Lez Talk About Sex(ual Health) * Swagger 101 * String Cheese & Boxed Wine Tasting * Casual Sext * Improv Comedy
Sports, Games, Etc: Basketball Wives * Self Defense 101 * Cheer Camp * Ballet for Basic Bitches * Rock Yoga * Beyonce's Dance Grooves * Canoeing * Pop Science Trivia * Mindfulness & Meditation * Haus of Vogue
Discussion Groups, Panels & Presentations: Changing the Narrative: The Importance of QTPOC Fiction * Chosen Family * Gaming, Identity and Community * Queer People of Color Politicking & Zine-Making * Mixed-Race/Biracial/Multi-racial Discussion Group * Profesh Pantsuit Power Hour * Working In Solidarity: Combating Transphobia in Queer Spaces * Mommy Queerest: Queer Parenting Panel * Tardy for the Party: A Coming Out Later In Life Discussion Group * Mountaintop Bisexual Discussion Group and Hummus Appreciation Society * Real Talk: Your Relationship Doesn't Have To Suck
---
Nighttime Entertainment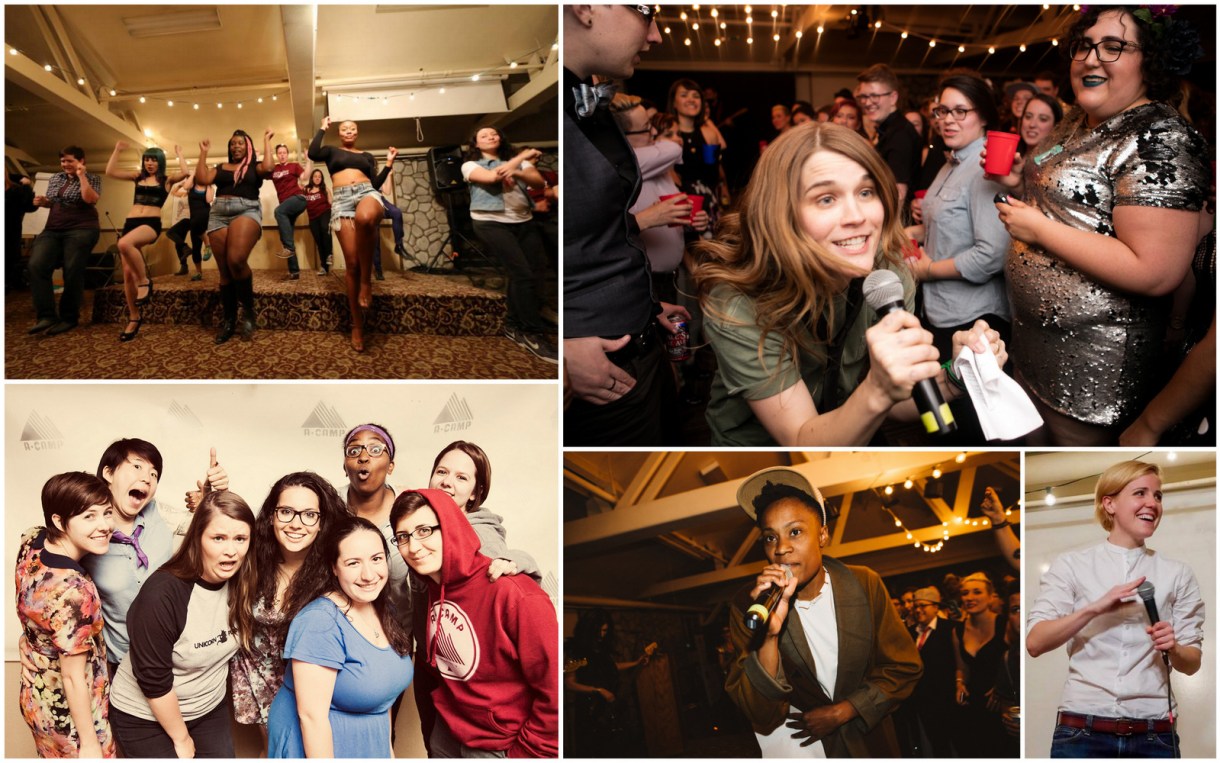 Autostraddle After Dark is where our Special Guests shine most brightly, and where you get a chance to dance your ass of in a ridiculous costume. Past A-Camp After Dark activities have included stand-up comedy from Cameron Espositio, Deanne Smith, Brittani Nichols, Elicia Sanchez and Rhea Butcher; sexy game shows hosted by Julie Goldman and Brandy Howard; the legendary Staff Reading; Talent Shows; shows hosted by Hannah Hart and Jasika Nicole and concerts featuring musicians including Julia Nunes, Jenny Owen Youngs, Mal Blum, Bell's Roar, Haviland Stillwell and Somer Bingham. The last night always brings a kickass themed dance party and a performance from the legendary A-Camp Family Band.
---
Special Guests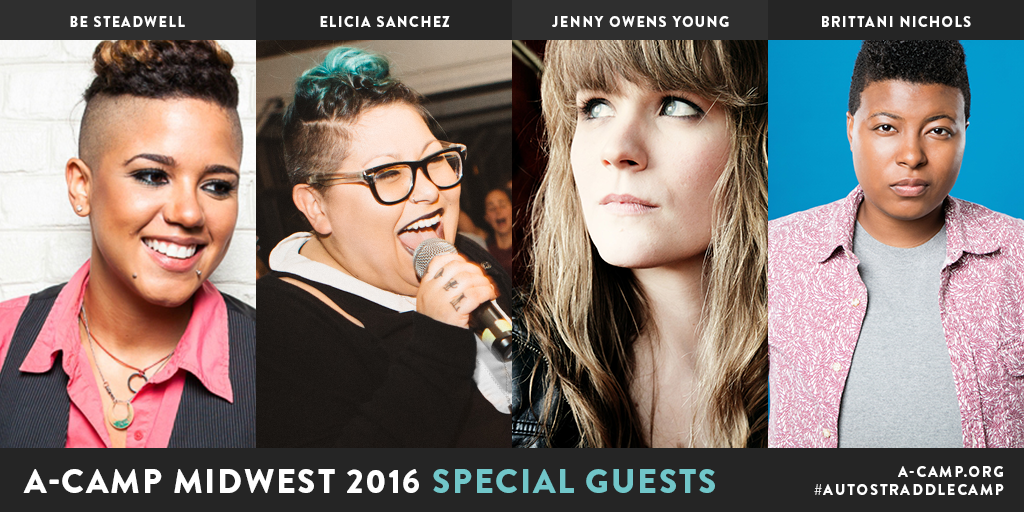 Elicia Sanchez, Comedian
A Seattle-based comedian, writer and comic book reader, Elicia Sanchez has been performing all over the West Coast since 2010. She has been called "fearless" by City Arts Magazine, "a grumpy nugget of delight," by writer/author Lindy West, "a local favorite," by Seattle alt weekly The Stranger and "a brilliant new voice everyone should know," by comedian Hari Kondabolu. Grammy Award winning singer/song-writer Kimya Dawson (The Moldy Peaches, Juno) has cited Sanchez as her 'favorite underground Northwest comedian' while W. Kamau Bell, comedian and host of the CNN series United Shades of America, once said, "Elicia Sanchez is the truth." Elicia has performed at the Bridgetown Comedy Festival, Bumbershoot, Emerald City Comicon, has appeared on NPR, The Bob Rivers Show, the television show The [206] and has written articles for Autostraddle.com and Jezebel. She currently produces four monthly comedy shows in Seattle (Wine Shots: Comedy's Happiest Hour, Not Too Late with Elicia Sanchez, The Enematic Cinematic LIVES!!, Karajokey) and is also the host of the Seattle branch of The Moth StorySlam.
Be Steadwell, Musician
Be Steadwell is a singer songwriter from Washington DC. With roots in jazz, acapella and folk-Be composes a soulful blend of genres into what she calls queer pop. In her live performances, she utilizes loop pedal vocal layering and beat boxing to compose her songs on stage. Be's self-produced albums feature her earnest lyricism, proud LGBTQ content, unapologetic silliness, and the art of the simple love song. As she pursued her career in music, she began a career in film. Shooting and editing her own music videos, Be combined her love of music with narrative film. In 2014, Be completed an MFA in film from Howard University. This year, be was selected to be a 2016 Strathmore Artist in Residence. The DC commission on the arts awarded be the artist fellowship for 2016. Be is currently touring her music and screening her film Vow of Silence (2014) internationally.
Jenny Owen Youngs, Musician
website // twitter // instagram // tumblr // autostraddle

Singer, songwriter, and natural history enthusiast Jenny Owen Youngs grew up in the forests of northern New Jersey and is now based in Los Angeles. After self-releasing her first album Batten the Hatches in 2005, she went on to put out two albums and three EPs through the Canadian indie label Nettwerk Records. Youngs has since self-released her album AN UNWAVERING BAND OF LIGHT in 2012, a serial song project called EXHIBIT in which each composition is directly inspired by a specific work of art in 2013, and the Slack Tide EP in 2015. Youngs has toured extensively in the US and Europe, headlining and also supporting artists such as Regina Spektor, Against Me!, Frank Turner, Motion City Soundtrack, and Aimee Mann. Her songs have been heard on Weeds, Nurse Jackie, Suburgatory, and elsewhere. Today, Youngs spends much of her time writing with and for other artists in Los Angeles and working on her next record.
---
Camperships & Tuition Discounts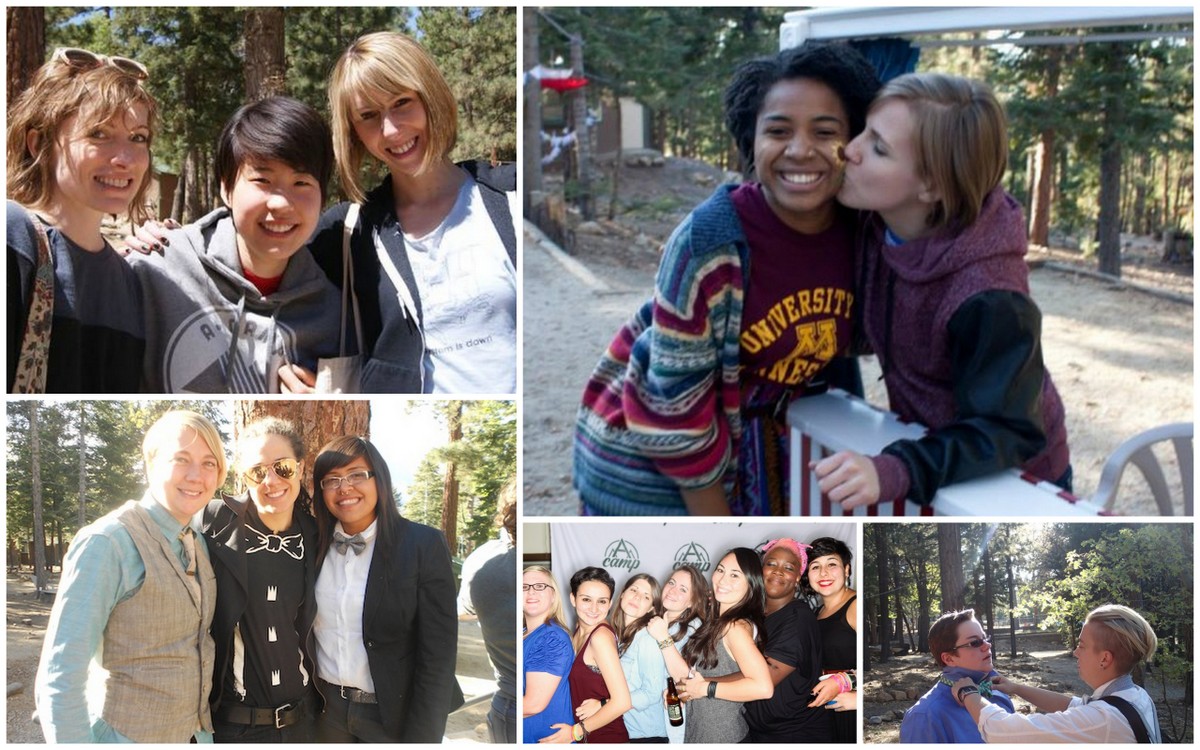 Your generosity has sent over 40 deserving humans to A-Camp over the past five years and you'll have the chance to make dreams come true again this year by donating to the campership fund! A full campership is $495, and we'll have a post up next week sharing the stories from some of last camp's campership recipients.
Our goal is to offer 5-8 full camperships and 5-8 partial camperships.
If you have an independent business who'd like to sponsor a campership, get in touch with sarah [at] autostraddle.com. Previous sponsors have included Sharpe Suiting, Kipper Clothiers, Scout's Honor, Kreuzbach10, OK Cupid and Hannah Hart.
We also recognize that as A-Camp becomes more expensive it becomes harder to maintain the diversity we require for a truly successful A-Camp. We encourage campership applicants who are POC and/or trans women.
If you cannot attend camp without a full Campership, do not register for camp! We reserve spaces for Campershippers so you don't need to snag one in case you become a Campershipper — that's been taken care of.
---
Okay, I'm in. What now?
If you wanna get on the saddle and trot on over to A-Camp with us this fall, here's what you've gotta do:
1. For the low low price of a $75 non-refundable non-transferable deposit, you can snag your spot for the fall festivities. Please read the instructions at the top of each registration interface page if anything seems remotely complicated. Your full tuition is due September 1st. You can make partial payments between now and then by logging back in to the regonline system and making partial payments.
2. If registration fills up, you can put yourself on the waitlist. Be sure to put an e-mail address you check regularly and often, so you don't miss our note if you're up!
3. If you're driving in on September 29th, please plan to arrive between 4 PM and 5:30 PM. On Sunday, please plan to leave by 11 AM.
4. If you're looking for flights and will need transportation from the airport, be sure you can be at O'Hare by 3:00 PM on September 29th or at MKE by 4:00 PM. If you're getting in to ORD later than 3:00PM or MKE later than 4:00 PM, you may miss opening night and you'll have to make your own travel arrangements.
If you'll need transportation to the airport on October 2nd, there will be shuttles leaving at 11:00am. It takes 1.5 – 2 hours to get to the airport, so we advise against booking flights that leave before 3PM. If the 11:00 AM shuttle won't get you to the airport in time to make your flight, you'll have to make your own travel arrangements. We'll be making an Official Facebook page for this camp where you can communicate with other campers to make plans.
5. If you need to cancel, you can just log back in to the registration interface and cancel!
6. QUESTIONS ABOUT REGISTRATION OR TRAVEL GO TO cool@autostraddle.com. ("COOL" stands for "Coordinator of Logistics")
---
For More Information
On our A-Camp website, you'll find our FAQ, the staff we've got on board so far and a link to register the hell out of your unit. For more information about what goes on at A-Camp, you can check out our recaps from past camps and testimonies from campers about the joy of the experience. But A-Camp is whatever you make of it: every camper writes their own story. Come with your heart wide open and do whatever you want.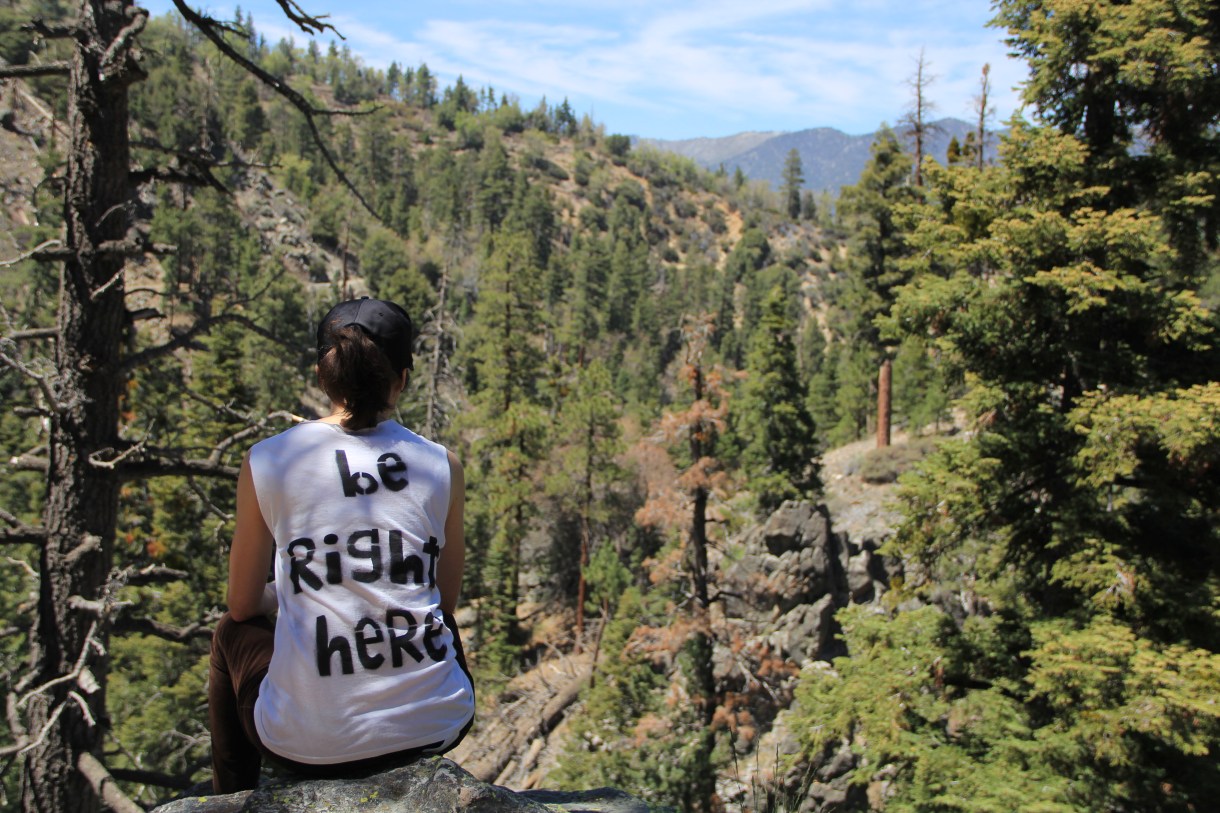 What are you waiting for?