It's crunch time as we prepare for our sixth-ever A-Camp — while you guys are finalizing travel plans and dreaming of Klub Deer, we're strapping on our headlamps and working hard to make the programming for this camp better than anything we've had before! Speaking from personal experience, there really is no other feeling quite like being on Mt. Feelings with hundreds of other queers, exchanging thoughts and ideas with so many other people who get where you're coming from. While we certainly can't promise that romance awaits everyone on the mountain, we can say that an awful lot of couples have met at camp — is it something about the altitude, the salad bar, the potential presence of bears? No one knows.
With all of this in mind, we've turned to our friends at OkCupid for a pretty badass campership offer. Autostraddle busted out an entire series called "Oh Gay Cupid" a couple of years ago, focusing on the impact online dating can have on our lives and relationships.
OkCupid, as you may know, is generally the raddest of all online dating sites out there right now, and they've been pretty awesome at supporting the LGBTQ community — one of the (shockingly) few sites that allows bisexual subscribers to search for both men and women at the same time, and offering an increasing number of options for users to describe their gender and/or sexuality. They also offer users the opportunity to keep themselves from seeing or being seen by straight people, something I wish we all had in real life.
On top of all that, they're now offering the opportunity for one lucky queer to attend A-Camp for free.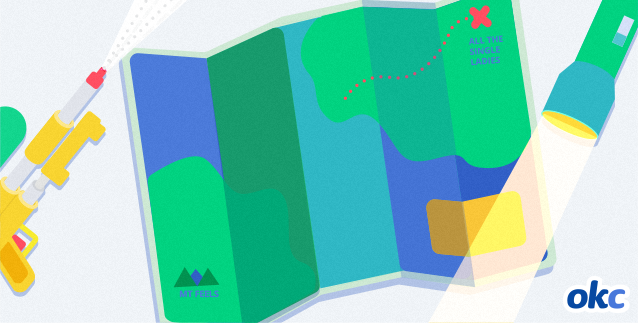 How to Win the OkCupid Campership
To enter to win, we're looking for all the single potential A-Campers to create a profile on OkCupid and email your username to acamp[at]okcupid[dot]com.
A winner will be selected based on how much effort you put into making your profile uniquely yours! Here's the criteria:
WRITE YOUR ESSAYS (35%)
The best thing you can do here is be your beautiful, weirdo, unadulterated self. Embrace your quirks, and you're better off finding the person who will embrace you because of (not in spite of) them.
UPLOAD PHOTOS (35%)
Use your photos to not just show what you look like, but who you are and what makes you special. And captions go a long way towards completing that narrative.
ANSWER MATCH QUESTIONS (30%)
This is what allows us to calculate your match percentage with others. The more you tell us who you're looking for (and who you are), the better we can match you up.
If you already have an existing OkCupid profile, you can enter as well! It's about creating a profile and taking the time to make it yours.
What You Get
This contest is for all the single Autostraddlers who are not already signed up for A-Camp. Camp Tuition and shuttle transportation between LAX and the campground are covered; the winner is responsible only for covering their own travel to LAX and/or to the campground directly.
Additionally, the winner has the option of being a special contestant in our revamped queer version of Singled Out, a new activity we're really excited to bring up the mountain.
Deadline is EOD Monday April 6th
You have until the end of the day THIS MONDAY — April 6th, 2015 — to make your profile and email it to acamp[at]okcupid[dot]com. A winner will be selected and notified on Wednesday April 8th!
Thanks to OkCupid for supporting A-Camp and good luck!