The last movie in this series was Claire of the Moon, a film so laborious that I needed your physical assistance to help my body up off the ground. Little by little my weight sunk at each conversation deconstructing the lesbian experience until finally I passed into a horizontal plane of existence as the credits washed over mine tired eyes. Nicole Conn had done the opposite of putting respect on my name – she'd bested me with her debut film.
I'd move on, I thought. Nicole Conn had proven she could force me into submission as the workplace orientation video of filmmakers and we'd go our separate ways. Then I googled Elena Undone – a movie suggested by many of you but more importantly a movie that existed on Netflix – and I bet you might be able to guess whose name accompanied the title.
An accidental autofill took me to the Urban Dictionary page of "Nicole" and gave me some insight as to who Nicole Conn was and what she wanted from me. "A Nicole is someone who is omnipotent. A Nicole is gorgeous, intelligent, mysterious, witty, hilarious, out-going, creative and seductive, yet she is also tough, street-smart, experienced, brave, enduring, and mainly a wonderful mother. Nothing and nobody can compare to a Nicole in any aspect. Mess with a Nicole, or her family, and you will regret ever being born," Nicole Conn probably wrote in a dark room lit by a single candle. Okay, so I'd approach this movie about an affair between a gay woman and a pastor's wife with caution. Give it some leniency lest I endanger myself and those around me??
So, having now watched Elena Undone, rather than grade it to be a "good" or "bad" or "really not very good" or "garbagio" movie, I will simply ask a neutral question, which is: I'm sorry what.#
Starting the movie is an acknowledgement that this story is based on "true events" and a wide shot of two women literally crossing paths while a narrator explains, mathematically, "In love, one and one are… one."1 Hmm. This fades into a church service where we meet Elena, a preacher's wife, the biological mother of a 16-year-old exceedingly white boy with blonde curls2, and a woman that has never looked sadder.
Next we meet Peyton, author of Trust? Who Needs It? An Agoraphobic's Memoir.3 Regardless of whether or not I understand this title or concept behind it, it's a book that's been immortalized in plaque form for "Best Self Help Novel." This plaque, along with a promotional flyer for a reading of Peyton's book being held in an enclosed public space with, presumably, a crowd of people4, is being prominently displayed at her mother's funeral service.5 It's either that or Peyton is at her own home after the funeral service where she's decided to advertise her own event on a mantle.6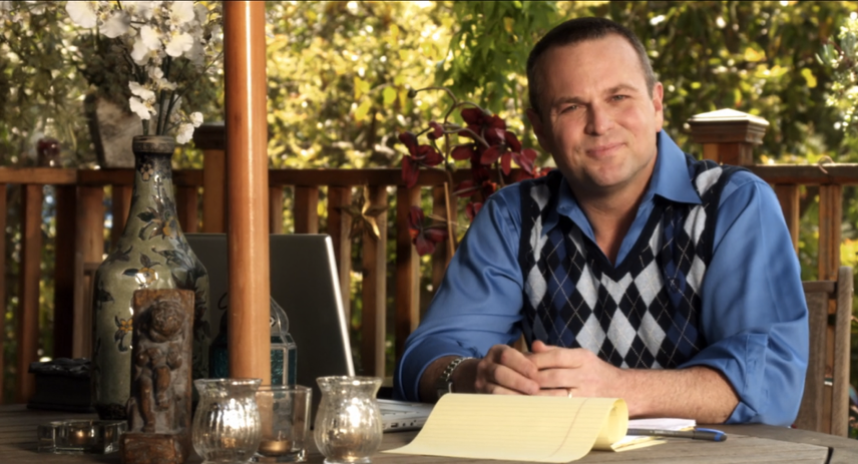 We cut to a man on a deck who's talking directly at the camera and it looks like we've abandoned the film and are now in a commercial for either a life insurance policy or porch sealant.7 This is Tyler, and what's he's actually talking about it soul mates. "Twin flames", as he puts it.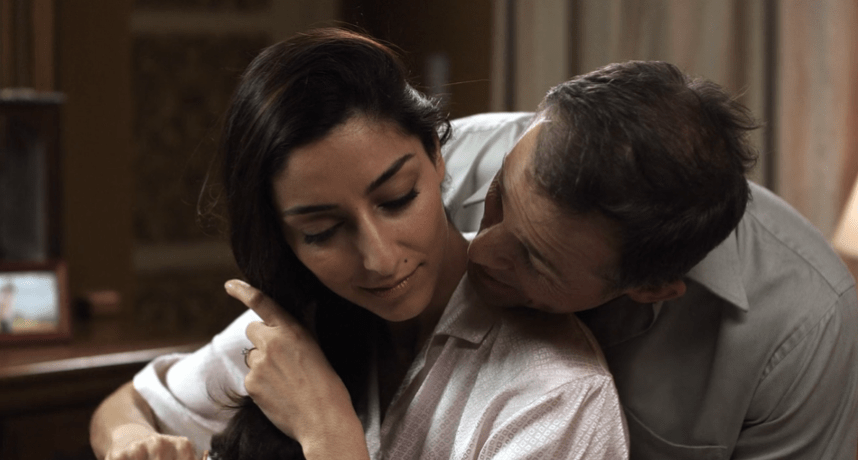 Now Elena sadly brushes her hair before bed and up sneaks her husband, Pastor Barry, who whispers in her ear, "I heard someone might be ovulating this morning," to which Elena responds "Mm-hmm" in the way most women respond to an old man on the street who incorporates "pretty lady" into his gross query. "I'll be right back," Barry says. Fading in and out of the following sex scene that even though is between a married couple is being shot as maybe not the most… reciprocal thing that's ever happened8 is shots of Peyton swimming.9
Some time later we're in Pastor Barry's office where Elena is being accosted by a woman who wants Elena to take a more vocal stance as the pastor's wife against gay people getting married, which is something this woman and Pastor Barry consider to be a bit of a passion project. Elena attempts to defuse the situation with non-answers and Pastor Barry does a terrible job at removing this woman from his wife's mentions. Afterwards, Elena reveals in the hallway to Barry that she's gotten her period, so having sex with him was as fruitless as it was probably traumatizing.
Peyton can't bring herself to go collect her mom's items at the nursing home. This is probably due in large part to the flood of childhood flashbacks that lead to her hugging tea kettles in an attic. Still, this is probably super inconvenient to the staff at the nursing home and instead of calling them back about it she goes for a hike.10
Tyler – who again would like you to consider the idea of twin flames for four easy payments of $19.99 – is holding a talk called Soulemetry11 By the Stars. (By the way, who was the graphics person on this film12 and what are their rates?) How soul-ucky that Soul-Blim-in-nal Courtyard13 exists. With that kind of karmic energy behind it it's bound to be soulcessful. Also, Tyler would like everyone to know that even though everyone thinks he's gay, he's not.14
Peyton and Elena meet at an adoption orientation meeting, which are things that definitely exist, and which is perhaps the lesbianest meet-cute of all time. Because Peyton is there by herself, she makes a point of reassuring the people hosting it that she has a job.15 Saying "I have a job" to a group of people that haven't asked is a great way to make everyone think you for sure don't have a job. After the meeting, Elena and Peyton exchange business cards under the pretense of collaborating on their respective photography and writing projects.
Like the book store plot line in Anne Wheeler's Better Than Chocolate, it feels like I'm being pressed to acknowledge something that ultimately has nothing to do with the rest of the movie so: Tyler's making a documentary about soul mates, which is being relayed to us between scenes via confessional videos of couples discussing how they met. There. Moving on.
Now Peyton is at her home going through an obsessive routine at dinner (cleaning her utensils over and over, rearranging her food), and this is either casually dropping in Peyton's OCD, which would be fine, albeit not really what it seems this like this movie or this character's motivations are about, or this is meant to remind the audience of Peyton's agoraphobia even though these are two different conditions and one doesn't always lead to the other, which would be bad.16
Nicole Conn wisely abandons this and has Peyton's best friend, Wave17, show up with wine. Wave launches into an explanation of why Peyton's ex-wife (who cheated) wasn't the one for Peyton. You two didn't have passion, Wave explains, and then to drive this point home references the "fucky"18 – AKA the act of fucking – that she does on the regular and which was absent in Peyton's married life.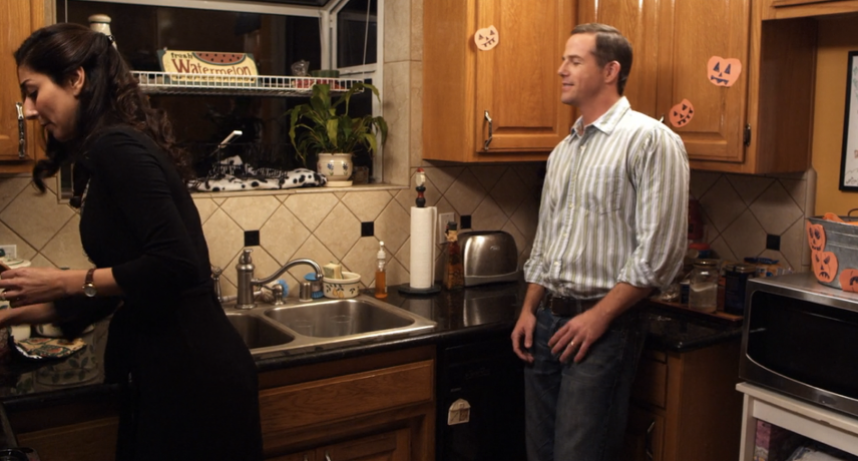 Elena, who's in a perpetual state of turning away from her husband, gets ready for a night out on the town (population: one). One and one… equaling one. That's right, I'm talking about Soulemetry, baby. It's an intimate affair that starts with a song and an intriguing observation that everyone in the room might be standing next to their soul mate. While everyone's mingling, Tyler facilitates a meeting between Elena and Peyton. They talk about their marriages past and present, and it's here Elena finds out Peyton's a big ol' 'mo. To neutralize her visible excitement upon learning this bit of information, Elena plays the "Barry, my husband, the pastor," card before dipping out of the party.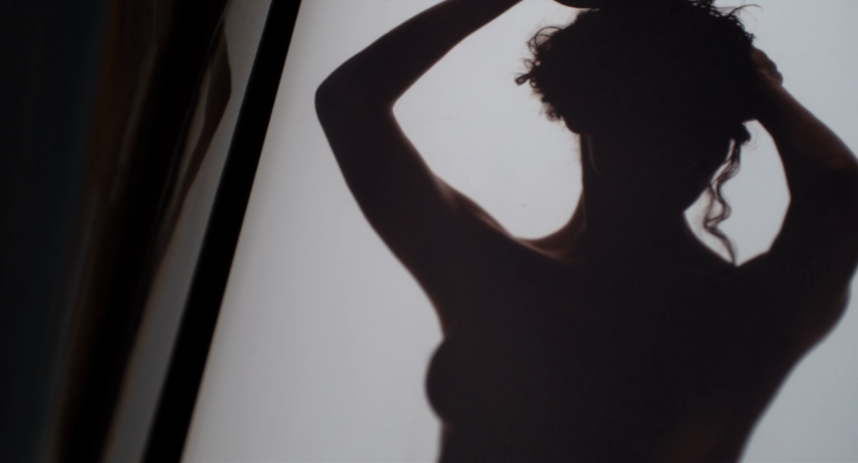 That doesn't stop Peyton from calling Elena to be like, "Oh, I need a photographer for this… project I have." They meet in the park to look through Elena's portfolio – a portfolio in which Elena has included a tasteful and shadowy nude of herself.19 Naturally, this lands Elena the job of Peyton's new author photo photographer.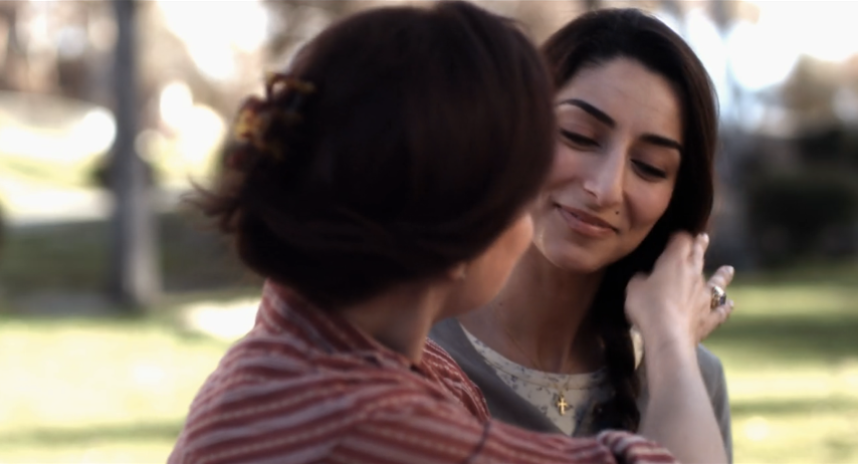 There's a great moment in the middle of this hang out where Peyton goes to move Elena's hair out of her face and Elena's like, "Oop, please don't." I'm noticing this is a trend in lesbian movies and I would like to pitch my own lesbian movie made entirely of Hair Tuck Missteps. Like a blooper reel, but a real reel, and of hand after hand reaching for the impossible.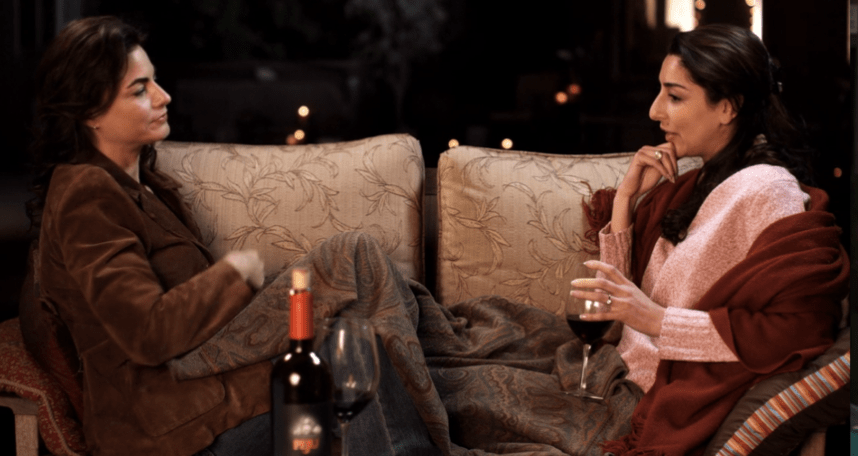 Much like Frederick Douglass being recognized, Peyton and Elena begin seeing each other more and more. In one scene that looks like it was designed by and for The Bachelor Nation, Elena explains her lukewarm to cold feelings for her husband Barry. Lay that groundwork, girl.
They also talk about soul mates (with the soul mate talk jesus), how all Peyton wants is a baby, and how Elena is mommi. No, I've added that last part, but it does stand.
Now it's time for Elena to take Peyton's author photo. At the beginning of the shoot, Elena asks Peyton when she knew she was gay. Peyton's casually like, "I dunno, when did you?" Zamn. But also, even though we all know where this is going, I feel like the audience missed out on an integral part of the last conversation and was supposed to make the jump from Elena saying she'd never really been into her husband to Elena being a card carrying member of the sisterly rolls.20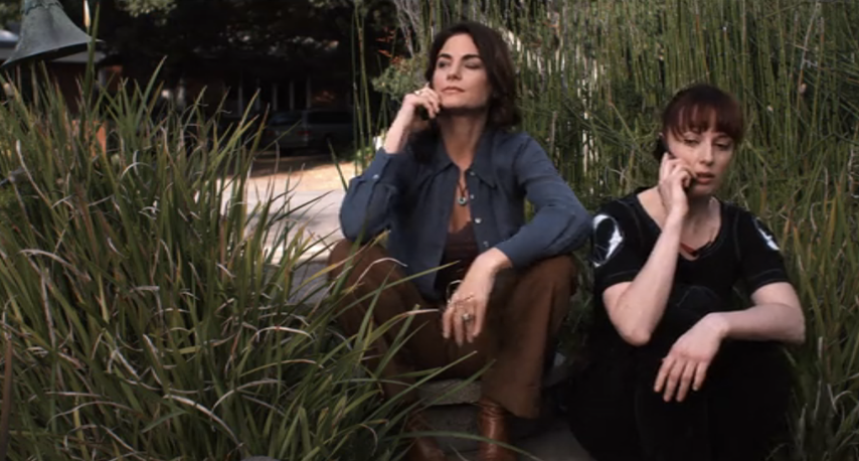 Peyton meets her friend Wave to talk in the bushes.21 Wave reports for her gay best friend duties and warns Peyton against getting involved with a straight woman who's married. Peyton agrees and decides she's going to make herself less available.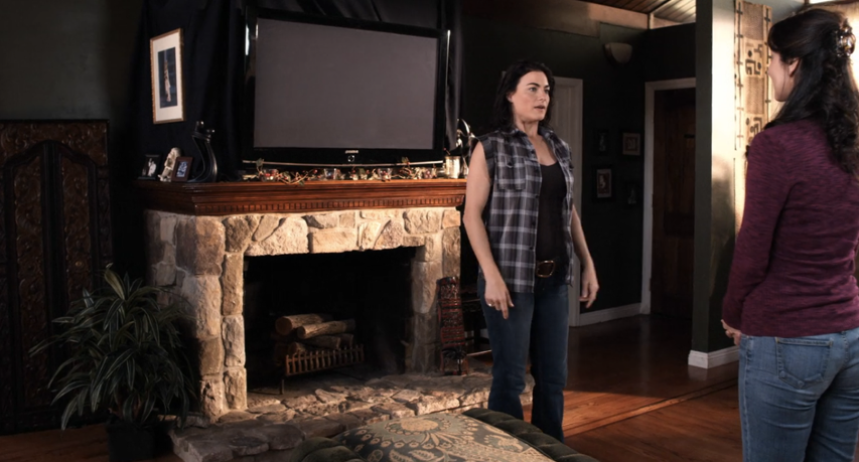 That is until Elena shows up at her house while she's in the middle of sunbathing to show her the pictures they took. Peyton's like "Coolcoolcool yeah let me just run inside real quick and casual" and then proceeds to freak-a-leek in the bedroom trying to figure out what to wear. She comes out in a cut off plaid button up, jeans, and boots. You're doing amazing, sweetie. One to ten on the Not Doing Great In Easing The Straight Lady Into How Gay You Are scale, we're at about an eight.
Elena is having a hard time wrapping her head around her feelings for Peyton and what that means about her sexuality. "I spent my whole day looking at lesbian sites22," Elena says on a phone call with Peyton before explaining that because she wasn't attracted to any of them, she's not a lesbian. What kind of sites? Like Autostraddle? Picturesoflesbians.net? There is one picture of a lesbian that Elena likes.
Another phone call secures it: Elena has a crush on Peyton. Right before hanging hanging up mid sentence because of her husband walking into the room, Elena says, "All I can think about is…"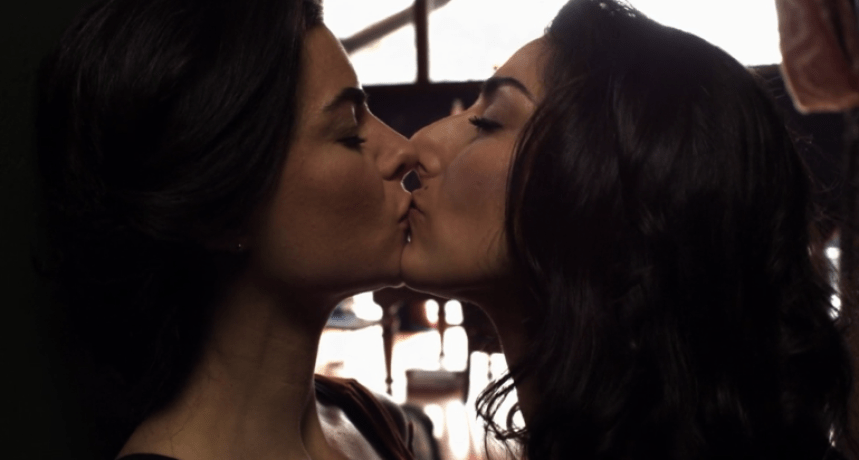 Ding dong! It's Elena's unfinished thought. There is a lot of talking in this first make out session. Elena asks Peyton if she's scared to be alone with her… so soft… just what she imagined… and then once that nonsense stops and they sustain kissing for more than two milliseconds at a time, some really unfortunate music starts. It's like if Meredith Brooks, Poison, and a World Market CD made a song.23 Alright, long make out. Doing great, ladies. Okay, wow, this is like the jam band set of make outs.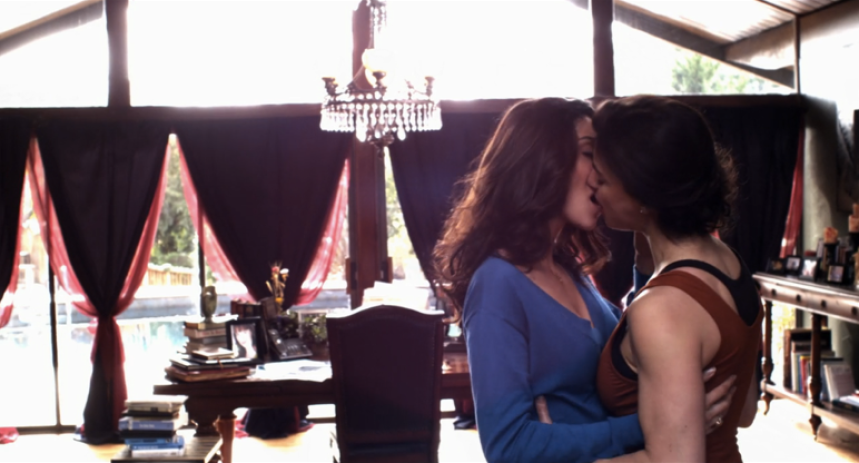 I don't know, does Elena's accent keep slipping in and out and everyone's okay with it?24 Either way, it's back to normal life, where the first thing your husband says to you when he enters the house is, "Did you pick up the beer?"
It's that kind of stuff that drives Elena right back to Peyton. Sitting together one night Elena says, "Make love to me, Peyton." When Peyton skirts the issue, Elena tries it reverse: "Peyton, make love to me." Achievement unlocked!
Now we're in a backlit room. Scoring their first time sleeping together is another poor music choice that sounds like what plays when a cartoon character sneaks down a hallway.25 The audio has gone rogue here and every one of their movements is being super amplified despite the distracting music. Think I just heard someone's knee crack.26 Elena's doing the face-into-the-crook-of-the-elbow move, which is Former Straight Lady for "I'm trying this gay sex thing and it's going great!!!"
The next day they're both walking on sunshine while recounting their night to their best friends. Peyton is getting checked by Wave while Tyler is the embodiment of a high pitched scream into cupped hands for Elena.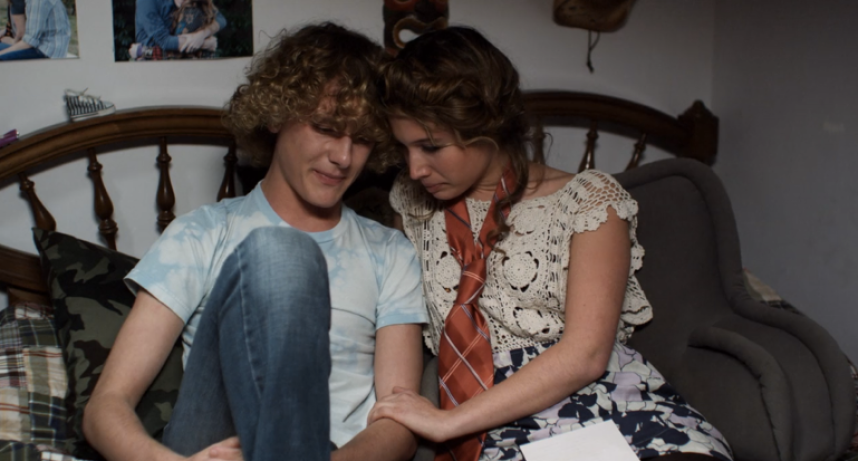 There's a lot of back and forth after this. Elena still has to be with her family, which shocks Peyton in a way that is curious for a person who has had at least five conversations anticipating this very thing.27 Then they begin to exist in letters, which Elena's son, Nash, finds a stack of while on family vacation and just cries and cries with his girlfriend about it.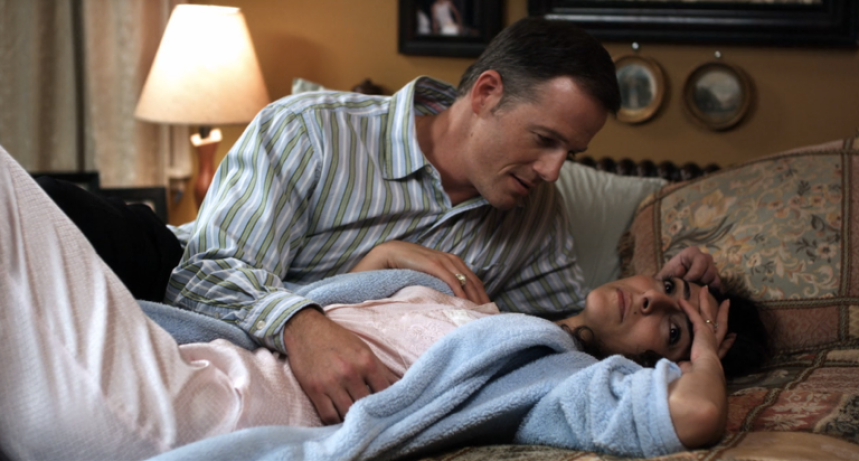 Barry attempts some moves on anniversary night and Elena gives him the trusty "I'm tired." He flips, brings laundry into the picture28 and says that like their sex life it's also slipping. I pray that this was the moment that was based on true events.
Elena's son is still losing it about his mom receiving erotica from another woman. He buys a bunch of liquor and goes to drink it on a mountain/cry about it. As getting wasted on a mountain by yourself in the middle of the day as a teenager29 typically goes, this ends in an arrest. Nash avoids jail time because the police know his dad. His return home, prompts some very serious conversations and the main takeaway is: Mom's Gay.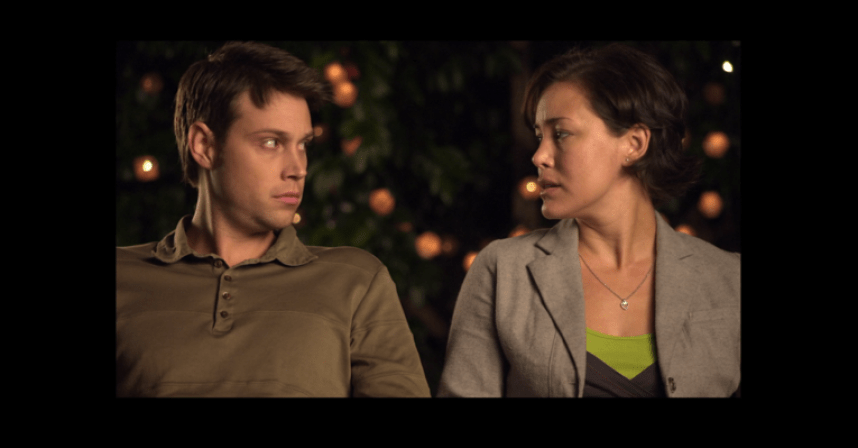 I know I said I was moving on from this, but one of the couples in Tyler's Soulemetry videos is two people with multiple personalities who've each matched with a different one of the other's personalities?30 What a bizarre addition to a movie and – re: how it's being presented – take on comic relief?
Plot twist: Peyton is the one who says she can't do this long term. She wants Elena to be honest with herself and with her family first. Perfect. Love to have sat through this two hour movie for this.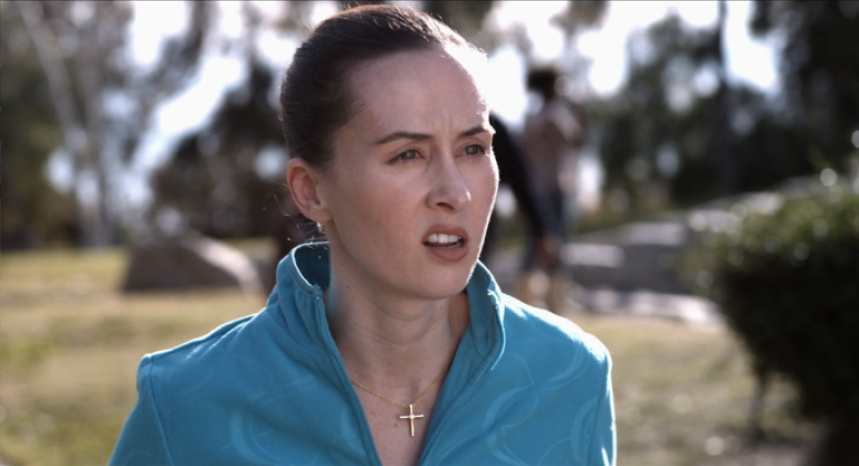 Scary lady from church catches Elena and Peyton making out in the park (even though Peyton's just said she can't do this31) and sprints back to her car to make a very important phone call about it. She then heads directly to Barry and Elena's house to tell Barry what she's just seen and he's angry.
So angry that he punches a bush32, which you might imagine doesn't go well. After a day of thrashing and driving, Barry knows it's over but doesn't say it. It's confirmed later when Elena tells him she's been lying to herself and him for years.
Six months later… (no explanation34)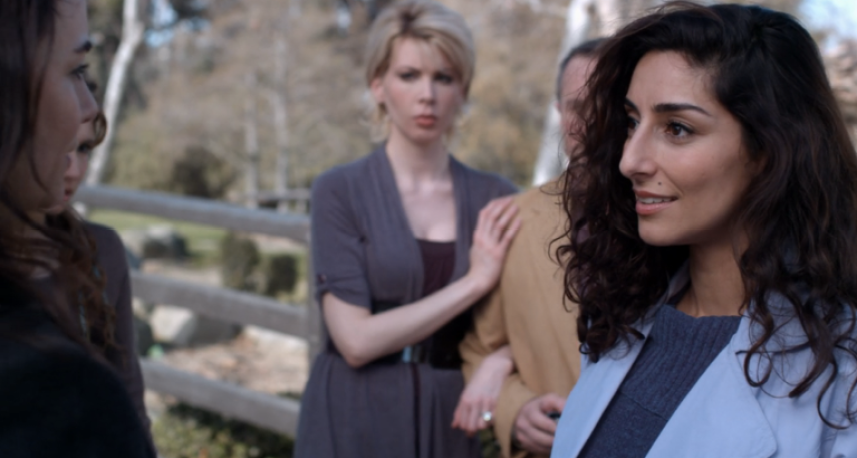 Peyton's going to adopt! She says so while she's walking with Wave in the park. Then they run into Elena, and surprise, Elena's pregnant! Peyton feels played. "I might be the fool but you're the selfish whore."35 Okay! Then Elena passes out.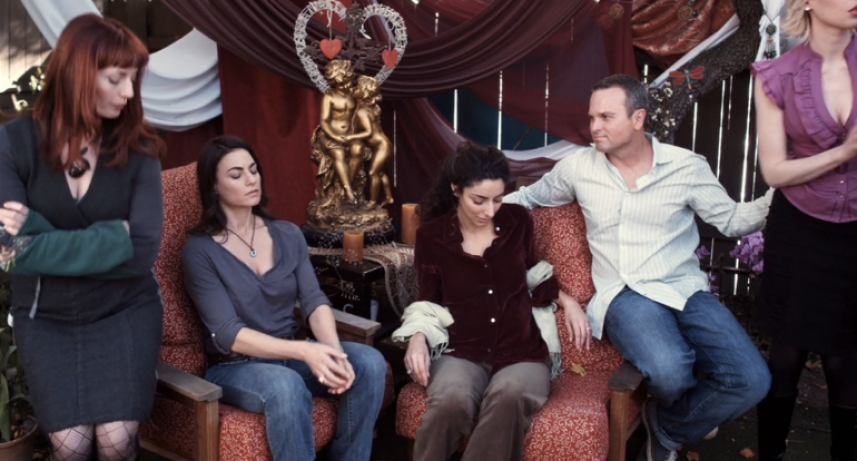 Later Nash shows up at Peyton's house and says his mom needs her. Upon arriving at this group discussion36 being held in the Curious World of Drapes37, Peyton's like, "Real quick, what am I doing here?" Tyler's the father of Elena's baby, that's what! Elena says, "Tyler's little guys hit the jackpot"38 and I'm gonna need *rihanna ft. kanye* four, five seconds of timeout. Then Elena tells Peyton she's the greatest love she's ever known.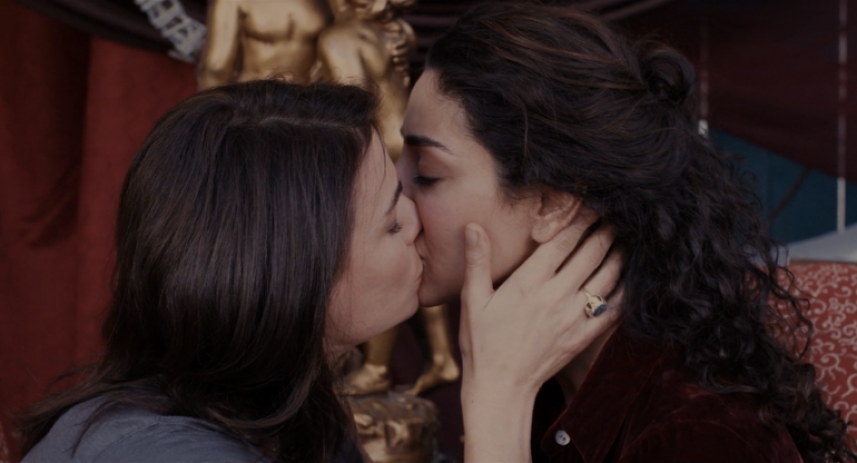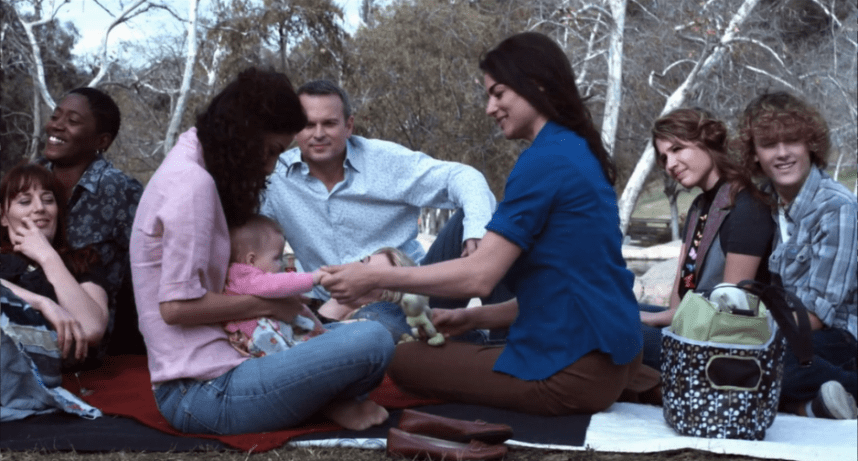 Cut to a scene in the park months later. (Does Nicole Conn know you can go somewhere besides the park?) Everyone's passing around Elena's baby and eating slices of that good life. Where's Peyton's adopted baby that she was just talking about?39 Is this Elena's and Peyton's baby together? Is this everyone's baby? Why does Tyler have to oversee every interaction Elena and Peyton have together? Wait, is this a cult?
Answering my question, the movie ends with Tyler looking directly at the camera saying, "Yes, all is as it should be. Soulemetry."40
---
41