Welcome to AM/PM, where Autostraddle team members share our morning and evening rituals.
Now that I work for myself, I don't have much of a schedule or routine; I generally wake up without an alarm, spend as long as necessary flipping through news sites and Twitter to confirm that everyone involved in the Trump campaign/administration still hasn't been arrested (goddamnit), and work the 10 or 12 hours following, whatever they may be. But today is a special day — my first of styling and shooting a look book for my buds at Off Duty NYC!
I wake up at 8 on the dot, bidding farewell to my Snoogle (a gigantic body pillow intended for pregnant people that I use in order to wean myself off stomach sleeping — which my chiropractor said I shouldn't do anymore even though it feels so fucking great — and, as I see it, the most perfectly evocative product name of all time), as well as my copy of Emma Cline's The Girls. I'm reading it embarrassingly slowly, but not because it isn't super good. It's stomach sleeping good.

I know some people feel very strongly about night or morning showering, like, on principle, but I'm a bit of a switch hitter in the bathing department. In this particular case, I made sure to shower last night (you know, because of the whole getting up "early" thing), but I'm not jazzed about how my bangs have dried — a little Cockatoo-esque for my tastes. I wet them and give them two spritzes of heat protectant, followed by a quick blast with my trusty blowdryer and my discontinued brush from Better Boar Co, which I guess makes solely beard brushes now? Man, fuck the patriarchy.
Yes, my sink is covered in hair dye; no, my landlord doesn't know that yet.

My beauty regimen for the day is minimal: degrease my skin with a face wipe and my roots with lavender-cocoa dry shampoo, moisturize my maw with some basic lip balm, and annihilate any errant hairs with this magical springy threading contraption that my mom recently introduced me to (tagline I came up with: "You shouldn't have to get rid of it, but if you want to, it shouldn't be so fucking hard!"). I'd like to cement my eyebrows in place with brow mascara, but in standard Nora fashion, I can't actually find it.

I haven't always been much for breakfast, but now that I'm trying to take better care of my physical and mental health, I'm realizing how much I enjoy it as a quiet time before starting my day. I'd eat my local bagel joint's ABC (avocado, bacon, and cheddar) egg sandwich every day if that seemed like a nutritionally or financially sound decision, but since it doesn't, I guess I'm back on the 'gurt. I do have a bag of free cherries from my roommate who didn't finish them before going out of town, though, which is a nice small thing to be thankful for.
I take my coffee either black, or chock full of sugar and half and half. Today was definitely a light and sweet day.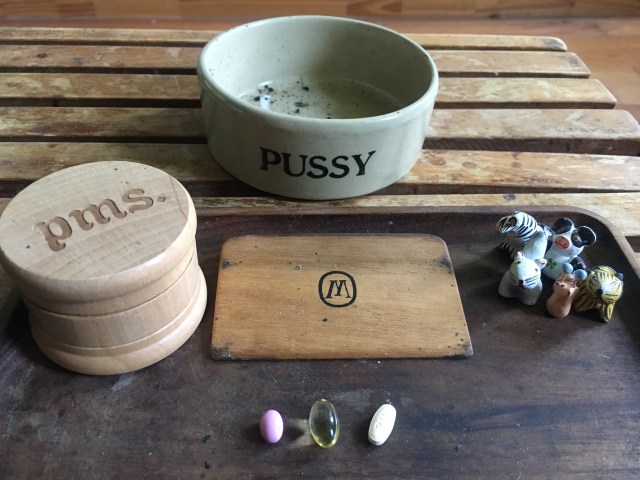 The other thing about breakfast is that it's necessary before taking my vitamins (D and B12, bitches!) and meds. I'm crampy today and hey, I'm about to go do creative work, so I add a treat from my PMS grinder to the mix, too. The tiny animals don't usually hang out on my rolling tray, but I thought you would appreciate them.
Also, please meet my vintage Pussy ashtray! It's one of my best ever yard sale scores at 50 cents from an old neighbor in Flatbush. I don't think she understood why I was so excited.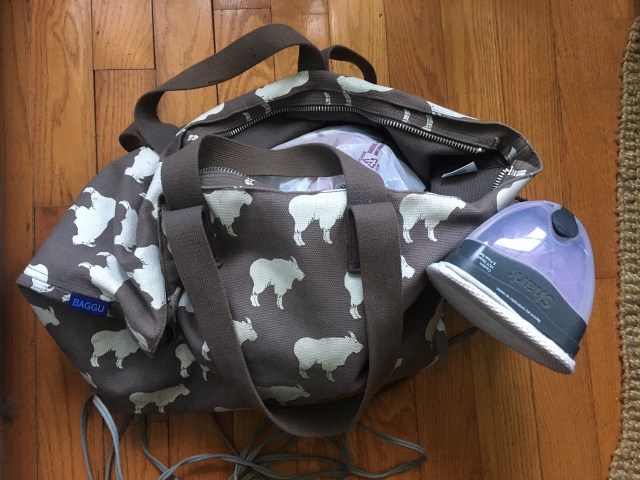 I'm bringing some props to the shoot. Confetti, streamers, a sparkly hat from the '60s, thigh-high boots — this gig is the perfect justification to never get rid of anything. I've had this weekend bag for a few years now and I can't say enough good things about it, but unfortunately for people like me, they don't make it in mountain goat print anymore. Also pictured is my favorite little fabric steamer for fending off wrinkles. I'm only slightly annoyed that my best friend whose bags I'm shooting doesn't have one of her own; maybe I'll make her get one for the company.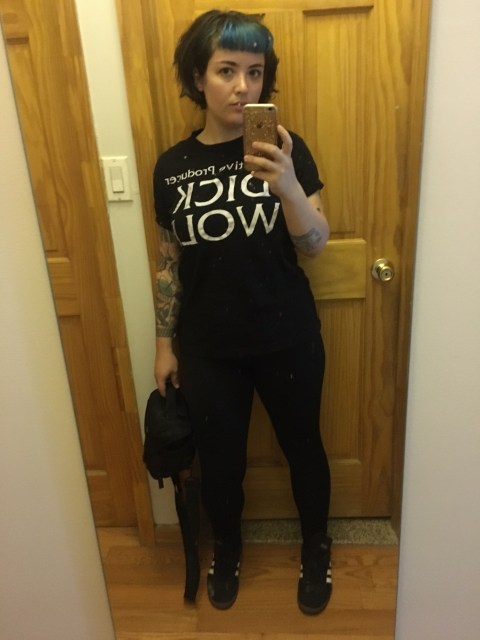 And finally, a mirror check before heading out the door! I spend most of my life these days wearing either over-the-top vintage stuff or underwear and not much else, but today I'm in my general shoot uniform: my "I'm here, I'm queer, please don't ask me to do anything athletic" Sambas, $20 leggings that never bag or slouch, and my SVU-themed t-shirt — which surprisingly few people ever commented on until I wore it on July 4, and was inundated with compliments. Always good to find out who your real friends are.
"In the world of people who have honestly pretty flexible schedules, weirdly dirty mirrors are considered especially heinous. In New York City (and also other places, because the internet), the dedicated detectives who investigate why the hell a freelancer wouldn't clean her mirror before taking this selfie are members of an elite squad known as Autostraddle readers."
This… was my morning.