Welcome back to this important and necessary series where I watch classic lesbian movies that somehow everyone has seen but me. Our last movie was Elena Undone, a movie that provoked a lot of questions that ultimately went unanswered by Nicole Conn even though I marked all 41 of them. Seems rude, but okay.
For my next movie, I asked the editors what to watch. Riese suggested Room in Rome, but I informed her that I'd seen it and also that it scared me, and asked that we never speak of it again. "Bloomington is like Loving Annabelle but somehow even worse," she then said before informing me that she was convinced it took place in one condo and one condo alone. Chilling.
Bloomington, I found out, does not take place solely in a condo, but it does take place in a world where subtlety is not a concept that exists. It sits in the palm of a heavy hand, proudly displaying the most transparent depiction of mommy issues I have ever seen. Come, join me, Professor Stark, and Student Jackie on this road to… love?
---
The opening credits in this film are going for a very Sunday afternoon stroll, I'll say that much. We're getting lifeless shots of "general town" and "someone getting ready for travel" and the pacing is killing me. I'm already ready to bail. (Truth be told it took me three separate attempts at getting past the credits alone.) Oh, the director of photography for this movie is George Feucht. "Feucht" is a great name to chant over and over in that way where you sort of lower your voice like a bark, which is something I would do if I was ever on set with him until he undoubtedly would quit. FEUCHT.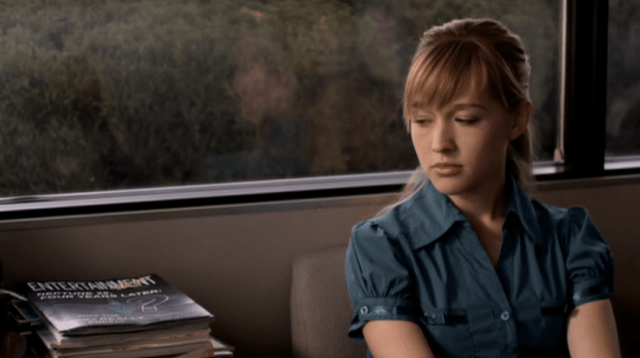 We meet Jackie, the famous actor turned regular college student, going over her first semester course load with an academic advisor. Notice her looking at the Entertainment Magazine next to her. What a juxtaposition of current priorities.
For orientation, Jackie is shown to her (single unit!) room by another student who is at first very nice and offers to help set up Jackie's phone should she need it, but then very abruptly changes gears and is like, "No one ever gets their own room as a freshman," with the air of an end-of-the-movie flashback that highlights the small detail that we the audience missed at the beginning that upon closer inspection reveals it was the unsuspecting person responsible for all the horrible acts committed.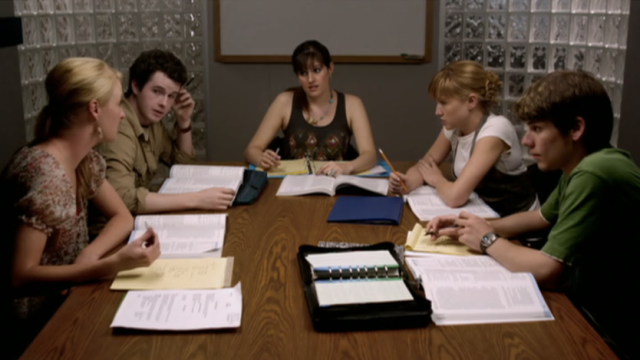 Jackie has her first interaction with other students at a psych study group. Here we learn about a Professor Stark. "She sleeps with her students." Not the kind you might think, though – the girl ones. "I heard she's a vampire." Someone in the group says "cool it with the homophobia" and based off the vampire comment and the decision by filmmakers to make Stark a professor of abnormal psych, I agree.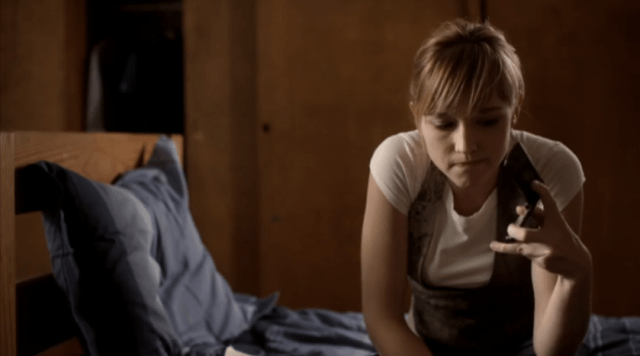 Jackie calls home after her first day of classes, and this is the face of someone who's just been hung up on by their mother not out of anger but inconvenience. Ouch. Hopefully this doesn't lead to a loaded relationship to older female authority figures.
Speaking of older female authority figures, we next meet Professor Stark. Her eyes are what could be described as "extremely threatening."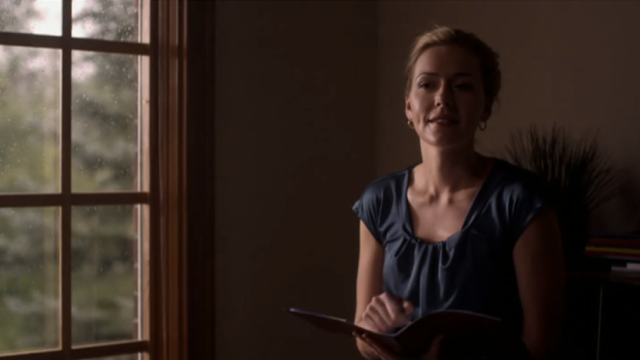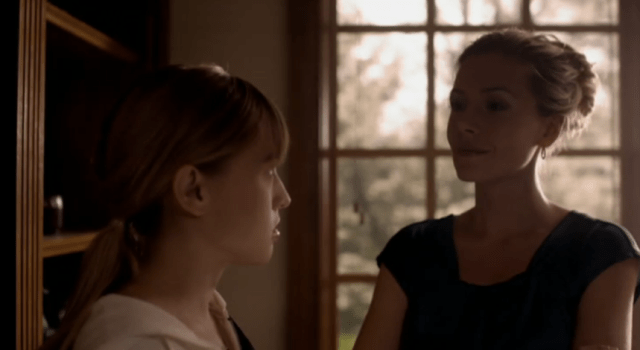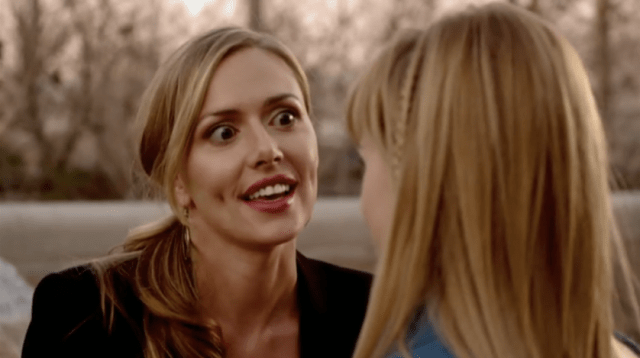 Confirming this for me, the first time Professor Stark meets Jackie in her office she starts talking about her ECT machine, or her electro-convulsive therapy machine. "It shocks people," Stark says. Jackie wonders aloud why anyone would do that and Stark says, with total calmness, "It's a form of treatment."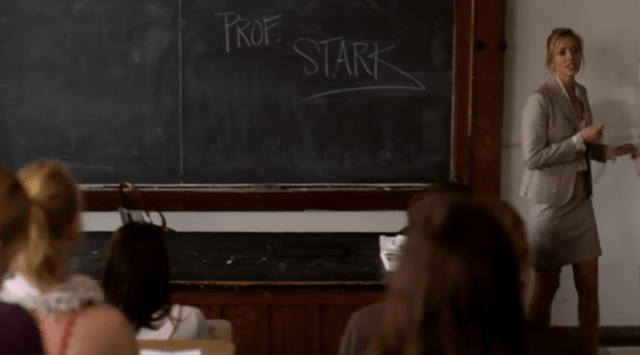 Professor Stark doesn't get any less terrifying when she later fills in for another professor's psychology class and writes her name on the board with the stroke equivalent of stabbing. Jackie happens to be in this class, as do her new psychology study group friends, and Professor Stark flusters one of these new friends by asking where the class last left off. The new friend absolutely blows it and after the interaction calls Stark a "freaking vampire lesbo." YOU RANG.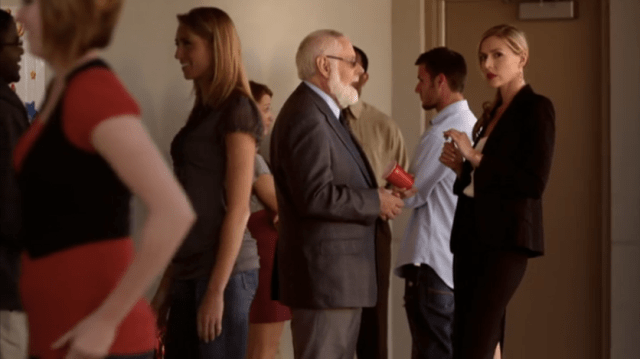 LMAO, Professor Stark is really in a constant state of putting out a Single White Female vibe. Here, we're at a mixer for the psychology department that includes both professors and students, which is apparently a thing that happens. Jackie spots Stark and is intrigued.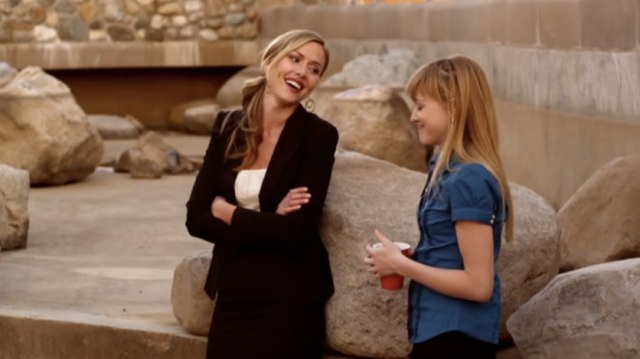 Some time later Jackie and Stark meet in a rock quarry? There they formally introduce, and Stark says about Jackie, "Ah, the famous one." Then Jackie says, "So are you, from what I hear," and within 30 seconds of pretending not to know what Jackie is talking about, Professor Stark does this: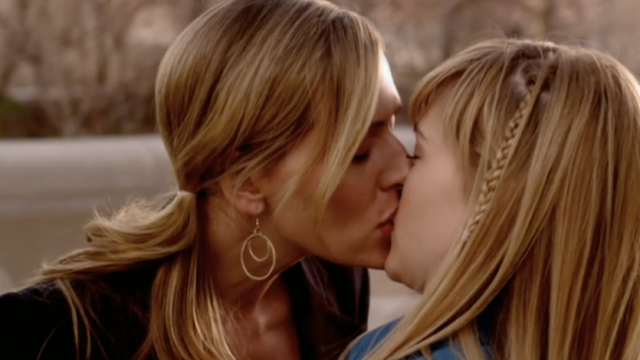 OKAY! Someone help this poor girl and her single braid. Just so everyone's aware, we are not even 15 minutes into this movie. Where does this movie go from here? Isn't this what you build up to? What is exposition? Now Stark asks Jackie back to her place.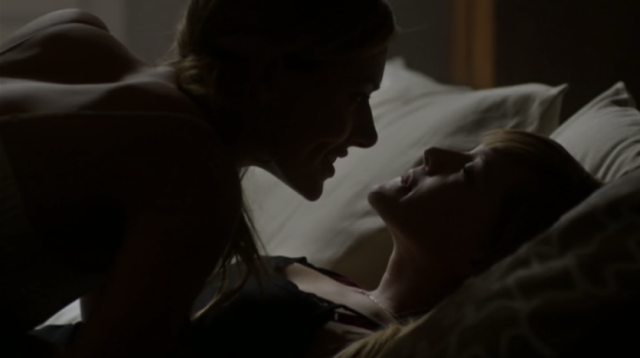 When they arrive at Stark's place, they immediately go upstairs to Stark's room. Hahaha, what is this, day one at school? Jackie looks extremely uncomfortable and has a face that is verging on terrified, but it's okay because Stark has asked if Jackie's okay and follows up with a, "You sure?" See? Everything's fine. Now they're going to have sex and Stark says, "Don't forget to breathe. Good girl." A-YIKE.
The next day or weeks later, it's hard to tell, Jackie calls Stark. Stark's like, "Heyyyy, I'm on my work phone in my office as a professor at this school, just making sure out loud and in earshot of my co-workers that you're okay about what happened between us sexually and that the line that I just crossed/poured gasoline on and then lit it on fire was okay with you?" Before Jackie can really process this Stark asks her over for dinner.
Continuing this Downhill Barrel Roll of Inappropriates, the first thing Stark does when Jackie shows up to her home (in the middle of the day?) is offer her a drink. Do we even know if Jackie's 21? Stark says, "You always look so scared when you're here," and I can't imagine why.
Oh hell yeah, now "32 Flavors" by Ani DiFranco is playing, so you know what that means: now all these two do is spend their time in Stark's house having sex and making dinner.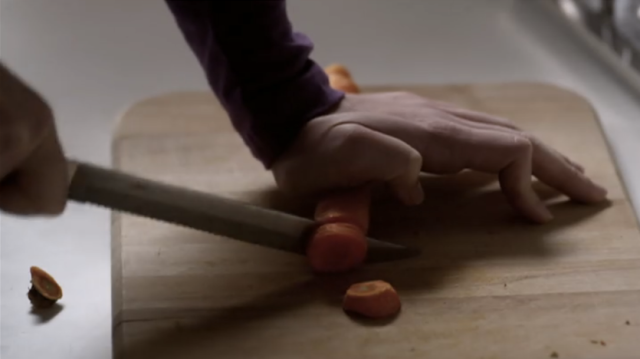 This is an interesting cutting set up – knife choice, hand placement, cutting form, etc. All looks good and normal, like an adult who's done this many times before and not like a child who's never been made to cook and has no idea how to. While cutting in a way that makes me worry if this scene will end in an emergency room visit, Jackie talks about her relationship with her mother, which she explains is nonexistent. What's interesting about this is even though earlier in day Stark was able to parse out Jackie's drink of choice (scotch, per her father) based on presumed relationships with peers and authority figures as a child star, the dynamic that is being played out here is somehow not being brought up at all.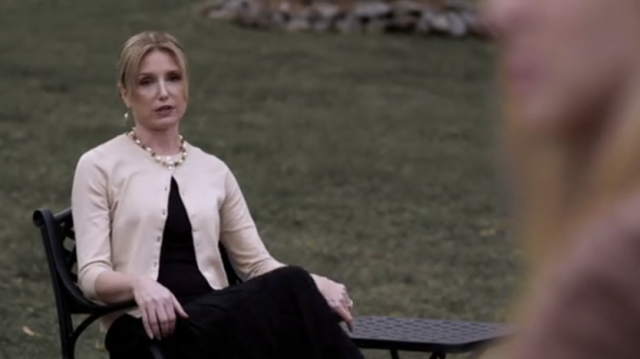 Jackie goes home to visit her mother and extended family and it doesn't go well. Jackie's mom feels attacked by Jackie during dinner and decides to take her outside to scold and slap her. COLD WORLD.
LITERALLY the next thing we see after Jackie's mom walks away is Jackie being held by/crying into a very "There, there, sweet girl"-positioned Stark. WE GET ITITITITITITITITIT. Stark says, "I'm glad you called, Porcupine. I missed you." Normal lover stuff.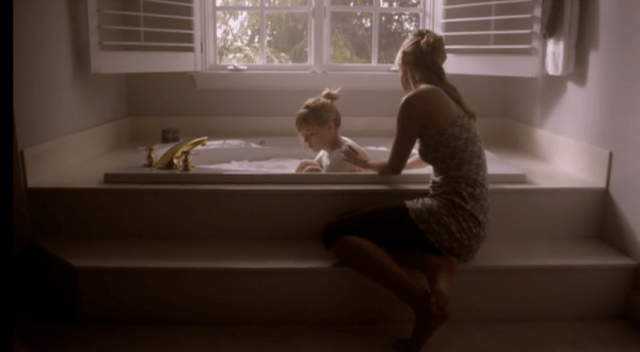 You know what? It's fine. I'm fine with this now. Why not? Clearly we're not operating in the real world. Like this? This scene where Stark is washing Jackie in the bathtub? That's fine! (I tried to email this picture and was hit with Gmail's "Something's not right" when trying to attach it and I was like… I know.) This is so blatant it's a parody now. So, let's go, let's get to the scene where Stark sends Jackie off to school with a snack of Ants On A Log and let's call it a wrap.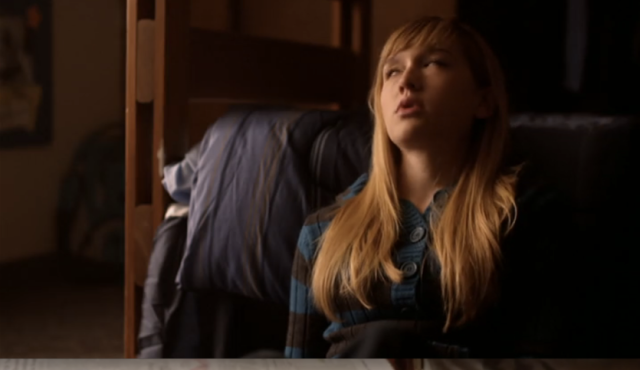 Jackie's in the running for a scholarship and the only thing that stands between her and a bunch of money – that she already has as an actor fresh off a very popular television show and doesn't necessarily need but hey why not take it from your peers just for the hell of it – is an essay. Stark, who works at the facility from which Jackie would be receiving this scholarship and who would therefore have a conflict of interest in helping one particular student, is helping Jackie with the essay. The approach: perception vs. reality. Give them what they THINK they want, not you.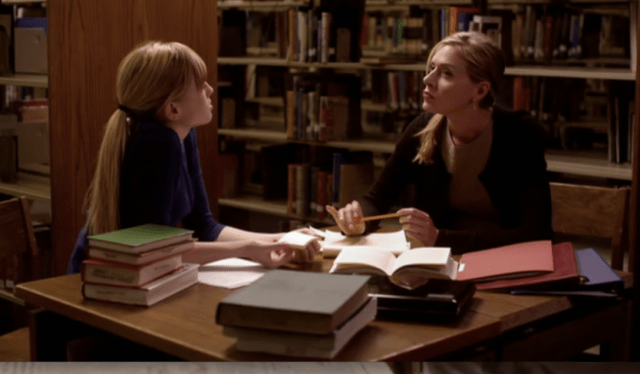 Now we're talking about the reversal of self-denial in the library. External circumstances paralleling self-imposed restrictions and the combination's ability to inspire a new behavior. The conversation we all know and love. Jackie seems confused, so Stark explains it like this: you know how you're quiet during sex when you don't have to be in my home – the home where I, a professor, bring you, as my student? Well now that we're in a public library, and you have to be quiet…
Look, I'm not saying these are terrible set ups. But if this movie is a vehicle for a particular kind of fantasy, maybe don't have background music that sounds like it belongs on Wishbone, the PBS live-action children's series starring a Jack Russell terrier. It's really unsettling to hear someone on screen say, "Hold onto the desk," while undoing someone's pants and it being scored by the entirety of the wind instruments along with like a mischievous pluck of a violin.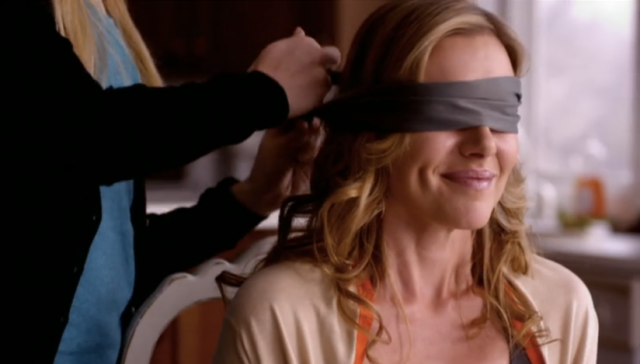 Now it's Stark's turn to be psychoanalyzed. 50 shades of heyyyyy.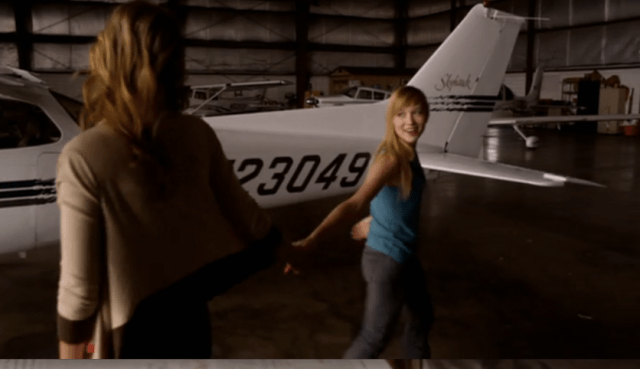 Stark's afraid of flying so Jackie wants to try some exposure therapy by taking her to her airplane hanger. I really hope that scholarship comes through. Jackie can apparently fly a plane and so she takes a hesitant Stark on a ride. Stark is so moved that on their return home she tells Jackie she loves her in bed, but oh no, Jackie's asleep.
Jackie gets a call from her agent who tells her they're rebooting the series that launched her into stardom and that the producers want her back. Or, at least to audition, which like, ouch. It'll be quick and easy, her agent says, just a couple days over Christmas break.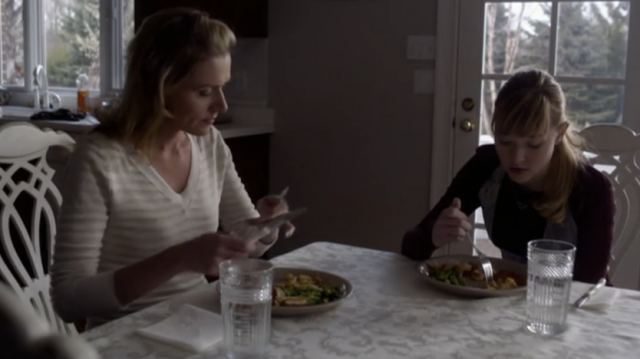 Mom's made dinner. "Kind of quiet today, porcupine," Stark says. Oh, just school stuff, mom. They discuss Jackie's decision to maybe audition for the role that would require her to leave for L.A., and Stark seems pressed about it. Jackie's like…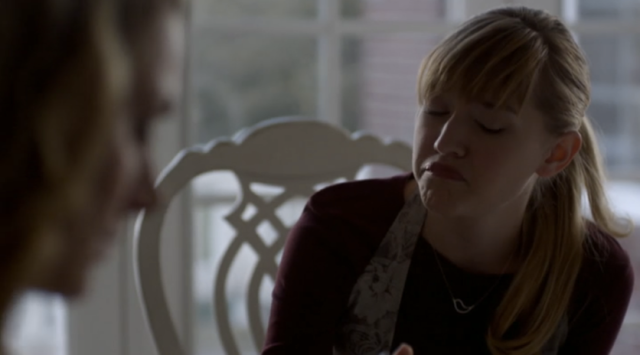 Hmmm, sort of seems like you'd want me to thrive but I guess there are more snakes in the grass than I previously thought.
Test shoot time with the hot new actor around town that I thought was Ben from Parks and Rec. Jackie's found her acting groove again.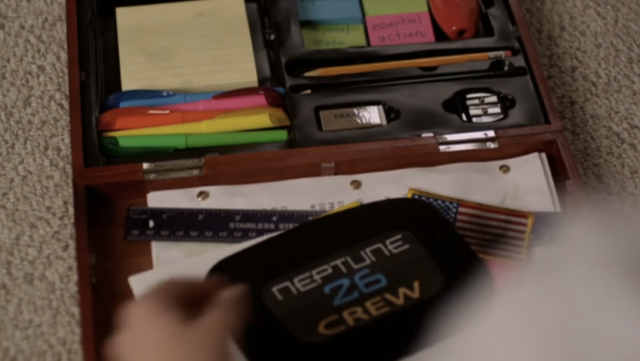 Good to know this kind of thing still delights me as an adult. Look at the compartments in that thing. Jackie is reminiscing (crying) about all her old TV memories.
Wow this movie has really gone flat, much like this review. It feels like the past 30 minutes has just been someone alone in a room on a phone. This movie should be called AT&T Wireless: Unlimited Rollover Minutes.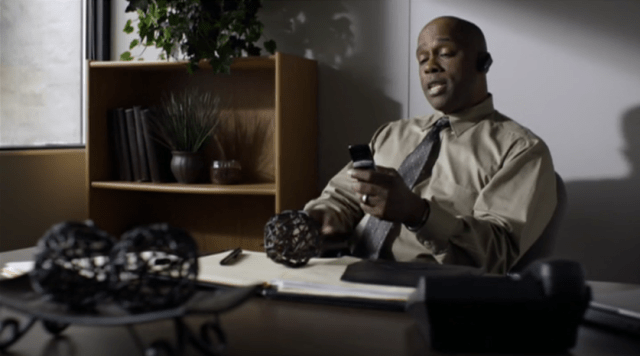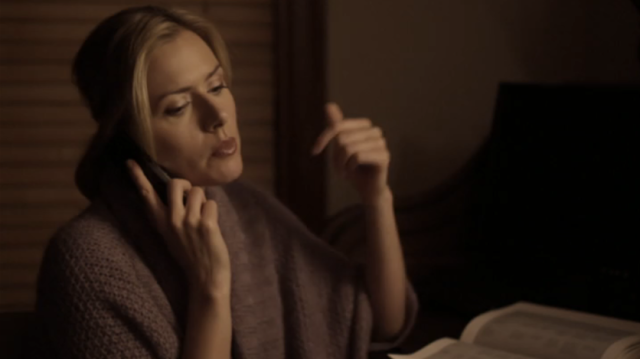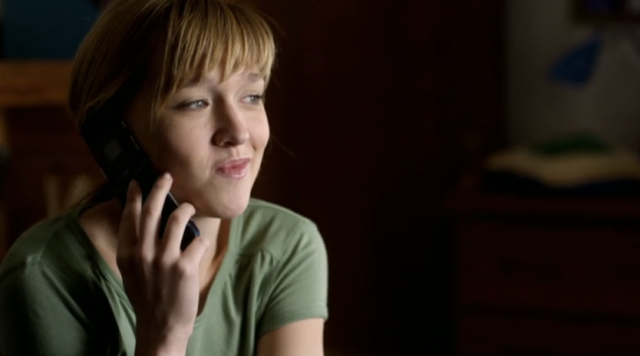 It's confirmed that Jackie's gotten the part of the new/exact same role she played before, so now that she's back in "the biz" we're at an industry party. Here, Stark is introduced as Jackie's "friend from college." That is literally what half of my girlfriends have been called by family, so, same. Stark is very pleased about this as you can see from the picture above.
Stark is even more excited when she learns Jackie will have a romantic storyline with her co-star who has an IRL crush on her. When the huffing Stark's doing prompts Jackie to ask if she's really upset about it, Stark says, "Why would I be mad, Jacqueline?" You know, how some people in our lives use our full name when they are upset at/disappointed in us, although it's hard to tell, really, which certain people I'm talking about?
After the party, Jackie and Stark start to fight about whether or not they're a couple and about how they'd even make a long distance, closeted relationship work. Stark ends the conversation by saying, "Maybe I just don't think you're worth it." I love cinema.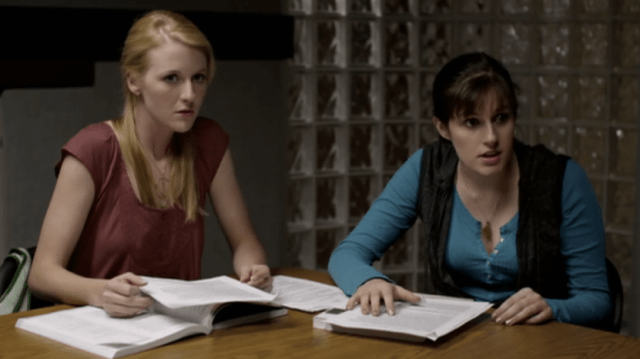 Jackie decides to give school another whirl and shows up for a random psych study group. When she enters the room someone immediately says, "You still go here?" and for the first time in this movie I laugh out loud. One of the girls in the study group accuses Jackie of coasting by on her fame and the perks of banging their teacher, which are both true, so like, what do you do?
APPARENTLY YOU SLAP THE GIRL THAT SAYS IT AND THEN SHE PUNCHES THE SIDE OF YOUR HEAD IN RETALIATION?!?!
Jackie shows up with a shiner to Stark's house. Momma's gonna make it better. Then paparazzi show up and Stark's like: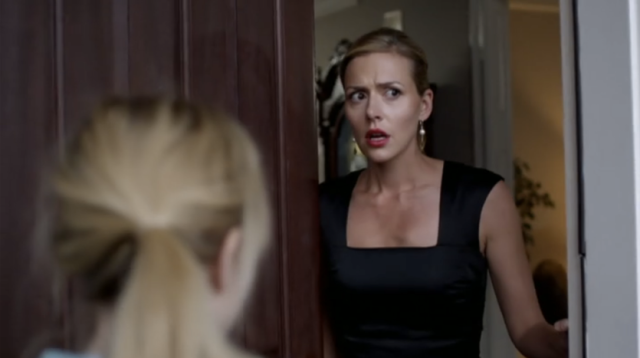 After deciding that getting buck in study hall wasn't the best way to handle their situation, Stark and Jackie bicker about Stark going to a party without Jackie and with another date. "You can stay the night, you know how to work the TV downstairs," Stark says, failing to mention the pizza money she's left for Jackie on the counter.
The jabs that their fights have incorporated have grown increasingly below the belt. Jackie reduces Stark's existence to a leech on her parent's inheritance and then we have Stark handing Jackie a Kleenex (not sponsored) box before leaving for the party and telling Jackie not to make a mess while jerking off to watching herself on the television. Some might say this is… very unhealthy.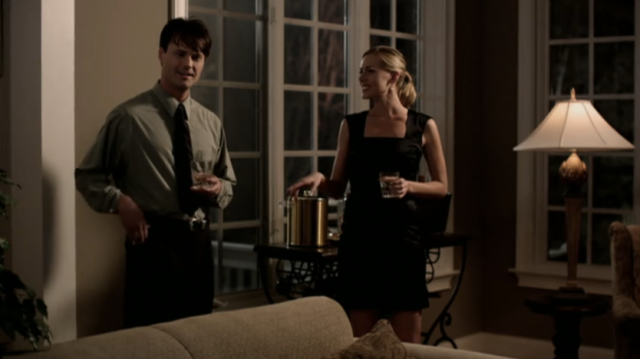 Mom's home from her party with her date. Stark instructs her date upstairs while Jackie watches TV on the couch. "Make sure you shut off the TV when you finish watching your cartoons, okay?" Y'all.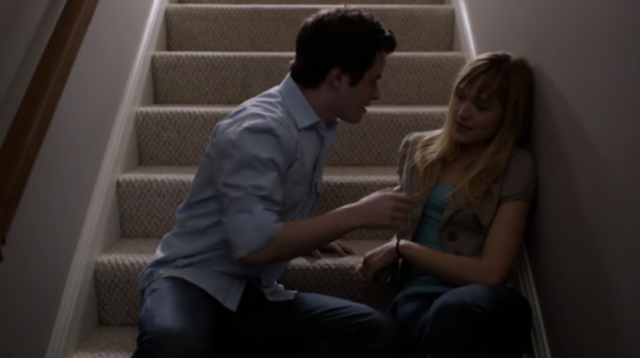 As revenge Jackie goes to a college party with a boy from study group. It goes exactly as planned, with Jackie gathering her clothes as she sneaks out of his dorm room in the middle of the night.
In the following days, Stark has a little bit of a break down during class and is literally talking through tears as people walk out of her classroom and take pictures of her on their flip phones. Everyone knows about the relationship between her and Jackie and – even though they've known Stark stays sleeping with her students – suddenly everyone's mad about it?
Surprising no one, in the absence of Stark is the arrival of Jackie's actual mom to pick up the pieces. Naturally everything goes very well and is worked out in the span of a dorm visit. JK.
During the aftermath montage is another Ani DiFranco song. I hope that when I'm in the tides of change I, too, will be lucky enough to be ushered into my new life by "Overlap." Jackie is on her press tour and Stark is receiving her long-overdue firing. Jackie's also leaving school, but not before running into Stark in the library. One last time?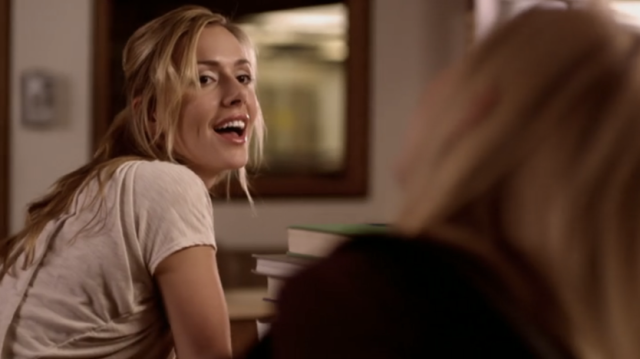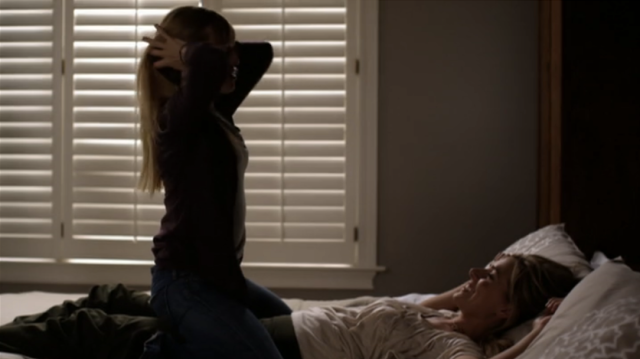 One last time. However, they know it won't work and say goodbye. Later, Jackie gets interviewed on campus while Stark watches from a window.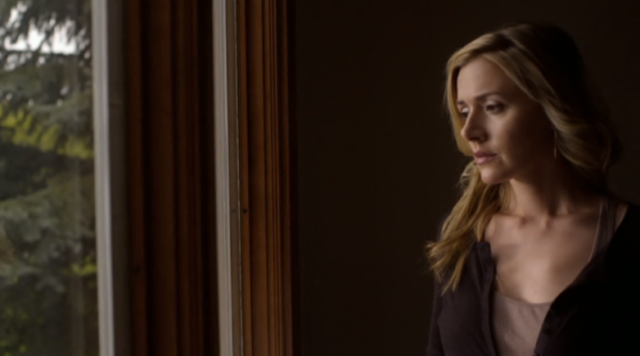 "I'll never forget this place where I used my classroom as a dating pool," Stark probably thinks. Then Jackie contemplatively looks up at the window where Stark's office sits, like there she was, my professor who cornered me on my first day.
Ahahahaha, that's it. That's the movie. Nothing's resolved and the Pandora's box of issues that was opened in this relationship hasn't been acknowledged by either party. Also, can anyone tell me why everything in this movie happened in the middle of the day? Look at the lighting in all of these pictures and tell me that the position of the sun is anywhere past 4pm. Bath time? Middle of the day. Drinks? Middle of the day. Dinner? Middle of the day.
Go to bed, everybody who made this movie, at night. Y'all are wild for this one.