Welcome to AM/PM, where Autostraddle team members share our morning and evening rituals.
---
I'm a snowflake. I can, for a certain number of days (seven), make any living situation work while maintaining my amiable, kind, and generally cheerful disposition. After that, though, I morph into a movie monster at an exponential rate. Gremlins fast, even. I'm a person who clings to my habits. I want to wake up in my own bed on my own sheets next to my partner at exactly the time I want to wake up, having slept the exact number of hours I want to have slept, and go about my day exactly as I have planned. I can deal with a lot, but I'm always the most happy and most healthy and most productive when I can methodically tick-tock my way through my routines. This is my morning one.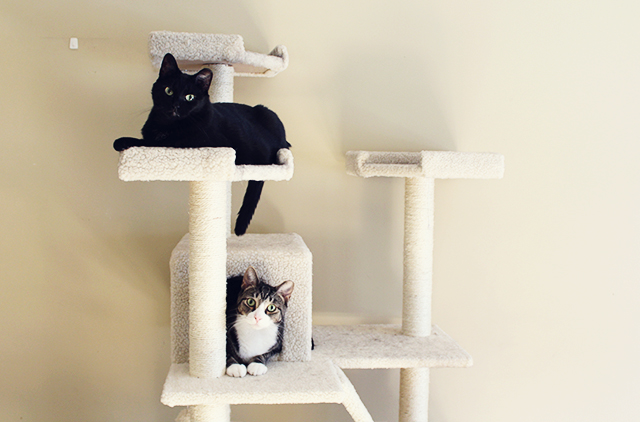 I wake up everyday between 7:00 and 7:30, on my own without an alarm clock. I do not check Twitter. I do not check my email. Some days I gaze lovingly and creepily at Stacy while she sleeps, for a few minutes. Then I'm up! First stop, our herd of pets. My indoor cats (Quasar, Socks, Dobby, and Beth March) and the outdoor street cats who make up the colony I have registered with the ASPCA under the name Hogwarts School of Witchkittens and Wizardcats. It's kind of like having a farm. Every little lamb wants pets, food, fresh water, and to be told how beautiful/handsome/perfect they are, preferably in the form of a song. Everybody's on a special food for this and that thing. A diet, an autoimmune disorder, the Hogwarts colony will only eat Costco brand dry food. Oh, I love them.
I eat a quick bowl of oatmeal and then I'm out the door on my bike or flopping down on the living room floor to do yoga (I alternate days). I have pretty bad endometriosis so some days (a third of them, to be honest) I can't do either of these things. I hate, hate, hate those days — but I'm constantly striving to be gentle with myself, especially with stuff that's out of my control. I love riding my bike in the morning. New York City is a completely different place before 10am. Almost quiet. It only takes me a few minutes to pedal to the waterfront, and I spend about 40 minutes there, looping through different parks and greenways. (Or, if I get up early enough, taking the ferry into the city to ride along the East River or the Hudson.) I grew up in the mountains but I've fallen in love with the smell of salt water, the way the sun bounces off the waves as it crests over the skyline. No matter what kind of mood I wake up in, by the time I'm climbing the last hill toward my apartment after a morning bike ride my body and my brain and my heart feel so peaceful and invigorated.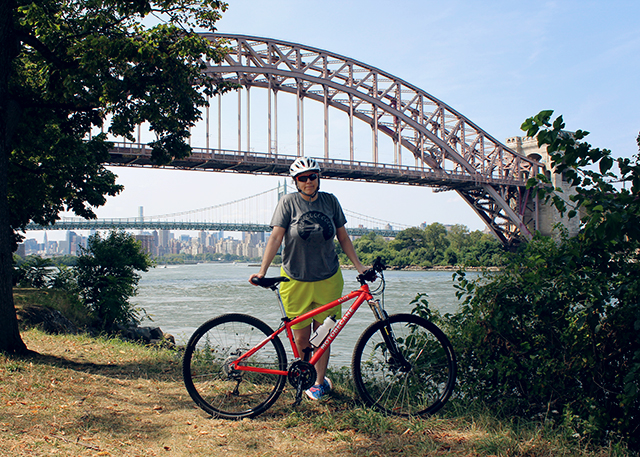 Another invigorating thing is the ice cold shower I plunge into as soon as I get home.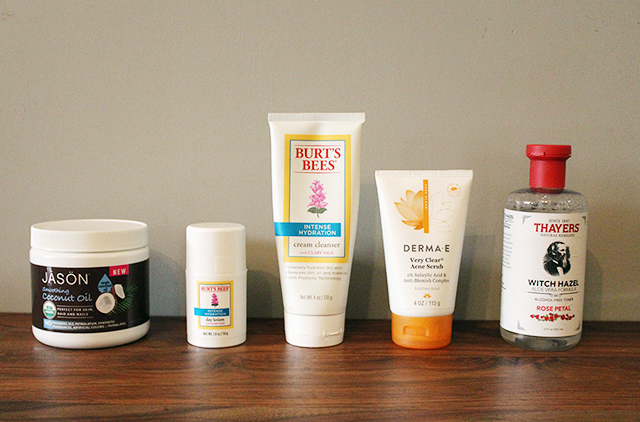 For my whole entire life I have been desperately intimidated by health and beauty everything. I'm a tomboy. I've always been a tomboy. There wasn't a lot of guidance for me. And growing up, I sure as heck wasn't going to let any of my friends touch me to try makeup or face masks or whatever. I was straight, okay? I didn't want to touch other girls or have them put their hands on me. STRAIGHT! Two years ago I found out about ASMR and it changed my life in so many ways, including the fact that all these really warm and kind women spend loads of time talking about makeup and skincare! They get so excited about it which makes me excited about it and now I have a routine that actually helps my very problematic, acne-prone skin.
Depending on the activity of the morning, how much I sweated, where I'm at in my monster menstrual cycle, and whether or not it's mud mask day, I alternate between Burt's Bees Intense Hydration Cream Cleanser and Derma-E Very Clear Acne Scrub. I follow it up with some Thayers Rose Petal Toner, and then moisturize with either coconut oil or Burt's Bees Intense Hydration Moisturizer. I have seborrheic dermatitis on my hairline on the back of my head (problematiiiiic skiiiin) so about once a week I do a leave-in treatment with coconut oil on my scalp.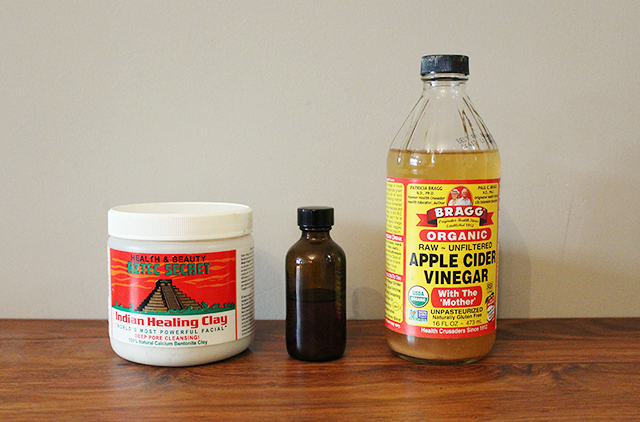 If it's a mud mask day, I use Aztec Secret Indian Healing Clay which is honestly the most magical thing I have ever used on my body. I mix it with raw, unfiltered apple cider vinegar and leave it on just until it starts to dry because that's what Emma Watson said to do one time on Twitter. The little brown bottle in this picture is a mix of argan oil; rosehip seed oil; and either lemongrass, peppermint, or lavender essential oil. I use it as a moisturizer and also on my scalp. I learned about that from ASMR too. (P.S. If you mix your own skincare products, you will feel like a witch!)
And then it's meditation time. I started using Headspace a couple of months ago, when I felt like my entire brain and body were on fire every single hour of every single day because of Donald Trump, and it has changed the shape of my world. I have ADHD. It's something I've been wrestling and coping with my entire life. These days I have a pretty good handle on it, but even on my best days I never imagined I'd be able to regularly sit still and meditate and feel good while doing it. I know a lot of real deal big time meditators don't like Headspace, but it's perfect for someone like me. It has helped me calm the storm inside my head and find ways to be more focused on the things that really matter to me and — perhaps most importantly — extend the compassion to myself that I find it so easy to extend to the people I love.
Because my doctor made me do it, I gave up coffee back in February. I'm a tea girl now! Lately I've been really into Pukka Detox (with lemon; the kind without lemon tastes like licorice, blech!) and Tazo Peachy Green. After I meditate, I put a cup of tea onto brew and while it's steeping, I do a quick wipe down of the hard surfaces in the kitchen and living room with Meyer's Honeysuckle cleaner, run my OXO Furlifter over the couches, and set the Roomba off onto its morning jog. I also have the OXO Furlifter Rake (Thanks, Valerie!) and it is hands-down the best household item I have ever owned. I always drink my tea from the Everyday I'm Hufflin' mug Stacy bought me for my birthday a couple of years ago.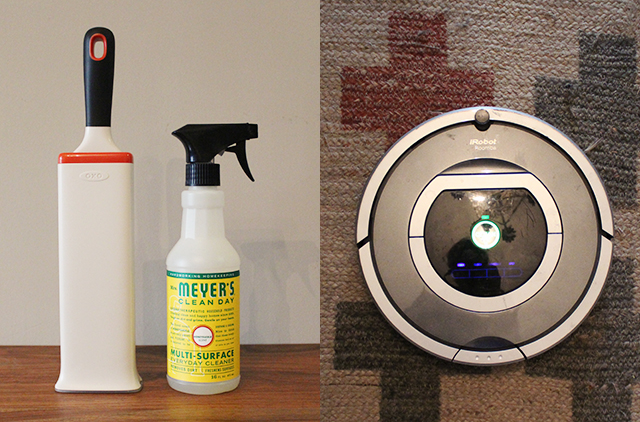 Then — and only then — do I open up my phone or my laptop to read the news and get started on my workday, which happens on weekdays between 9:00 and 10:00. At some point in that hour Stacy hurries downstairs and kisses my forehead, my cheek, my mouth, my chin, whatever whatever and over again. She says, "Hey, you're beautiful," and "Please be safe today," "I love you," and "I love you," and rushes out the door to work.