Welcome to Queer IRL, a monthly Autostraddle community photo series that gathers little clips of lesbian, bisexual, queer and otherwise-identified women, trans and non-binary folks, just living our lives in 2017.
You're such a bunch of book people!! August's theme was all about you and your favorite words on papers and the structures within which you keep them, and WOW. Lots of books, lots of cats and puppies, one baby, so many wives, so much organization! It's all very impressive and inspiring, seriously. Oh, you'll also got a lot of book recommendations out of this gallery. If you're an Autostraddle regular, you know we have an affiliate account with Amazon, meaning we get a few cents for every dollar you spend there (when you use our link) regardless of what you buy. So do me a favor! If you're an Amazon shopper and decide to buy any of the books you see here, use this link to get to Amazon's homepage. Then, no matter what you decide to order, you'll be helping to support this independent queer community!
I'm trying out a slider situation for submissions that included more than one image, so let me know what you think. Enjoy your bookworm gallery!
If you don't see your picture in this gallery, it's likely because you used the wrong words in the subject of your email. But we can fix it! Email me again laneia@autostraddle.com with the subject line QUEER STACKS. Your submission will be added to the last page of the gallery!
---
Brianna / 27 / Chicago, IL
"To be honest, I have since killed that fern."
---
Lillie Soukup / 18 / Charlotte, NC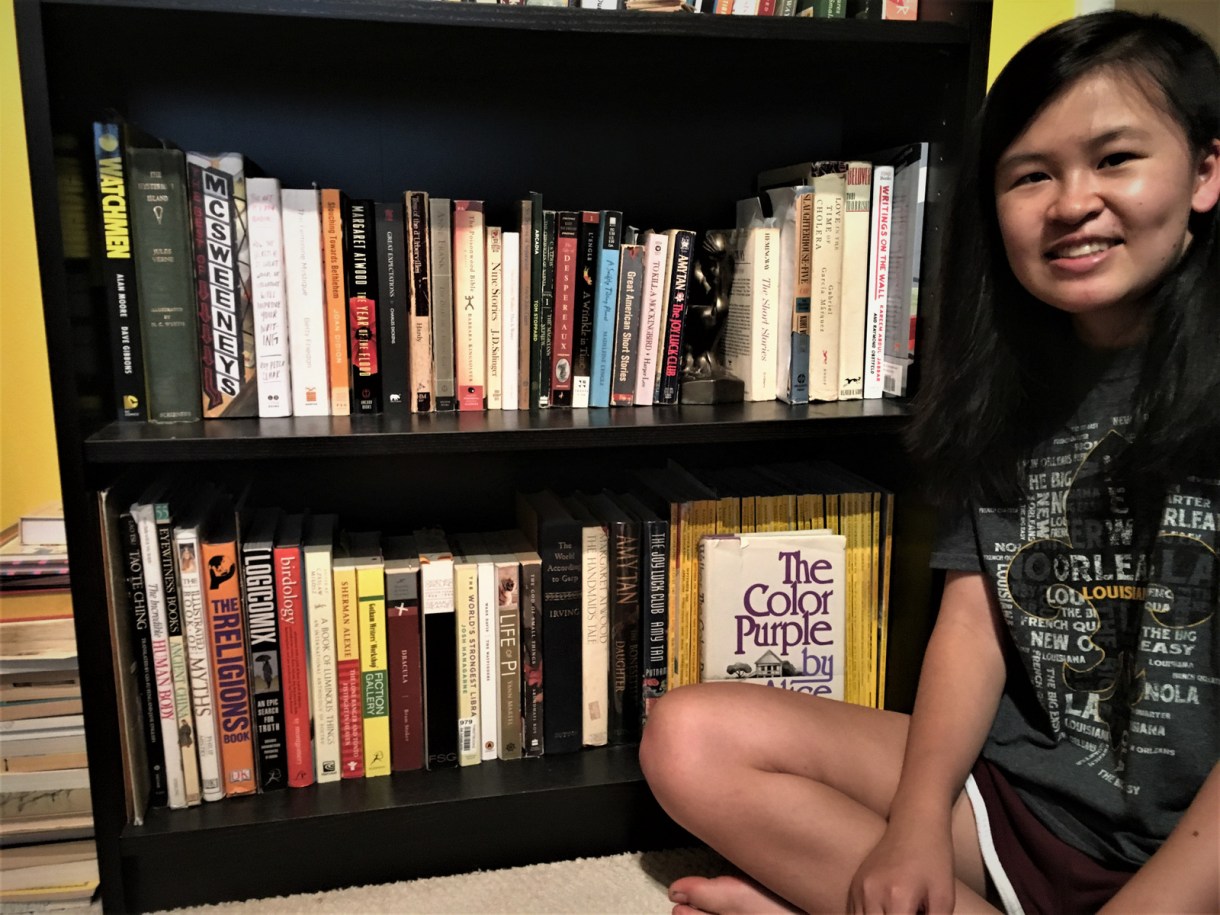 "There isn't any intentional organization in this bookshelf. These are just some of my favorite books squeezed onto two shelves. The Color Purple was one of the first quality books with queer representation that I've read. Because I've just recently come out, I'm not really familiar with other great LGBTQ works of literature."
---
Mati (they·them) / 25 / Somerville, MA
"I'm a transfeminine nonbinary witch living in the Boston metropolitan area. Currently, I am reading the trilogy of books by Richard Barnett on the gruesome history of 19th-century western medical practices and their accompanying illustrations (i.e. The Sick Rose, Crucial Interventions, and The Smile Stealers). The top two shelves contain my fiction collection, which is alphabetized first by author's last name and then title. The third shelf is for knick-knacks and trinkets. Below that is my haphazardly arranged collection of nonfiction."
---
Joelle / 26 / Kenora, Ontario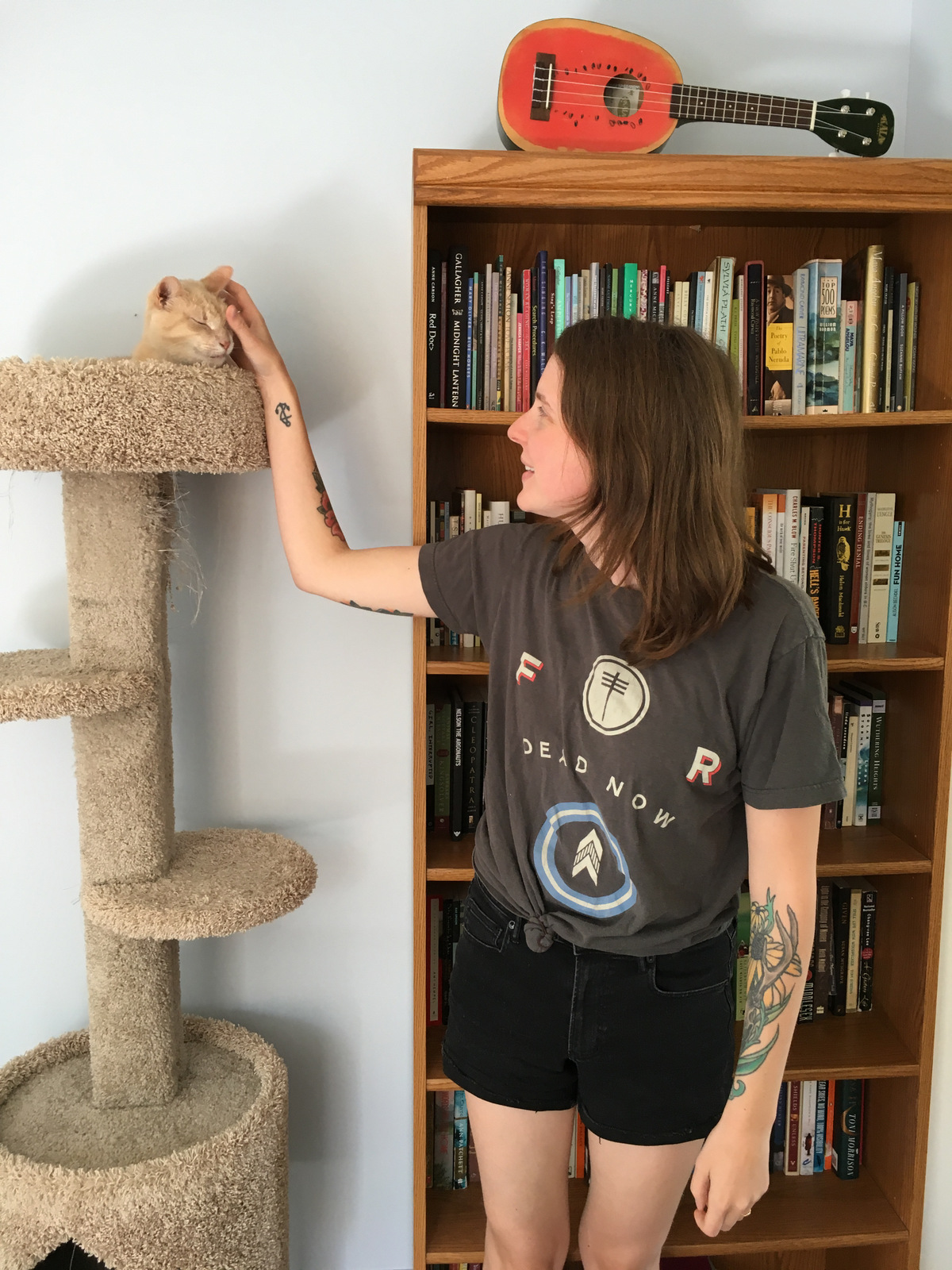 "The bookshelf is a cheapie from Canadian Tire circa 2011. Pretty sure my dad and I got into a fight putting it together. It used to be alphabetized, but we moved recently and I haven't had the energy! It's divided into sections: Poetry, fiction, non-fiction, and graphic novels. My favourite book on shelf is a copy of A New Path to the Waterfall by Raymond Carver, signed by Tess Gallagher. (The cat's name is Garf and he is 11.)"
---
Charlie Porter / 35 / Daphne, AL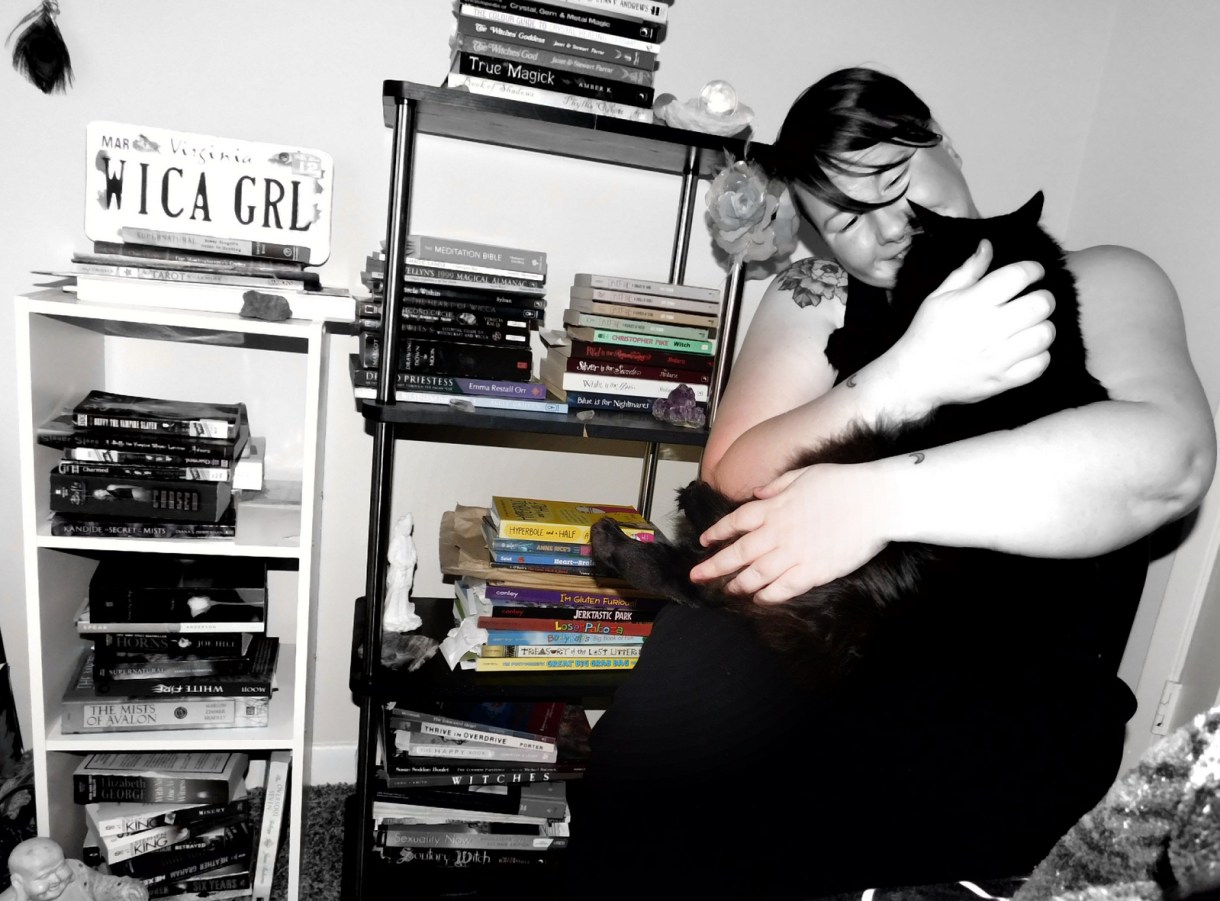 "It's weird to think I used to have six bookshelves stuffed with books stacked horizontally, when I moved I added almost all that could be purchased digitally to my amazon wishlist and donated the rest to my local library. Books have always held a special place in my heart. My favorite is Interview with the Vampire by Anne Rice, I also love The Mists of Avalon by Marion Zimmer Bradley and The Crow by James O'Barr.  I kept random Charmed, Supernatural and Buffy books, and my most important Wicca Books (I used to have over 200.) I have comics, and some random fiction. I decorated my shelves with crystals. I am holding my cat, Little Boo. Books are very important to me and always have been, I worked for Barnes and Noble for three years."
---
Maria Aghazarian / 26 / Havertown, PA
"I work in libraries and these stacks of books are held up solely by my own desperation. Some favorites featured in this shot are Holly Black's modern faerie tales, Chip Kidd's The Cheese Monkeys, and towers and towers of comics, from Rocket Girl to Fish Girl to Snotgirl. The newest acquisition is Gus Was A Friendly Ghost, because Halloween is a year-round holiday and I read picture books to my friends over Snapchat. As you can see, there's not room for much besides books, but I do have a lovely lizard wind chime, which was a gift from a dear friend."
---
Tami / 31 / MD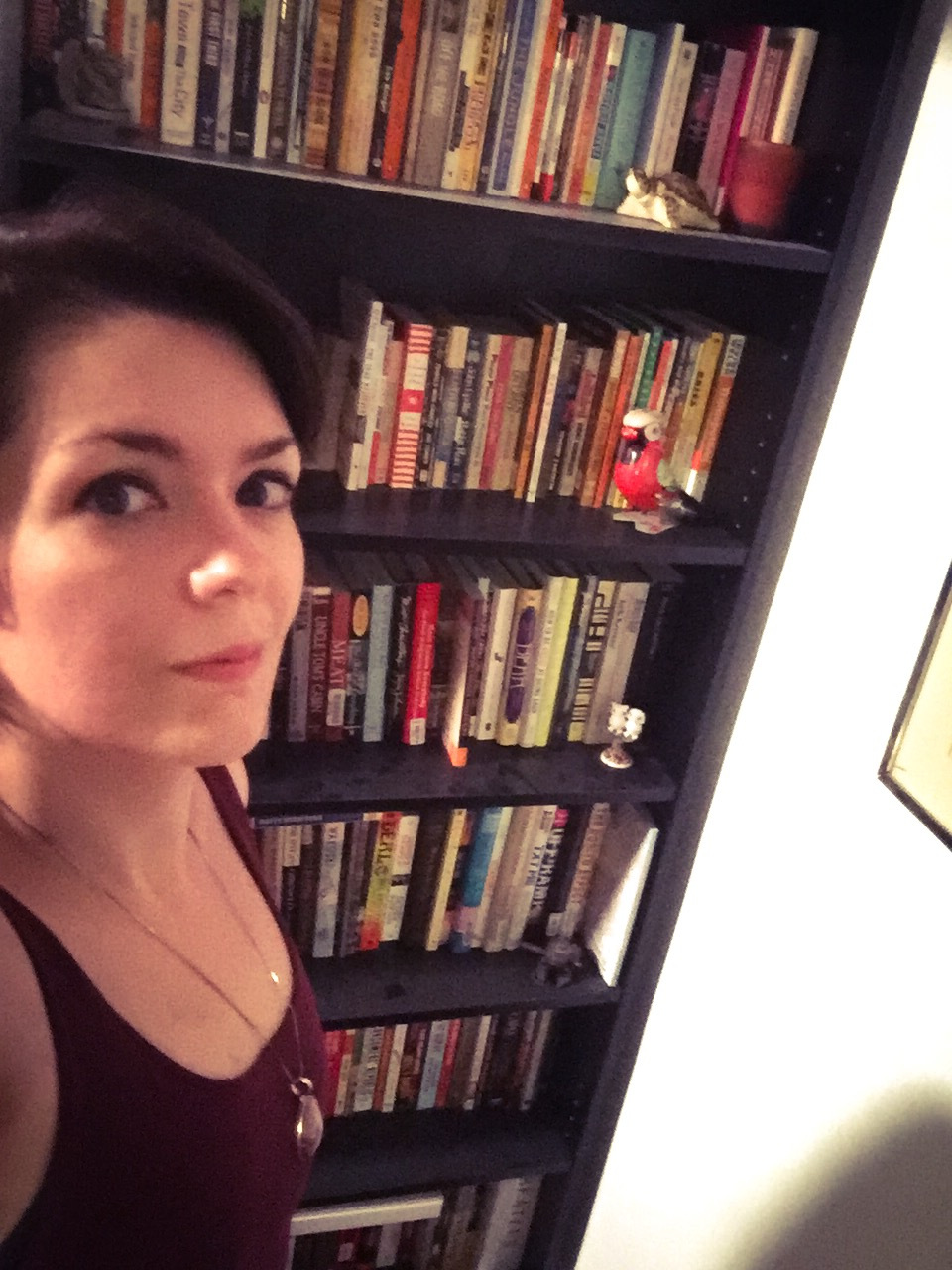 "My bookshelf is grouped by read/ not read and then no two of the same color book touching. I was an obsessive sorter for many years so I don't know how this happened. I always trip on the favorite book (or song, or food) question because my favorite thing is the one that gets me at the moment I need it. On my shelf you'll find:
A lot about the beats: Novels, biographies, poetry, rarities… it's a bit of an obsession.
Feminist and queer theory/poetry. This includes an early 90's book titled Lesbian Psychologies which I bought when I was 18 and promptly took awkward notes in so I can never release it into the wild again.
Books on factory farming, consumer culture and vegan cooking.
Non-fiction on marketing, copy writing and the nonprofit sector.
Other beloved items include things that were my grandfather's (he passed away when I was 14 and was the strongest dude influence on my life). There is a reproduction Japanese tin parrot that we used to play with together (my grandfather bought and sold old crap as a side hustle, which is something I still do today), and a porcelain turtle that I will never have background information on and that's okay."
---
Jessa Greenwood / 24 / Portland, OR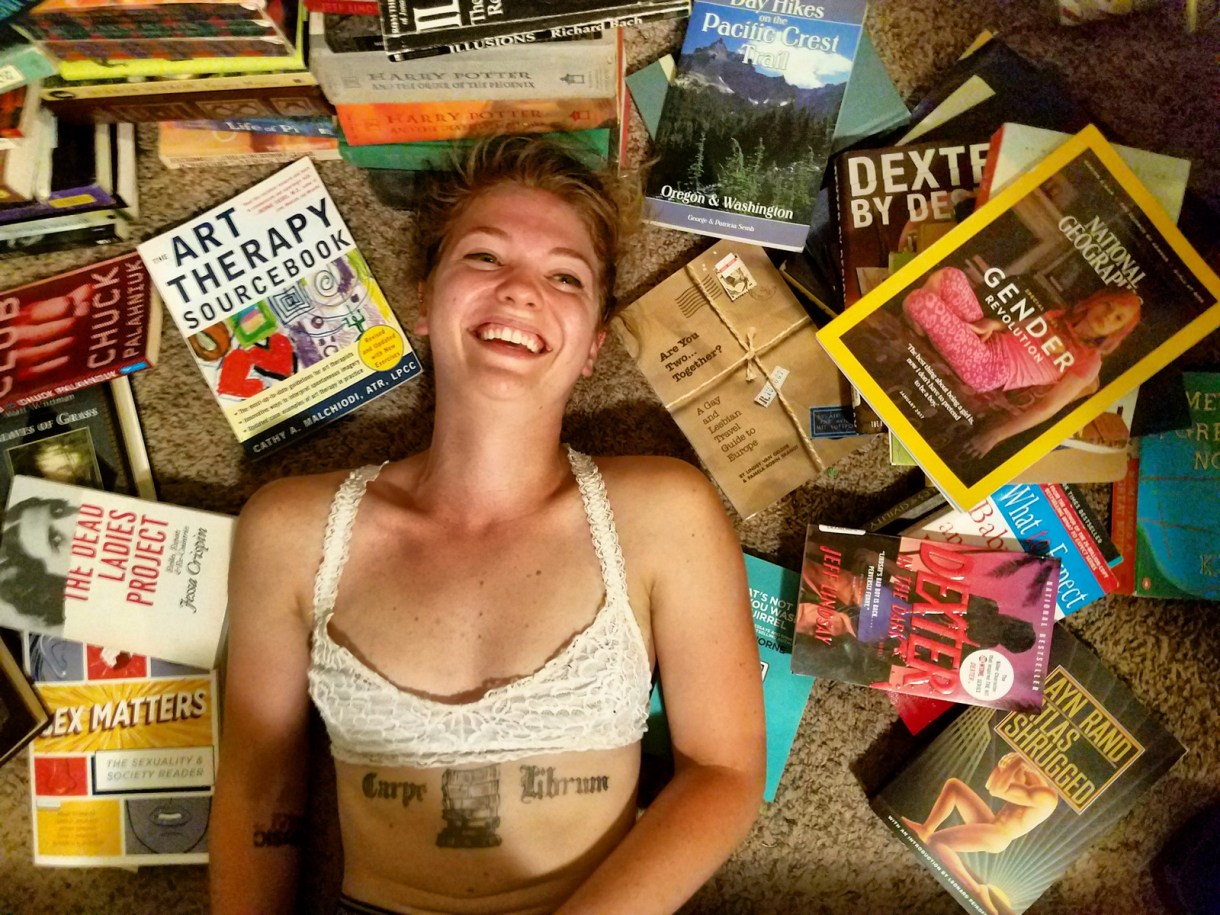 "I don't have much of a bookshelf anymore. I move pretty often and these are the few books that come with me everywhere or that I've acquired recently. They are on the floor next to my bed, always within arm's reach, comforting and exciting simultaneously. My art therapy source book and my sex psych texts are my favorites, particularly Sex Matters. I feel that my small collection is truly representative of myself: no real sense of organization, varied, and well-loved. My most cherished tattoo is featured in this photo which reads: "Carpe Librum" – Seize the Book. Books have been my sanctuary, my friends, and my teachers. My connections to those who resonate within me and glimpses into the profound unknown."
---
Jutta and Charlotte / Together almost 80 / Dahoam, Austria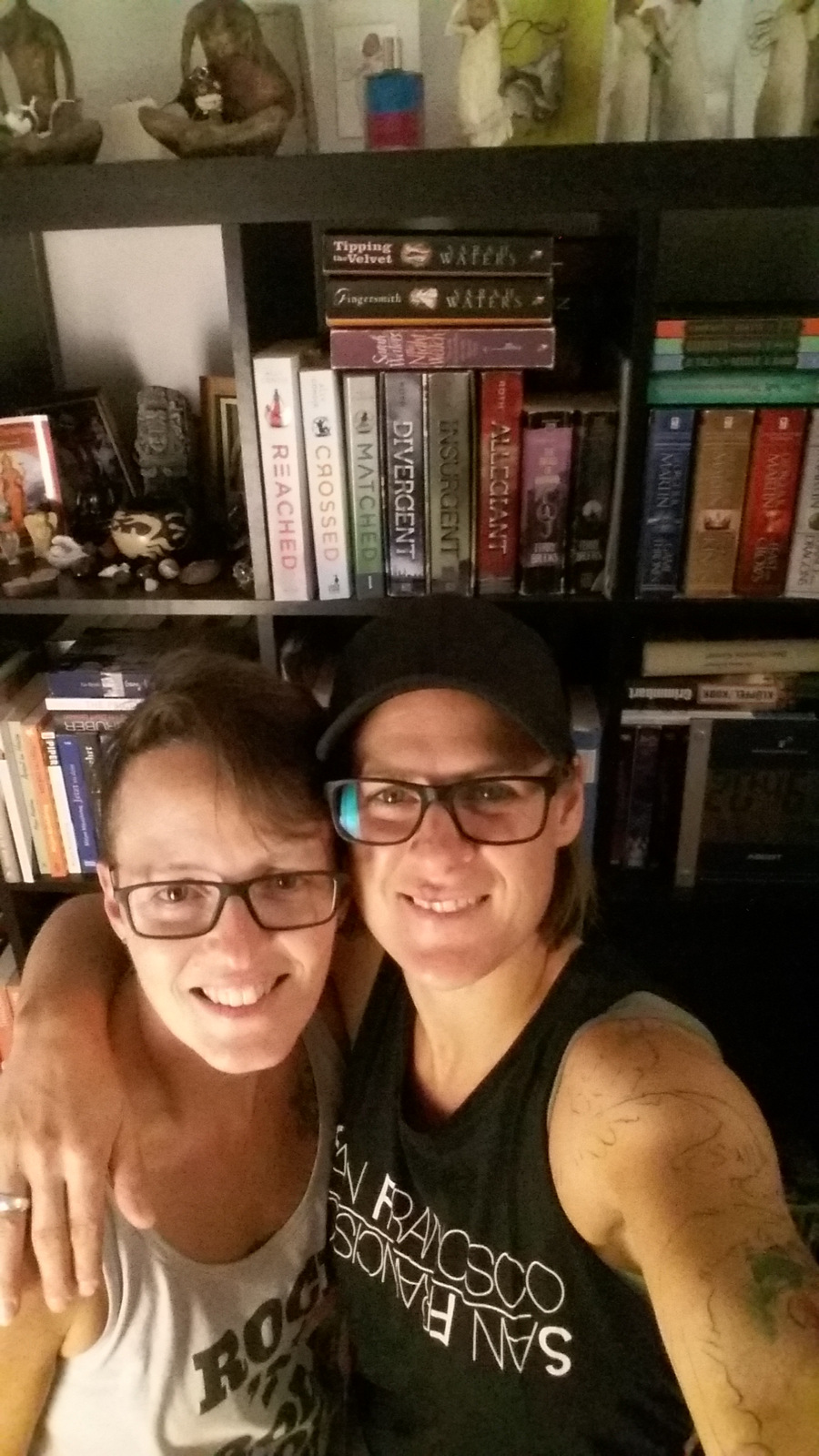 All Time favourite book (and movie) of mine is Fingersmith from Sarah Waters. My wife loves all books. Not just books but words in general. She reads, writes and talks … a lot. Guess when her first book is finished and published I have to change my favourite book. We just try to fit all our books somewhere in our apparent. Bookshelves are always to small. No matter how big they are. Kindle helps a lot about the space problem."
---
Audrey / 19 / IA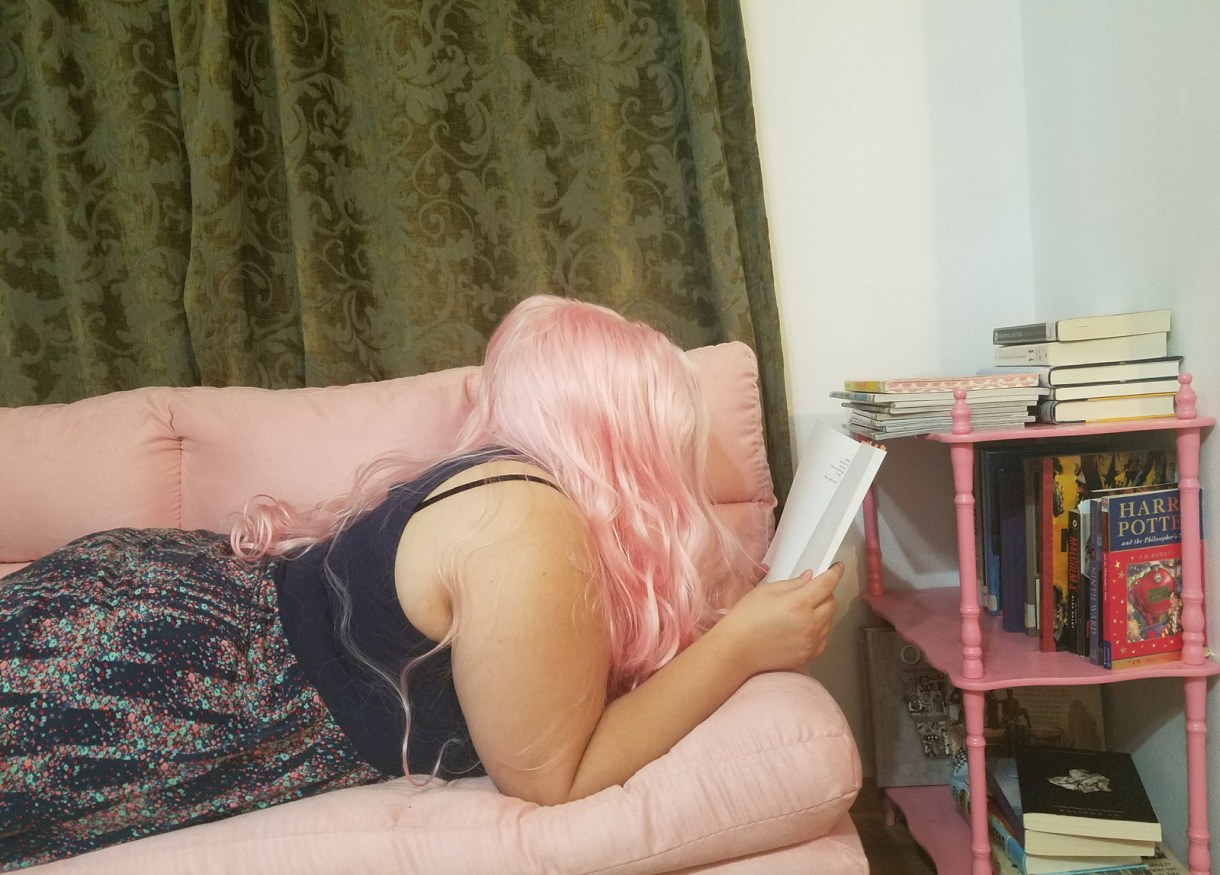 "Can you tell I love the color pink?? I got my pink bookshelf on Amazon. I also have one on the other side of my futon. In the picture I am reading The Princess Saves Herself in This One by Amanda Lovelace. While I love poetry my favorite genre is fantasy/sci-fi. I recommend everything written by Malinda Lo and Octavia Butler. My bookshelves are not organized… same goes for the rest of my life tbh."
Pages: 1 2 3 4 5 6 7 8 9See entire article on one page