What movies with lesbian, bisexual, queer, and trans women in them can a person find streaming on HBO Max? This is a question you might have, and good news, we are here to answer it.
Historically, HBO has been pretty good to the LGBTQ community, producing a lot of inclusive original content, but I also found its slate of non-HBO queer films to be surprisingly robust. That said, a handful of films on HBO when I started writing this post forty thousand years ago (October 2020) I was excited to see, like Personal Best and The Kids Are All Right, have since left. But listen: Desert Hearts!!!!!!!
---
Bessie (2015, HBO Original)
#42 on our Best Lesbian Movies Of All Time List
This immediate classic and multiple-Emmy-winner co-written and directed by Dee Rees (Pariah, When We Rise, Mudbound) stars Queen Latifah as bisexual American blues singer Bessie Smith and features Mo-Nique as Ma Rainey. Gabby described this "badass bisexual biopic," declaring, "this movie is well-done, like so well-done. The vaudeville stage moments and all of the singing in clubs and giant tent revivals are lively and beautiful. The black excellence in this film is something to behold and revel in. Everyone is gorgeous. The costumes, the wigs, the make-up, the dancing: all of it is authentic and just so much damn fun to watch."
Christopher Guest's mockumentary about showdogs presents Jane Lynch as trainer Christy Cummings, a competitive handler working for poodle-owning couple Sherri Ann and Leslie Ward Cabot. But there's more going on between Sherri and Christy than meets the eye, if you know what I mean and I think you do!
Just a lil one-hour spot chronicling the life of the tennis legend who changed the American sports landscape in the 1970s, including "an intimate look at her private life, including her bisexuality."
"There's the gay that you know because the movie says it with their words," Carmen wrote of the film she described as "the chaotic sparkly queer misandrist comic book movie of my dreams," "and there's the gay you know because you can see it with your eyes. Birds of Prey, with its neon pink and blue hues, glitter bomb grenades, pet hyenas in rhinestone collars, and car chases on roller skates, gives us both."
#72 on Best Lesbian Movies of All Time
Drew writes that this "cruel movie about cruel women" is worth it for its "camerawork, costume design, and incredible performances from Margit Carstensen, Hanna Schygulla, and Irm Hermann."
Set in Madrid, this coming-of-age story finds 17-year-old Carmen falling for free-spirited artist Lola while fearing rejection from their conservative Roma community, who expect the young women to get married and have as many children as possible.
This documentary follows the unlikely team that took the first federal marriage equality lawsuit to the U.S. Supreme Court.
Well-received critically by the mainstream and deeply loathed by many members of our queer community, this Kevin Smith comedy is about a male comic artist (Ben Affleck) who falls in love with another comic book artist, Alyssa (Joey Lauren Adams), who identifies as a lesbian. This does not entirely deter him! This film feels less offensive now than it did then when there was so little out there about lesbian and bisexual women, but still, like……. UGH WHY
#4 on Best Lesbian Movies of All Time
"Donna Deitch's lesbian love story is set in the '50s and was filmed in the '80s, and is still, in 2020, a radical piece of filmmaking," wrote Heather in her review of this classic based on Jane Rule's novel. "It basically has an all-women cast, and — much like Carol, which is what critics tend to compare it to for all the wrong reasons — it does not center the pleasures or preferences of men, ever."
Gia (1998, HBO Original)
#62 on Best Lesbian Movies of All Time 
An underrated film I have personally discussed so much on this website that it may have at some point crossed the line from underrated to overrated, Angelina Jolie plays the tragically beautiful (and very bisexual) titular figure Gia Marie Carangi, known as "world's first supermodel."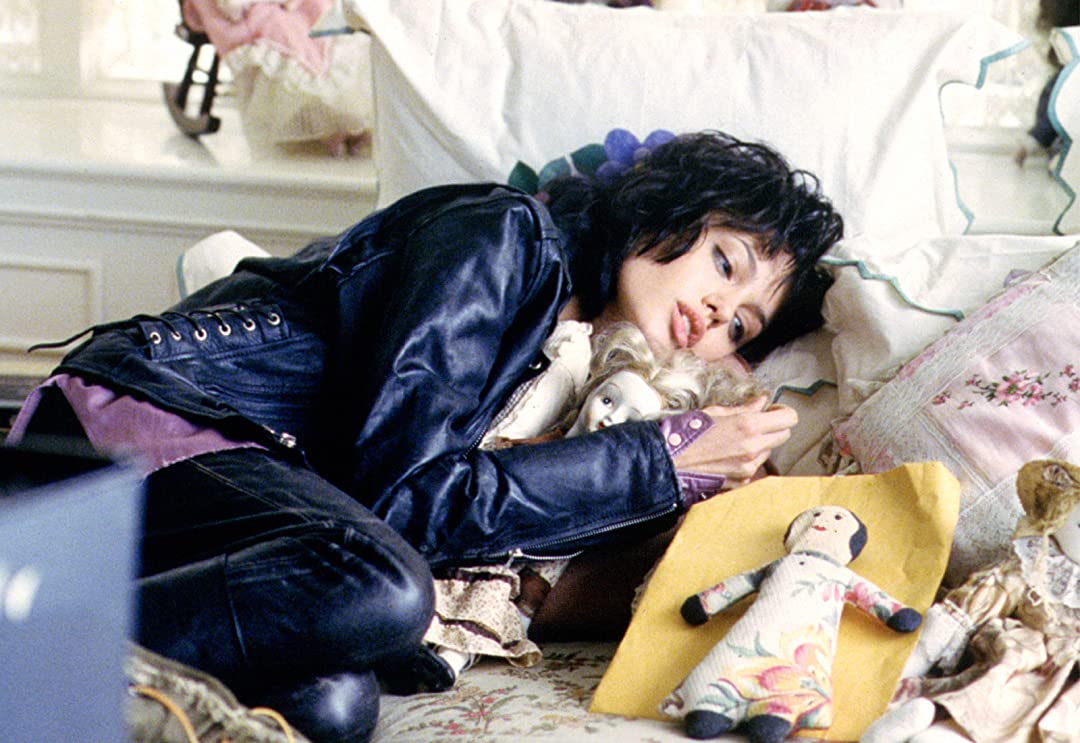 If you enjoy Glee covers of terrible pop songs and occasional Broadway hits, cute choreography, fun costumes and inspirational stories from dedicated Glee fans, you will not have a terrible time watching this film.
Chela (Ana Brun) and Chiquita (Margarita Irun), descendants of formerly prominent families in Asunción, see their 30-year-relationship shaken up when they run out of heirlooms to sell and Chiquita is sent to prison for fraud, leaving Chela to start a car service business for wealthy older women. In doing so, she meets Angy, and develops a crush that throws everybody's lives into TUMULT.
Moises Kaufman's 2000 play about the murder of Matthew Shepard in Laramie, Wyoming was a piece of "verbatim theater," drawing on hundreds of interviews his theater company conducted with Laramie residents and published news reports. HBO adapted the play into a grounded, emotional GLAAD-award-winning film in 2002, starring Christina Ricci, Laura Linney, Camryn Manheim, Joshua Jackson and Clea Duvall, among others.
#40 on Best Lesbian Movies of All Time
"John Waters lives up to his title Pope of Trash with this raucous celebration of counter-culture deviancy," writes Drew of this film that opens with "a group of cishet normals making their way through a free exhibit titled The Cavalcade of Perversions" followed by Divine robbing them all at gunpoint. "Waters starts his filmography with a statement and never lets up."
A cornucopia of famous LGBTQ+ people including Janet Mock, Suze Orman, Cynthia Nixon, Wanda Sykes and Ellen DeGeneres discuss the struggles of being "out"
The same filmmaker who made "The Out List" made this little flick featuring interviews with high-profile trans Americans like Caitlyn Jenner, Buck Angel, Laverne Cox and Amos Mac.
Steven Universe and its epilogue series, Steven Universe Future is probably the most beloved queer animated series of all time. Created and showrun by non-binary queer writer/artist/musician Rebecca Sugar, the show follow Steven and his family of Crystal Gems as they seek to save the planet and keep Steven safe as he grows up and learns what it means that he is the vessel for his mom's gem. One of his Gem parents, Garnet, is actually a married lesbian fusion between Ruby and Sapphire! They even get married near the end of the series, becoming the first children's series to ever feature a gay wedding! Steven Universe: The Movie is a musical that takes place two years after the series finale, "Change Your Mind," but before Future. It's everything you love about Steven Universe, as a full-on teenager!
This documentary follows the infamous policy from its implementation through protests, debate, and eventual repeal.
This documentary focuses on Bindle & Keep, a Brooklyn-based custom-suit company who caters to queer, trans and gender-non-conforming humans, including a trans man preparing for his wedding and a law student struggling through job interviews.
Unpregnant (2020, HBO Original)
A charming little buddy comedy about a popular, successful high school girl who gets pregnant and must road trip from Missouri to New Mexico to get the abortion her boyfriend doesn't want her to have. She recruits her former friend — weirdo lesbian Bailey (Barbie Ferreira) — to join her on this journey. Look out for a very charming Betty Who cameo!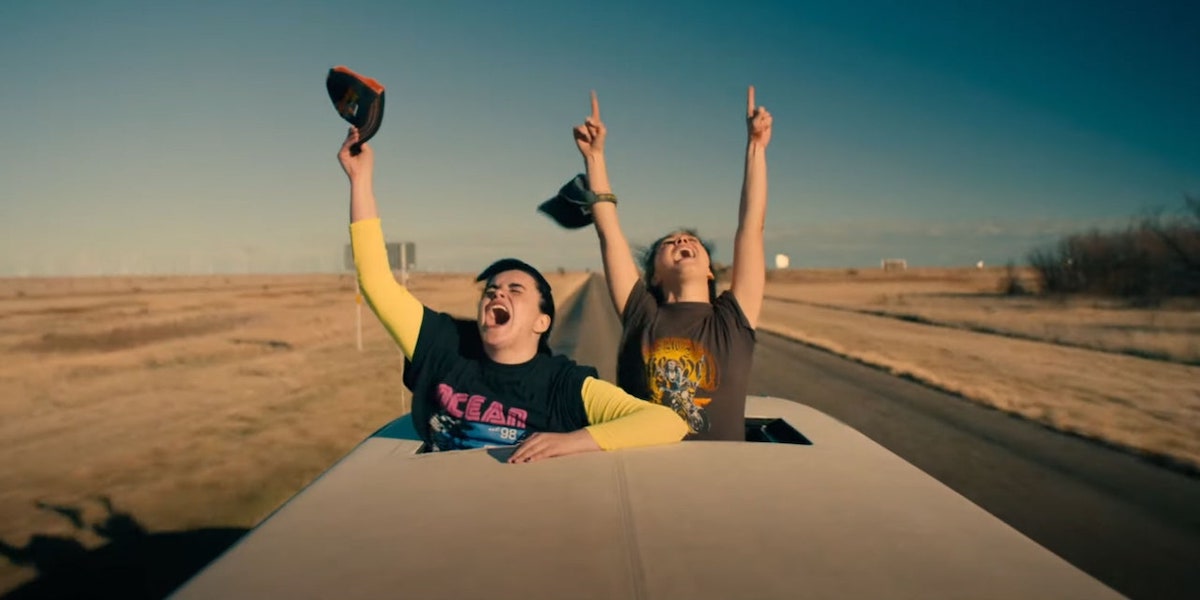 The tragic story of the murder of 15-year-old trans student Larry King by his classmate Brandon McInerny is the topic of this documentary, which loooks at the circumstances that led to the crime and its complicated and far-reaching aftermath.
Iconic African-American standup comic Jackie "Moms" Mabley is honored in this documentary featuring performance footage as well as interviews with stars like Eddie Murphy, Joan Rivers, Sidney Poitier and Kathy Griffin. The film also gives space to Moms' lesbianism — she was out to her friends and other entertainers during her career, but it was kept a secret from the public, who were drawn to her "frumpy mom in a housedress" persona.